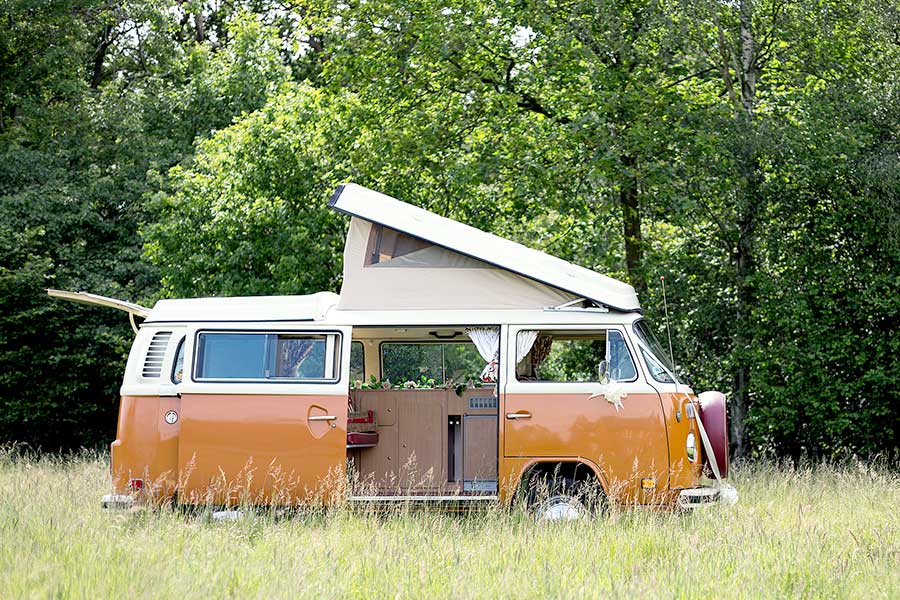 If you spend a lot of time on adventures away from home, you might want an easy way to bring all your amenities with you. Whether you are camping in a remote location or just getting away for the day with the kids, you might have considered a pop-top camper van.
Is a pop-top worth it? A pop-top is worth it if you don't have room for a full-size RV or need a combination commuter and recreation vehicle. There is a wide range of options depending on your budget and your preferred options to make a pop-top camper van work for you.
As you continue to read this post, you will learn about options to consider for different types of pop-tops, some of the great benefits to owning one, and a few downsides you should consider.
Benefits of a Pop-Top Camper Van
Larger RVs, although they have plenty of headroom, are often limited in where they can park. Pop-tops allow you to drive your van most places a car could go – and still have extra headroom. Simply park the van, pop the roof, and set up camp in the back of your van.
You can drive many of the pop-top camper van options as daily commuter vehicles. These vehicles can park in standard size parking spaces or a residential driveway without anyone giving them a second glance. As RVs typically require additional storage space at home, or a large parking lot to park in, pop-top camper vans require significantly less space.
RVs such as trailers, fifth-wheel trailers, and motorhomes require significantly more experience to drive and safely operate. But, pop-top campers are very similar to driving a mini-van or truck and allow for that extra space with the top popped up.
Pop-tops provide a second floor for your camper van. A typical camper van may allow for two people to share a bed that folds down from a wall or seats. Many pop-tops provide additional space overhead to fit an extra bed, which makes it an attractive option for travelers with children.
Another option may include using the pop-top for sleeping, freeing the rest of the camper below for cooking, eating, or hanging out. If there are just two of you, using the pop-top for sleeping would be very convenient, it would keep you from having to tear everything apart each night on the bottom to set up your bed.
Even if you don't need extra sleeping space, some pop-top options provide extra headroom height. If you are a particularly tall person, want to cook inside, or the van you wish to modify has a lower than desired clearance inside, then a pop-top can help transform the vehicle of your choice into an ideal camper van. Being able to stand in your temporary home is pretty convenient.
Disadvantages to Pop-Top Campers
The biggest downside of many pop-top camper vans is the cost. If you already own a vehicle that you want to convert to a pop-top, you would likely be able to find conversion kits for as low as $15,000. However, buying a new pop-top with the base vehicle could cost upwards of $70,000.
Another downside to a pop-top camper van is the time it takes to convert the camper from a driving set up to the camping set up, especially if you need to drive during your trip. The bed needs to be folded up while driving, seats turned so that everything is secured and in place before hitting the road. Though the time is minimal, it is still something you will have to do.
The pop-top modification will also add additional height and weight to a van, reducing the overall fuel economy. It is, however, a trade-off when you allow for the fact that they give you more space than a regular van. They will almost always get better fuel mileage than that of a motorhome or towing some type of trailer.
Other Posts of Interest
Pop-Top Options
Between stock models and fully customizable pop-top conversion kits, you can find a model that suits your needs.
Winnebago Solis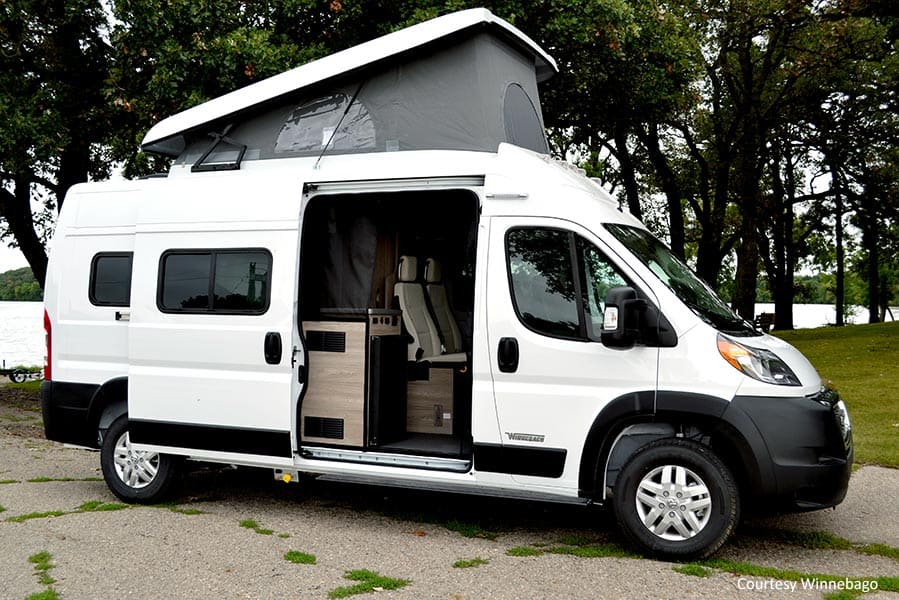 The Winnebago Solis features a convertible design that includes a wet bath, a kitchen with a refrigerator and a stove, convertible beds, and movable tables. You can rotate the driver and passenger seats to face two middle seats and a pedestal table.
The Solis features two options for beds. The standard option has a Murphy bed that is secured against the side wall while driving but then folds down at night for two people. Another bed is accessible from a ladder up into the pop-top, which can sleep two more people. The interior height is an impressive 6′ 2″.
The Solis is marketed as a stock pop-top camper option and built on a Ram ProMaster chassis. This option is sure to be a hit because you will have most of the comforts of home with you.
Pleasure-Way Tofino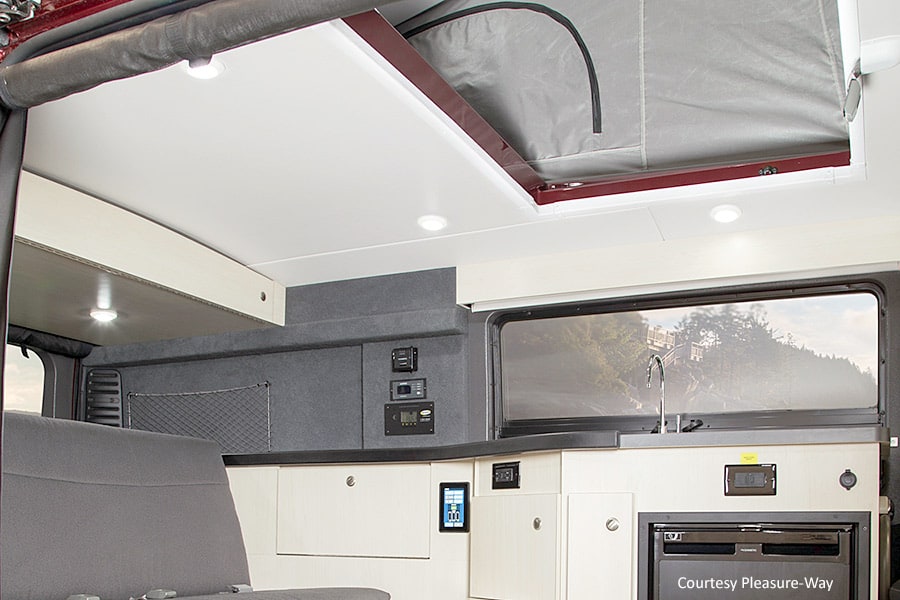 Here is another excellent option for a pop-top. The Pleasure-Way Tofino is built on a Ram Promaster 1500 chassis and has a 3.6L V-6 Pentastar engine. The pop-top lifts to provide you with a comfortable 49″x72″ bunk.
In the gallery area, you will be able to fix a quick lunch on a one-burner induction stove, plus there is a AC/DC fridge to keep all of your perishables cold. Also included is a sink with a cold water faucet.
Both the driver and passenger seats swivel providing easy access to the rear. You will be able to see your way around with LED lighting, and there are USB charging ports in the bunk and galley areas.
The Tofino comes with blackout shades and shades for the windshield and cab windows. The shades make it convenient to keep prying eyes from looking in while you are sleeping. You can also get a breeze by opening the rear doors and using the screen that rolls up and down.
The starting price for the Tofino is $70,850, making it a perfect option to use when heading out on your next adventure.
*We have a post "Hymer Aktiv Loft vs. Pleasure-Way Tofino: Which Is Right For You" you can read it here.
Recon Campers
Recon Campers use the NV200 model for their Envy model, which boasts up to seven feet of headroom height, a kitchen with sink and ten gallons of fresh water storage, as well as an outdoor shower. The two-person bench seat in the back folds down into a two-person bed, and like the Solis, the pop-top provides sleeping space for two additional people. Unfortunately, this option does not include a toilet.
Colorado Camper Van
Colorado Camper Van installs pop-tops on a wide range of van models and states they can even design custom pop-tops for makes and models not listed. With this option, you have the flexibility of picking the vehicle you want to modify, and the layout to suit your needs.
Comparison
See below for a comparison of the models, costs, and options:
| Model | Cost | Sleeps | Kitchen | Toilet |
| --- | --- | --- | --- | --- |
| Winnebago Solis | $100,667 + | 4 | Y | Y |
| Pleasure-Way Tofino | $70,850 | 4 | Y | N |
| Recon Envy | $29,950 + Base Vehicle | 4 | Y | N |
| Colorado Camper | $15,000 + Base Vehicle | Varies | Varies | Varies |
Don't forget you can also search for a used pop-top camper van that will help you to keep to your budget if you want to spend less.
Where Did Pop-Tops Come From?
A pop-top is a van with a roof that can be raised for extra headroom height and provides an additional bed. These campers are about the size of a full-size van with the roof latched closed.
As camper vans increase in popularity, you are starting to be able to find more options for a pop-top camper van. Their convenient size makes them ideal for retirees that want to hit the road without having to take a cumbersome motorhome. Read our post about seniors and van camping here.
Winnebago recently released its Solis model, which features a pop-top roof, in October 2019. However, most pop-top campers are modifications to vans sold by manufacturers like Nissan, or Mercedes-Benz, Ram, or Ford. In fact, you can even find a pop-top modification for a Jeep Wrangler. Now, how cool is that?
A discourse on pop-top campers would be incomplete without mentioning the grandfather of all camper vans, the Volkswagon Westfalia. A strong culture revolved around living out of a Volkswagon van, which naturally led to a pop-top modification.
Westfalia started producing pop-tops in 1951. These campers came standard with seats that folded down into beds, sinks, iceboxes, electrical hookups, and of course, curtains.
However, the Volkswagon van was discontinued in 2003, and Westfalia went bankrupt in 2010. Westfalia branded modifications can still be purchased, though more available in Europe than in the United States. You can find used Westfalias if you look, but due to the high demand, they are still quite expensive.
Modern camper vans include many more amenities and options than the pop-top that inspired them all.
Choosing To Go With a Pop-Top
Pop-tops are a great option to consider for someone that might need more room than a standard van. The pop-top frees up extra room at the floor level by creating another level for sleeping. Besides, it allows you to stand up when cooking or when you need to do other things that require you being able to stand up.
With all of the creative and flexible options available on the market, you can find the perfect fit for you. For families with kids or in the event, you want to take a friend along, and the pop-top camper might be very much worth it for you.