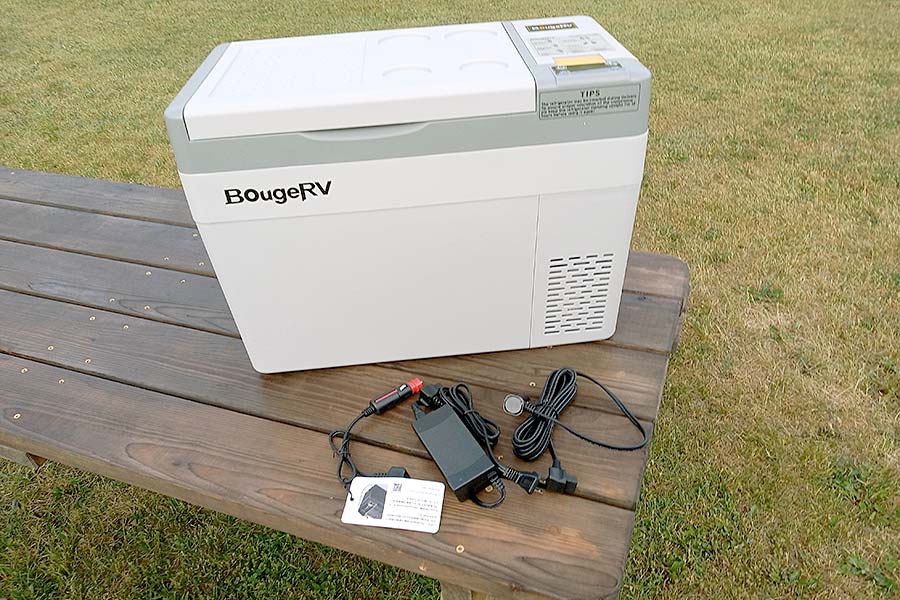 Looking for the ultimate road trip companion? It's a portable car fridge freezer! Imagine a weekend on the road with your favorite snacks and beverages chilled to perfection, just an arm's reach away.
Say goodbye to soggy sandwiches, lukewarm drinks, and melted chocolate bars, because this game-changing fridge freezer from BougeRV is here to revolutionize how you keep your food cold or frozen. So get ready to experience convenience like never before.
The Coolest Thing on the Road
One of the great things about having a camping blog is that you get to test out different new products, and BougeRV was kind enough to send us out a CRPRO30 30-quart 12V portable car fridge freezer to try out.
SPECIAL OFFER: Use the code VANCAMP18 and get 18% OFF that's $91.79 instantly on the CRPRO30 30 Quart Portable Car Fridge With 220Wh Power Station until December 30, 2023.
As with any unit, you must let it set upright for a while after delivery. I usually do that for at least 24 hours so that the compressor will operate properly.
The fridge has a nice spacious interior (13.8″ L x 9.8″ W x 13″ H) with a removable divider, so you'll have lots of space to carry all your food and drinks. The adjustable temperature control ensures that your items are kept at the perfect temperature, tailored to your preference, whether you want to chill or freeze. And the controls are easy to operate.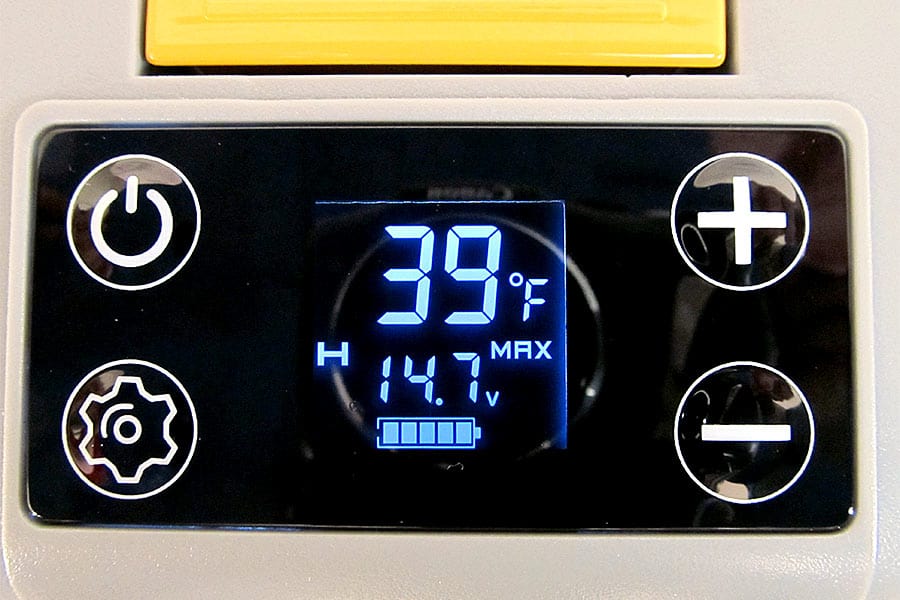 The unit is compact and user-friendly. The fridge weighs 27.55 lbs., and the portable battery comes in at 3.3 lbs., making the combined weight 30.85 lbs. The fridge comes with a 2-year warranty, while the power station has a 1-year warranty.
Another notable feature is its safety tie-down points on both sides, allowing you to secure it firmly to your vehicle using straps. No more worrying about your fridge sliding around while you navigate those rough trails!
And when night falls, the built-in LED light illuminates the fridge's interior, making it easy to grab a late-night snack without fumbling around for a flashlight. Plus, it runs very quietly; the noise level is only 45 dB, so you won't be disturbed by noise.
Other Posts of Interest
The best part? This energy-efficient fridge consumes only 45W in MAX mode and a mere 36W in ECO mode. Additionally, it offers a 3-level car battery protection setting to prevent draining your vehicle's battery when the voltage runs low.
One of the things that always was a problem was when I took our other fridge out of the vehicle and over to the picnic table, it started to warm up… BougeRV solved that problem.
The BougeRV 220Wh portable power station works in conjunction with the fridge and offers an exceptional battery backup solution for your refrigerator. I really like this feature!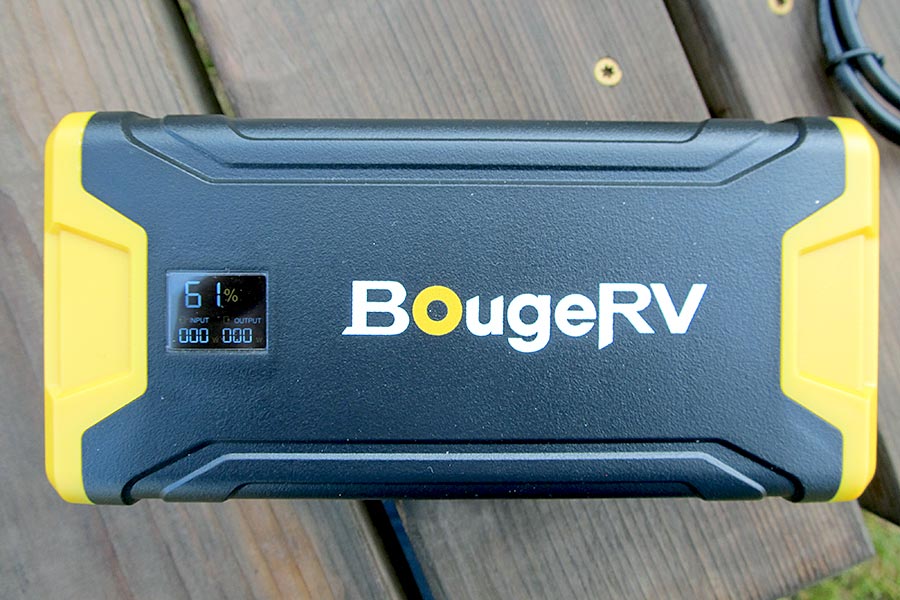 This portable power source, equipped with a lithium-ion battery, can deliver a continuous 200W output, making it perfect for operating small appliances such as portable fridges or fans. In addition, it has a variety of charging ports, including AC, DC, USB, and Type-C ports, ensuring that you can conveniently charge your devices while on the move.
The unit also has a digital display that lets you know how much charge you have left or how long before it is recharged. Plus, it has a LED light that can act like a flashlight with strong, weak, and SOS settings.
Additionally, its sleek and lightweight design allows for effortless portability and storage.
So How Did It Work?
The freezer worked great in my test run. I used the MAX setting in all the testing. I set it at 0°, and it cooled down quickly; it took about a half hour.
I was about two hours from home on a hot summer day, and I filled it with ice cream. The freezer maintained the 0° temperature, and the ice cream was still frozen when I arrived home.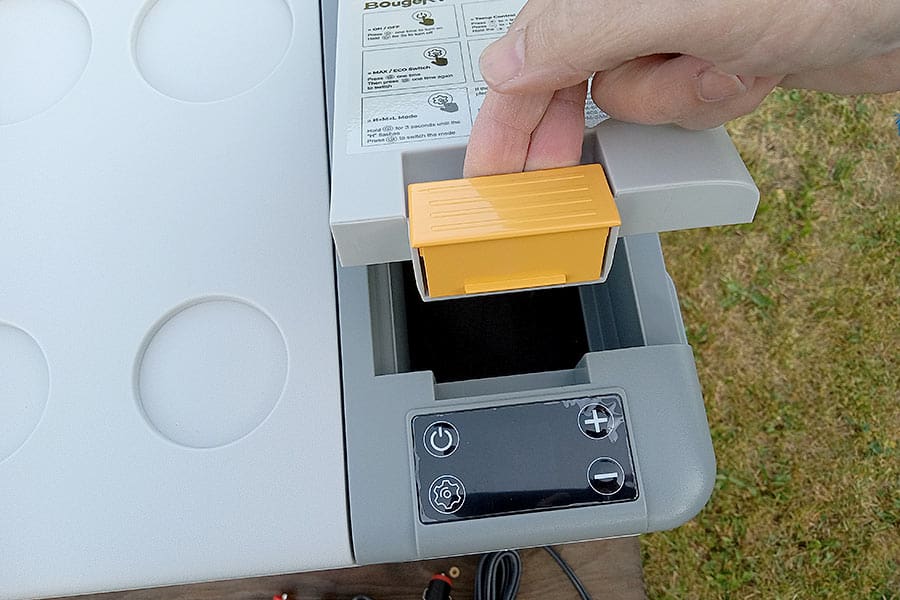 Next, I wanted to test out to see how the battery worked in conjunction with the fridge. So I left the fridge empty and set the temperature to 38° F to cool it down by plugging it into a standard house outlet.
Then I took the fridge out and put it on the picnic table at 9:30 in the morning; the temperature outside was 71° F, and it was clear and sunny; the unit wasn't in the shade any. By 10:30, the outdoor temperature was at 81° and continued to rise throughout the day, reaching 93°.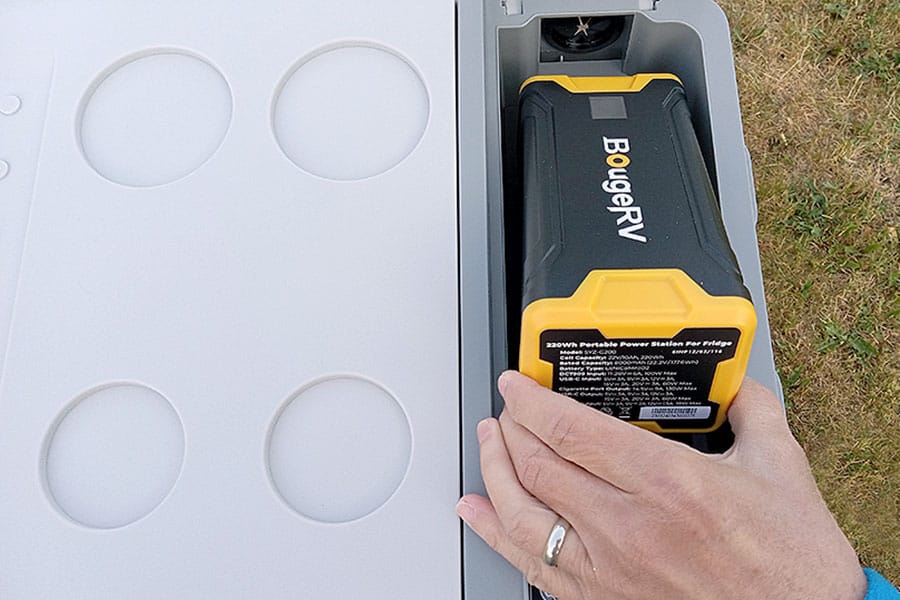 The fridge's inside temperature stayed between 36 and 41 degrees. What amazed me was that the battery lasted 7 hours and 45 minutes! The website said it would last 6 hours hooked to the fridge, and I figured that was in optimal conditions. It is nice to find a company that under-promises and over-delivers! I let it run until the battery was entirely run down. 
Then, I wanted to see how long it would take to completely recharge the battery back to full charge using a standard house outlet. That took 3 hours and 55 minutes, which was not a bad time at all.
You also have the option to charge it through your vehicle's 12V auxiliary power outlet or using a solar panel. I was pleased to discover that the battery performed exceptionally well, even in less than favorable conditions. 
Last year I also tried out another BougeRV fridge and wrote a post about it. I must commend them for enhancing their customer service since my previous review. Now, you can conveniently contact them via phone using the number attached to the unit to address any concerns or inquiries.
The Perfect Road Trip Companion
The BougeRV CRPRO30 12V portable fridge freezer is a game-changer for camping enthusiasts. Its compact size makes it an indispensable companion on any camping trip. In addition, its thoughtful features and durable design and the optional power station you can get for it make it the ultimate choice for your next outdoor adventure.