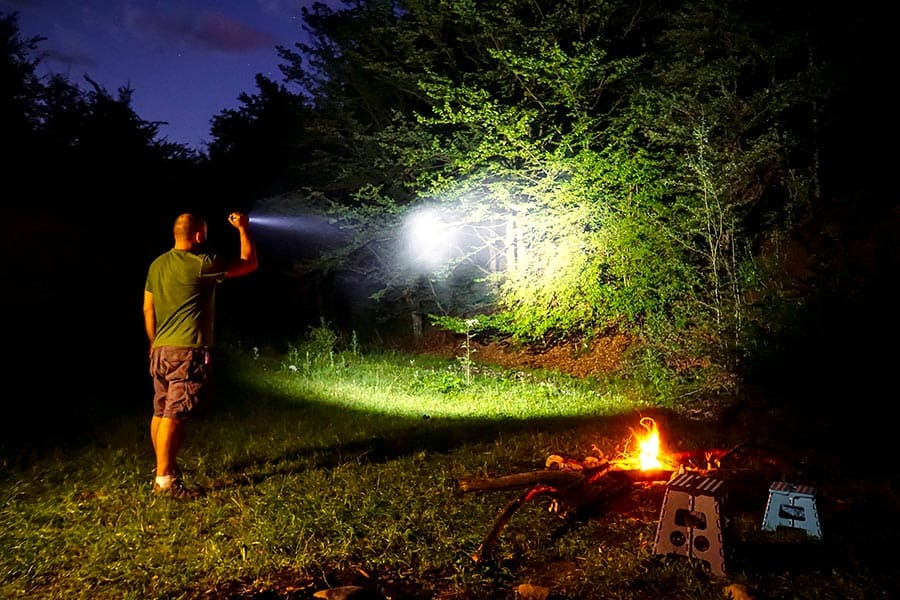 Perhaps one of the most used items in your camping kit is your flashlight. It helps get you to your coffee in the morning and aids in finding the bathroom at night. Whether you want to hang it from your ceiling to read or light your dinner table to eat, there are many different options to consider when choosing your camping light source.
So, how should you choose a camping flashlight? There are many factors to consider when selecting a camping flashlight, such as:
Shape and Type
Battery Type
Comfort and Ergonomics
Brightness
Weight
Size
Impact- and Water-resistance
Your choice of flashlight also depends on your needs and the activities you have planned for your camping trip.
Camp lighting technology has come far in the past few years. Many lights are now solar-charged, while others have adjustable light output with the click of a button. This complete buyer's guide will walk you through all the different options and features available today for your camping light needs.
How to Choose A Camping Flashlight: A Complete Buyer's Guide
There is a myriad of options when it comes to flashlights. Some cost only a few dollars, while others run close to two hundred dollars. The different features available affect the price. When shopping for your camping flashlight, you must consider the camping experience that you want to have and exactly how much light you need.
There are numerous features of flashlights and other camping lights today. In our complete buyer's guide, we will walk through each of these differences and how to choose the best option for you and your needs.
Different Shapes Of Flashlights
There are several types of flashlights available for camping because of varying camping needs. If you want to see some chords while you strum your guitar around the campfire, you might need something a little different than if you are going for a sunrise hike.
Lanterns
These hand-held beauties are the go-to for car and van camping when you want a nice ambiance. Lanterns create a picturesque setting, illuminating a beautiful ring around themselves. Without putting too much light in any one direction, they are a pleasant light that isn't harsh on the eyes.
They come in a variety of styles, from old oil lanterns to modern, solar-charged inflatable designs. These are excellent for hanging up to cast a subtle glow onto your entire area.
Lantern Product Recommendation: Luci MPOWERD Solar Lantern
The Luci MPOWERD Solar Lantern lights up your camping space without buying additional batteries or needing a plug. Lightweight and small, it can give off a decent amount of light with 65 lumens on its highest setting.
Some of the features of this lantern include:
Lithium-ion battery with solar-panel charging
Weighs only 4 ounces
1 inch thick when collapsed
Water-resistant
For a simple and effective solar-powered lantern, Luci has knocked it out of the park.
Hand-Held Flashlights
Hand-held flashlights are usually what comes to mind when you first think of a flashlight. These portable flashlights provide a precise beam with a simple move of the hand.
Hand-held flashlights are the most used, which also makes them the most affordable. You can pick up plenty at the dollar store if you're outfitting all your friends, or you can upgrade to some heavy-duty options as well. The only downside to these is that you lose one free hand if you are trying to prepare a meal, put up a tent, or start a fire.
Hand-Held Flashlight Product Recommendation: GearLight LED Tactical Flashlight
For a durable, hand-held flashlight that will last for ages, check out the GearLight LED Tactical Flashlight. Combining time-tested technology with a multitude of options, you get a great deal with this combo pack.
Some of the features of this flashlight include:
Adjustable zoom and options allow customizable light
Holster included for easy carrying
Maximum lumen output of 1040
Simplicity meets function in the Gearlight LED Tactical Flashlight, making it a winner among your traditional flashlights.
Headlamps
Perhaps the most popular camping flashlights these days, headlamp technology has genuinely soared in recent years. With comfortable headbands and a plethora of options, headlamps can give the best of all lighting worlds.
A hands-free lighting option opens a realm of possibilities. Many users enjoy headlamps because they focus the light in their direct path. Headlamps enable you to get the light you need without disturbing others who may be enjoying their dark evening.
Headlamp Product Recommendation: Black Diamond Storm Headlamp
From renowned outdoor gear company, Black Diamond, comes the Storm Headlamp. With four color options and PowerTap technology, using this headlamp is easy and convenient. Its hands-free design allows you to cook, run, hike, or do just about anything with it lighting your way.
Some of the features of this headlamp include:
Waterproof and dustproof
120-hour battery life
Power Tap technology changes your light with a simple tap
Headlamps are the perfect all-around light when you are tidying up around your van at night, and the Black Diamond Storm is no exception.
Battery Options For Your Flashlight
Depending on your camping style, you may want a flashlight that allows you to stay off the grid for days without having to change batteries or plug anything in. However, with more freedom often comes a higher price tag, making a disposable battery a great option as well.
Now is also a good time to mention that we have a post "9 Tips You Should Know Before Going Camping" and also a free camping checklist for you to download.
Rechargeable
Rechargeable flashlights usually plug into an outlet via USB port. Many vans are wired with electricity, making this an excellent option for everyday van life use. If you have a solar charger, this can be one of the best renewable energy options for flashlights.
Rechargeable lights usually use a lithium-ion battery, which is incredibly long-lasting. While you will not have to replace the battery on these, significant environmental hurdles surround the disposal of lithium-ion batteries when they no longer work, as explained by Chemical and Engineering News.
Disposable
Disposable batteries are used in a lot of electronics. Most flashlights use AA or AAA batteries, but you may remember a few chunky ones using D batteries growing up. These are still around if you prefer a flashlight that doubles as a protective tool if needed.
One of the pros of disposable batteries is that if you have extra, you will never run out of light, even if you are away from a power source. Solar-powered and rechargeable options can both come up short when faced with too much time away from their charging source.
Solar-Powered
An excellent addition to the flashlight world is solar-powered lights. Solar power works incredibly well when used in a lantern. If you can leave a solar cell lantern out on your table or in the front of your van all day, it will charge in the sun until you are ready to use it. With this, if it's a sunny day, you will have light well into the night.
The downside, of course, is if you are in a dreary or wet climate without much sun. Then, solar-powered lights may not be able to get enough charge to be usable. So, keep the solar-powered lights for your California adventures and stick with different battery options for your road trip through the Olympic peninsula.
Hand-Crank
If you're willing to work just a little bit for your light, a dependable hand-crank flashlight will work if you are ready to crank it. These handy devices are great if you have kids along, as it is an activity to help them contribute to the group. They are sure to get excited when they realize that they are powering the light!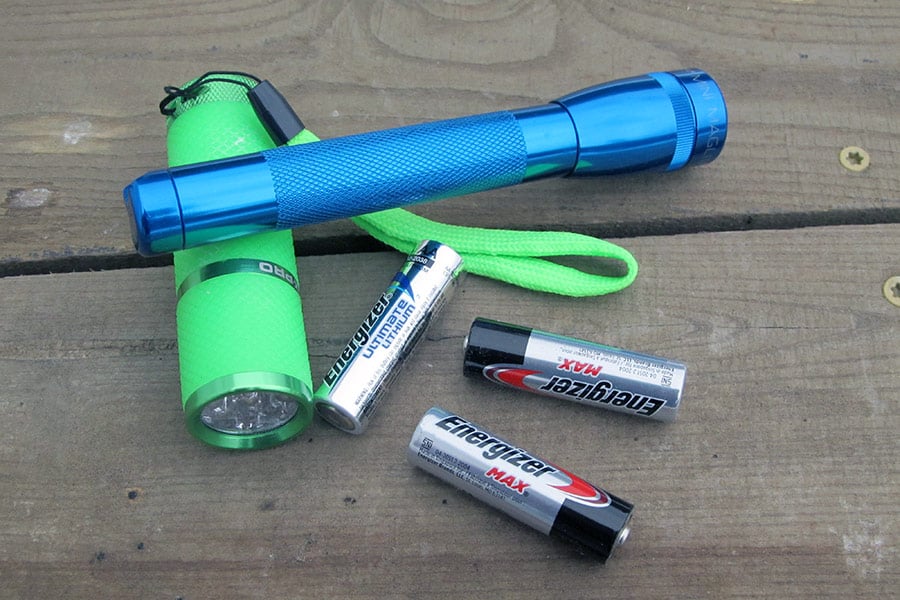 Other Posts of Interest
How Many Lumens Do You Need? Figuring Out Flashlight Brightness
As explained by Energy Saver, lumens are how we measure light output. The max lumen output will be advertised on most flashlight packaging. Keep in mind that the advertised lumens are according to when the flashlight is fully charged and on its highest output option.
Before you go finding the biggest number you can, though, consider your needs. A regular 40-watt lightbulb at your house produces around 450 lumens. So, if you're hoping to use this flashlight or lantern for lighting a table or kitchen, consider something in the 450 to 1000 lumen range, depending on how large and bright you would like the space.
If you are looking for a simple light for reading or walking on a path in the evening, anywhere from 20 to 80 lumens will be plenty. However, if you are looking for a spotlight to flood the horizon in light, you can find beams over 3000 lumens. Just keep in mind that they are incredibly bright and will disrupt anyone nearby as they light up the sky.
Size And Weight
It should not surprise you that size and weight are often two of the main determiners of flashlight price. The smaller and lighter the tool, the more it will cost you. We highly recommend trying out a few different flashlights in person to get a feel for what you prefer.
Often, people think they need the smallest and lightest thing on the market when a medium weight will suit them just fine. Flashlights are usually rounded, making them prone to rolling. Consider one with a flatter shape to stop this from occurring. Also, many flashlights have rubber grips that improve handling and add a little protection to them.
As things get smaller, they often get more fragile. Many lights these days will advertise being impact resistant. Impact resistance is especially important if you find yourself dropping things often or have children around. An impact-resistant light will ensure a longer flashlight life regardless of who uses it or how it is used.
Lastly, a bigger light often means a larger battery capacity. More battery capacity means a longer run time for the flashlight or lantern.
Modes, Controls, And Beams: What's The Difference?
As you begin your search for a reliable camping flashlight, you may start to see a variety of different options from which to choose. Most flashlights and headlamps these days have multiple options installed in them.
Beam Types
The different type of beam you need will change based on your task. The different choices are:
Fixed: All the light is directed toward one location and is found in your everyday flashlights and most headlamps.
Spotlight: An intensely focused beam of light, usually used for finding a route or animals at long distances.
Wide: A larger area of light is produced with a wide beam. This wide beam is often like a lantern's light output, but many headlamps have a wide-angle setting as well.
Mode Options
Some newer, more technologically advanced headlamps have a multitude of options built-in. You can cycle through three or four different settings depending on your needs. Here are a few options to consider:
Red light: These are very popular because they do not hurt your eyes as much if you are looking directly at them. These are great if you are camping with a group of people and you would like to be courteous to other campers around you.
Strobe light: This pulsing light is a hit with younger crowds. Used for impromptu dance-parties or adding some fun to a night game, this quick flash adds some pep to your nightly routine.
Dim and Bright Modes: Who says you can't have it all in one light? Some programmable models allow you to download software and program two different lumen settings on your flashlight or headlamp. For many, they choose to have one dimmer setting for reading and other light tasks and a much brighter setting for activities that need more light.
Van Camping Life Tip: If you are going to a star party and want an astronomer friendly flashlight, purchase a red beam flashlight.
Controlling Your Flashlight
Depending on your needs, you may want a different on/off switch than the standard one. Most modern models will come with a simple push button to turn it on and off.
If you prefer a more mechanical feeling under your thumb, you can go back to the retro style, where you use your thumb to push and pull the button to turn it on and off. Remember, though, that this style often comes with the frustration of shaking it when it does not work.
A key feature that many hikers and van lifers alike desire is a safety lock that prevents the light from turning on unintentionally. It can be frustrating when you get to your destination to find that your headlamp has been on for hours and has little to no battery life left.
Water Resistance: An Often-Underappreciated Feature
If you are researching how to choose a camping flashlight, it's wise to consider its impact and water-resistance. Whether it's a quick hike in the rain or an accidental flop into a pond, getting wet is almost inevitable with any camping tool.
Water resistance is measured after an impact test has been performed. The impact test involves dropping the light six times onto concrete and seeing if it is still operating at its full capacity. Whatever height it can be dropped from and still work well is its impact resistance.
Once the headlamp or lantern has gone through impact testing, it moves onto water resistance testing. An item labeled with IPX4 has been splashed from every direction and still worked.
A tool with a rating of IPX7 has been one meter underwater for thirty minutes and still worked well. Bumping up to a rating of IPX8 ensures that your light will still work after a full four-hour submersion at the depth indicated on the box.
So, depending on your plans in the great outdoors, you can choose the impact and water resistance of your headlamp, lantern, or flashlight accordingly.
Manufacturer's Warranties & Making the Most Out Of Your Light
If you take care of your gear, it will take care of you. Therefore, it is a great idea to buy a light with an excellent manufacturer's warranty behind it. Most should back their product fully for one to two years.
When a company stands behind their product, they put a good warranty on it. After all, they do not expect it to malfunction because their product is just that good. So, before you go buying a cheap light that will get you by for a while, consider investing in a high-quality headlamp or lantern that won't let you down.
Lastly, cleaning all your gear at the end of a camping trip will also extend its life. Buttons on flashlights and headlamps tend to get a little sticky and gritty, mainly when used around the kitchen. A quick wipe will help your gear serve you for years to come.
Now You're Ready To Shop With Our Complete Buyer's Guide
You've done the research and know your options. Hopefully, you have been glancing around at your friends to see which lights and lamps they have. If you can, ask if you can borrow theirs for your next outing to see which features you like and which you can do without.
Now, you are more than prepared to make a reliable and educated choice about your next flashlight, headlamp, or lantern.