Van camping is one of the most exciting ways to go on an adventure. Rain, snow, or sunshine, you'll have a blast exploring the scenery and visiting various points of interest. It's essential to have the best camping experience possible, which is why you should try out the suggestions you will find in this post.
So, what are the 21 tips to get the most out of your van camping trip? Start by following these tips:
Only take what you need
Know where you're going
Managing your trip and stop times
Pack light and keep it clean
Remember to pack for your dog
Take rest stops
Use apps & maps
Make a list of points of interest
Find mementos
Step out of your comfort zone
Camping near animals: follow these suggestions
Getting the most out of every location
Create a budget before you go
How to find the best campsites
Learn the laws of the land
Take it slow and plan for mistakes
Don't forget road trip snacks
Where to sleep if your plans fall through
How to clean your clothes while you're on the road
Meet friends along the way
Take advantage of park passes and campground deals
Throughout this post, you'll learn the details of every tip as well as how you can have a good time getting the most out of every minute of your van camping journey.
How to Get the Most Out of Your Van Camping Adventure
1. Only Take What You Need
It's no secret that van camping provides a lot less space than living in a house. While most homes are over 1,000 square feet, the average cargo van is between 100 to 150 square feet. Less room means that you'll have to leave most of your possessions at home. If you're not used to minimalism, now is the time to try it.
For example, rather than bringing seven pairs of clothing (one per day of the week), bring three pairs and an extra jacket. You'll be able to wash clothes wherever you go by following tip #19, not to mention the fact that you'll have more room to buy shirts and other souvenirs.
2. Know Where You're Going
It's always fun to wing it (and to an extent, you should), but creating a route beforehand is the key to not getting lost. Despite the countless images and posts that tell you getting lost is the best part of the adventure, it's not. You'll wind up spending more money on fuel while being more stressed out than you need to be.
Creating a rough route that gets you from start to finish is all you need. If you're worried about not seeing enough, take a map of the highways and main roads around the area. You'll be able to go off-track a bit should you see something that looks interesting.
3. Managing Your Trip and Stop Times
We've all spent more time on the road than we should. Whether it's an unexpected roadside shop or a museum that didn't show up on a map, these hidden gems make a road trip more exciting. Don't forget about the need to go to the bathroom, get snacks and drinks, and stretch when you start to get road buzz.
Try to manage your time on the road by adding an extra 10 minutes per hour. For example, if you're planning to drive for five hours, make the trip 5 hours and 50 minutes long in your mind. You'll either arrive on time or get there a little earlier than you predicted rather than showing up late.
This extra time cushion can also help make you feel more organized, which is always an issue when you're road-tripping.
Other Posts of Interest
4. Pack Light and Keep It Clean
Alongside #1 on the list, it's essential to pack light. Not only do you waste time sifting through too many clothes, shoes, and other items, but all vans have a total weight capacity. If you exceed the capacity, you could lower your gas mileage and put unwanted wear and tear on the parts and tires.
On top of that, you should do your best to keep the van clean. Take a small hand broom and a dustpan with you to remove dirt and debris that builds up. You'll probably be hiking all over the place, so a little bit of dust is inevitable.
5. Remember to Pack for Your Dog
If you're bringing a dog along for the ride, you should bring extra supplies for them. Food, water, treats, potty bags, and leashes are just a handful of items to name. Much like your own supplies, you can condense the number of supplies that you bring for your dog as long as you don't forget their nutrition and well-being.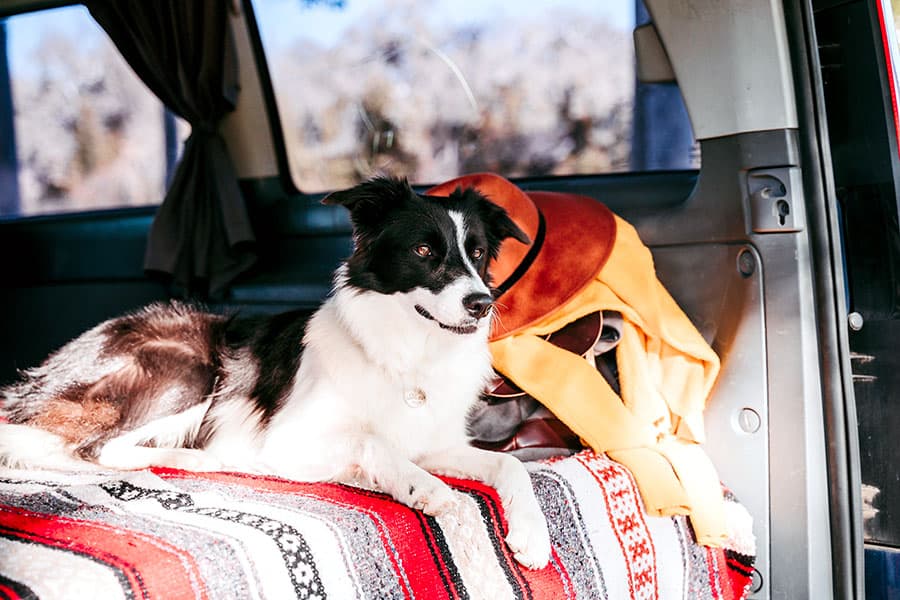 Van Camping Life Tip: Not all campgrounds and attractions allow dogs and other pets. Ensure that you call ahead of time and check if the places you're heading permit you to bring them with you.
6. Take Rest Stops
Rest stops are just as important as the drive. There's no point in pushing yourself too long without resting just to make it ahead of time. You'll end up feeling exhausted, so take a rest along the way to keep yourself feeling energetic and ready to go.
Many states and countries have rest stops specifically created for road trippers, long-distance commuters, and truckers. These stops have bathrooms, benches, areas to walk around and stretch your legs, and sometimes even small stores for last-minute supplies. Check out this map by Interstate Rest Areas.
7. Use Apps & Maps
Apps and physical paper maps are both equally as useful. Never rely solely on one or the other. If you're stuck without a paper map, and the internet cuts out, you won't have any sense of direction. On the other hand, apps are perfect if you want a map that's always up to date wherever you go.
A few top-notch apps for routing your road trips include Road Trippers, Google Trips, and Google Maps. Regardless of which app you choose, always call for reservations and keep your location turned on so they can update you with information about road closures, accidents, traffic delays, and more.
8. Make a List of Points of Interest
While you're going through different apps, maps, and creating a route, mark all of the points of interest along the way. You never know when you'll end up finding a place that you didn't know was nearby, or if you can take pictures with perfect scenery in the background.
Notable points of interest include national parks, monuments, museums, rivers, oceans, and more. Even if they're not the main destination, it's always a fun idea to make a quick 15-minute stop to visit a place that you might never get a chance to see again.
9. Find Mementos
Mementos, souvenirs, and other memorable items are some of the best parts of going van camping. Pictures and memories are amazing to cherish, but why not have a t-shirt or necklace from your favorite place? Get bumper stickers for your van, bobbleheads, or even books referring to local attractions.
Don't forget to purchase gifts for people back at home. Van camping is an incredible experience that many people never have the opportunity to try. By getting them something along the way, you're showing that you thought of them during the adventure.
10. Step Out of Your Comfort Zone
If you're out on a paved trail and you see another going off on an unmarked path, try it out. Take the scenic route, try new foods, and explore landscapes that you didn't know existed. Stepping out of your comfort zone even a little bit is one of the most important and enjoyable aspects of going camping out of a van.
Nobody remembers individual nights of sleeping at a hotel, but who could forget parking a van at a beach and falling asleep to the sound of the waves? Even if you didn't plan for it, step out of your normal routine and try something new. This tip is perhaps the best way to get the most enjoyment out of van camping.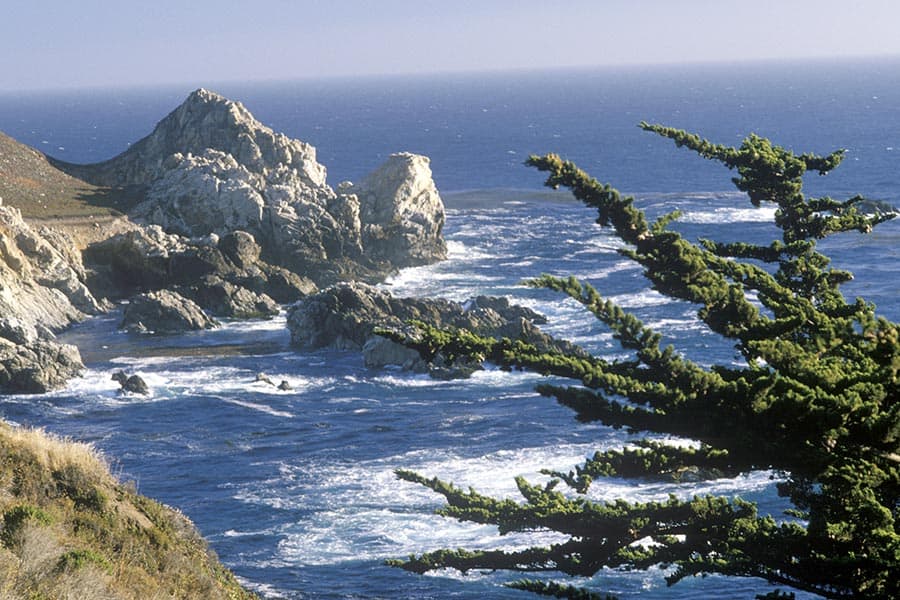 11. Camping Near Animals: Follow These Suggestions
If you're camping near bears, snakes, raccoons, and other wild animals, make sure you pack accordingly. You might need bear boxes and air horns to keep them away. You should do your best to research all of the campgrounds that you plan to visit before showing up, so you know what you need to do.
Another suggestion would be to camp closer to civilization if you're worried about animals. They're far less likely to approach your vehicle if other people and loud noises are nearby. Science Daily states that most wild animals do their best to stay away from humans, if at all possible.
12. Getting the Most Out of Every Location
Rather than visiting a location for a few short minutes and going at it blindly, figure out what the most exciting parts of it will be before you go. For example, Big Sur in California is one of the United States' most well-known beaches, but there are multiple campgrounds within a couple of miles to park your van.
Another great example would be Yosemite National Park. Everyone thinks about Half Dome, but there are also numerous waterfalls, Mirror Lake, and dozens of small gift shops to buy souvenirs. By learning about every destination before heading out, you can pack loads of fun into every outing.
13. Create a Budget Before You Go
Making a budget before you set out on the van camping trip will save you tons of money. You should find out what your van's fuel efficiency is, how much food you'll need to buy, set aside money for "extra spending," and don't forget about campground fees.
Once you've added all of the budget items together, add 15% onto the total. This cushion will act as an additional spending buffer in case things cost more than you thought, or you want to spend a bit more. You never know when you'll want to stay at a campsite a little longer or rent a kayak to go down a river!
14. How to Find the Best Campsites
Finding campsites is one of the most challenging parts of a van camping trip for most beginners. If you've never gone on a journey in a van, long or short, then you might be worried about which places allow vans and which don't. Fortunately, the internet is loaded with knowledge from other van campers.
If you want to create a list of possible campsites, try out Campendium. It has all sorts of reviews and options to filter your results. Some of the places are free to stay at! Speaking of "free," Free Campsites is another website where you can save tons of money while camping out of your van. 
15. Learn the Laws of the Land
Although it's not quite as fun to think about, you must always remember local laws. Some places have different regulations on where you can park your van, how long you can stay in the same spot, and even when and where you can cook.
Van Camping Life Tip: If you're van camping with a dog, check for signs about leashes, cleaning up their messes, and whether or not they're allowed in the first place.
16. Take It Slow and Plan for Mistakes
Thanks to your planning, mapping, and budgeting, you've allotted enough time to take it slow and plan for mistakes. Flat tires happen, some campgrounds might close or be over capacity, and individual stores might have different hours than you expected. These are all part of the process.
If you go on this adventure with a rushing mentality, you'll be disappointed. You should learn to relax and go at an even pace to enjoy every last moment that you have. Even if something goes not as planned, you'll be ready to deal with it without a problem.
17. Don't Forget Road Trip Snacks
Trying different types of food while van camping is a huge part of the traveling experience, if you're going to be on a long road trip, then you can try different foods from a variety of cultures and flavor palettes. Short van camping that's only an hour away from home also has plenty to offer.
Cook over a fire pit rather than on a stove or buy roadside food along the way. Trying new food is something that you won't regret!
18. Where to Sleep if Your Plans Fall Through
If you've planned on staying at a campground, but it's full when you get there, what can you do? Well, one option is to try to use Campendium or Free Campsites from tip #14. You could also call local Wal-Mart stores to see if they allow overnight parking lot camping.
Worst case scenario, you can stay at a hotel while you're waiting. Remember that 15% buffer from tip #13? Spending overnight unplanned at a hotel is where that tip comes in handy!
19. How to Clean Your Clothes While You're on the Road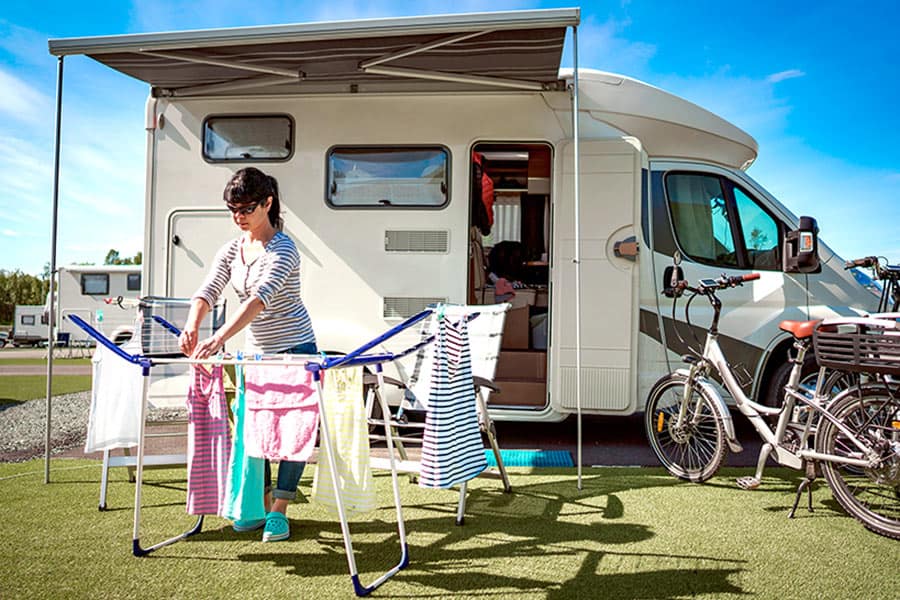 You'll inevitably have to clean your clothes if you're van camping for longer than a few days. You have three options to try:
Find local laundry facilities.
Wash your clothes by hand and hang to dry when stopped to camp for the day.
Stay at a hotel once a week and use their laundry services.
If you're blessed to have friends and family along your route, you could ask to use their washer and dryer. It'd be an excellent opportunity to sleep in your van in their driveway or have a home-cooked meal if you're going on a long trip.
20. Meet Friends Along the Way
Meeting new people will change your life. Try to interact with other people who are also on road trips or camping out of their van. The Van Life community is ever-growing, meaning you'll always be able to meet new people, share meals, and experience new adventures that you didn't plan for.
You should also try to meet up with friends that you already know as you go. If you met a friend in college, but they've since moved away, you can catch up with them as you cruise through their state or city. It's a great way to get a local perspective of the area.
21. Take Advantage of Park Passes and Campground Deals
The U.S. Park Pass gives you access to all sorts of National Parks and forests that you can explore. You can also take advantage of local campground deals, KOA discounts, and more. These are just a few tips that you can try to save more money.
Conclusion
Camping out of a van is an unforgettable experience. You don't have to go across the country to enjoy an unlimited amount of fun. Whether you're traveling 10,000 miles or 10 miles, having a mobile house on wheels gives you an insight on a way of living that the vast majority of people have never even tried. Enjoy your trip!