It is an exciting time to be in the market for buying a new camper van. We have the world at our fingertips. Your future camping trips can be a joy, an escape from your everyday life, and as cozy as a home on wheels can be. Make your dream a reality, and get out there to make some unforgettable memories.
How does the Hymer Aktiv Loft compare against the Pleasure-WayTofino? Comparing camping vans before you buy is an essential step in the purchasing process. Knowing what you want is half the battle, finding it is the other half. Tick off all of your boxes with the luxurious Hymer Aktiv Loft or Pleasure-Way Tofino. Both companies have been providing excellent customer service and high-quality van models.
Which is the best choice for your new camper van? Let's explore a few of your top options.
Comparing Camper Vans
Shopping for a new van can be an exciting time in your life that represents adventure and freedom. Purchasing is especially exciting when you are buying a van fresh off of the lot. Everything is shiny, and it's new and smells like it just came off the line at the manufacturer.
Haggling with a salesperson can be the least exciting part of it all, for most of us anyway. However, it is a critical aspect of keeping within your budget and being satisfied that you got the best possible deal.
Our best advice is to be educated and prepared before you even set foot on the showroom floor. Because once you are in there, it is easy to get swept away by the nostalgia of it all, and the persuasive sales team.
Are you taking a few friends or family members with you? A camper van is a perfect size for 1-4 passengers. You will all enjoy what a pop-top van will bring. A bunk is fun and a sensible spot for guests.
Are you traveling solo? You will feel safe and confident in a camping van. They are easy to drive, simple to park, and amazing to camp in.
Hymer
Hymer has been building dream motorhome and camping vans since 1957. Hymer got its start with agricultural vehicles. Did you know that there is a Hymer museum?
Built on Mercedes and Fiat chassis, Hymer describes their products as luxurious, innovative, and safe. They have been paving the way for motorhome and van design and quality for over 60 years. Since 1983 Hymer has been providing us with topnotch camper vans that meet all your camping expectations.
Hymer is award-winning and has won our hearts with their stellar customer service, and top of the line builds. There's nothing quite like a Hymer camping van.
Hymer Aktiv Loft
Measuring in at 21′ long, the camper van is just short enough to be considered a Class B vehicle. The average parking spot is 18 feet long, so you may not be able to fit comfortably in one unless you can back in and allow the rear of your van hanging over a curb or edge of the parking lot.
An issue you will avoid with a van this size is that you will be allowed into any state park in the USA. Believe it or not, there is a size restriction of 23 feet in length at some of our parks.
This model is at the top of the pack, as far as price goes, $129,995 is the suggested retail price. But you can see in an instant where that extra money is spent. Hymer outdid themselves with the Aktiv Loft. The Aktiv is fully equipped with everything you could want or need in a camping van.
Specifically designed only for the Hymer Aktiv is the priceless VoltStart. This unit monitors your use of the air conditioner, furnace, and other power uses. It also monitors the levels of your lithium batteries. As long as you have gas in the vehicle, you can enjoy the standard VoltStart.
One thing Hymer customers rave about is the whisper-quiet motor and appliances. It is seriously the quietest camper van we have ever come across. It is almost hard to know if the engine is running.
Let's talk about the amazing windows and ventilation that you get with this van. If you are the sort of camper that lives for fresh air and cross breezes while you're in the great outdoors, you are going to love the placement, size, and capability of the Hymer Aktiv Loft's windows.
In addition to the windows, the window shades are hard to beat. Not your average flimsy see-through shades, these are full coverage for privacy, and they work wonders in keeping out the harsh hot sun.
All in all, we love this van!
Pleasure-Way
A Canadian based company, Pleasure-Way, is all about the camper van/Class B motorhome. In fact, they don't make anything but them. Therefore, their focus is right where you want it to be. Family owned and operated since 1986.
Pleasure-Way is superior in quality and construction. They are hands-on every step of the way. Meaning that there is no mass production happening, and vans are not flying off of assembly lines. Pleasure-Way truly takes pride in their work, and it shows.
As a friendly, customer satisfaction driven family-owned company, Pleasure-Way cares a whole lot about delivering superior customer service to you every step of the way. Their customer service sets them apart from the rest of the pack.
Other Posts of Interest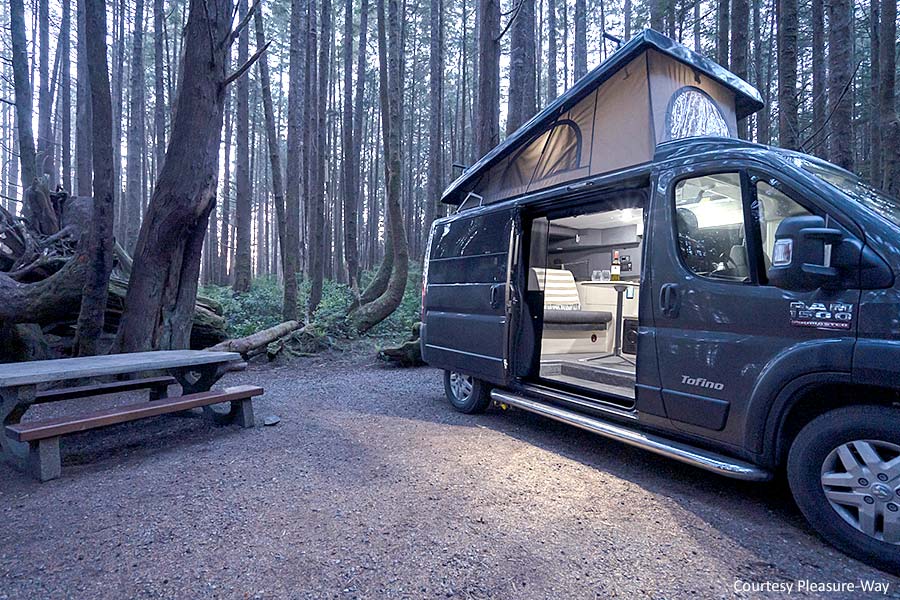 Pleasure-Way Tofino
Have you heard what owners are saying about Pleasure-Way and the Tofino? They're giving it five-star reviews across the board. It's perfect for camping, and a joy to drive.
The van is 17′ 9″ in length; it fits easily into most parking spaces. Standing tall at 8′ 2″ including the A/C, this van is easy to see in a crowded parking lot. Built on the Ram Promaster 1500, the motor is durable and reliable. Here are some of the outstanding features you can enjoy:
A manual pop-top opens to provide a spacious headroom with a 49″ x 72″ area. When the top is popped, you also gain a loft for your guests or your children. It's a family affair.
Optional roof rack, but remember that you will have to remove storage before opening the pop-top. Think about what you would like to put in storage and consider a trailer or a cargo tray that hooks into the hitch, instead.
Comes stock with a hitch so you can tow up to 2,900 lbs., giving you the ability to pull a small trailer or boat.
Solar panels do not come standard from Pleasure-Way on the Tofino, but you can add them on when you design your van.
Blackout window shades for the side and rear windows help to keep it cool and provide stellar privacy. Also included are shades for the windshield and drivers/passenger side windows.
It's priced at $70,850 MSRP, making it quite a bit more affordable than the Hymer Aktiv Loft. Providing one of the foremost warranties on the market, Pleasure-Way Tofino comes with an incredible Pleasure-Way Five Year Freedom Warranty. This limited warranty will give you peace of mind for five years or 60,000 miles.
The Pleasure-Way Tofino is an excellent choice to take on your next adventure, and it will average about 16 miles per gallon on the highway. It has 70 cubic feet of storage in the back section, giving you lots of room for your gear. The Tofino gives you that stealthy van look allowing you to get away with camping in places that you usually wouldn't be able to.
This van is one great camping vehicle, don't buy a camper van until you check the Tofino out.
Hymer Aktiv Loft vs. Pleasure-Way Tofino
| | Hymer Aktiv Loft | Pleasure-Way Tofino |
| --- | --- | --- |
| Price | $129,995 | $70,850 |
| Warranty | 3 yr./36,000 mi | 5 yr./60,000 mi |
| Length | 21' | 17' 9" |
| Colors | Silver/Gold/White/Black | Silver/Red/Grey |
| Features | Luxury | Reliable |
Major Decisions When Choosing a Camper Van
When you are in the market to purchase a new camper van, there are tons of things to consider.
Best fit for your lifestyle – Make a list of the specifics you desire in your new camper van purchase, then do your research to see what the various manufacturers are offering with stock camper vans, and what is available with additional upgrades.
Your adventure – A camper van that is purchased solely for camping at a local campground a few times a year can be a completely different purchase than one bought to boondock in the middle of nowhere. If you're shopping for clean and classy glamping, look for luxury. If you're shopping for rugged and reliable, look for strength and functionality.
Budget – One major deciding factor when purchasing a new camper van off of the lot is typically finding what is in your price range. Spending more than what is available in our budget can put us in a position we can't afford to get out of.
Instead of risking your dollars and cents, decide what you can realistically afford, and shop accordingly. Salespeople are very determined when they are trying to make a sale, with the ability to talk you into something you can't afford.
In addition, you are probably wondering how well your investment will hold its value when trading or selling. You can read more about how well camper vans retain their value here.
Warranty – A warranty is a form of insurance for major purchases. Purchasing a camper van with an attractive warranty gives us peace of mind knowing that we are protected, should any issues arise.
We are spending enough on the van; we shouldn't have to cover the cost of unexpected maintenance within the first few years. The manufacturer promises to stand by you, and that feels good to the consumer.
Maintenance and Repair – The purchase of a camper van does not stop at the dealership. Your responsibilities as an owner continue with opening your checkbook a few times a year for routine maintenance and repairs.
Checking into the estimated cost of the various brands of camper vans you have your eyes on will pay off. Prices can vary considerably from brand to brand.
Reviews – Many of our major purchases begin with an attraction to the product. Once we have found something that we like, we start to do our research. Not everyone will rely on the feedback of others, but reading through customer reviews can be very helpful in understanding how people feel about their purchase.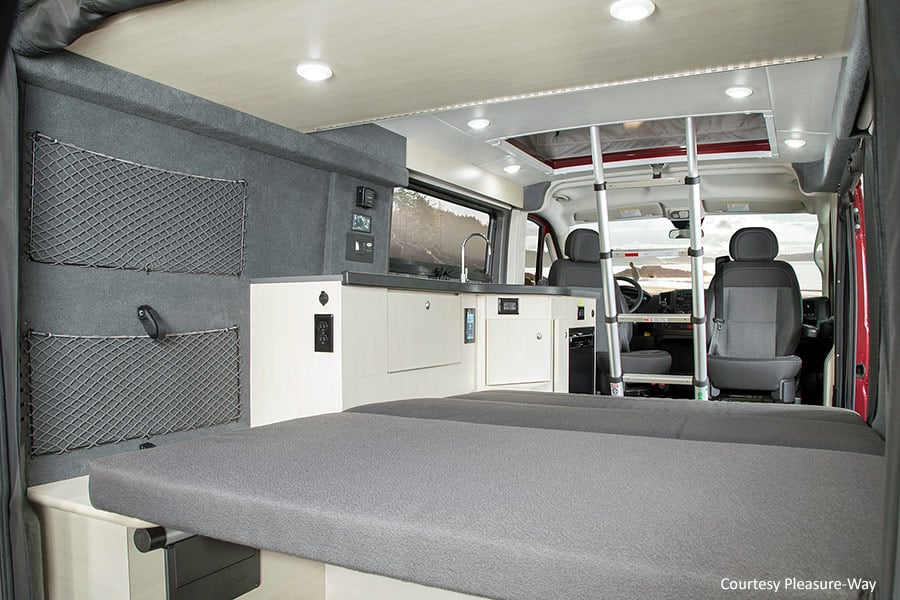 Consider Your Experience When Choosing a Camper Van
Are you a veteran camper? Do you have van/tiny home experience already? If you answered no to those questions, no worries. Everyone was a novice at one point in time, weren't they? Nobody was born an expert camper.
Maybe you have been daydreaming about taking a grand camping trip or cross country adventure. You have been binge-watching YouTube videos for quite some time and collecting a vision board full of cool ideas and sharpening your survival skills.
Taking the first step towards this dream can be intimidating and sort of scary. Just take the first step. You can't go anywhere without taking at least one step in the right direction, right?
The Joys of Traveling Wolfpack in Your Camper
Taking a trip in your new van can be a joy that is multiplied by inviting your fellow camper van owner pals. How awesome would it be to have a pack of your friends surrounding you, all of your vans in a circle (or whatever shape you like) around the site, out in the wild?
Circle the vans, get a campfire going, roast hot dogs and make s' mores and tell stories. In the morning, you can all gather around and have cowboy coffee before you go out hiking!
Are you going to a big festival out of town with your closest friends? There's no better way to take a road trip than in a fleet of camper vans, and once you get there, you will have avoided the hassle of booking expensive hotel rooms. You brought everything you need for a grand weekend.
Tailgating is taken to a new level when you bring your camper van — no more waiting in line to use those smelly old porta-potties. And, you'll be the center of attention giving tours of your new van.
Once you have your van, you will find that like-minded folks will befriend you, or vice versa. All of a sudden, you have a network around the country or world you can relate to and travel together.
The Community of RV Campers
The van camping and van life community are chock full of folks that are more than willing to help others. Of course, we can't speak for everyone, but the majority of people who love living this lifestyle are excited to share their wisdom and give advice to novices.
After all, once you are out on the road, you are at some point going to ask for help. And, eventually, someone is going to call on you to share a bit of your knowledge that you have gained.
Reach out to the van camping community to see what they have to say about your upcoming van purchase; you might be pleasantly surprised. You might just find the piece of valuable advice you have been searching for.
Living the #VanLife
Having a dream of living in a tiny home like a camper van, and traveling through the country can become a reality. Taking the first step can feel scary and awkward, but once you take the first step, more will follow. Before you know it, you'll be living your best life out on the road.
So, how do you take this idea from dreamland into the real world?
First, decide if this will be a short trip or a full-time way of life for you. Should you choose to take a few months off from real life, there will be different steps. Both paths will require a van, though.
Temporary travelers will have to make temporary arrangements for their sticks-and-bricks homes if they are homeowners. You can accomplish this either by inviting someone close to house-sit or arrange for renters to take over the bills while you are traveling. Having renters will be a good way to fund your trip.
Full-time van travelers will have quite a bit more work ahead, such as selling a home, and figuring out where to put the contents of it. Selling, donating, or putting your belongings in storage can be the solution.
Remember, throughout the process of downsizing that you are doing this to open up a world of possibilities, and you can learn to live with so much less. Easier said than done but minimizing your material possessions can be a freeing process.
There will always be something that you can't possibly let go of, and you don't have the space to bring with you into an 80 square foot space, whether it be of sentimental value to you or simply something you do not wish to get rid of. Ask a close friend or family member to store it for you.
Now, let's talk about pets. Will you be bringing them with you on your adventure? They make incredible companions on the road. Or will you have to make other arrangements for them?
Deciding what to do with pets can be one major challenge for pet owners. Pets mean so much and are hard to live without. But, if you cannot imagine taking them, or if you don't think it would be good for them, finding a safe new home should be at the top of your priority list.
Can you afford to take this trip? For some, it could be deciding if you want to finance the trip. Can you take your job with you on the road? Is what you do professionally, something that you can do remotely, or will you have to find a new way to make money? Here is where the real research begins.
Don't forget to budget for insurance on your camper van. We have a post on camper van insurance and how much you should spend, which will provide further information on this topic here.
Lastly, the route planning. Do you already have a wish list of places mapped out? If you're a planner, and a list maker, get started. If you are more of a laid back, take life as it comes type, then just pack a bag and go. What's stopping you?
Choosing Hymer Aktiv Loft or Pleasure-Way Tofino for Your Adventure
Hymer Aktiv Loft or Pleasure-Way Tofino? You can't go wrong with either one. You may need to have a nest egg saved up – or maybe you're selling your land-based house for one on the road.
Whatever you choose, you must consider the adventures you are planning to have – because that dominates this decision and what you'll need to put into it. Talk to some people who are living the #VanLife and find out what their experiences are with each model. It's a start.
Good luck with your decision. We'll see you out on the road!