When you think of van camping you probably think of the younger crowd trying to find themselves by traveling the US and sleeping in an old van. I am a boomer and we van camp but I got to wondering if we are an anomaly or are there others out there like us?
So are van camping and senior citizens a match? Van camping is very popular with people over the age of 55. I talked with Jason Bunch of Vanworks located in Fort Collins, Colorado and he said baby boomers have become a large portion of their customers approaching about 50%.
If anyone could tell me the trend on this topic it would be the folks at Vanworks, they have been doing van conversions since 1978. They do conversions on vans that customers already own or they will help you work with partner dealerships and even some major manufacturers to purchase the van and conversion together.
Jason tells me that the average age of their customers are 55-75. As for conveniences, he says you would be surprised but for the most part they want to keep things simple. Many are career tent campers and are looking to upgrade to a van for a nicer sleeping situation and easier set up once they arrive at their desired location.
Vanworks packages include a full interior with insulation, paneling, and led lighting, mounted bed, kitchen galley with sink/stove combo and 12volt fridge, and a secondary battery system. Solar to go along with the battery system is optional and not everyone feels they need it. Their average build outs are in the $30-35,000 range.
The Ram Promaster 2500 is the most common choice for conversions for boomers, most likely due to these customers being price conscious. Second runner-up goes to the Mercedes Sprinter.
There is life after 50
Many baby boomers are working longer and are still a viable part of the workforce. Some seniors are working longer because they need the money and others get bored with nothing to do.
Travel has become a way to relieve that boredom for some boomers and working full or part-time gives them the money and or the time that they need for travel.
Other seniors have worked for many years and saved a lot of money, have pensions and retirement funds which provide them with a lot of disposable income to spend on things that they enjoy, like traveling.
Today's seniors are also healthier than their predecessors and more active with more spirit of adventure than previous generations.
Seniors don't consider themselves seniors! In their minds they are still young and don't conform to the senior thought mindset. They have a bucket list and they are actively moving forward to cross off items on their list.
Other Posts of Interest
Why do seniors buy vans?
Many seniors are looking to downsize from a bigger motorhome to simplify their life. A van is easier to travel in and doesn't cost as much to maintain.
If you usually fly to destinations traveling in a van gives you the opportunity to see the country instead of just the inside of an airport and one specific city that you have flown in to.
Some seniors are new to traveling or they just want a smaller vehicle that is less expensive to buy, operate and maintain, so they go with purchasing a van. Vans also handle well on the road and are easy to maneuver.
Travel is expensive and van camping gives seniors the ability to spend long periods of time exploring the country at a leisurely pace with their "home" right with them, at minimal cost.
When you are van camping set up upon arrival at your camping spot is hassle free, just pull in, park and you are set up! For tips on selecting the right campground check out our post here.
Van camping is more comfortable than tent camping and you aren't bogged down with a bunch of stuff like when you are in a bigger motorhome and have more room. Van camping keeps it more simple, giving you more freedom.
Another great factor to traveling in a van is that they can be serviced easily at any shop that does auto repair, so you don't have to go to a shop that specializes in RVs or commercial truck repair.
Why seniors do van conversions
Van camping makes life simpler, but we do like our comforts and to this end just a few things need added to our vans to make life on the road more pleasurable.
A van conversion makes adventures more enjoyable whether you are just on a weekend jaunt or planning six weeks on the road.
If you are retired you have more free time so converting a van yourself might the way you want to go to save yourself some money. However converting a van takes DIY skills and time so when thinking about doing the conversion on your own you need to take that into consideration.
Going the route of having a van conversion company do the work for you will save you the aggravation of trying to get it done yourself even though it may cost more.
Check out these five items to help you have a better camping experience: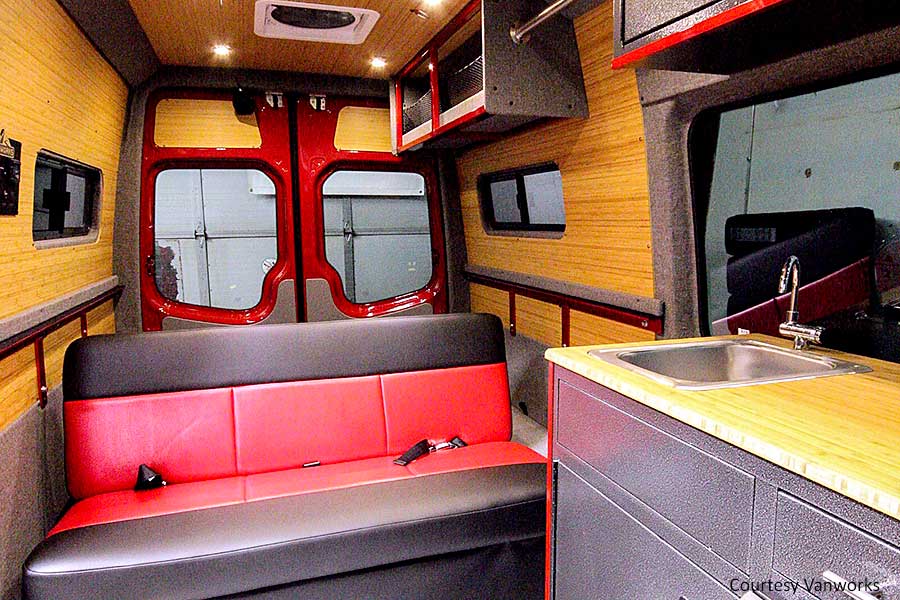 Amenities you might want to consider in your van build
Everybody has different needs when considering what they want to include in their van build. There are no right and wrong set-ups just pick the amenities that are important to you. However here are a few features that you might want to take into consideration:
Insulation – Nobody likes to be too hot or too cold so the addition of insulation helps to maintain a comfortable van temperature.
Fan and ventilation – This is a good way to help keep you cool and to let in fresh air so the van isn't stuffy and odors don't stay trapped inside.
Mini kitchen – Food is one of the great enjoyments of life whether you are young or old, so an easy, convenient way to make meals on the road is a big plus, so a mini kitchen is a big help for fast and easy meal preparation.
Fridge – A small fridge gives the convenience of keeping food cold, without the hassle of buying ice, draining the water from the ice chest and repeating it day after day on the road.
Lighting – LED lighting is very beneficial when you have to get up for that potty trip at night and also early spring and late fall or even winter camping when it gets dark early.
Bed – Add a comfortable bed for sleeping and you have it made! You can stay on the road for weeks at a time.
Secondary battery system – This will keep you from draining the starter battery while running appliances that draw electric.
Van awning – Sometimes it is just nice to sit in your camp chairs and relax. An awning will help keep you cool and protect you from the hot sun while relaxing.
What is a Class B RV?
While we are talking about van camping what about Class Bs?
Class B motorhomes are the little brother to the humungous Class A motorhomes. Built on van chassis Class Bs are the smallest member of the motorhome family, however they are still in the campervan family.
Class Bs tend to be taller and larger than a typical van allowing enough space to create areas for eating, sleeping and a small bathroom.
The smallness and ease of driving makes them popular with senior couples because both partners can drive it without any problems. They are also a good option if you are a lone traveler and don't need a lot of space.
Top models include the likes of the Winnebago Era, Airstream Interstate, Roadtrek and the Coachman Galleria just to name a few.
Class B motorhomes are more pricey than a standard van. They are going to set you back upwards of $100,000 for a new one.
What's the difference between a conversion van and a Class B motorhome?
Conversion vans and Class B motorhomes basically look the same and we use them for the same purpose – vacationing and camping. They are basically the same size and shape. So what is the big deal? They are the same aren't they? Well not exactly.
So called conversion vans usually start out as cargo or passenger vans not specifically manufactured for traveling and camping that an individual or van conversion specialists upgrade to make them more suited for the purpose of traveling.
Modifications usually include paneling, a bed, mini-kitchen, a fridge and other amenities like we talked about previously to make the cargo van more suited for traveling and camping.
On the other hand Class B motorhomes designed specifically for traveling will provide you with most of the benefits of home. If you want to get technical they also are conversion vans as they have a van chassis underneath it all.
Class B motorhomes made by Coachmen, Winnebago or Pleasure-Way and other manufacturers use the Mercedes Benz Sprinter, Ram ProMaster or Ford Transit chassis as a starting point.
These small RVs most of the time will have kitchens with microwaves, stovetops and mini fridges, a sleeping area, a small bathroom and rear climate control. Class Bs will have tanks for fresh, gray and black water.
When you buy a Class B you are all ready to hit the road, no modifications needed.
Boomers are enjoying their free time immensely by traveling across the country to see the sites and to visit family and vans are providing a cost effective, easy way for them to travel. So I guess senior citizens going van camping is not just an anomaly, but they are growing members in a crowd of adventure seekers!