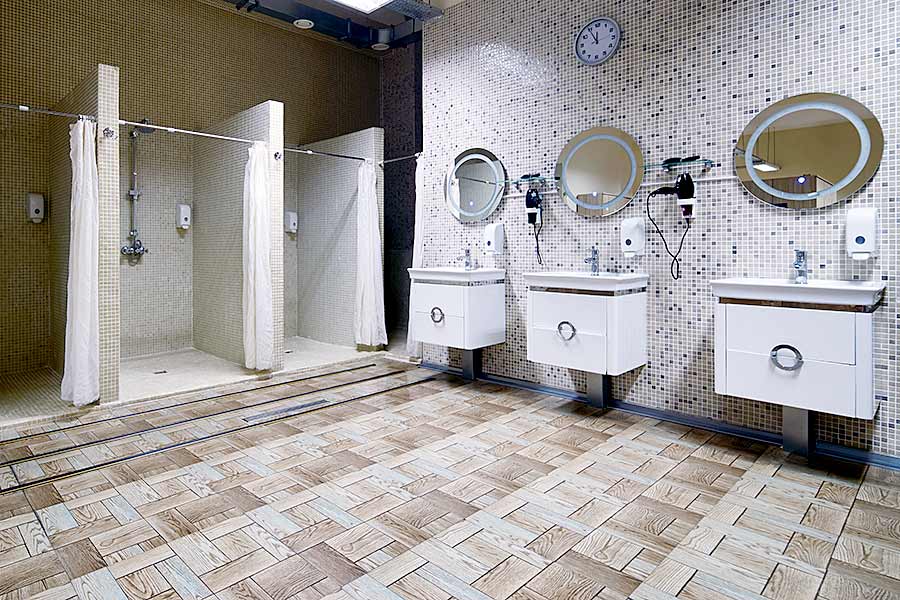 One of the drawbacks of camping in a van is often the lack of a built-in shower unless you have a factory-built Class B motorhome equipped with bathroom amenities. After a few days without showering, things can become a little embarrassing, but what if you knew there were other options?
When camping in a van, there are several ways to shower that doesn't require a built-in shower. They include:
Campgrounds
Gyms
Fuel and Travel Stores
Solar Showers
Public Beach Showers
Water Access
Taking off on a van camping trip is equal parts excitement and pulse-pounding anxiety. Read on for several tips on maintaining personal hygiene while on the road and discover whatever you need to know about finding a shower while you are away from home.
Best Places To Find A Shower While You Are Camping
This country has a vast diversity of awe-inspiring landscapes, from stunning seashores to majestic mountain ranges. Exploring these destinations can provide hours of entertainment as well as solitude and inner reflection. However, what the majority of these beautiful places don't have is a shower.
Following are a few of the best places to locate a shower while camping:
Campgrounds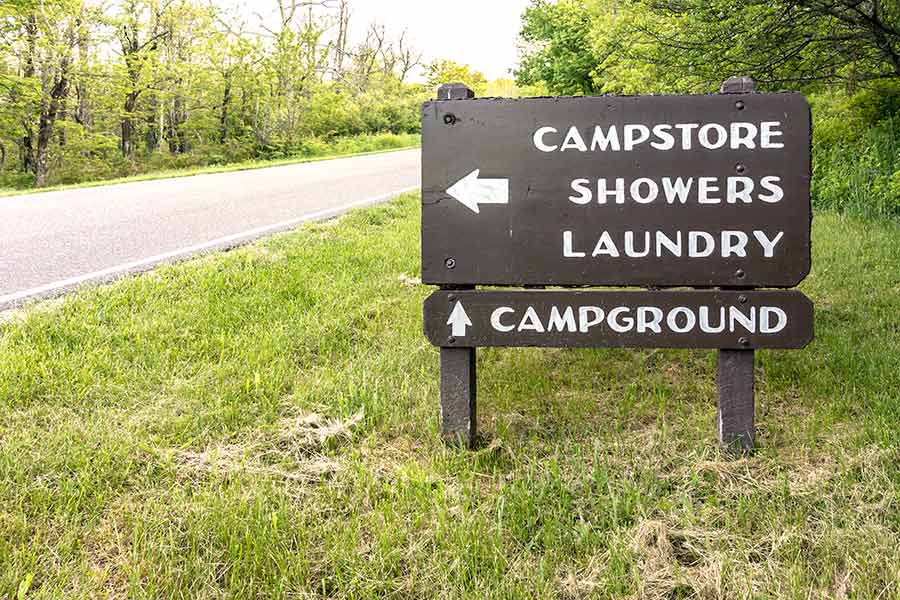 A significant thing about taking a van to camp is that you can pay a fee for a few nights at a campsite and access all the things they offer. A major draw at campgrounds is the availability of hot showers.
As camping became more of a viable vacation option with RVs' advent, the campgrounds began to invest significant money in the amenities that they offered. The improvements meant that you could bike, hike, play basketball, and then be able to grab a quick hot shower in the modern shower houses.
Another great feature of staying at a campsite is the price. The cost is often between $25 and $40 a night, which is nice and cheap compared to hotel rooms. The sites have water and power hook-ups that will allow you to cook with a personal water source and have enough juice to run a bug zapper to boot. Campgrounds have tons of activities that make the price a non-factor when deciding to stay there.
Gyms
Some franchise gyms provide nationwide access to their clubs. If you have a nearby Planet Fitness or 24Hour Fitness, you can access the club showers and locker room. Another plus is that these establishments are open 24 hours a day. That means you could get in a late workout and a shower.
It isn't just a hot shower that you get with a membership at one of these clubs. You can get massages and even some spa treatments if you are in the proper location. Taking a vacation in your van doesn't mean that you have to sever the cord from society. It gives you the ability to live a little bit in the frontier and the real world simultaneously.
The price of a Black Card membership at Planet Fitness can be as little as $25 per month. This amount equates to less than a dollar a day, and when you are van camping, every dollar you can save is worth it.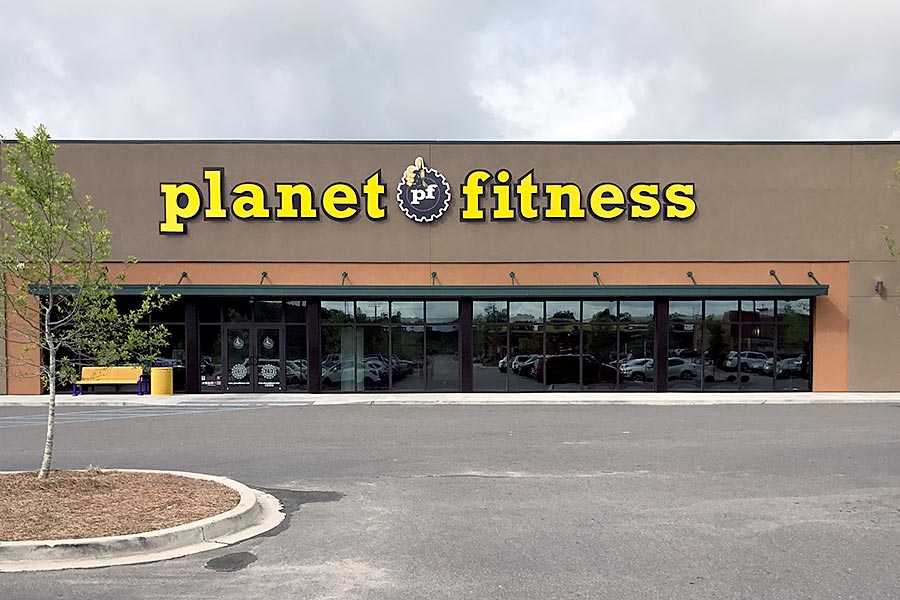 Fuel and Travel Stores
Out on the interstates, you will find fuel and travel stores with full-service showers for truck drivers and travelers. Companies like TravelCenters of America are spread out across the country and have showers and bathrooms available. Not so much like a truck stop but a strip mall, TravelCenters provide various food options and local gifts and merchandise.
The showers at TravelCenters meet a high standard for cleanliness and are of good quality. TC has a reputation to protect that dates back to the 1970s. They have:
Private shower stalls that can give you the hot shower you need after days in the wild
Grab 'N Go foods when you want a fast meal
Laundry
Restaurants on premises
When you see the TravelCenters sign, you will know that they provide basically the same amenities at each of their locations across the United States. If you are making a trip on one of the numerous interstates that the country has to offer, they are an excellent place to stop.
Another option is Pilot Flying J. They have over 750 travel centers in 44 states and six provinces in Canada that cater to truckers and travelers, which are a great place to get a hot shower. You will almost feel pampered as you revel in the hot shower surrounded by Italian tile, they want your experience to be so impressive that you will return often.
In addition to the showers you will find these convenient features:
WiFi
Public Laundry
Game Room
Fast-food
RV Dumps
Propane
Overnight parking
These are just a couple of the available fuel and travel stores that offer showers; there are many other regional and national chains that provide hot showers to weary travelers.
Solar Shower
The innovation, time, and care placed into the camping industry's products is something to marvel at. Manufacturers are so dedicated to their products because frequently they are using the same product. One of their most innovative and highly useful inventions is the solar shower.
A solar shower is a large bag with a shower tube hanging out of the bottom. You can hang the bag on the branch of a tree or anything high enough for you to get underneath. As the water sits inside the bag, the sun will heat it, giving you a warm shower. You will have to allocate enough time for the water to heat so it will be ready when you are ready to shower.
Coleman is one of these companies that delivers a product with care and consideration. Their 5-gallon solar shower is a durable model with a robust set of handles that make it easy to hang. While it may sound like not enough water for a shower, the average home shower is around 17 gallons per person; the stream is more than ample to get the job done.
Advanced Elements also makes Summer Shower; they are available in sizes up to 10 gallons and constructed with four plys of material. It has a large filling valve, an on/off shower head and it even has a pocket for storing shampoo or soap. Fill the bag and lay in the sun with the clear side up, and when you get back from an afternoon of hiking, the water will be hot and ready to go.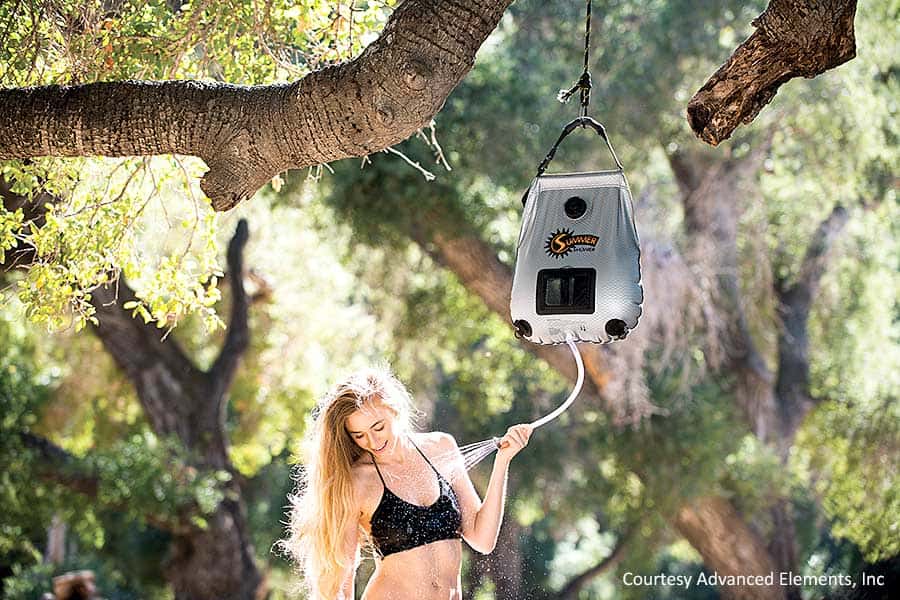 Since the invention of the solar shower, one of the main issues has been how to know if the water has reached the correct temperature to shower in. With this model, there is a temperature gauge that tells you how hot the water is without wasting any testing it out. When it comes to camp showers, every drop is essential.
There are no long luxurious showers in the wild without some work. Solar showers are one of the ways that are the cheapest but also take the most time. You can expect to hang water for at least two hours before it reaches its peak efficiency.
Now that you have a solar shower bag, where do you take your shower? A privacy tent is an excellent choice for showering, changing clothes, and using your portable toilet. The tents are also quick and really easy to setup.
The tent gives you an area of 47.2″ in length, 47.2″ in width, and a height of 74.8″ giving you plenty of room to shower, it weighs a mere 4.8 pounds and comes with a carrying bag.
It also is water repellent and is constructed with UPF 50+ material so that it blocks up to 98% of UV rays. You can remove the bottom mat, and it also has a removable rain cover.
Other Posts of Interest
Public Beach Showers
If you are traveling near oceans, lakes, or other water bodies that have beaches, you can probably find a free beach shower located there. You can find them along the coast, in state or national parks that have swimming areas.
Keep in mind that you can't strip right down and lather up because they aren't private, they are right out in the open. You also won't be able to use shampoo or soap, and you will have to wear a bathing suit, but hey, we will take what we can get!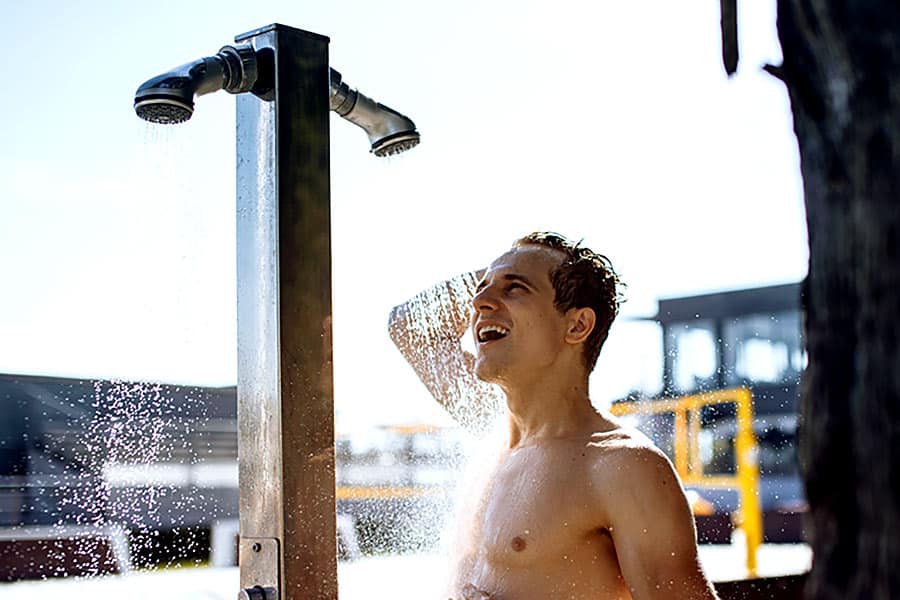 Water Access
Having water access inside your van is an expensive, but supremely convenient option. The van camping industry has boomed in the last decade, and the by-product of that boom is a series of top-notch van customizations that have been made available to the public. One of these companies could easily install a large water tank inside the van that fits your specifications.
Related Posts
A shower inside the van will take up precious space. The usual layout means that several other things that you might be using, like the kitchen, could become inoperable while you prepare the shower. With a tank with water access, you can:
Run a hose outside the back doors
Hang the shower from the door hinges.
Apply a cover across the door
Doing this would create a quick and easy setup that you could take down just as quickly.
Having water access added to your van doesn't mean that you have an unlimited supply of water. The tank needs to be small enough to have a second purpose, like seating, but still provide large amounts of water.
You should expect to find a container that is between 25 and 40 gallons. When choosing a campsite, make sure that they provide water and refilling won't be a problem.
Tasking a van conversion company with adding a water system to your van will be expensive and could take weeks of labor to complete. Not only will the addition have a hefty price tag, but the electric pumps used to provide water pressure will tax the van battery and engine.
Pay the extra money to have the installation done by someone who has done this before. You don't want to learn halfway through a build that the installer is learning while working on your project. A water system that doesn't work right will ruin your much looked forward to van-cation.
Other Shower Options
Van camping is a game of inches. Every inch of your van needs to have a purpose that involves camping. Installing a large shower with floor and plumbing would take away this precious space.
Solar showers and pressure pump systems are excellent ways to save space and have a shower at the same time. Pressure pump showers are some of the most innovative tools on the market. They produce minutes of washing time with only a few gallons of water. When shopping for a shower, keep in mind that they aren't the shower in your home and take time to prepare.
EccoTemp L5 Tankless
EccoTemp stresses that this model isn't just for the outdoors, but everywhere. This on-demand water heater works off propane and is perfect for van campers, emergencies, off-grid living, cabins, and other uses. Once the gas and water are connected, you can have hot water in no time. It has adjustable water temps between 50 and 140 degrees, which means that you can clean with it as well as wash.
Having hot shower water is something that most campers have to learn to deal with, and this unit will give you another option to consider.
Camp Chef Triton 5L
Another propane option is the Camp Chef Triton. The Triton creates 1.5 gallons of hot water per minute and has adjustable heat and water flow. This model is suitable for almost any task you could think from keeping your grill clean, showering, and washing the pets.
For showering, this is one of your best options. It weighs 15 pounds, which means you can haul it anywhere that there is a water source. Remember that water must flow at more than 25 psi water pressure for the unit to work correctly.
The unit comes with a garden hose connector, a 72-inch shower hose, the showerhead has multiple settings – jet, shower, mist, and off. You can use a free-standing base or hang it with brackets. It will run somewhere around 11 hours from a tank of propane.
Camp Chef also manufacturers a 10L model, if you want something with a little more capacity.
Heliatos RV Solar Water Heating Kit
This lightweight model can be mounted on the top of your van and has all you need to keep the hot water flowing. The panels have polycarbonate glazing that catches the sun's rays more effectively than traditional panels.
The kit is easy to install and will allow you to camp completely off-grid. They also have an option that is freeze protected if you will be camping in colder climates. The panels are tough and can withstand the wind produced from highway travel, in addition to the impact of hail and debris.
It weighs only 12 pounds and has an attachment for hoses towards the bottom of the unit. Then it hooks right into your vans water heater. It should be noted that this type of heater only works with ample sunshine.
Geyser Systems Hot Shower
This product is truly amazing. You will only need a gallon of water to give you seven minutes of shower time. You would think that is the only fantastic thing about this portable hot shower, but it isn't. The water is dispersed via a hose that has a sponge at the end. That way, you only use the water that you need, so you aren't depleting your water supply.
This system works by adding a liter of boiled water to the tank. The cold water brings the temp of the hot down until it becomes around 95 degrees. They also have a second model that heats the water, and the water is pumped via a DC connection.
On Track Transition
The Transition by On Track is a small portable shower that comes in sizes from 4.5 to 9 liters and has a snazzy nozzle connected to the machine. Inside the tank is a water pump that produces the kind of flow you get from the sprayer on your sink.
One of the best features of this model is no pumping to create pressure. The pump inside works on a battery charge. You can have days of showering from this handy shower device. You can use it to rinse off or wash your dog as it has a spray nozzle, which will help conserve water.
Other Options to Stay Clean
So you are camping or hiking but are in a location where you don't have access to water, and you don't want to use up your drinking/cooking water, what then? Another quick solution to freshening up are bathing wipes.
These wipes are fast and easy to use, plus you don't need any water; additionally, they are thick and large; they will have you feeling fresh in just a matter of seconds. Some you can even heat in the microwave if you have access to one.
Best Vans for Camp Shower Conversion
Today there is a wealth of companies standing ready to make your van into a camping paradise, but which kind of van do you want to customize? The options are vast, but some stand out above the crowd.
The best options for picking a van to convert are:
Ford Transit
Mercedes-Benz Sprinter
Ram Promaster
Chevy Express
Nissan NV
Ford Transit
The Transit is the van that replaced the world-famous Econoline series that was a standard work van for almost four decades. This van has a higher ceiling, which is a definite plus when creating a camper. The most prime real estate in this vehicle is on the roof. Adding a roof rack makes more space to stow cargo but an excellent place to mount solar panels.
The square footage inside the cargo area means that you have enough space for a full-size bed, with room left over for a seating area or workspace. Don't forget that these vans are some of the easiest to convert, with kitchens being at the top of that list. The bathing and showering could take the kitchen place with a few quick swaps, and the rest is up to the camper. The thing that converters like the most are the different heights and lengths of the Transit.
The high roof option for this model means that you will have appropriate space for a shower. While you won't have a tub, you can have the opportunity to run the tube out the back. Some people take the Transit bath ideas to another level with marble counters, and industrial-grade reinforced flooring for longevity.
Mercedes-Benz Sprinter
One of the most sought after vans for conversions is the Mercedes-Benz Sprinter. These models start at around $35,000 for the lowest end, and you can build your own to get the features that you specifically need.
If you have the money to work with a Sprinter, it is one of the most conversion-friendly. When ordering the van, you can choose your preferred length and height, making them popular for camper van conversions. One of the most intriguing upgrades for the Sprinter is 4×4 capability. The other vans on the list are usually for delivery and industry. When you get a Sprinter, you get the top of the line in all aspects.
The ample cargo area makes them ideal for working with, and multiple companies have kits to help you with your Sprinter conversion project.
Ram ProMaster
This van's almost straight walls make it a desirable choice for those looking to make a camper. The extended edition allows you to have a more extended area to create seating and provide room for sleeping. The high ceilings mean that standing up inside isn't going to be a problem.
The Ram ProMaster parts are readily available at any parts store and service shouldn't be a problem since many dealerships are around the country.
ProMaster camper vans are becoming more common each year since the vehicle's base price will be less than the Sprinter leaving you more money for the conversion.
Chevy Express
The Chevy Express is the perfect vehicle to choose when hauling small groups. Commonly used to haul children to school or to after school activities, senior citizens to appointments, and church groups on outings, it is the twin to the GMC Savana. It also doubles as one of the best camping conversion platforms on the market.
For a mid-priced model, you can look to spend around $32,000. This price is before conversion, which could end up costing as much as the van. The parts and accessories for the Chevy are some of the most prevalent in the field. When you are converting an Express van, you will have a lot of room for living features.
However, the Express is a hard van to place a shower. Chevy does not offer a high top version of this van, which is essential for a decent shower in a van. Like the other models, it has prime real estate to place a water tank with a pump that would supply water. The shower would have to be outside the van, an acceptable choice for some people, and a no-go for many others.
Nissan NV
Nissan's answer to the Sprinter and Transit is the NV. It also comes with the option to have a higher ceiling. This NV isn't as well known as the other competitors, but it will provide an excellent starting point for a build.
The NV has a smaller cab than the other models. It also doesn't come in an extended version, which cuts down on your options. The best thing about the NV is the fact that it has more electrical connections than you will find in another model. The lean towards battery power means that you will have more options for appliances to make your van camping trip all it can be.
The NV is a model that is gaining some serious traction in the van camping world. The flat walls allow for a better ability to outfit the van for camping. The 6 foot 3-inch interior height in the cargo high roof version gives more conversion options.
Final Thoughts
Wherever your van camping trip takes you, the number of places to get a hot shower is numerous. There are plenty of options that will allow you to stay refreshed along the way. Taking a shower won't be a major obstacle during your camping trip from your own set up in your van to showers at travel centers or other options.