Cooking while you are on a camping trip can be frustrating and satisfying at the same time. Cleaning up, however, is rarely satisfying. Are there portable camping sinks that can make cleaning dishes less of a chore?
The best portable camping sink depends on your camping needs. Sinks for camping range from collapsible buckets to sinks that can provide you with piping hot water. The type of camping you do, how often you camp, and your budget all affect which portable sink is best for you.
Throughout this post, you will learn the features you need to look for, different options available, and other helpful information to make clean up easier while camping.
We have categorized our sink recommendations by type and price. Before you continue reading, take a second and think about what kind of camping you want to do. Because there is a wide range of available sinks, you need to match up the best sink for your needs.
Why Do I Need a Portable Sink?
When taking a camping trip, space is always a consideration. Think of all you need to take along—tent, gear, clothes, food, for starters. All that stuff adds up, and many of us wind up having to "stuff" everything into our vehicles. So why take along a sink?
The good news is most portable sinks are compact. Even a larger cooking station, the Cabela's Deluxe Camp Kitchen, folds up to a compact size. If you can fit a card table into your vehicle, you can fit in a cooking station.
So why bother buying a portable sink? That depends on the kind of camping you plan to do. If you are thinking of overnighting somewhere that will be close to restaurants or at well-equipped campgrounds, your cooking and washing needs won't be as big of a problem.
However, you might be the kind of camper who really wants to get away from it all, and preparing your food is part of the camping experience. If that sounds like you, a sink with a prep area might better suit your needs.
If you plan to do backcountry camping, a portable sink might be a handy addition. You are also going to need a supply of water. Lucky for you, several of our favorites let you carry water with you.
Obviously, the more you plan to move, the lighter you want your load. If you are planning to set up camp in a different location every day, then a portable table with a sink might not be for you. Then again, if you are going to do some fishing, a table to prep your fish will come in handy.
What Features Should I Look For?
Regardless of budget and the type of camping you plan to do; you ideally want these features in a camping sink:
Portability. Remember that this does not only refer to size. Whatever sink you use obviously needs to fit in your vehicle. However, weight is another consideration. A gallon of water will weigh about 8 pounds (4kg). Lugging five gallons of water to a campsite can weigh you down.
Durability. Whatever you buy should last. If it looks flimsy, it probably is. Ideally, you want a product designed for camping or outdoor use.
Ease of use. You do not want to waste half of your time camping setting up a sink. You also don't want to have to fiddle with it.
We considered these three features for each of these sinks.
Outwell Washing Base
A sink is something that holds water, and you can use it to wash your dishes. Our first recommendations are for portable containers that will let you do exactly that, such as the Outwell Washing Base.
We like this product for several reasons. The first is the simplicity of design. The Outwell is a two-piece collapsible sink that is the size of a small shopping basket when opened. Three design features make this product stand out.
The lid. Having a lid is helpful in the first place. Having a collapsible lid is even better. Extend it, flip it over, and you can use it as a tray for your drinks. Or keep it extended, and add an inch of extra space, perfect for that last camping meal when you do not feel like washing dishes again. Pack the dishes in, lock the lid in place, and you are ready to take them home and let the dishwasher do its job.
The base has grooves you can use to stack your plates, and there is also a plug that covers a strainer drain.
The handles. We like being able to carry things with one hand.
Along with the pros above, we like that you can buy an entire series of products from Outwell, including a collapsible water container, pots, cups, and tableware.
One negative that we do not like: this product is hard to find. Most sites list it as being available in the UK. However, they will ship it to the United States for an extra cost. It's a shame because we have had a difficult time finding another collapsible sink that we like as much.
Expect to pay $50 to $60 before shipping.
Bottom Line: This is a sturdy collapsible portable sink ideal for camping at a campground or someplace where you will have water access.
Other Posts of Interest
The Friendly Swede Collapsible Bucket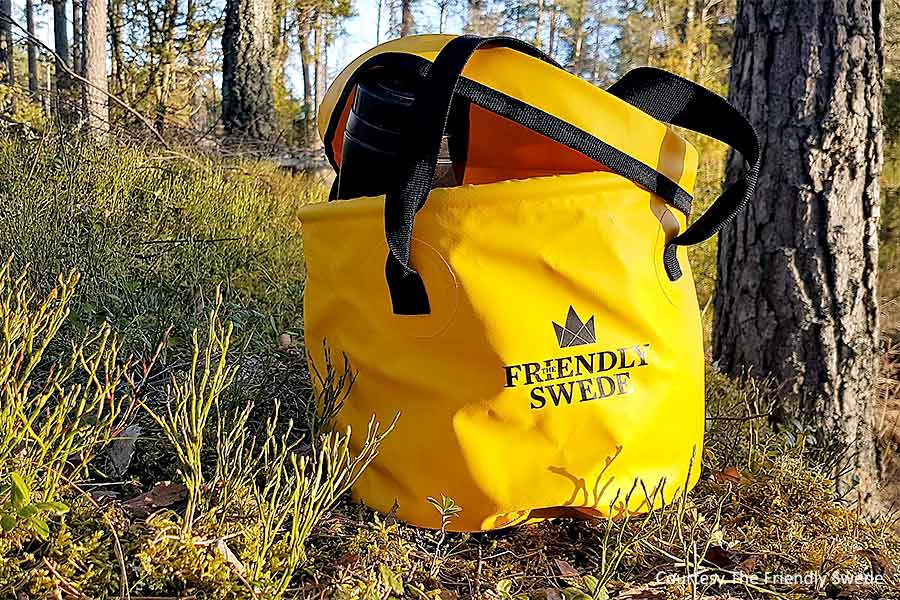 Although this is advertised as a "bucket," we can easily see the Friendly Swede being used to wash dishes or hold your catch as you make your way back to the campground. It collapses flat and when opened holds anywhere from 2.64 gallons to 7.9 gallons, depending on which size you purchase.
Unlike many collapsible buckets, the Swede has additional support and is, therefore, less likely to fall over. It comes with handles for easy carrying, a removable mesh bag that you can use for holding sponges and scrubby brushes or small tools. There is a loop handle located on the side to make pouring liquids easier.
You can select one of three colors. Many campers opt for the black one. That way, they can fill it with water, leave it out in the sun, and when they return from their hike, they have a pot of hot water for a shower or doing the dishes.
One negative about the Swede is that the lid is not leakproof, so if it tips over, liquids inside will seep out.
Expect to pay $20 to $30, depending on the size you pick. At that price, go ahead and get two or three so you can wash dishes properly.
Bottom Line: This is less expensive and has more versatility than the Outwell, but washing dishes will be less convenient.
We have several recommendations if you are ready to step up to the next level of camping sinks.
Cabela's Deluxe Camp Kitchen With Sink
First up is the Cabela's Deluxe Camp Kitchen. If you are looking for a full kitchen sink setup, this product has some handy features. Here is what you get:
A countertop. It has a spacious counter for preparing meals, and it is made of burn resistant MDF.
A sink. The sink is removable and built out of sturdy, puncture-proof plastic. Although we wish it were deeper, it's great not having to worry about a knife puncturing it.
Side table and pantry. Because the sink takes up a third of the main counter space, they have added a small table for additional counter space. The kitchen kit comes with a polyester hanging pantry that you hang off the side of the table. The pantry comes complete with a mesh door to secure the dishes and food you are storing.
Stove table. To the right of the main table is a table designed to hold your camp stove. This metal grid table is lower than the main counter and is spacious enough to set up most small camp stoves.
Undercounter shelf. You can attach another wire shelf under the main table. Need a place to dry your dishes?
Lantern pole. For those who want to add a small lantern, the lantern pole comes up above the sink. Excuses about it being too dark to clean the dishes are no more.
Small touches. Make your camping kitchen feel more like your home kitchen with the spice racks and an attached metal rod that you can use to hang your utensils and the accompanying paper towel rack.
A few negatives about this camp kitchen: We wish the countertop had stainless steel or plastic to better protect the product from rain. The height is a tad low—we would like it to be the standard 3-foot height. You must decide if 36 pounds (16kg) is too heavy to lug if your campsite is more than walking distance away from your vehicle.
Check out this video for a quick overview of its features.
Bottom Line: If you plan to spend more than 2 to 3 days camping, you will appreciate having a camp kitchen that lets you wash dishes, prep that freshly caught fish, and cook it on the stove table, then you should look into this one.
Coldcreek Outfitters Outdoor Washing Table and Sink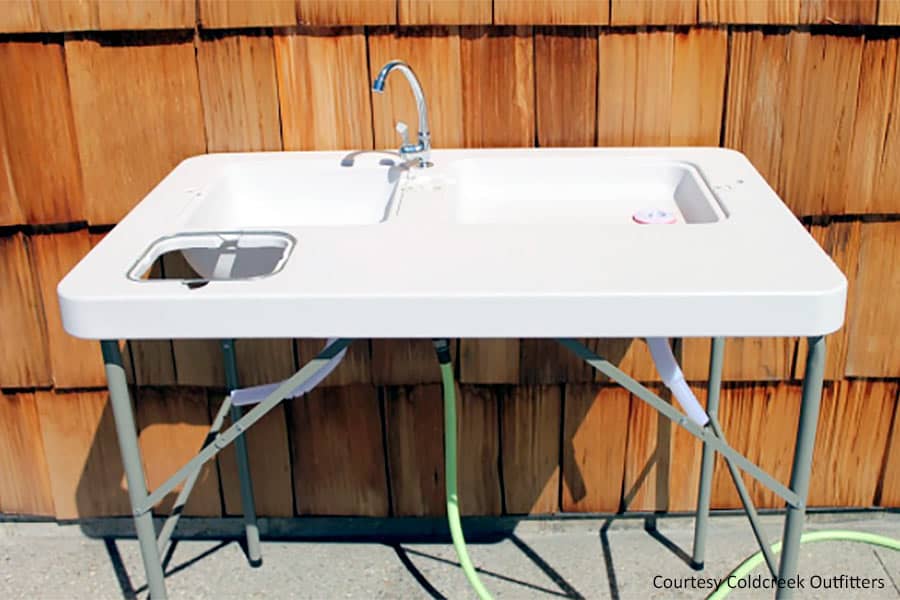 If you want a sink with a functional faucet, then the Coldcreek Ultimate Workstation is something to investigate. Unlike the Cabela's, the Coldcreek has a polyethylene surface and a steel frame to reduce the risk of water damage.
Here are some features we like:
Sinks. The Coldcreek's two sinks mean you can wash your dishes in one sink and rinse them in the second. Also, the drain plugs give you choices in what to do with the leftover water.
Inserts. Coldcreek provides two inserts that fit snugly over the sinks, giving you ample counter space for prepping your meals. The counter has a hole that you can hang a small trash bag in and makes throwing away food scraps convenient.
Removable faucet. If you have access to running water, hook up a hose, and you are all set. Don't have running water? Remove the faucet if it is in your way.
The Coldcreek has a few negatives. One is that one of the sinks is only 2.5 inches deep. While the other is a more useful 4.5 inches, we would like both sinks to be 4.5 inches. Coldcreek says the small one is for shallow water uses.
It also doesn't have all the extra shelves that the Cabela's has. Still, if you want sinks and a higher workspace, then this might be for you.
Bottom Line. We think this is also for someone who plans to spend a few days camping and preparing their food. If you would like something that is a little more lightweight, you would appreciate that. Because of the faucet and sinks, some people use the Coldcreek as a potting table.
Expect to pay around $150 for the Coldcreek.
Water Boy Camp Sink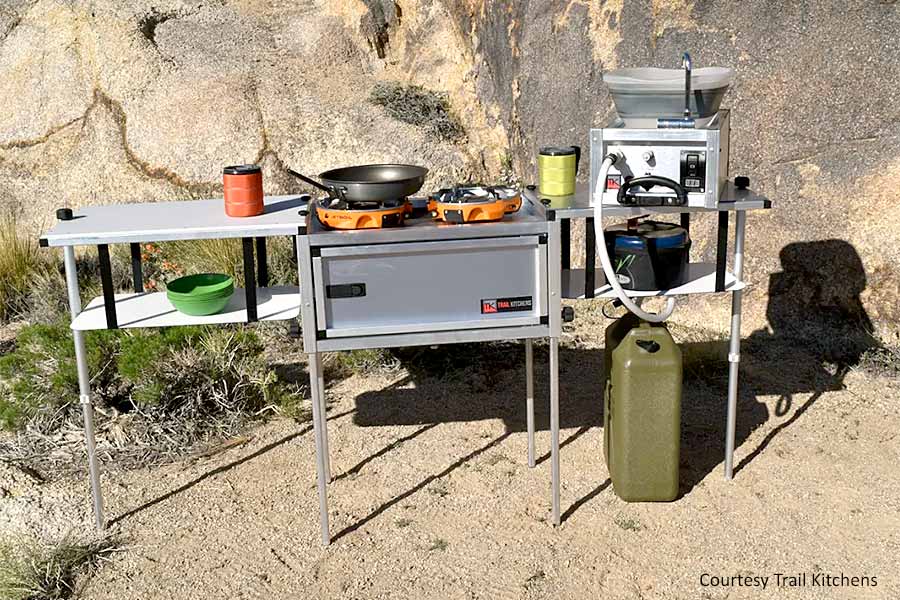 The Water Boy Camp Sink should be high on your list if you are looking for a high-performance sink to take out on your next overlanding adventure. Be forewarned, though—this is an expensive sink.
So, what do you get for the Water Boy?
A pressurized water system powered by 12 volts.
An electric pump to give filtered water at the same pressure you get at your house
Powerful enough to run an on-demand water heater, which keeps you from having to recirculate precious water until you get hot water.
A rechargeable battery, voltage meter, and USB ports
Carbon block water filters
Quick-release hose attachments
With the ability to get hot water and an optional water heater, this is the ultimate in camping sinks. If you are at a campsite, you can hook it up to a water source. If not, run a hose from the water container that comes with the product.
So what's not to like. The price is the negative for this portable sink. Expect to spend $600 for the basic sink and another $175 for the portable water heater—the portable, propane heater gives you a water flow of 1.5 gallons a minute.
Bottom Line: At its higher price, The Water Boy is not for an occasional weekend-camper. If you are a diehard camper, overlander, or plan to live off the grid for an extended period, this product could supply you with your hot water needs.
Do It Yourself
Just like there's satisfaction with cooking in the wild, whether it be something you caught or ingredients you brought from home, some people find satisfaction and pride in building their portable sinks. We have found some interesting DIY projects that you might like:
The University of Minnesota, for example, has created this excellent video that shows how they have created what they call a handwashing station. We do not see why this cannot be used for a dishwashing station instead.
Mid-American Prep has a portable sink using plastic tubs, some PVC, vinyl tubing, and a couple of buckets. It is a clever design, and when finished, it resembles a kitchen sink.
Playing with Sticks has a video where they show off their homemade kit for washing dishes. If you are someplace with limited water, then you might get some ideas from watching.
Camp Dishwashing Best Practices
Not everybody got to be a boy or girl scout. Here are several tips for those who are new to the camping life or simply need a review.
Three Pot Methods. Boy Scouts use the three-pot method, but any three containers will do.
Pot 1: The wash pot—use hot water and dish soap. Be stingy with the soap—you will probably need less than you think. Scrape as much food off from plates before you wash them. Wash the cleanest dishes first.
Pot 2: Hot Rinse—exactly like what it sounds like. Your goal is to rinse off the soap.
Pot 3: Cold rinse—use this to sanitize your dishes. According to Clorox.com, the correct way to sanitize dishes after washing is to take 1 gallon of water, add two teaspoons of bleach and soak dishes for at least 2 minutes in the solution. You also can use sanitizing tablets, such as Steramine.
The Dry Your Dishes Method
Some people skip the final cold rinse and do the same thing they do at home—dry them. If you need to conserve your water, consider doing so—just do not forget to take a dish towel or two along. Check this video for a brief demonstration:
Sand
Before dish soap, folks used granular materials to clean their dishes. Baking soda, sand, and dirt have all been used for cleaning dishes. If you need to conserve water and have access to gritty sand, consider using this method.
The process is simple. You get some sand, rub it around your plates to loosen food particles, and then wipe it off. If your plate needs a second scrubbing, get some more sand. Afterward, rinse your dishes in hot water and dry them.
Bottom Line
Cleaning dishes when you are camping can be simple or complicated depending on where you camp, how long you camp, and what you plan to cook. But whatever you do, try to avoid using disposable plates and silverware. Nature deserves more respect.