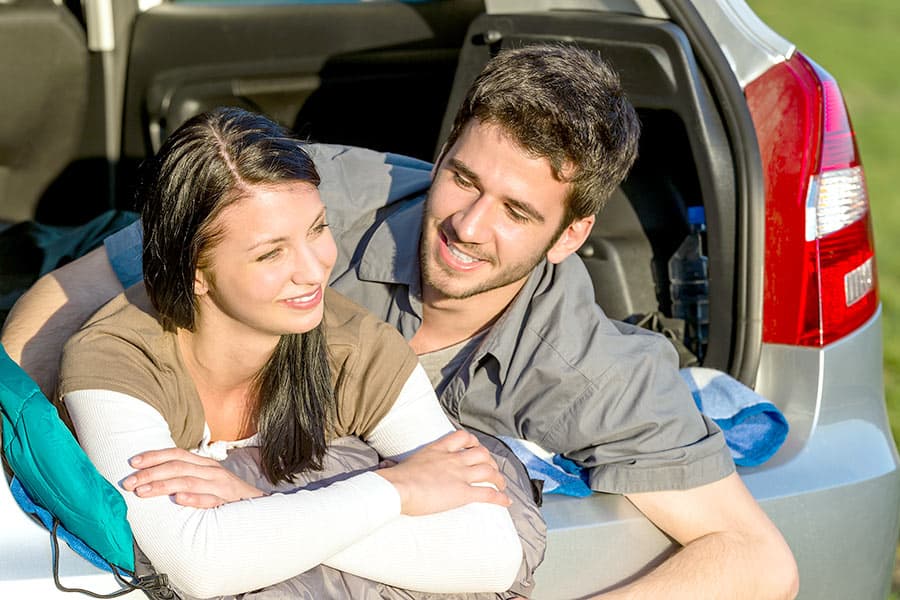 If you want to go camping but have not bought a tent or RV, you might be thinking of camping in your car or van. Is it legal or is it even safe? Can you sleep in your vehicle at a campsite?
Whether you can camp in a van or car at a campsite depends on the site. Some campgrounds will allow you to camp, and others ask that you camp in specific areas, and some do not let anyone in a car or van camp overnight. Camping apps can help you locate sites where you can camp in your vehicle.
The laws about whether you can sleep in your car or van are confusing and vary between states and city to city. Join us as we try to guide you through the maze of rules and give you some tips on how to car camp safely and comfortably.
What Is Camping in a Car or Van?
Many websites, including the National Park Service, refer to putting camping gear into your vehicle and going camping as camping in a car.
To be clear, by "car camping," we mean using your car or van as your "tent" to drive to a campground or camping location and sleeping in it. You might hear some people refer to it as dry camping. Boondocking is another term for camping without any hook-ups for power or water.
Why Sleep in a Car or Van?
Sleeping in a car or van has several advantages. The most obvious benefit is that you don't have to pay for a tent or RV.
Not only that, but a car is usually better insulated than a tent. If it's raining, you won't have to worry about getting soaked because of water leaking into your tent. You also won't have to pitch a tent, which seems like a waste of time if you stay for only one night.
Is Sleeping in a Car Allowed in a Federal Park?
The National Parks Service has two types of camping: frontcountry camping and backcountry camping.
Frontcountry camping refers to locations in parks that have campsites. These sites typically have amenities such as:
Bathrooms—either flush toilets and running water or at primitive sites "vault toilets" and non-potable water (or no water at all)
Electric hook-ups—usually reserved for RV sites
Picnic tables
Marked sites and parking spaces
If you have reserved a space and paid for it, then you may sleep there. However, you may not skip the fee and pull up along the side of the road and sleep there.
Backcountry camping involves hiking into a forest to camp and doesn't involve sleeping in cars or vans.
National Forests
It can be easy to confuse National Forests with National Parks, but they are separate entities.
A fundamental way to look at it is that a National Park is focused on maintaining the environment for future generations. The mandate for a national park is preservation, so rules and laws that cover them are designed with that in mind.
National Forests, on the other hand, are multiple-use areas. Although preserving natural resources is part of their mission, National Forests provide opportunities for Americans to use the resources in them. These activities include but are not limited to:
Cattle grazing
Lumber
Mineral production
Recreation
Since the two have different missions, the rules are often different. For example, you may hunt in most national forests while most national parks forbid it. The rules are also different for pets, vehicles, camping, and more.
If you are in a National Park, the Park Ranger works for the National Parks Service (NPS). The Forest Ranger is an employee of the U.S. Forest Service (USFS).
Other Posts of Interest
Camping in National Forests
Because the mission of national forests includes recreation, the rules regarding where you can camp are different. For example, the Forest Service has what they call dispersed camping. This term refers to camping anywhere outside of a developed campsite.
Here are some things you will have to keep in mind when considering dispersed camping:
No bathroom facilities
Bring your water along (unless you will have access to a water source)
You have to take your garbage with you when you leave
Also, you need to be on alert for wild animals, especially bears.
Forest Service Rules
The Forest Service has put some rules and guidelines in place that you need to follow. These rules are to protect the forests and allow others to use them. First, dispersed camping is not permitted near recreation areas that have been developed, such as picnic areas or trailheads.
Use this interactive map to find the forest you wish to visit for information on where and when you may camp.
To find a camping site, use an existing Forest Service road until you find a clearing. Avoid driving on meadows. Even though the Forest Service is not solely focused on preservation, it does want to save the resources for future generations. For example, they would prefer that you use a site that has been used before.
You are not allowed to camp within a mile of a campground, and you must stay at least 100 feet away from a stream or other body of water. The Service asks that campsites be within 150 feet of a road, but since you plan to sleep in your car, this should not be a problem.
Picking a Campsite in a National Forest
Follow these general guidelines when finding a place to stop:
Do not dig trenches at your site to level your car. Park your vehicle so that it is level enough for you to sleep or find another spot.
If possible, park on a place that has been used for parking before. Doing this will reduce the impact that you leave behind.
Don't hog a pretty view, but park in a less visible spot so that others can also enjoy it.
Stay 100 feet away from a water source, even if your car is your "tent."
Also, do not overstay your visit. Forest Service regulations say that after 14 days, you must find a new camping space.
Van Camping Life Tip: If you visit a National Forest next to a National Park, pay attention to where you are since what is legal in one might not be in the other.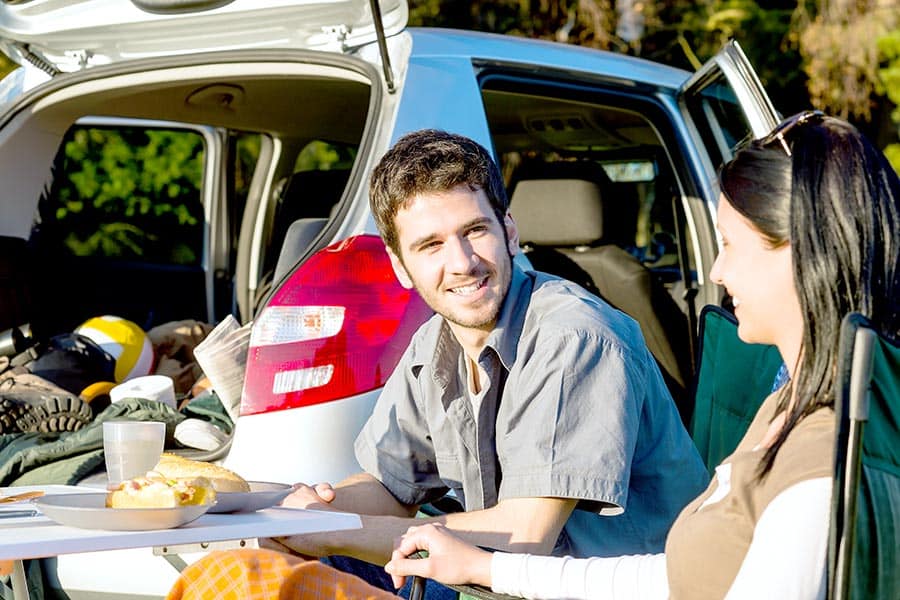 Can I Sleep in BLM Areas?
The Bureau of Land Management (BLM) oversees additional federal land. Think of the BLM as a modified National Park—the agency's mission is to conserve the land while also allowing people to use it for fishing, hunting, scientific research, and exploration.
The guidelines for camping on BLM land is similar to a National Forest. You can find camping locations with facilities. BLM sites are often on a first-come, first-serve basis. You can make reservations for select campsites at Recreation.gov. Fees, which vary from campsite to campsite, should be promptly paid after you park in your site.
The BLM also asks that you limit your stay to two weeks out of a month.
Dispersed Camping on BLM land
Backwoods or dry camping is allowed on BLM land, and the regulations are similar. Certain areas will have "closed to camping" signs. If that's the case, keep driving.
The BLM prefers that you camp on existing campsites to minimize human damage to the sites. For dispersed camping, the same fourteen days out of 28 is in effect. After those fourteen days, you must move at least 25 miles before finding a new site.
If you have never heard of BLM land, it could be that you live in the eastern half of the United States. BLM land is in the western half of the US.
Can I Sleep in State Parks?
We have covered the three leading federal agencies that oversee camping, and the rules are relatively consistent. However, with fifty states, the answer is both more straightforward and more complicated.
The simple answer is yes. You can sleep in many state parks. The complicated part is that there are over 10,000 state parks in the United States. The National Association of State Park Directors website states there are over 220,000 campsites—some with facilities and some without.
They also estimate that in 2017 those 220,000 campsites were rented out a total of 19.2 million times by over 57 million campers. On average, each site was rented out for 90 days, with an average of 3 people staying at a site.
So simply the answer is yes you can if the state park permits camping. And how do you find out? America's State Parks site lets you connect to parks in every state. From there, you can navigate to specific parks and find information about camping, fees, and reservations.
Van Camping Life Tip: In most states, camping fees are lower for state residents.
Can I Sleep in Local Parks?
Do not bank on being able to sleep in local parks. Many municipalities to cut down on having the homeless sleeping in parks, outlaw it. The main exceptions are smaller rural municipalities where homelessness is not a significant problem. However, finding those parks is going to be more difficult since small towns often don't have websites.
If you do find a website with a list of parks, check for hours. If a park has a sunrise to sunset policy, they will ask you to leave when the park closes.
Can I Sleep in Campgrounds?
If you are willing to pay for a parking spot and you have made a reservation, or there is an open site, you can park any place that has parking for a tent, car, or RV. You paid for space, and if an RV can park there, why shouldn't you be able to?
For example, the KOA (Kampgrounds of America) blog has an a post called "Car Camping 101." If sleeping in a car or van was against their rules, they would have a different blog post: "Why We Don't Want You Camping in a Car."
Other Locations to Park and Sleep
You might have gotten a late start, had car troubles, or something else kept you from getting to your campsite on time. If you need to sleep in your car overnight, you can find several locations to get some sleep.
Walmart
Walmart is a go-to parking lot as most stores allow you to car camp overnight. The company leaves it to the discretion of the store managers. The general advice is to ask before you do so.
Do not overstay your visit—they might ask you to move if you stay more than one night. Putting lawn chairs in the parking lot is not advised, but you are expected to buy something, especially if you go inside to use the facilities.
To find a directory of whether you can park at a specific Walmart, check out this AllStays page.
Truck Stops
Many truck stops have areas that allow for overnight sleeping, but it will depend on the chain and location. Store managers or local ordinances are the reason for this rule being different, even in the same chain. Again, you can check an app such as AllStays to see if a truck stop has parking for cars or RVs.
One problem you might want to keep in mind is that a truck stop will not be quiet as trucks pull in and leave at all hours. If you can sleep through anything, then the cost of a space and shower might be worthwhile.
Casinos
This point often comes as a surprise to many, but casinos often let you "camp" in your car in an RV spot. Some of these spots will be free, but others require a fee. As with so many other things, you will want to contact the casino.
Rest Stops
Most rest areas provide a place for you to stop and rest, not stop and sleep overnight. As is often the case, no nationwide laws regarding sleeping overnight in rest areas exist. Instead, each state has created its rules.
Some states allow you to sleep in your car, as long as you don't take out a tent and camp at the rest stop:
Arizona
Arkansas (if needed for safety purposes)
Idaho (10-hour limit)
Kansas (one night only)
Mississippi
Missouri
Montana
New Jersey (not all locations)
New Mexico (24-hour limit)
North Dakota
Oklahoma
Oregon (12-hour limit)
Rhode Island
Texas (24-hour limit)
Washington (8-hour limit)
West Virginia
Wyoming (if needed for safety purposes)
Some of the other states have parking limits of 3 or 4 hours, but overnight sleeping is not allowed. Alaska is in a category on its own—the state has no law prohibiting it but also no policy that allows it. For more information about where it is illegal to sleep in your car, consult the Finder website.
Finding Camping Sites
It is now easier to find a place to camp than it has ever been, thanks to apps that will help you find a spot. Here are the three we like.
Recreation.gov. This site covers camping information for all federal lands. You can buy tickets, get permits, and sign up for tours. Also, there's a trip planning feature if you plan to camp at multiple sites.
Hipcamp.com. Think of this as an Airbnb for camping. Along with listings for sites at parks and campgrounds, you will also be able to search for folks willing to let you camp on their property. You will be able to ask hosts if they would be okay with you camping in your car, although we can't imagine that most of them would say no.
Adventure Projects National Park app. Although the Recreation.gov app has info from all federal lands, we like this app because of its GPS personal locator tool, which works even if you don't have internet access.
Sleeping in Your Car or Van: Dos and Don'ts
Here are some do's and don'ts for sleeping in a car or van:
Don't leave your car running all night—the danger of carbon monoxide poisoning is too great. If you will be in a place where it will get cold, bring along sleeping bags or thermal blankets.
Do leave your windows slightly open to let fresh air in and let moisture out. To keep insects out, buy or create bug nets or use mosquito netting that you cut to size and attach with magnets.
Don't forget toilet paper and baby wipes. Do we need to tell you why?
Do make curtains or something that will block out light and give you some privacy.
Don't forget to bring some water along.
Do plan out your sleeping set up. There are plenty of options and ideas on the web.
Room in a car or van is at a premium, so plan carefully. Also, the more that you sleep in your vehicle, the more efficient you will become.
Bottom Line
Sleeping in a car or van is allowed in many campsites, though you will have to do some planning to make sure that when you arrive, you have a place to stay. Campgrounds typically will require a fee and reservations. Still, if you are willing to go off the beaten path, you can take advantage of the backcountry, dispersed camping available at most federal parks and forests.
On your way or in-between camping spots, you can also find other places to sleep. Whether you can sleep in your car depends on the size of your vehicle and how much work you put into turning your car or van into a 4-wheeled temporary home.