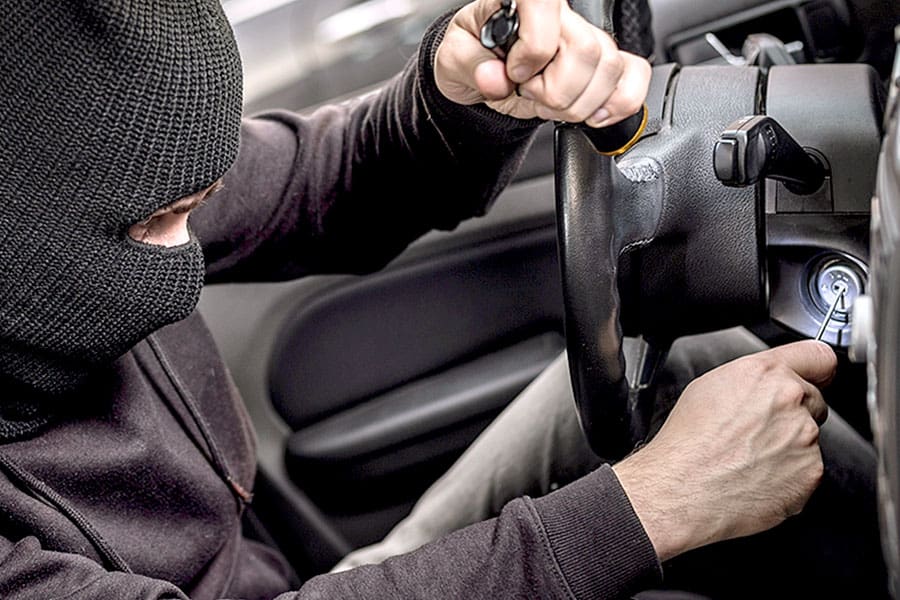 Camper vans are a class B option of recreational vehicles providing extra comfort to people who don't want to go without the luxuries of their home while camping. These camper vans provide a space for sleeping, a sink, a kitchen, and sometimes a bathroom. They are the perfect size to maneuver while traveling.
Do camper vans get stolen? Camper vans are commonly stolen, especially when the thief sees that you are from out of state, making you an easier target. Luckily, there are ways to prevent theft by using security systems and security devices that are visibly seen and used to deter intruders.
Traveling with a camper van is definitely fun, but it does not come as a risk-free activity. There is, unfortunately, a risk of your vehicle getting vandalized or stolen while you are on the road, especially when you are in an unfamiliar area. Luckily, there are steps you can take to ensure proper security for you, your family, and your camper van.
Do Camper Vans Get Stolen?
Camper van theft can happen, especially if your license plates show that you are from out of state. Not being local makes you an easier target to thieves because they assume you are out of your element and believe you do not have the resources of the community to help you find your camper van.
Often, camper van thieves will take off your license plates and replace them with stolen plates from that state; this is to make it harder to identify which camper van is yours.
Why Camper Van Theft Happens
When someone steals a camper van, they are usually looking to sell your belongings. Since camper vans do not have the same security as a home would, it makes them an easier target. Most camper van theft happens to people who do not take noticeable measures of security.
If your camper van has openly visible security systems, then a thief will be more likely to move on to a different vehicle.
Because camper vans stand out from other vehicles, theft doesn't usually occur because someone wants traveling purposes. But some thieves have stolen these camper vans to get to a specific location where they would then ditch the vehicle and then find a new one to take over.
To not have to worry about camper theft, you should take precautions to prevent it from happening. One thing you should consider is to make sure your camper van doesn't look like an easy target to thieves. Here are the most obvious attractions to a camper van thief:
Lack of security
Camper van looks vacant
Valuables in plain sight
Parked in an unsecured area
How to Help Prevent Theft
Just as you take security precautions for your home, there are protective measures to take to keep your camper van from being an easy target.
Remember to lock up. The most vulnerable areas of your camper van are the doors and windows. So, when you're away from the vehicle, be sure to keep the windows completely closed and the doors locked.
Don't let it look obvious that you aren't home. If you make it evident that you are away from your camper van, thieves will more likely be interested. It is beneficial to make it look like you are occupying your camper while you are away. You can do this by leaving music playing or switching on a light.
Don't leave your valuables visible to passersby. It is a good idea to keep tempting items away from windows. Keep curtains closed so that potential thieves can't scope out your belongings.
Park in a safe area. Convenience is a very significant factor in camper theft. When you are away from your camper van, you should park it in an area where it will be hard for thieves to steal anything.
Get to know your neighbors. When you are away and are keeping your camper van at a campground, you should let your camping neighbors know that you will be away for a while and ask them if they can keep a lookout for suspicious people.
Other Posts of Interest
Anti-Theft Devices For Camper Vans
One of the most significant ways to prevent your camper van from being stolen is to use anti-theft devices. There are several devices to help protect your camper van from theft. They are:
Alarms
Immobilizers
Security window film
Deadlocks
Steering wheel locks
Wheel clamps
Trackers
Scare lights
Alarms
One of the best anti-theft devices you could install on your camper van is alarms. If a burglar hears an alarm, they will instantly be startled and run away. But if your camper van doesn't have an alarm, they will stick around longer to try to break into your camper.
Your camper van should come with a factory-fitted alarm that will be activated by the key when you lock the doors.
An alarm would come with a window sticker that will warn thieves that there is an alarm that will sound if they try to break in. That would hopefully deter the thief and make them go away without trying. But if they choose to try, a siren located under the hood will be activated if they break a window or open a door.
If your camper van does not already come equipped with a siren system, it is beneficial to get one installed. When choosing an alarm system, you shouldn't choose a regular home security device as that only caters to one physical address and may require a landline or broadband internet.
Some of the significant features to look for in an aftermarket alarm system would include a remote engine start, remote door locking/unlocking, ignition kill switch, GPS tracking, shock sensors, multi-tone siren, as well as smartphone compatibility.
While most aftermarket alarm systems are available online, they would be difficult for a DIY installation unless you have an excellent knowledge of your van's electrical system. It would also be advisable to check and see if the product warranty would still be valid if you do a DIY install.
Due to the complexity of installation, it might be best to have a professional do the installation. Usually, the alarm manufacturer's website will have a place to search for an installer in your area.
Below are a couple of alarm systems that should work well for a camper van.
Viper is a well-known brand when it comes to vehicle security. Their state-of-the-art technology and range of products will give you all the features you'll want or need in a security system, depending on the model you choose.
The Viper 5906V 2-Way offers vehicle security using spread spectrum technology. It features a menu wheel and OLED display panel, providing you with up-to-date information.
This security system has the most advanced color remote and a mini-USB charging port. It has a 1-mile range, and it is not only a security system but a remote starter as well.
Tattletale – The base unit uses military-grade technology that allows it to connect to other devices up to 300 feet away wirelessly. It has built-in motion sensors and a siren.
A small downside is that it has to be plugged in or used with the battery backup, which is only good for 20 hours. So, this alarm is suitable for campers who are making quick stops or at a campground where they can plug into electricity.
There is also the option to purchase door/window sensors and glass break sensors, which are recommended for RVs.
Along with security devices, Tattletale offers contract-free monitoring services and self-monitoring services with a month to month charge. The self-monitoring services are what is recommended for RV use because the systems can send you text alerts.
There are many other quality systems available that will provide an increased level of security for your camper van, including Crimestopper, Avital, Python, Pyle, and Easyguard to name just a few.
Immobilizers
An immobilizer is a device that stops a vehicle from being started without the correct key. Immobilizers prevent vehicles from being hot-wired. They work by disabling the main components that start the vehicle until you insert the vehicle's key.
A lot of camper vans already come equipped with an immobilizer, so it is a good idea to ask the manufacturer. If it does not already come with one, you can ask them which kind is best for your camper van.
Window Security Film
Smash and grab only take a few seconds on an unprotected window. Security film will hold the glass together, preventing it from shattering into pieces. However, the film will not protect the window indefinitely.
What it will do is increase the amount of time and effort it takes to break through the glass, the louder noise, and increased difficulty while trying to gain entry to your van can potentially deter a thief.
Films are available in different thicknesses and various shades of opacity, from clear to near blackout. There are various kits available for the DIYer that include the film and accessories for installation, as well as films that require you to take the vehicle to a professional installer.
Deadlocks
A deadlock serves the purpose of an extra lock on top of your camper van's primary lock. A deadlock prevents an intruder from being able to pick your locks easily.
With a deadlock, you will lock your camper van with its master key and then use a separate key to lock the deadlock.
Installing deadlocks is something you can either do yourself or have someone do it for you.
Steering Wheel Locks
Steering wheel locks are a piece of metal that attaches to the steering wheel to prevent it from being turned. These devices are hard for an intruder to break off but easy for the owner to unlock and remove.
Not only are steering wheel locks hard for an intruder to remove, but they are also an effective deterrent when seen.
Here is a list of a few popular steering wheel locks:
Camper Van Wheel Clamps
Wheel clamps attach to the wheel, preventing the vehicle from being able to drive down the street. Because they are large, bright, and on the outside of the camper van, it is harder for intruders to break one off without someone noticing.
Here is a list of a few popular wheel clamps:
Trackers
Another thing to consider installing is an electronic tracking device in your camper van. Most devices plug into the OBD port of your vehicle while others can be placed in any location, hidden under the seat or in a concealed area. While this probably won't keep the van from being stolen, it will help to find it. However, there is a drawback; there is usually a monthly or yearly fee.
Tracking devices are attached to the camper van and can alert you when stolen and track where the vehicle is going. You can then notify the police and have them retrieve your camper van for you.
When thieves are looking for a camper van to take over, they are looking for ones that look like an easy target. So, when you have a GPS tracking device that would-be thieves can see, it could deter any intruders away.
A downfall of having a GPS tracker that plugs into the OBD port is that the intruder can disconnect it. But you can also purchase trackers that stay hidden.
Some of the more popular GPS trackers are:
Scare Lights
Scare lights, or security lights, are lights that are mounted on your camper and provide a bright light around your vehicle. Lights are beneficial for scaring away intruders.
Not only do lights help ward off thieves, but they are also great for after-dark activities.
Another add on for security lights is to use motion lights. These are lights that will turn on when it detects motions. The light turning on will make an intruder believe someone is in the camper van and should scare them away.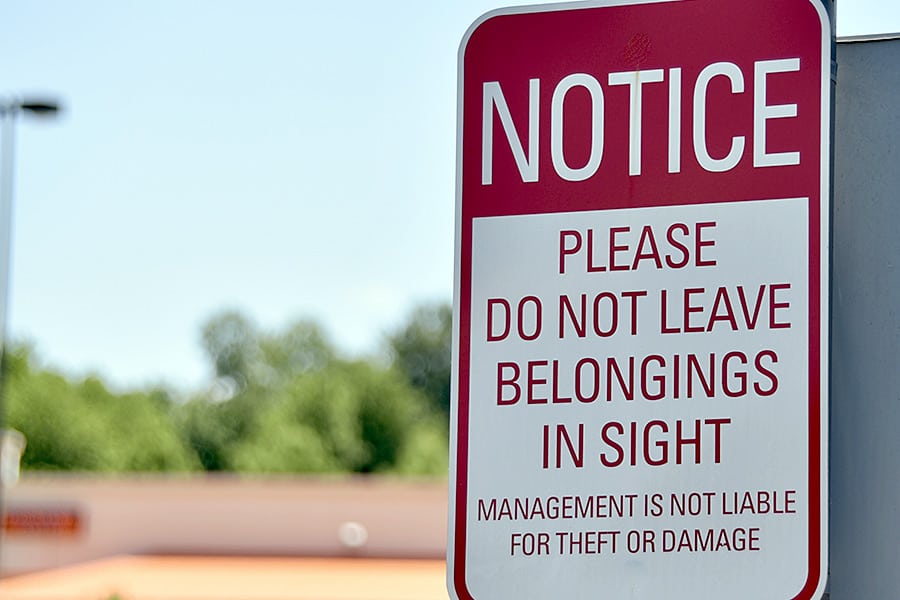 Parts Of Your Camper Van To Protect
Some parts of your camper van are easier to break into than the others. These areas are the most vulnerable, so thieves will go after these areas of your camper.
So, you should take these areas of your vehicle and add extra security to them:
Doors – This is the easiest access to your camper van. Adding additional locks to the doors is beneficial.
Windows – Windows are sealed to the vehicle but easy to break. Use window security film or think about getting stronger glass installed.
Rear Doors – The back of the van has doors that open, secure these with extra locks. Consider adding a security alarm sticker to the window to warn them that an anti-theft siren will sound.
Research the Places Where You Intend to Travel and Park
When traveling with a camper van, you should look up the town you are planning on staying in and read reviews about the neighborhood. If there has been a chain of multiple camper van break-ins and thefts, then maybe that is not the neighborhood you should choose.
Check the police and crime reports. Once you decide where you'll be stopping during your trip, hop online and find out crime statistics.
Ask other campers where they recommend you stay, where they have had a good experience, and where they felt safe.
When arriving at your destination, you should take in your surroundings and figure out if it is a good neighborhood or not. Although theft can happen anywhere, your camper van will most likely attract intruders if you are in a high-crime area.
Park your camper van in an area where it is well lit and surrounded by people—this an excellent way to keep thieves away.
Parking at Night
If you are traveling and not planning on sleeping over at a campground, you want to find the proper location to park your camper van at night to sleep.
Stay away from dark and secluded streets and empty parking lots.
Find well-lit areas and areas where there are other vehicles. 24/7 gas stations are an excellent choice and other stores that are open all night.
In residential areas, do not park directly in front of houses or apartments because this can raise suspicion and draw attention to yourself.
Maintaining A Low Profile
When you are staying anyplace for an extended amount of time, try not to draw attention to yourself and your camper van. It is beneficial not to have a camper van that is vibrant with colors that scream, "I'm a camper van." If RV thieves didn't know your van was a camper van, they would most likely stay away.
Another tip is don't park in the same place or visit the same stores and locations. A lot of thieves will sit back and be on a lookout for reoccurring vehicles so that they can notice a pattern and make their planned attack.
Keep a low profile, and don't let anyone see any valuables hidden away in your camper van. If criminals suspect that you have a good stash inside, they are more likely to invade your vehicle.
Don't bring valuable items with you while camping – or keep them on you at all times. If you have electronics and other costly items, have them hidden away while you are away. If a thief is peeking through your windows, you wouldn't want them to see that you have valuables out.
If a thief doesn't see anything that looks valuable to them, they will most likely move on to a more valuable camper.
Preventing Theft from Your Driveway
Unfortunately, there may be bad people nearby, and these bad people may know that you are packing up your camper van to get ready to go traveling. If these people suspect that you have goodies in your vehicle, they may try to break in and take those or steal the camper van, with the supplies that they know is in it.
Keep it locked anytime you are not nearby. Lock it even when you are packing up your camper van and going in and out of your home.
Protect the keys in your home. Don't leave the keys to the camper van where they are easily accessible. If you have a burglar in your home, they could see those keys and then easily steal your camper.
Don't leave the keys to your camper van in the van. Keep them on you or somewhere safe.
Storing Your Camper Van
During the off-season of camping, make sure you are storing your camper van in a safe location. Keep your security system up and running in case someone tries to break in.
Home Storage
If you keep your camper van in your garage, make sure it is secure and that the keys are somewhere not easily accessible. Keep the doors locked and protected. Covering your camper with a tarp can be beneficial so that people can't see what it is from the road.
When keeping your camper van in your garage, have bigger items in the way so that someone wouldn't be able to drive off quickly. If it's in an outdoor storage area, keep it behind a locked fence for that same reason.
If you keep your camper van in your driveway and use it for everyday use, take the same precautionary steps that you would if you were traveling. Keep everything locked, secured, and the alarm activated. It is a bonus to have motion lights and a security system in your home as well.
Storage Unit
When not in use, people sometimes will store their camper van in a large storage unit. When doing this, make sure that it is safe and securely locked, and all the usual precautions are in place inside the storage unit.
The lock of the storage unit will not keep the camper van safe because thieves can break a lock easily. Choose a storage unit that you know has security or security systems and cameras.
Outdoor/covered RV Storage Units
Depending on your area, there are storage areas specifically for RVs and camper vans. This type of storage is a standard self-storage option for campers, and it is pretty affordable.
You'll want to choose a storage area equipped with high fences, keypad entrances, and video surveillance.
For a little bit more money, you can store your camper van in a covered RV storage lot. A covered space will protect it from the sun's rays, and it will provide the same security system as an all outdoor storage unit.
Indoor RV Storage Unit
The best way to store your camper van in terms of safety is an indoor RV storage unit. They tend to be pricer, but they provide you with extra camper safety.
Not only will the storage area have the high fence, keypad entrance security with security cameras, there will also be an indoor locked unit for your camper van.
This storage solution is the best way to prevent camper van theft during the off-season of camping.
What To Do If Your Camper Van Gets Stolen
It is essential to take all the precautions to make your camper van unappealing to camper thieves, but if a thief still gets by your security, take the proper actions to get your camper van back.
Authorities
In the event your camper van gets stolen, the first step you have to do is contact the authorities immediately so that they can begin a search for your vehicle. You will need the make, model, license plate, and VIN of the camper van, and any extra details that can be of help.
Before setting out on your camper van adventure, it is a good idea to add specific details to your camper so that if it were to get stolen, you can give details that could help quickly identify it. These details could be bumper stickers, window stickers, bike racks, markings, or any damages it may have.
Check Security
If you received an alert from your camper van's security, you should call the authorities right away to check on your camper van if you are not close by. If you have a security system that has video surveillance, have that ready to show the police.
Having a GPS tracker on your camper van is a great way to find out where it is heading, and that will make the search easier than going off of nothing. Thieves often will change license plates, remove any noticeable marking, or even hide in a secluded area until they believe the coast is clear. Having that tracker will be the easiest way to get your camper van back.
Contact Insurance
If your camper van ends up stolen, you should contact your insurance company to let them know. Calling them will help cover any possible damages caused while it is out of your hands.
Ask Neighbors
If your camper van was stolen at home or a campground, or even at a store, ask people nearby if they saw anybody suspicious and if they saw anyone getting into your camper van.
They can help describe someone for the authorities to look out for.
Final Thoughts on Security
Camper van theft is real, and many people have been victims of it. When camping, it is essential to have the proper security measures in place to scare thieves away. These measures include:
Having an alarm system that will sound when there is a break-in and also alarm-system warning stickers on your windows to help scare thieves away.
Deadlocks
Window security film
Steering wheel locks
Security lights
GPS tracking
The most important advice to prevent someone from breaking into your vehicle is not to provide them a reason to do so. First and foremost, keep valuables out of sight and apply some of the security measures provided in this post.
You shouldn't stay in areas that look questionable and don't park in dark, secluded areas. Read area reviews before deciding where you want to park. As with any theft, it is better to prevent the problem than to deal with the invasion and loss.