Conversion camper vans are incredibly popular across all age groups. Rather than spending over $100,000 for a brand-new Class B RV, you can convert a low-cost van for a much lower price tag. Dozens of professional companies will do the job for you, but you can also buy a kit and DIY the project.
Camper van conversion kits cost $2,000 to $30,000, depending on the features you want and van size. DIY conversions are almost always cheaper than hiring a professional to convert it for you.
Throughout this post, you'll also learn all sorts of helpful info about camper van conversion kits, including:
How much they cost
Where to buy
Amenities to include
Time frame details
What's the Price of a Conversion Kit for a Camper Van?
Conversion kits are a bit more expensive than buying all of the materials for yourself. You'll be paying for the supplies as well as the labor used to research and package everything. On top of that, most experts get the best materials, which means everything will be at the top range of the price charts.
Nonetheless, there are many budget-friendly camper van conversion kits. If you're converting something as small as a minivan, you can spend as low as $2,000 with some companies. However, cargo vans are going to cost the most.
When you're planning on buying a conversion kit for a camper van, you should budget between $2,000 to $30,000. The cost will depend on the company in question, make/model/year of your vehicle, and the amenities you want. You can spend even more if you want to customize it further, though it's not always worth the extra money for some campers.
As you might've read in the introduction, you can save quite a bit of money by DIYing the conversion. Buy the kit from the company and do it yourself to prevent the labor costs from hitting the bottom line.
What Comes in Conversion Kits?
If you want to end up with the most bang for your buck, you'll need to check out what comes in a van conversion kit. Most kits have the bare essentials, but you might be surprised how much more you can get for only a little bit more of an investment.
You can also choose to buy specific upgrades instead of full kits.
For example, if you don't have a lot of carpentry skills and only want to buy modular storage drawers, you can do that. If you only need a bed system, you can purchase that, then work on doing the rest yourself.
Here's a list of things usually included in camper van conversion kits:
Tables that convert into beds are very common upgrades. If you want to save space and money, getting a dining table that can quickly change into your nighttime bedding is an excellent choice. They're usually cheap, but they take up less interior living space than having a bed and a table separately.
Bathroom facilities are doable as well. If you want to have the luxury of using the bathroom wherever you go, then add a toilet system in your conversion. If you're not a plumbing expert, then maybe this conversion should only be performed by professionals.
Solar power is another essential addition. Conversion kits often include solar panels, chargers, and batteries because they allow you to have electricity while dry camping. Again, there's a lot of electrical work, which could be challenging for those who aren't good with power tools. However, hiring a professional for solar is a great choice.
Cooking setups are a popular addition for conversion kits. If you want to cook inside of the vehicle, you'll need to ventilate everything properly. Roll down the windows, open the doors, or get a roof vent fan (another possible addition from conversion kits for camper vans).
Shelves and cabinets are useful for additional storage. You can request low-quality plywood cabinetry or high-end maple wood. There are dozens of types of wood to choose from throughout the conversion process.
Insulation, custom flooring, and wall panels are also possibilities. There are countless alterations that you can do with conversion kits these days. The Mercedes-Benz Sprinter and Ram ProMasters vans are the most common vans to convert, but you can get kits for E150s, Dodge Caravans, and other well-known vans.
Where Do You Get Them?
Conversion kits for camper vans can be purchased online from several companies that ship right to your front door. You're free to install it wherever you want to, which puts time in your hands.
A few companies also have installers throughout the county that they ship to that will install the kit for you if you want to go that route.
On some of the more extensive DIY kits, you will have to plan with the company that you want to work with, get pricing finalized, and then make a deposit to get the work started.
Which Companies Sell Conversion Kits for Camper Vans?
There are lots of companies in business that sell kits/components for DIYers. Let's look at some of the companies and what they have available.
Otzi Adventure Gear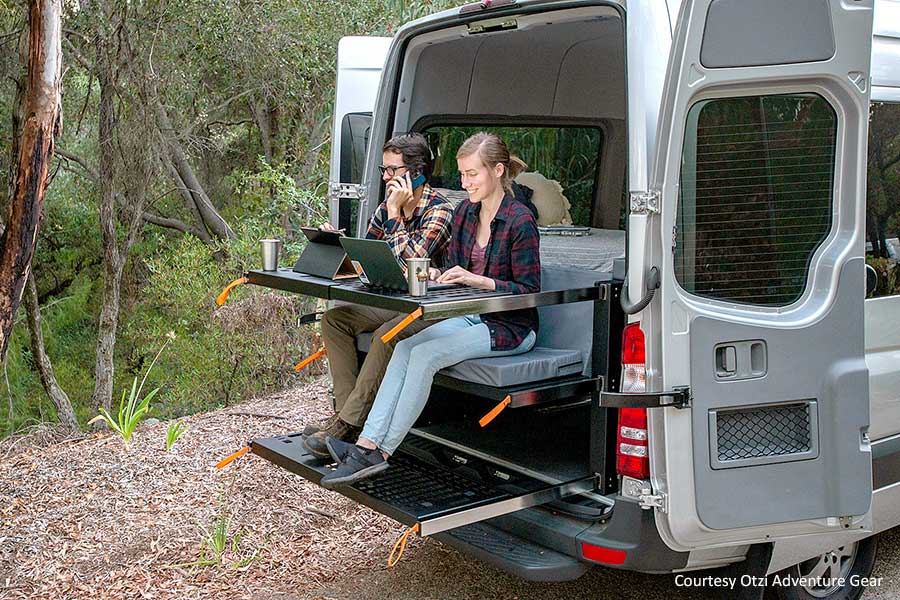 If you are looking for a fast and easy way to get your van ready to hit the road Otzi Adventure Gear has just the product you're looking for. The MVS Lifestyle System is so easy to use that one person can do all the installation. And to top it off, the system is made right here in the USA! The only drawback is that they are only available for Sprinters.
The baseline system starts at $15,999 and includes (2) side storage boxes or build boxes, (2) panel mounting boxes, (6) bed panels, (6) bed cushions, and (2) side cushions. Other options are available depending on what you want in your setup.
The MVS Lifestyle System allows you to configure your setup in multiple ways since the company has come up with at least 48 configurations. In addition, the system will enable you to expand your van living area to the outside also so you can take advantage of all the perks nature has to offer!
Suppose you are looking for a simple system that allows you to mount electrical or plumbing components. You have now found a solution! This system is perfect because the removable mounting panel on the build boxes will enable you to do that, simplifying your build's planning and construction phase.
Some of the great features of the system are:
Light-weight aluminum bed panels

Electropolished 304 stainless-steel tubing extension slide rails

Ability to mount switches and other components on the front covers

3-layer bed cushion

One-day installation
DIYing your van build is no longer complicated if you take advantage of the Otzi Adventure Gear MVS Lifestyle System.
Freeway Camper Kit
Freeway Camper Kit is a Canadian based company, and they pride themselves on producing a low-cost option that will have you up and going in a matter of minutes.
The great thing about this company is that they give you the option to transform your everyday family van into a camper in no time flat.
You will be able to transform your Dodge Grand Caravan, Chrysler Pacifica (2015 and newer), Volkswagen Routan, Honda Odyssey (2005 and later), Chrysler Town and Country plus many other vehicle models into a convenient way to escape for the weekend.
Some of the features included in their kits include:
Bed
Foldable counters
Fresh water reservoir
Cooler or optional compressor fridge
Gray water reservoir plus more.
All you need is a neighbor to help you set it up, about 15 to 20 minutes, and you are ready to go. You can also purchase a rooftop tent to add extra sleeping space.
When you are done with your camping trip, you can just as easily remove the components when you need the minivan back. Their kits start at about $1,900.
Adventure Wagon
Adventure Wagon is another company that sells high-quality modular interior conversion kits. They offer conversion kits for Sprinter vans starting at $11,500 for the 144″ wheelbase. 
Adventure Wagon produces a conversion kit with many customizable material choices and accessory options. Everything you need is included, insulation, wiring, pre-cut and upholstered wall panels, fans, and cargo track for additional components.
The modular kit design is highly configurable, and you can switch it around to accommodate many different floorplans.
Raise the queen-sized MOAB bed to store your bikes underneath. Stack two MOABs and sleep, four people. Fold the MONK bunk into the wall and store your gear beside you.
The complete interior system can be installed yourself following the steps outlined in their installation video. If you are a little bit hesitant about doing the installation yourself, you can find a certified installer on their site to wrap up your project for you.
The folks at Adventure Wagon tell me that their key differentiators are: they offer the only complete conversion kit on the market; easy/quick install – typically 40-60 man-hours; a modular design that is easy to change vs. permanently installed cabinets and beds.
Lead time is around two months, so make your plans accordingly. They require a 50% minimum deposit before they will start production of your kit.
If you have a Ford Transit, you will be happy to know that they have recently introduced a product line for the 148″ wheelbase, high roof Transit cargo van.
Other Posts of Interest
Wayfarer Vans
Wayfarer Vans is located in Colorado Springs, Colorado, and they offer what they call plug-n-play camper van kits.
They currently offer kits to turn your Ram ProMaster City Tradesman cargo, Ram ProMaster high roof 136″ and 159″ wheelbase or the Ford Transit, high top 148″ wheelbase van into the camper van of your dreams.
The kit for the ProMaster City starts at $5,196 and includes insulating panels, table, camper boxes and more. This kit is a simple, easy, and affordable way to transform your Tradesman into a camper.
You can have them ship the kit right to you for only $750, or you can take the van to their shop, and they will install it for free.
The kits for the larger vans start at $9,795 and include wool insulation, wall and ceiling paneling, kitchen galley with sink and hand pump, 5-gallon water tanks, bed platform, and more.
However, the kits for the larger vans cannot be shipped affordably, but just like the Tradesman, you can take your van to their shop, and they will do the install for free.
Production time can run anywhere from 3 to 9 weeks, depending on the time of year, so be sure you allow extra time to get the van ready.
Whether you are buying a conversion kit or converting your van on your own, below is a list of a few helpful items that you will want to have in your van:
Happier Camper
Happier Camper has a neat system that they call Adaptiv™ for Vans. With their system, you can literally have hundreds of different design options, so you can change the setup in your van to what works the best for your specific needs.
Their floor system is constructed out of 1-1/2 inch thick honeycomb fiberglass. Though the floor is light, it is incredibly strong. The grooves in the floor provide a secure way to hold the cube components into place.
The Adaptiv™ system components include cubes, nesting tabletop, bench/bed, bunk bed/couch, toilet, and more.
The only drawback is that the system is only available for certain Sprinter vans; however, systems for more makes and models are on the way.
QuQuQ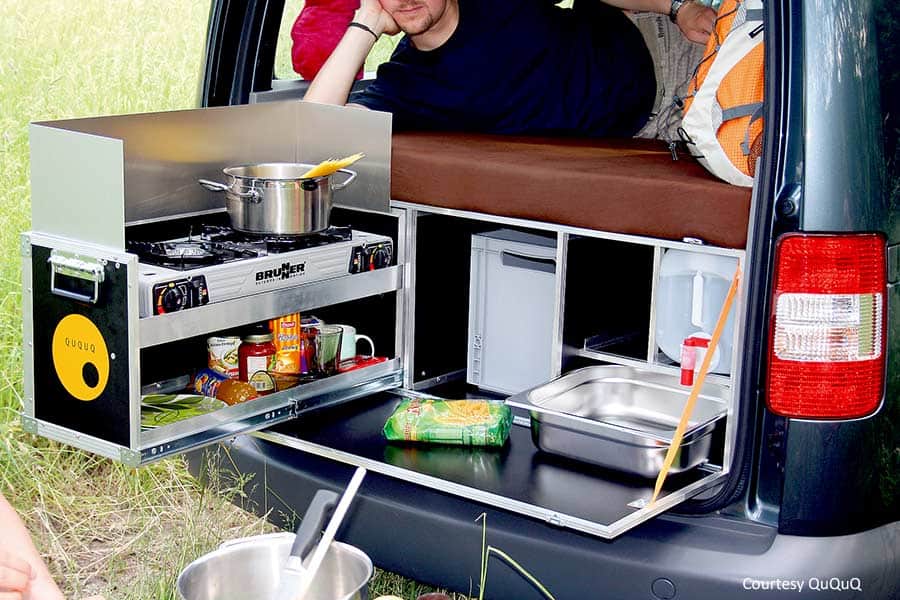 QuQuQ produces a camping box that is so simple you will be out camping in a matter of minutes. Everything that you need is right together without having to piece things together.
This box includes a bed that folds out with a cold foam mattress; the kitchen has a 2-burner stove, drinking water, and more. The concept is simple but provides all that you need for a weekend camping trip.
The QuQuQ Kombibox fits into more than 35 different high roof vans, plus they have other boxes for other models of vehicles. Prices are in the $4,000 price range.
The camping box is made from aluminum, waterproof multiplex, and stainless steel, so it is so lightweight, you can move it by hand. And if you sell your vehicle, just keep it to use in your new one.
Zenvanz
Zenvanz is the final entry on the list, but it's a top choice for many buyers. The price of the DIY kits start at $18,000 for the short wheelbase. Kits are available for any high roof van.
The luxurious appearance and durability found in each kit are as good as it gets across the market. The kit is constructed with an aluminum exoskeleton and bent bamboo panels.
One of the things that I really like about this kit is that you can easily install them using the factory holes, that way you don't have to worry about drilling and accidentally going through to the outside of the van.
The kit is designed so that you can easily remove it after a week camping to get back your van for daily driving.
The standard modular cabinet kit includes components like an easily removable inside kitchen/galley, bamboo/paperstone counter, silverware drawer, bamboo cabinetry, bedside storage cabinets, upper cabinets, and a three-panel bed system. Optional upgrades are available.
Zenvanz does full and custom builds, plus they also do "add-on" components for those who want to go the DIY route but need something other than their standard kit.
What to Consider Before Purchasing
Before you buy the first conversion kit that you come across, write down a list of your requirements. Remember that the more you want, the more you'll have to spend.
A realistic budget of about $10,000 is an excellent place to start. If you're buying everything yourself from a hardware store, it'll be a bit cheaper. However, you might not get the same quality as you would with a conversion kit.
Here's what you should look for when you're getting a kit:
Make sure that the kit includes all of the conveniences that you want. Whatever you need to feel relaxed and at home in your van should be at the top of your list of requirements from the kit.
The materials are critical, as well. Beginners often overlook the crafting materials in favor of looks. Even if the cabinetry looks great, it could be made of wood that warps when the sunlight warms up the van after a cold winter. Low-cost insulation can get moldy, causing health problems.
Always go for optimal airflow and ventilation.

Get a good vent fan, air conditioner, and heating system. Adjusting the interior temperature of your van can be comfortable and life-saving. These components may be some of the requirements of legally licensing your camper van as an RV, saving you money on insurance, and more.

Get the storage that you need. Some people don't require much storage space if they're minimalistic. On the other hand, many travelers need loads of room for clothes, gear, and other equipment. You're the only person who knows precisely how many cabinets, baskets, and boxes you need to be installed in the camper van.
How Long Will It Take to DIY the Conversion?
DIY camper van conversions will take as little as a half-hour if you are simply sliding in a unit but can take up to 8 weeks if you need to run wiring, plumbing, and install insulation. It will depend on how fast you can work, the size of the project, and if you're going to do it by yourself or with a few helping hands.
If you have a full-time job, you'll obviously have to spend more time on the weekends and squeeze in a few hours each day before or after work. Those who are fortunate enough to focus on the conversion process all day without any interruptions can get it done way faster.
How Long Do Companies Take to Convert a Camper Van?
Not sure that a DIY project is the way to go for you, you have the option of sending your van to a professional to get the conversion done.
Hiring a company will drastically increase the conversion time. However, it's worth it for many people. Whether you lack the time because you have a full-time job or you don't know how to convert the van on your own, the convenience is often worth the time that it takes.
On average, companies take about 4 to 12 weeks, depending on the quality of the build and the amenities you need. Another factor is the distance between you and the facility/workshop. If you live several states away from the company, it might tack on a few extra days for transportation.
What Prep Work Should You Do Before Hiring Professionals?
Sending your van away to strangers is a bit nerve-wracking. Do some research on Yelp or another review platform if you need a bit of relief and knowledge about which company you should choose. Before you taking your van to the professionals, remember these suggestions:
Clear everything out of the van. You shouldn't leave your sunglasses, booklets, first-aid kits, and other removable items in the van since you likely won't see it for a long time.
Figure out what information they need. They'll probably require driver's licenses, SSNs, deposits, and which kit you want to use. Gather everything before you send the vehicle off for the conversion.
Make arrangements for other means of transportation. If you have another vehicle, then you're good to go. You can also try to rent a car for a few weeks until they return it to you.
Lastly, inform the company about any mechanical problems. Write everything down on paper, check the odometer, and look through the vehicle. When you get it back, there shouldn't be too many more miles on it, nor should additional mechanical issues appear.
Conclusion
Camper van conversion kits can cost as little as $2,000 and up to $20,000 plus. It will depend on what amenities you want to have when you are camping and traveling. However, the price of conversion kits is considerably less money than purchasing a factory manufactured Class B RV.
By adding some of the simple comforts of home to your van, you can take your camping experiences to the next level.