It's that time of year again when most families take advantage of the extra time off and pack up their RV or vehicle with their camping gear. Camping is one of those American pastimes where individuals can really get in tune with nature while getting some time to relax. While camping sounds like a great time, there are still a few things you should consider, and extra measures you should take when packing up your gear.
Safety is critical when camping, and you want to ensure that you are prepared for any surprises that unexpectedly come your way. When packing, you want to make sure that you have covered all the bases, whether it is your vehicle, gear, food, animals, or other safety concerns.
By covering all the bases and being well prepared, you will be one step closer to a fantastic camping experience. So, if you're hung up on what to bring on your next trip, don't worry, read on, this post has many tips and tricks that you can use for your next getaway.
The Importance of Safety
Camping sounds like a great time, but it can quickly go south from one minute to the next. You need to be aware of a lot of things when you go camping, whether it is animals or people trying to steal your personal belongings you'll need to make sure that you are staying vigilant. These negative aspects that come along with camping you can easily prevent. You just need to know how to do it properly.
Since you are in the outdoors, you will not have access to the luxury of relying on a security system or decent cellphone reception. This lack of service is why it is vital to have everything you possibly need to ensure yourself and your family's safety. By learning the various techniques in this post, you will have the ability to camp like a pro.
Once you have mastered the art of having a safe camping trip, you will likely enjoy going camping more often and enjoying everything that this experience offers. The key is preparation; when you adequately prepare for your adventure, then you are sure to have a fantastic camping experience.
Must-Have Safety Equipment
As learned in elementary school, safety is first, and it is critical when going on a camping trip. The internet is overloaded with different types of safety equipment for campers; however, with the vast selection of equipment for sale, it is easy to feel overwhelmed. The equipment listed below is must-have items that every camper should pack in their bags before their trip.
The first aid kit should be the first thing you pack. Being outdoors will increase your possibility of getting a minor injury whether it is a cut on your knee or a bruise from a fall it is best to be prepared. When purchasing your first aid kit, make sure it is an all-purpose kit, a good kit will have at least 200 items in it and leave you prepared for an emergency.
Protect Life makes one that covers a wide range of injuries. The kit includes gauze pads, antiseptic wipes, adhesive bandages, gloves, tweezers, and many more items. It is well organized and has space to add additional items.
Be prepared to put out a fire with a small extinguisher. If you're thinking of starting a small campfire, then a fire extinguisher is a must. In some cases, campfires tend to go very wrong, so it is best to be prepared and have an extinguisher on standby.
The First Alert PRO5 is suitable for paper, flammable liquid, electrical, wood, and fabric fires. The extinguishing agent is mono ammonium phosphate, and it is UL rated 3 A: 40 B:C, includes mounting bracket, made with all-metal construction, and backed by a 12-year limited warranty.
When you get in a tough situation, you can always turn to your survival kit. This kit is another must-have for your camping list. The items are useful to have in hand if you are hiking in the woods and find yourself lost or encountering an unexpected natural disaster.
Taiker has put together one with everything conveniently packed into a bag. A few things included in the survival kit are a thermal blanket, flashlight, tactical knife, and other equipment that can you can use when faced with an emergency.
Blow your whistle. Let's be honest. Anyone can easily get lost in the woods, especially if they have little to no experience in camping. Since cell phone signals can be very spotty in campsites, the best way to notify your loved ones or camp staff that you are lost is by blowing your whistle, and it isn't just any whistle.
The Fox 40 Sonik Blast CMG whistle can be heard from over a mile away, perfect for someone out in the woods. It is made of ABS plastic that will withstand high impact and moisture won't affect it. This whistle is sure to get attention!
The items listed will be a great first start when packing for your camping trip. Although they may seem like minor items, they come in handy in any emergency situation. The list covers a few important bases, but there is still much more needed when it comes to camping safely.
Keep Your Campsite Safe
Aside from keeping yourself safe, it is also essential to keep your campsite safe as well. Being on a camping ground can leave you vulnerable not only to animals but also thieves and natural disasters. When protecting your site, you should act as if you are protecting your home and use as much caution as possible. The tips provided in this section will advise you on how to keep your campsite safe from animals and theft.
Keeping Animals Out
Being in the great outdoors means you'll likely be surrounded by animals, and although the thought might be scary for some, there is no need to worry. As long as you properly control your space, your chances of running into an animal will likely decrease. Some campsites are more secure and have mastered keeping animals out, whether through wire fencing or other security measures; however, you should not always depend on that. Here are a few tips to keep animals out of your campsite.
Clean up after yourself. This practice is the number one rule for campers. Animals are often attracted to odors such as food, which will cause them to follow the smell until they find the source. By leaving leftover food out in the open and trash in your campsite, you will likely get a few animal visits.
Try buying airtight canisters to store leftover food. Another great option is OPSAK bags. These airtight bags will keep the odor in and your food safe. For storing trash, Odorno has a two-gallon bag that is heavy duty and keeps the smell of whatever you put in it inside the bag.
If you encounter an aggressive bear, spray it. It seems as though bears are the biggest threat when it comes to camping, and you want to protect yourself at all costs. If at any time you meet up with a bear and find yourself in imminent danger, then bear spray is your best friend.
According to the National Park Service, having bear spray can be useful to reduce the possibility of injury from a bear attack. The spray is non-lethal and temporarily reduces the bear's ability to see, breathe, and smell. Familiarize yourself with using it before going afield and remember that no spray is 100% effective.
UDAP makes a bear deterrent pepper spray that sprays 30 feet, and it is the hottest bear spray that you can buy, 2.0% CRC. The canister size is 7.9 ounces and creates a wide spray of fog. A bear attack survivor developed it, and many professionals and sportsmen use it who work where there are bears.
Store your food in a bear-proof canister. Counter Assault's Bear Keg will keep your food safe from not only bears but other curious wildlife. It weighs 3.8 pounds, is 9×14 inches, and is approved by The Sierra Interagency Black Bear Group and The Interagency Grizzly Bear Committee.
Heavy-duty garbage bags for disposal. In most cases, a campsite will provide you with garbage disposal receptacles. However, in the case they do not provide you with disposal containers, then you should have heavy-duty garbage bags on hand. To avoid animal tampering, you can double bag your garbage or hang your trash bags high off the ground. You could temporarily keep the trash bag inside the van if the smell doesn't bug you.
Animal safety may be one of the most important things to consider when planning your trip, so you want to be adequately aware of how to handle yourself in these kinds of situations. Research the wildlife that resides where you will be camping and learn what the best approach is when encountering them.
With these simple techniques, you will be a step ahead in making your campsite safe from any animals.
Other Posts of Interest
Prevent Theft on Campsites
Not only do you have to deal with animals when camping, but you also have to deal with people. Camping can also lead to the possible theft of personal items, although the likelihood of this happening is not that high. It is still best to be prepared. You may feel slightly less vulnerable when camping in a van because you are less exposed than sleeping in the outdoors.
However, it's still important to take preventative measures for the ultimate security of your campsite. The suggestions listed below should help put you at ease when making a decision on how to keep your campsite safe.
Research your campsite first. When planning your weekend getaway, the first thing you should do is research your site and read the reviews. It should raise a warning signal when you see negative reviews, and most importantly, be sure to review any security measures the campsite may have. You can go the extent of calling the campground to see what their security measures are and if there is some form of security on site
Keep your more valuable items stored in hidden compartments. The best course of action overall is to leave your valuables at home. However, there are some instances when you will need some valuable property when camping, such as credit cards, cell phones, expensive camera equipment, and other electronics.
It is best to keep your valuable items locked in your vehicle and then locked in the glove box or another out-of-site compartment in cases such as this. Doing this removes the temptation of breaking in from thieving passersby. And, if your van has an alarm and someone does try to break in, the noise can scare them off.
Camp at secure locations. Don't camp in areas in less desirable locations, or where you have a sense that it isn't a good location, I know I've had these feelings, so listen to them.
Secure large items. There will be instances when you decide to bring large camping equipment with you that you cannot comfortably store in your vehicle. In cases like this, you should keep large items such as bicycles, canoes, grills, and other large pieces of equipment out of plain view, if possible. You can use a cable lock to fasten these items against a tree or a bench for extra security. Although it is not 100% tamper-proof, it will decrease your chances of getting these expensive items stolen.
The thought of having your items stolen or tampered with can be quite alarming; however, with these preventative techniques, you will have that sense of security when camping. When it comes to this, it is best to always prepare for the worst, because when it comes to being outdoors in an unknown location, you never know what may come your way.
Stay Safe with These Gadgets
If you are someone that wants an extra layer of security, then this is the perfect section for you. Although you can take some preventative measures when going camping, you can still go the extra step and purchase items to help increase security.
Purchasing items to keep your valuables secure works great if you want to add that extra layer of protection to your campsite. The following are a few things you may want to consider buying when planning your next camping trip.
Money Belt: If you enjoy hiking when you go on a camping trip, then a money belt is perfect for you. Potential thieves can not easily detect a money belt because you can wear it under your clothes, and your money and credit cards will be on you at all times. Do not mistake a money belt with a fanny pack. You can easily hide the money belt.
Venture 4th makes a lightweight money belt with RFID blocking that fits both men and women. It can be worn under your clothing, where it can't be seen, and it allows enough room to store credit cards, money, and other valuables. The belt protects your valuables in waterproof ripstop nylon and is comfortable to wear.
Vehicle safe: If you are considering leaving your personal items in your vehicle, a car safe might be an option for you. Purchase a safe, mount it under the seat, and put your valuables in the box. This option will allow you to have an added layer of protection inside your vehicle. A thief can easily break into the vehicle and steal from your unlocked glove compartment, but they will not put too much time and energy into attempting to open a secure lockbox if the thieves are doing a grab and go.
Bulldog Cases makes a car safe that you can mount with a bracket and security cable. When you have the box locked, it can't be taken off of the mounting bracket. It is constructed from heavy-duty steel. It makes an excellent place to store credit cards, money, or other valuables.
HitchSafe offers a different way to store your valuables. You can install the safe in your hitch receiver in a couple of minutes, and it doesn't require any tools to do it. It has a four-digit dial combination that allows you to store your valuables safely. It is excellent for keeping an extra set of keys for when you accidentally lock yourself out of your vehicle, which I can tell you from personal experience happens!
Locking Cable: Use a cable to secure any large items to a nearby tree or even your vehicle. As I mentioned previously, you want to make sure that you keep these items out of plain view.
Lumintrail makes a coated braided steel security cable with looped ends perfect for securing bikes, grills, and other equipment at your campsite. It has a vinyl covering, is 1/2 inch thick, and comes in 4, 7, 15, and 30-foot lengths.
Battery Powered Motion Sensors: If you are camping in an RV, tent, or vehicle, then this is perfect for you. If the sensor device detects any movement in your camping space, then the lights will automatically go on. Sensors are useful for keeping thieves out, but it is especially helpful for scaring off any animals that come into your space.
An excellent choice for a motion sensor comes from CampGuard. Their camping lantern not only lights up but has an alarm system as well to keep intruders away from your campsite. The lantern covers 360 degrees, is water-resistant, easy to operate, and runs on four D batteries. The lantern light will go out after 15 seconds of no motion and has a low and high lumen setting when using it as a lantern.
With the preventative measures provided earlier in this post and the safety gadgets listed above, your campsite is on its way to being secure. You will feel better knowing that you have an added layer of protection and that you are implementing all the necessary steps to stay safe. In terms of pricing, the suggestions are relatively inexpensive, and you have a variety of options to choose from.
Stay Safe by Staying Healthy
Being in the great outdoors can leave you quite vulnerable and expose you to the harsh elements that nature offers. When it comes to health complications, it is always best to be prepared, because depending on where you are, you may not have easy access to medical assistance. The following section includes information from the Centers for Disease Control and Prevention (CDC) and should be taken into careful consideration when preparing for your camping trip.
Make sure your vaccinations are up to date. Vaccinations are another way to prevent any diseases that nature may have to offer. The CDC suggests that you check with your practitioner as they may recommend tetanus, meningitis, or hepatitis A vaccines before you venture out on a camping trip.
Keep your food and water safe. The last thing you want to occur during your camping trip is to consume contaminated food or water. You can prevent contamination from happening by keeping your food in an airtight container and cooking your meat to the proper internal cooking temperature. Bring bottled water from your home or local supermarket, and refrain from drinking water from a lake or stream.
Take preventative steps when it comes to bug bites. Being outdoors can lead to bug bites from mosquitoes, ticks, and other dangerous insects. To decrease your possibility of getting bitten by one of these bugs, the CDC suggests that you purchase insect repellent that contains DEET, and the instructions on the bottle will guide you on how to use the product correctly.
Protect yourself from the sun. Sun protection is another essential step that you can easily overlook. It is crucial that you use sunscreen when you are camping, exposing yourself to the harsh sun for an extended period can lead to health issues down the line. The CDC suggests using sunscreen with at least SPF 15. You can also avoid the sun by staying in the shade as much as possible to prevent sunburn.
Being conscious of your health while camping is just as crucial as protecting personal items. You want to make sure that you are prepared for every possible scenario when you are camping. By packing the proper medications, being aware of adequate food management, and ensuring that you can adequately treat superficial injuries will help you be appropriately prepared for your next camping adventure.
Helpful Tips for First Time Campers
Reading about camping and seeing experienced campers plan out their camping trip can be quite intimidating, especially if it is your first time. The truth is that camping does not need to be difficult, and the most experienced campers will divulge that the key to a great camping trip is preparation.
By staying prepared and planning out your trip correctly, you will be able to enjoy all the excitement that camping has to offer. Here are a few tips that every first-time camper should know.
Familiarize yourself with your camping gear. Take time to truly research the tools that you need for a successful trip. Once you have gone out and purchased the items, feel free to test them out in your backyard. By familiarizing yourself with your camping gear, you will have the practice you need to set up your site in the woods or campground. One of the worst ordeals that can happen is that you have poorly functioning gear or little knowledge of how to use it.
Make a checklist of items that you need. Remember, preparation is critical, and you want to make sure that all your bases are covered when you are doing your shopping. Your list needs to include but not be limited to camping gear such as a camp stove, clothing, sleeping bags, food, and safety equipment. We have a free Van Camping Life checklist that will help you.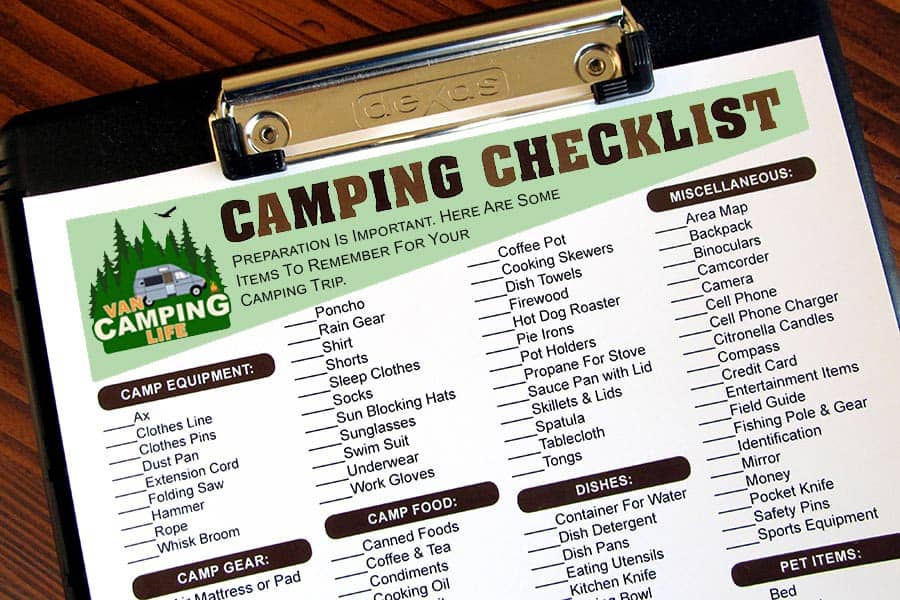 Finding a camping site that is close to home. If you are a first-time camper, do a trial run by setting up at a camping site close to your home. In case of an emergency or some defect in equipment, you want to ensure that you have quick access to your home if you need to go home sooner than expected.
Familiarize yourself with your campsite. First-timers should arrive early at their site so that they can familiarize themselves with their surroundings. That way, you can learn camp rules and get to know the hosts and staff at your camping location. Also, early birds will get access to better camping spots.
Make sure you pack enough clothing. A common mistake that some first-time campers make is that they do not pack enough clothes. You want to pack enough clothes, including warm clothes as it can be a bit chilly in the nighttime. Also, since most camping facilities do not have laundry service, you will not be able to wash your clothes properly.
Be aware of your surroundings. Don't set up camp under a tree with dead limbs that can fall onto you or your vehicle, where rocks can roll down on you or close to a stream or river where the water can rise unexpectedly overnight.
As mentioned, preparation is vital for camping. By following the suggestions I have mentioned in this post, you will be able to enjoy your first ever camping experience. It's okay to feel overwhelmed by the quantity of gear you need to buy, and the extra safety measures that you need to take. Once you get the hang of it, you will be an experienced camper!
Final Thoughts
You may have seen the word "preparation" get thrown around a lot in this post. The truth is that with the right equipment and the proper preparation techniques, you will be able to have an enjoyable camping trip. This guide has allowed you to cover all your bases from animal safety, thefts, security techniques, medical awareness, and even tips for beginners.
When planning your camping trip, remember always to prepare yourself for the worst-case scenario and protect your site as if you were protecting your home. A successful camping trip is possible if you have the peace of mind that you and your family and all of your belongings are safe by being prepared for any unexpected events that come your way.