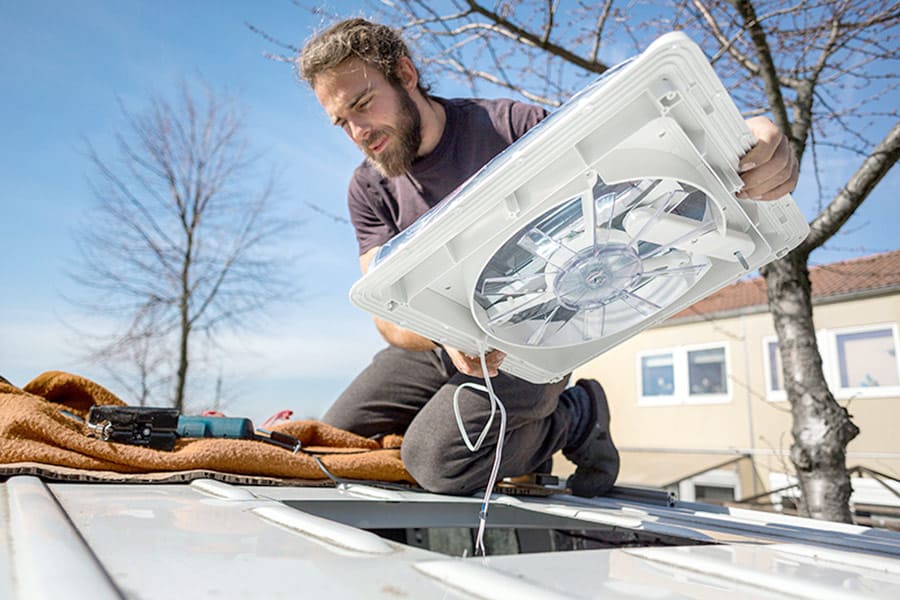 Sprinter vans are some of the most popular models for camper van conversions. Whether you're trying to live the van life or simply want to enjoy the luxuries of home wherever you go, getting a Sprinter van is an excellent choice. You'll need to set out a budget before you hit the road, though.
The cost of converting a Sprinter van ranges from $500 to $10,000 or more, depending on how much you're willing to spend and what amenities you want to include. The essentials, including a bed frame, curtains, and insulation, will cost between $300 to $700.
If you need to purchase a van first, a new Sprinter van is priced from $35,000 to $45,000 without any additions, whereas you can find a used one for as low as $3,000.
Throughout this post, you'll also learn the following information:
The price of the most common components
Buying used vs. new
How much you'll spend DIYing the conversion vs. paying a professional
Different companies to call for quotes
The Initial Cost of the Van (1500, 2500, & 3500)
Buying a brand-new Sprinter van will undoubtedly be the most expensive part of the process. If you want a brand spanking new van, you'll have to pay tens of thousands of dollars more than a used one. Sprinter vans currently sell between $35,000 to $45,000, but they can be quite a bit more if you want extra additions.
There are currently three popular models of Sprinter vans: 1500, 2500, and 3500. As you read in the introduction, the base model 1500 costs about $35,000. The 2500 model is around $41,000. Finally, the 3500 model ranges from $37,000 to more than $50,000.
There's no hiding that Mercedes is an expensive brand. After all, they charge quite a bit more for their top models than most other vehicle companies. However, you'll get the spacious interior paired with top-notch quality from end to end. Fortunately, you don't have to spend quite as much money if you're buying a used model.
A used Sprinter van can be as low as $3,000, though you might not get the same reliability. Much like all van brands, Sprinter vans depreciate over time. If you're willing to deal with regular repairs, then the reduced cost might be very welcome.
On the other hand, you could choose to buy a used mid-level Sprinter van but with low mileage. For example, many Sprinter vans with less than 50,000 miles will have a price range of about $20,000 to $35,000, depending on the year, accidents reported, and the model.
The most important factor to keep in mind is that new isn't always better. Some new vehicles have warranty problems, whereas others simply cost too much. Imagine only having to make $350 monthly payments vs. $600 monthly payments. You could use the extra money to set aside for potential repairs, gas, and other expenses.
Note: All of the prices mentioned are subject to change as new models, price updates, rebates, and sales occur.
How to Get the Best Deal
Getting a good deal is the biggest challenge associated with buying a vehicle. Almost everyone leaves the lot thinking that they got the best possible deal available. However, auto companies tend to offer price cuts right away to make you believe that you're saving as much as you can.
Unfortunately, this leaves countless buyers spending more than they should. The best way to get a good deal is always to go lower than the asking price. If they want you to pay $37,000, consider pushing it down to $34,000. You might not get the deal, but they could meet you in the middle at around $35,500 or so.
The market will dictate pricing, sometimes new vehicles sell better due to excellent incentives, and used ones are harder to sell. Other times, used vans sell better due to the lack of incentives on the new ones. Use these factors to your advantage, and don't forget to watch for deals on model year closeouts.
Buying a used Sprinter van can be cheaper if you have a trade-in vehicle or if you purchase vans with higher mileage or older years. Keep in mind that mileage is usually the best way to understand the price point.
Mileage should be your first concern, followed by the year and reported accidents. Remember that you need to look at the interior dimensions, the engine size, fuel economy, and other important specs before you jump right into the purchasing process.
Paying cash will sometimes work to your advantage to get the best deal.
Key Takeaways:
Never pay the asking price
Haggle with a trade-in vehicle
Used vans have more wiggle room
Mileage comes before the production year
Never settle for a good deal if it means you're getting a van that doesn't meet your requirements
Buying a Converted Van
Another option to save time (and sometimes money) is to buy a van that's already converted by a previous owner. You'll have two options:
Buy a converted Sprinter van already remodeled to fit your requirements, i.e., showers, toilets, sinks, beds, etc. These usually cost between $12,000 to $60,000.
Buy a Class B camper van that's on a Sprinter van chassis with the same body style. These typically run between $161,000 to $239,000, according to Airstream.
Option #1 will save you the most money, but you might not have a warranty with it as you would with option #2. It's also worth pointing out that you'll have to trust the DIY job over the hands of the pros.
Other Posts of Interest
DIY Van Conversion Expenses
If you choose to convert the van yourself, you'll save much more money in the long run. All you need to do is to make sure that you have the proper tools and materials for the job, so let's jump into the most common and rewarding changes that you can make to your Sprinter van below.
Sheep Wool Insulation
Insulating the Sprinter van is perhaps the most essential part of the whole conversion in terms of comfort. Havelock Wool, one of the biggest suppliers for van conversions, their sheep wool is priced at $135 for 100 square foot, depending on the square footage of your vehicle you might need up to 400 square feet. The price, however, is subject to change.
Installing Vents
Fan-Tastic sells the most popular roof vent fan for van and RV conversions. The Fan-Tastic Vent Fan runs between $140 to $250, depending on the model that you choose. Some of them have multiple speeds, while others even work with remotes. Additional supplies (including mounting putty, silicone caulking, and a jigsaw) will run between $5 to $50.
Cabinets
The price of installing cabinets in your Sprinter van can vary drastically. Cabinets will be another cost that you will need to make a part of the budget. If you salvage them from an old house or RV, you can spend as low as $30. However, brand-new cabinets can run higher than $100 to $200.
Solar
Solar power is a crucial component of the Sprinter van lifestyle. If you intend on camping and traveling often, you'll have to spend between $400 to $3,000. To determine your budget, calculate how many watts you'll need and whether you'll be mounting the panels on the roof or setting them out when you're parked. Renogy is the best company to start with. This solar kit will get you started.
Toilet
Not all conversion vans have toilets, so they're not quite a necessity. However, if you love the convenience and privacy, they'll cost you between $20 for a low-end bucket toilet to $150 for a high-quality compost toilet. You can also use hoses and plumbing to build a DIY flushing system, although it'll cost as much as $500 extra to do so.
Fridges
Refrigerators can take the Sprinter van lifestyle from bearable to thriving in an instant. These fridges can be hooked up to solar power, using very little energy. They cost between $400 to $1,200 when you're buying from the well-known brand of Dometic. We have a post about camping fridges with more information.
Showers
Installing a shower in a Sprinter van can be quite a challenge due to a lack of interior space. However, you can make the toilet and shower room work as one. Read our post, 11 Best Options For Camper Van Toilets And Showers, for some choices. You can build your own or use electric/gravity-fed showers as well.
Cooking Space
If you want your Sprinter van to feel like home, then a comfortable cooking space is necessary. You can choose from many stove options, just pick the design and price point that you want. The price ranges between $100 to $500, again depending on your personal preferences and requirements.
Wall, Floor, & Ceiling Materials
Finally, you'll need something to cover up the insulation and provide natural walls, ceilings, and floors. You can pick from a variety of types of wood, including plywood, oak, and maple. Plywood is usually the cheapest route, costing as low as $200 for the whole van conversion. Upgraded materials like maple can cost as much as $500 or more.
Cost of Having a Company Convert for You
It's no secret that having a company convert a Sprinter van will cost more money than doing it yourself. Not only will you be paying for the professionalism and materials, but you'll also have to spend money on labor. It typically takes quite a few weeks, but you'll always get a price quote before reaching an agreement.
These companies typically charge anywhere from $6,500 to $100,000 to modify and convert Sprinter vans completely. While it might seem like the cost is quite a bit, you're paying for high-level luxury with everything you could need and more.
The different factors that influence the cost includes the following:
The company that you choose will cause the price to vary. If they're well-known and established, you'll have to pay more than a new company without any reputable sources and customer reviews.
How many changes you want will also increase or decrease how much money you spend. Some conversions are simple, while others have everything from high-quality countertops to an elevated bed and showers.
Which Companies Do Van Conversions?
If you've decided to have the Sprinter van conversion done by a professional, then you'll have quite a few choices to try out. Let's examine a list of a few of the companies that do van conversions below.
1. El Kapitan is a top-notch company for Sprinter van owners. They are certified Sprinter van master upfitters, and they offer luxurious conversions for all types of vans.
2. Vanworks is another good company to go through. Their prices vary depending on your requirements, and the conversion process takes about 3 to 6 weeks to complete.
3. Boulder Campervans will charge a small deposit and 2 to 3 months for a conversion process, but customers rave about their next-level luxury installations.
4. Beartooth Vanworks, located in Belgrade, Montana, is only for the fully-committed campers. It takes about 10 to 12 weeks, and they offer complete customization from solar-powered vans to skiing conversions.
5. Advanture Co. offers everything from simple alterations to fully-loaded liveable conversions. They even have the option to do your conversion in stages if you can't afford it all at once, and the transformations take place in Placerville, CA.
Pros & Cons of DIY vs. Hiring a Professional
Doing the conversion yourself is simple for most people who are mechanically inclined, but that doesn't mean that you should throw the professionals out the window. There are dozens of advantages and disadvantages to both options.
Pros of a DIY Conversion
The best pro of doing it yourself is that you'll save the most money this way. You won't have to pay for labor, nor will you have to worry about additional contractors hired to improve the van. You can find materials and all other supplies possibly cheaper as well.
When you do the conversion without any professionals, you know how everything was put together. There's no need to call the company to ask how anything works or what went wrong with it. You'll be able to take it apart and figure out solutions all on your own.
You can work on your own time. Many of these conversion companies take between 3 to 8 weeks, leaving you waiting until it's finished without any guaranteed timeframe. When you install everything by yourself, you can have it done within a week if you have enough time to do so.
Cons of a DIY Conversion
Unfortunately, doing it yourself means that you're responsible for all errors. If you break something on your vehicle, you can't blame anyone but yourself. This con could be a deal-breaker for those who aren't confident in their skills with power tools.
Many companies void warranties on their vehicles if you make any modifications that harm the construction of the van. For example, installing a roof vent fan requires a 14×14-inch hole, and solar panels require drilling. Some insurance companies tend to charge more for converted vans as well.
Pros of Hiring a Professional
One of the best parts of hiring someone else to do the installation is knowing the job is done correctly. If anything goes wrong, it's on them to fix it. You'll end up with a high-quality conversion without the stress of doing it all by yourself.
Many companies offer warranties on their conversions. If you find anything is missing or messed up in the future, they can repair it for you free of charge. Always contact the company that you're considering to see if they offer warranties.
One of the conveniences of hiring a professional is that you don't have to do all the work. Relax at home while someone else makes your Sprinter van look like a brand-new motorhome without lifting a finger.
Cons of Hiring a Professional
When you hire someone else, you're on their timeframe. Remember to request completion dates before signing a contract.
Professionals charge much more money for conversions than you'd ever pay if you did it by yourself. The difference can be as little as a few hundred dollars to several thousands of dollars.
Final Thoughts
Converting a van can be a small amount of money or a massive bank-breaking expense. Everyone's budget is different, so sit down and figure out how much you're willing to spend to have a luxury camper van from a Sprinter van.
The best way to plan a budget is to figure out the creature comforts that you enjoy the most at home. Can you shower outside or at gyms, or do you need one in the van? Are you able to get by with a cooler and ice, or do you want a solar-powered refrigerator? These questions will help to guide your budget.