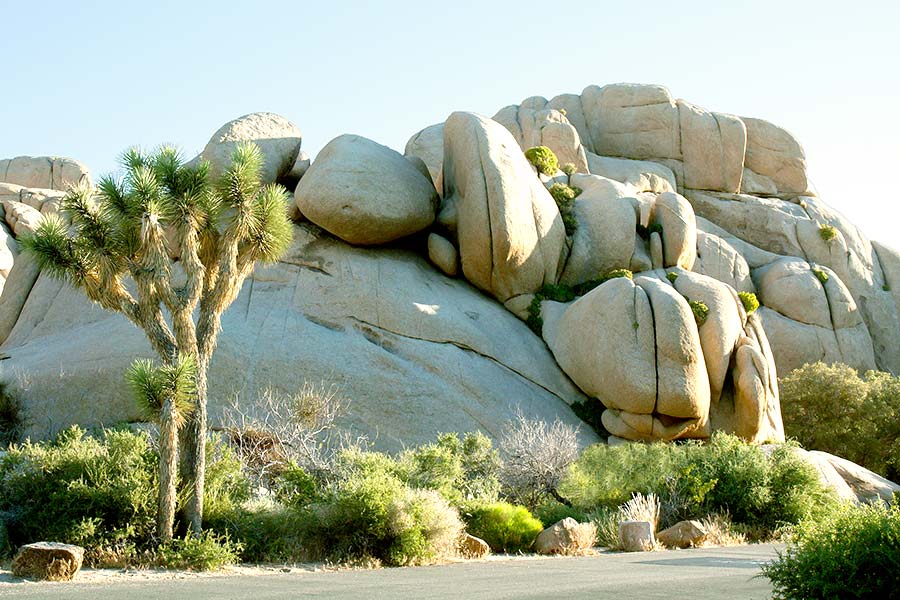 Van camping can be one of the best ways to get out of your comfort zone and get back to nature, plus it is an excellent choice for adventurers on a budget. Luckily, Southern California is packed with amazing places to van camp, and many of them are near the state's most well-known landmarks.
Here's a quick rundown of my 11 unforgettable places to van camp in Southern California:
Blair Valley Campground
Alabama Hills Recreation Area
Pismo State Beach
Alder Creek Dispersed Camping
Leo Carillo State Park
San Mateo Campground
Ocean Mesa at El Capitan
Giant Rock
Slab City
Malibu Creek State Park
Emma Wood State Beach
If you're looking for a fantastic adventure, keep reading. Throughout this post, I'm going to dig further into each of these places and tell you why you should visit them. The list is diverse, so if one site doesn't meet your requirements, another one will.
Blair Valley Campground – Joshua Tree National Park
Joshua Tree National Park is among some of the most famous and revered landmarks in California. Camping there is at an absolute premium and one of the most sought after in the state. Blair Valley Campground is located south of Joshua Tree off of Highway 52 and is a boondocking site – meaning it is free to camp there.
This site is not as well-known as some of the neighboring campgrounds in the area. It is a little bit more off the beaten path and would definitely be under the "roughing it" category of camping. However, if you are searching for the seclusion and bliss of the desert, this might be the right choice for you.
There are no reservations to be made since it is a first come-first served type of situation. That fact is both a pro and a con of this kind of camping. You can see the location of this remote camping location by going here.
Since Blair Valley Campground is more bare-bones than some of the other sites we are covering, it doesn't have a lot of the same amenities. There are no RV hookups, and most of the trails are quite rough. If you come prepared, though, this shouldn't be a problem.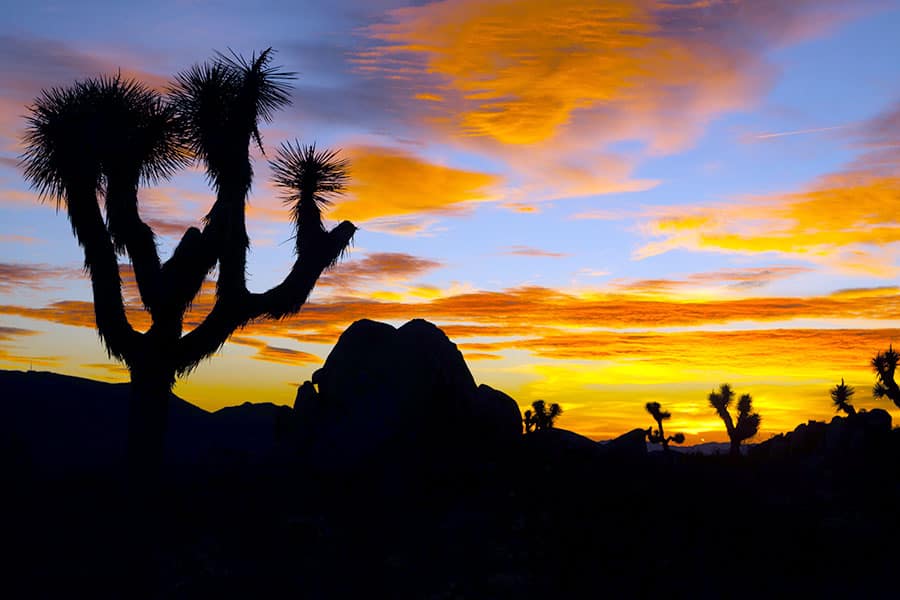 The most prominent landmark at this campsite by far is Joshua Tree. However, the site is located in the Anza-Borrego Desert State Wilderness. This area is still an incredible location in the state and an excellent way to get your desert "fix" any time of the year.
Alabama Hills Recreation Area
The Alabama Hills are a set of peaks located in the Sierra Nevada and are nestled on the border between Central and Southern California. You will find this gem about 15 minutes west of Lone Pine.
The characteristic rounded rocks of the hills are one of their main draws. They have been the backdrop for photography, films, and all manner of famous media. This reason alone makes them a destination worth checking out in your camper van. Alabama Hills is also on the Bureau of Land Management land, meaning boondocking is available.
Alabama Hills offers developed camping at the Tuttle Creek Campground, which has 83 sites. This campsite is right along, you guessed it, Tuttle Creek, and is an excellent option when looking for a truly California experience.
The campground fee is $8 per night, and there is potable water available from March to October. After a day spent exploring, you can cook your meal at the fire pit and enjoy your meal at the picnic table, both located at your site. The campground is first-come, first-served.
The Alabama Hills have been the setting for over 400 film shoots. Many people spend time in the scenic area visiting the various unique landmarks that have dotted cinema over the years.
Pismo State Beach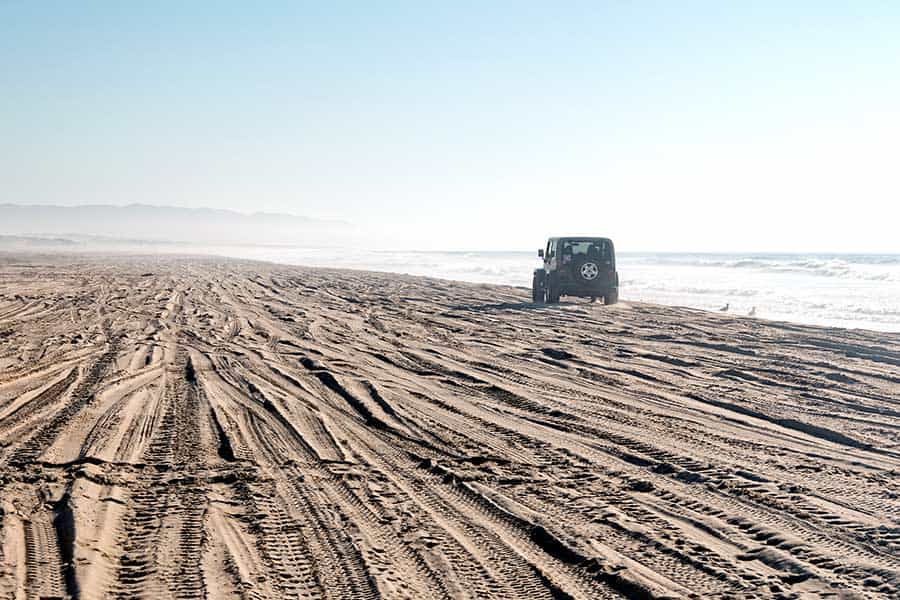 Located right off California's scenic and historic Highway 1, Pismo State Beach, near Oceano, is a beautiful location for a fun day at the beach. This Southern California staple is a must-see for anyone looking for an excellent van camping spot. It is also the only state beach that you can actually drive your vehicle onto to ride along the beach. To learn the rules visit here.
Featuring the Oceano Dunes, the van camping at Pismo is scenic and unique. Since you can drive onto the beach, it is an excellent location for people that like 4-wheeling and other outdoor activities. The park is known as an off-road playground for sand rails and quads.
Van campers will be better suited to camp in the sites near the dunes. There is no fee to ride at the dunes, but there is one for overnight camping at the sites.
The campground near the dunes features showers and hookups. The campground is fairly well appointed and would not be under the rustic category of camping. Because of this, it is great for kids and families. You can see an Oceano Campground map here. The website has a tab for online reservations.
The biggest attraction at Pismo State Beach is the off-roading at the Dunes. This activity attracts people from all over at all different times throughout the year. It is a place for people who are serious about outdoor sporting and four-wheeling.
Alder Creek Dispersed Camping – Sequoia National Forest
The dispersed camping at Alder Creek definitely falls under the category of boondocking. Located at Sequoia National Forest, the only thing you need a permit for is a campfire. If your camper van has self-contained cooking abilities, you can camp for entirely free.
Along State Highway 155, this campground is under the giant trees of the National Forest. It is one of the more out of the way spots on the list. It would fall under the "roughing it" category even though it does have a few restrooms.
There are no fees to use the dispersed campsites at Alder Creek. Because of this, it could be a good option for people who are living the van life who want to save on the cost of living. The frugal nature of the lifestyle is one of its main selling points.
There are very few amenities at Alder Creek. There are a couple of cement stall bathrooms right at the campground entrance, but that is about it. Other than that, you are only left with the Sequoia National Forest's splendor to surround you and keep you company.
The area is usually under fairly heavy fire restrictions. This factor makes it a good option for van campers who want to enjoy the National Forest's hiking and trails but don't need a campfire. Safety in the outdoors is the number one priority, no matter what kind of camping you are doing.
While we are talking about safety, below is a list of a few essential items that you will want to have with you when camping at remote locations:
Leo Carillo State Park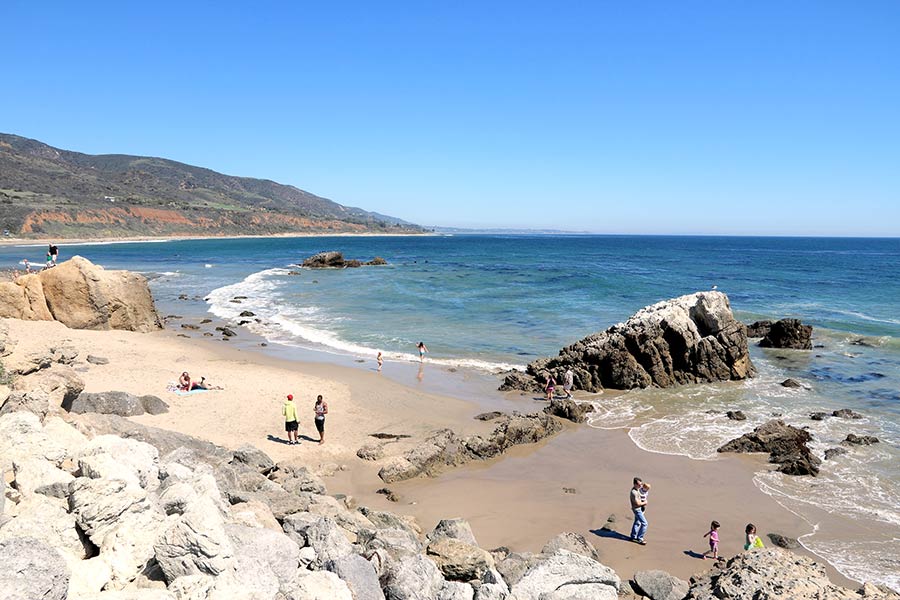 Leo Carillo State Park is classified among the most famous natural destinations in Southern California. Named for the famed actor and conservationist, it is a jewel of the California coast. The camping in the park is just as beautiful and rivals any of the others on the list.
Known mostly for its surfing, the beach at Leo Carillo State Park has tidepools, reefs, and caves. The beachcombing and sunbathing alone make it worth the trip. The giant sycamores that line the beach and campsites are a welcome refuge from the sun.
Because of its popularity, getting a campsite in Leo Carillo State Park is not as easy as it is at some of the other destinations. It is inexpensive, but you must reserve your site at least six months in advance. The spots go quickly and are the most popular during the summer. Go here for reservation information.
There are many amenities at the campground, including the 1.5-mile beach to explore. Showers are available, and RV hookups are available at most sites, and the entire park is open to all campers. It leaves the option for both the woods and the beach all in one area. View a map of the campground here.
Since it is just 28 miles from Santa Monica, you are not only limited to the campground. The beauty of van camping is exploring the areas that you find yourself in and having an adventure. Sometimes that might include a trip into the city for a little bit of shopping.
Other Posts of Interest
San Mateo Campground
San Mateo Campground at San Onofre State Beach is another part of California right on the edge of Southern and Central. It is known for its surfing, fishing, and kayaking. There are a ton of different activity options in this beautiful coastal area for van campers.
The campground is located on the end of a 1.4-mile trail that leads straight to the San Mateo Wetlands and Trestles Beach and makes it an excellent option for people looking for something close to the ocean. The swimming and surfing at Trestles Beach are unparalleled and a selling point of the entire area.
There is a campsite fee for using the campground, but there is a dump station, coin-operated showers, and flush toilets. Any consistent van camper will tell you those things are worth their weight in gold. You can register beforehand at the state park website or pay your camping fee at the gate if there are spots available.
You will find quite a few amenities at the San Mateo Campground, and each site includes a fire pit and picnic table. To get the lay of the campground, see the map here. It is fairly bare-bones, but most people are going to be out surfing all day anyway.
The biggest draws at San Mateo Campground are its swimming and surfing. The beach there offers up legendary wave breaks, and the wetland habitats are rife with wildlife. It is a quintessential California camping experience.
Ocean Mesa at El Capitan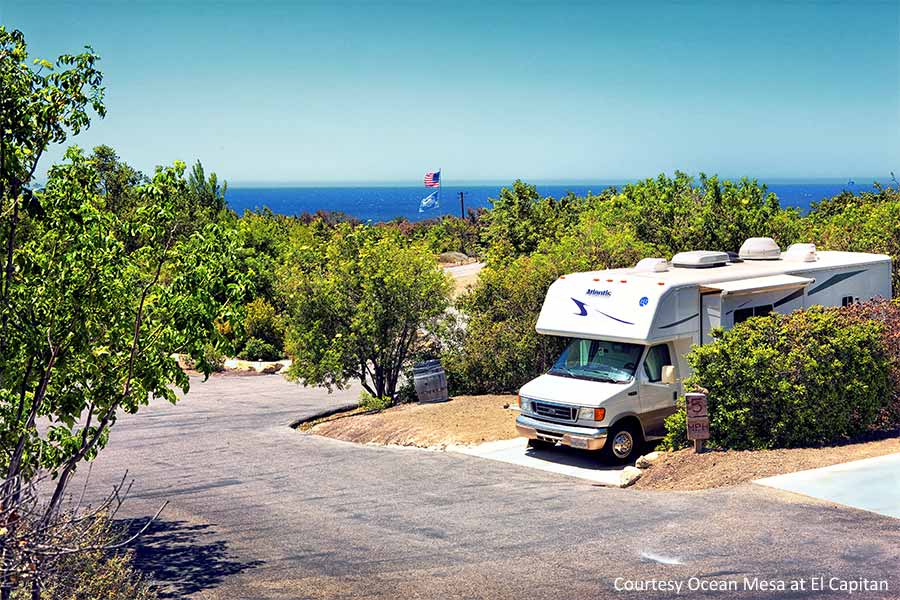 Ocean Mesa at El Capitan is by far the most comprehensive and convenient of all the campsites we have discussed so far. The campground is located right on the Santa Barbara Coast and has all of Southern California's charm and beauty. Temperate weather all year long makes this an ideal choice for van campers.
Nestled between the Santa Barbara Coast and the San Ynez Mountains, this site is mostly for RVs. That means that your camper van will fit right in, and you will have access to all of the same perks as the bigger RVs. They even offer massages on site for a double dose of relaxation.
You can reserve a spot at Ocean Mesa's website, where you can also see a list of all their various accommodations. They have a market with a wide variety of supplies and activities, making this the right choice for families with kids that want a bit of a more comfortable experience.
Some amenities include a heated pool, laundry facilities, summer concert series, guided hikes, and spectacular views of the San Ynez Mountains. The amenities and location make Ocean Mesa an excellent option for people who want a little more than just the wilderness in their camping experience. Van people are cut from a different cloth, so this might be a good fit.
One of the nice things about Ocean Mesa's location is that it is close to so many fun things to do. Whale watching, horseback riding, a zoo, and botanical gardens are all close by. Just a quick van trip, and you can be doing much more than only camping.
Giant Rock
In Landers, California, Giant Rock at Landers Lane is a perfect spot for van campers who follow the beat of a different drummer. Named for the giant rocks that line the desert, this is a great boondocking spot. San Bernardino County is noted for its desert landscape, and Giant Rock is a good representation.
Because it is not necessarily an official campground, Giant Rock isn't as accessible as some of the others. Most of the roads that lead to it are dirt and sand. You don't need to have a four-wheeler of some kind, but it is recommended to make sure you don't get stuck.
There is no charge to boondock at Giant Rock. There are official campgrounds nearby, but there are many spots where you could park a camper van with no issues. It tends to get busy in the summertime, which is something to keep in mind when traveling anywhere.
Because of its remote location and low price point of zero dollars, there are virtually no amenities. Giant Rock is named as such because that is all that is out there. The rocks sit against the painted desert sky, and if you bring everything you need in your camper van, you won't have any problems.
Slab City
Slab City, located in the unincorporated area of Calipatria, California. It is, without a doubt, the most unique place on our list. Sitting in the desert on a former artillery range at an old WWII Marine base may be some people's definition of a van camper's dream.
 Most of the campers who come to Slab City are escaping the snow of the Sierras during the winter. They have turned the desert community into a no-fee, improvised RV town. This site is for serious van campers only due to the nature of the community.
There are no fees to camp at Slab City. Free camping is one of its significant draws and why so many of the residents and regular visitors tend to be edgier and lead a more nomadic lifestyle. Many residents have made their elaborate, recycled RVs and camper homes permanent, and you will find features made with reclaimed materials.
A drawback of the site is the fact that there are no rules and no amenities. The entire community is self-governed and run on a principle of freedom. Many van campers will identify with this attitude towards life, making it a must-see.
Because of its location, Slab City does not have much in the way of entertainment. The colorful community and architecture may be entertainment enough, though. The experience of staying there is enough to keep anyone busy.
Malibu Creek State Park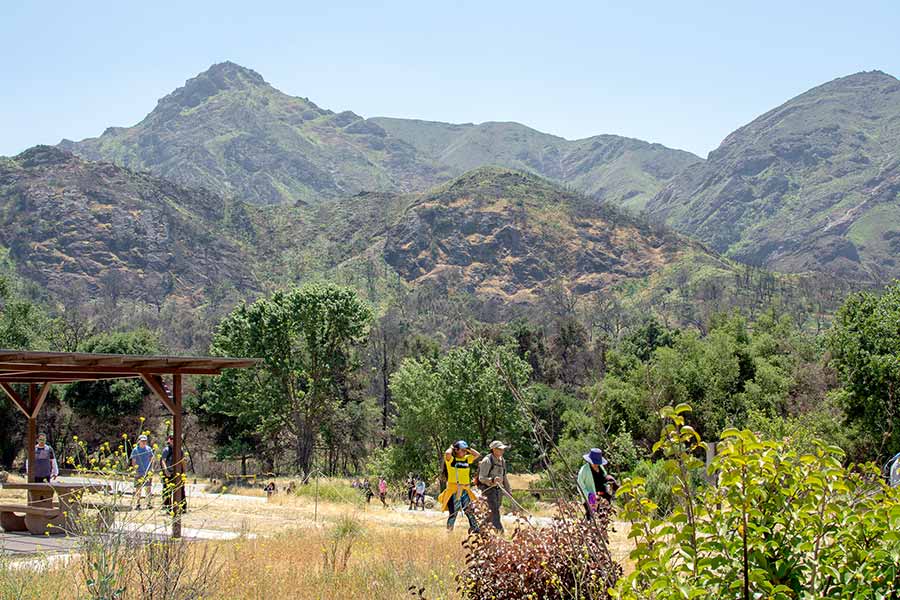 If you are looking for a van camping experience where you are never too far away from the city, Malibu Creek State Park could be the right choice for you. Located only 25 miles from downtown Los Angeles, this is a great place to get away for just one night. It doesn't take much driving to get into the wilderness.
Malibu Creek runs for 14 miles and ends at the Malibu Lagoon. The park boasts a creekside trail that follows the entire thing through Sycamore woods. Like many other Southern California camping destinations, this park appeared in films such as Planet of the Apes and M*A*S*H.
You can make reservations for campsites at the California Parks website. You will need to make reservations at least six months in advance, especially if you plan on camping during the summer. Its popularity makes it a little less likely to be a spot for a spur of the moment van camping trip like some of the others.
Because it is a fully functional campsite, it comes with all the amenities that come with that. Hookups for your van, if you need them, and showers are all included with sites. It has developed trails with information relating to the films and television shows filmed on location there.
There are many exciting things located within and nearby Malibu Creek State Park. Because of its proximity to downtown Los Angeles, the possibilities for entertainment are almost limitless. If you are not from the area, this would be a good option for camping then seeing the sights during the day.
Emma Wood State Beach
Emma Wood State Beach seems almost explicitly designed for van camping. Located west of the beach community of Ventura, California, they only allow overnight camping for self-contained vehicles, making it a paradise for van campers who want to "rough it."
The water at Emma Wood State Beach is known for its moderate temperature. That fact alone makes it ideal for swimming, surfing, and other ocean water sports. The wildlife that congregates there is world-famous and includes seeing dolphins that swim just offshore.
Since it is a state beach, you can make reservations at the California Parks website. There, you will also find information about accessibility and other park events, which is always useful information to have when picking out a camping spot for a more extended stay. Because of its location and delicate ecosystem, Emma Wood State Beach has very few amenities.
They have no restrooms, electricity, or fire rings. You should definitely consider this before booking a site. Getting there and finding out that there are no restrooms and you don't have one in your van is not a good situation to find yourself in.
Because it is so bare-bones, Emma Wood State Beach is for people who are hardcore about the outdoors and wildlife. The low impact camping rules have left the surrounding area relatively wild and untouched by civilization. It is an easy place to surf, wander, and get blissfully lost in nature.
Things to Consider Before Van Camping
Make sure you have the right gear – Even though you will be camping in the shelter of your van, it's still a good idea to make sure you come prepared.
Bring entertainment – Camping by itself can be a ton of fun, but if you are bringing kids, always bring something to keep them occupied.
Be ready to do a lot of cleaning – Van camping is great, but it can get messy, especially in beach locations. Living in the same space that you are eating and sleeping can be challenging. If you are always cleaning as you go, you can avoid a messy camper van.
Have plenty of charging available – Being stuck in a campsite without your GPS or phone is a disaster. Making sure that your camper van has plenty of charging sites can help you avoid being left in the dark while you go off the grid.
Safety – Like with any camping or wilderness outing, safety should always be the number one concern. Following any rules that a campground has will help to contribute to your security. Also, knowing the type of wildlife that lives in the area will help you plan your security and where you should store your food and belongings.
Buying Vs. Renting
Many people choose to buy a van to convert into a camper and customize to their specifications. DIYing a van can be incredibly rewarding and make the camper all the more personal and valuable to the individual. It can involve lots of work and a lot of money, though.
There are many things to consider when looking to buy a van to convert into a camper. One of the biggest things to think of is the time it will take to do all of the work to get it ready. If you are holding down a full-time job, this project could take quite a while, plus you need to consider if you have the skills to accomplish it.
Another option is that you can buy a van already converted for camping. Many of these have the same conveniences as modern RVs and can be just as comfortable. They are, however, going to end up being more expensive.
Perhaps the most budget-friendly option for your situation is to rent a camper van. Many companies around the country offer long term van rentals for fairly reasonable prices. Renting might be a good option for someone looking to camp once or twice but doesn't want to invest in a van to keep up and pay insurance on.
Whether you buy your camper or rent it, you are definitely going to have an adventure. Van camping can be a great way to get back to nature while still maintaining some of civilization's comforts.
The freedom of van camping is one of the things that makes it so exciting. Camping and getting into the great outdoors is more important than ever. With that freedom comes a wide variety of places that you can spend the night while traveling on the road or just for the weekend.
Final Thoughts
The mountains, deserts, and beaches of Southern California have a lot to offer when it comes to scenery and terrain. The diversity of environments is one of the fantastic things about the state in general.
Not all of these campsites have modern amenities like showers or electricity. Some of them are incredibly primitive and advertised as such. Van camping has many degrees of difficulty, and knowing which ones you are comfortable with can be a lifesaver down the road.
Getting out and enjoying everything that Southern California has to offer is one of the real joys of the Golden State. Seeing it all from your camper van's windshield is one of the best ways to truly take it all in.