Class B RVs have a certain special appeal. From old-school classic models like the VW Vanagon to modern high-end camper vans, the idea of a road warrior that can take you deep into nature for some quality camping is very appealing. If you're currently in the market for a Class B RV, you should consider the Thor Sequence and the Coachmen Nova as two of your top options.
In 1980, Wade Thompson and Peter Orthwein founded Thor Industries. The company's first move was to purchase the fading but still beloved Airstream brand, which had been battered by the shaky economic conditions of the 1970s. Over the years, Thor has acquired manufacturers such as Jayco and Dutchmen. Thor is now one of the biggest RV companies in the world.
Another American success story is that of Coachmen. Founded in Middlebury, Indiana by Tom, Keith, and Claude Corson, Coachmen has manufactured more than 600,000 campers and RVs since its founding in 1964. In 2008, Coachmen was bought by Forest River, Inc., which is part of Warren Buffet's legendary Berkshire Hathaway holding company.
These iconic American companies manufacture some of the finest RVs on the market. We're going to compare the Thor Sequence and the Coachmen Nova and see how these vehicles stack up. Read on to learn more.
Common Ground: Ram ProMaster Chassis
The Thor Sequence and the Coachmen Nova both ride on the Ram ProMaster chassis. The ProMaster has a reputation for being versatile and tough, so it is a natural choice as an RV platform. With a 3.6 liter engine and plenty of integrated safety features like crosswind assistance and stability control, the ProMaster is a capable chassis for a Class B RV.
The ProMaster's Chrysler PentaStar V6 engine drives a six-speed automatic transmission with a special 'very low' first gear designed to enhance acceleration from a complete stop. ProMaster chassis destined for RV conversion come with a 220-amp alternator and swiveling cab seats, plus a heater and A/C prep package to keep your RV hospitable.
Users report getting between 15 and 18 miles per gallon, so you can expect a range of somewhere between 360 and 430 miles on a tank of gas.
Modern advances in safety technology have come to newer ProMaster vehicles. Safety and comfort features in new ProMasters include:
Five-inch uConnect 3 touchscreen radios, interfaced with a rearview camera, OR 9.2-inch digital rearview mirror with rear camera
Blind-spot monitoring
Rear cross-path detection
Forward collision warning system
Emergency brake assist
Interior LED lighting
Because both of these RVs are built on the ProMaster 3500 chassis, they have similar interior spaces. Both of these RVs are designed to sleep two people. These RVs would be an ideal RV for solo adventurers, couples, or close friends. Those who want to bring the kids might wish to consider a different vehicle.
Thor Sequence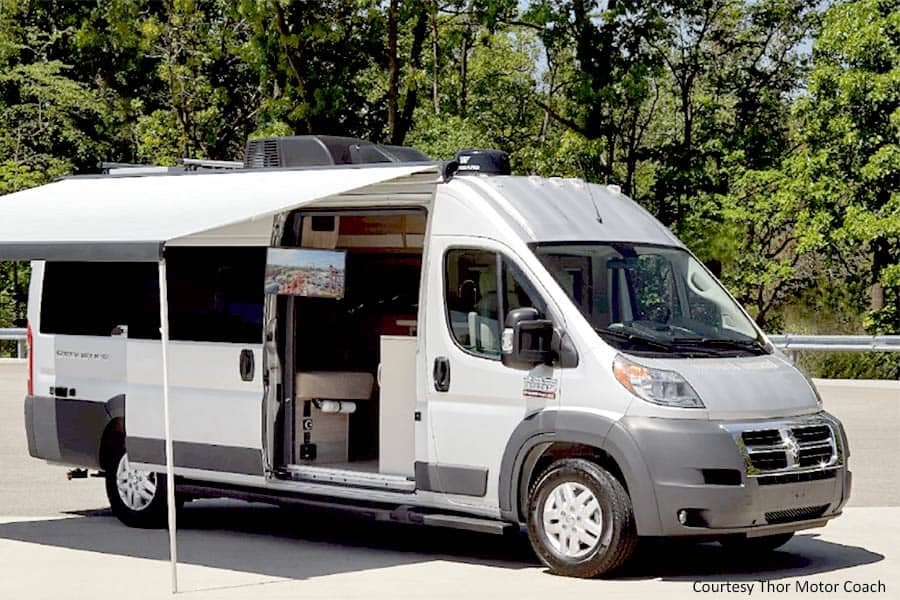 Since 1980, Thor has been deeply involved in the RV manufacturing industry. Thor's acquisition of Airstream brought them into the industry with a leading and beloved brand under their wings. Over the decades, Thor has become one of the top RV companies in the United States. Today, RVers can find Thor vehicles in Class A, B, and C built on a variety of chassis. Today we're going to learn about the fabulous Thor Sequence, one of their Class B RVs.
Cockpit
RVing is all about camping, but there can be a lot of driving between stops. The Thor Sequence features a driver's cockpit that is complete with:
Cruise control
Power everything
Telescoping, leather-wrapped steering wheel with audio controls
Map lights
Custom-cut privacy shades
Beverage holders
Backup camera & safety system
Airbags
Keyless entry
Engine & Power
The Ram ProMaster comes standard with the Chrysler PentaStar V6 engine. Thor rates this engine at 280HP and 260 foot-pounds of torque. The PentaStar is a gasoline-powered engine, and the tank holds 24 gallons.
For cooking, you can take advantage of the 24-gallon LP storage tank in the Sequence. The vehicle includes an Onan RV QG-2800 gas generator as a standard feature. Thor also wires their vehicles for shoreline power with a 30-amp detachable cord, a transfer switch, and a battery disconnect. A solar charge controller is standard unless you have the optional Sky Bunk.
Water System
The Sequence has a 27-gallon freshwater tank, with 13 gallons of gray water storage and 13 gallons of wastewater storage in the Sequence 20L and 20K models. The Sequence 20A model has 27 gallons of fresh water, 20 gallons of gray water, and 6 gallons of wastewater. All three models feature a 2.64-gallon water heater for the bath area. The 20L and 20K models feature an outdoor shower, but the 20A does not offer this feature.
Galley
Going on the road doesn't have to mean sacrificing some basic kitchen space. To keep your sodas and sandwich meat cold on the road, the Sequence 20L and 20A models have 12-volt, 4.3 cubic foot refrigerators in the galley. For those who want a little more storage space, the 20K comes with a 12-volt, 5.5 cubic foot refrigerator.
All three Sequence models feature a two-burner gas cooktop, a pop-up power outlet, and solid countertops with a mounted sink and a sink cover. Are you looking for convenience on the road? The 20L and 20K feature a convection microwave oven, so you can cook almost anything in your Class B. The 20L even has a handy pull-out cutting board in the galley.
Bath
Many modern Class B RVs offer a wet bath of some sort. Thor has equipped their Sequence 20A model with a cassette toilet, and the Sequence 20L and 20K models come standard with a plastic foot flush toilet. The wet bath area in all three vehicles comes with a power vent to keep the air fresh.
Living Space
Thor knows that RVing is all about enjoying the great outdoors while still having access to the creature comforts and small luxuries that we relish. Bearing that in mind, they've included a 24-inch TV in the living area, which can be viewed from the outside. An electronics cabinet features an HDMI cable and USB charging ports. Cable or satellite connections can be installed.
For your privacy, Thor has included premium window privacy shades on all windows. When you want to let in the light, you can open the side windows to let in fresh air or sunshine. All models feature standard LED lights on the inside.
Exterior Features
For those pleasant days relaxing outside of your RV, Thor has included a Thule lateral arm powered awning with integrated LED lights. Magnetic closures keep bugs and debris out when you have the starboard sliding door open, so you can enjoy refreshing air without letting the mosquitoes in. Want to enjoy the great outdoors and also your favorite movie or TV show? Rotate the 24″ TV around and park a nice chair under the awning to enjoy the best of both worlds.
Cargo Features
The Sequence comes standard with a Thule bike rack on the rear door, and the 20L and 20K models come with a roof ladder and roof rack system. The chassis has a 3,500-pound trailer hitch and a four-pin connector. The vehicle is rated for 11,500 pounds GCWR, so you can bring along all of your essential toys and even a towed vehicle or towed fun toys.
Bonuses
The roof-mounted AC unit can keep your Sequence nice and cool even if you're camping in Key Largo in August. The 20A can be equipped with a retractable rooftop and a Sky Bunk sleeping area with a 200-watt solar connection. The 20A also has a spacious 72″ x66″ pull-out bed in the aft end of the RV, with under-bed storage and opening windows.
Coachmen Nova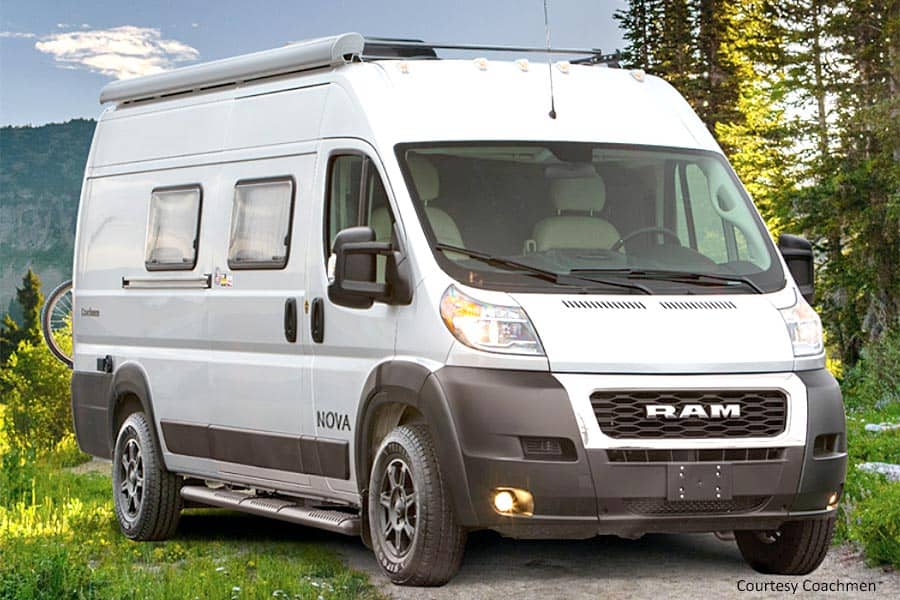 A classic American success story, Coachmen, has been building RVs ever since their inception in Indiana in 1964. Coachmen offers a broad suite of recreational vehicles. Whether you're looking for a pop-up camper, a travel trailer or fifth wheel, or a traditional Class A, B, or C RV, Coachmen has something that will catch your fancy. Let's spend some time looking at the Coachmen Nova Class B motorhome, which is available in the 20C and 20RB configurations.
Cockpit
The Ram ProMaster has a solid cockpit. Coachmen has taken the standard features offered in the ProMaster chassis and added in optional seat upgrades and a complimentary one-year Sirius XM radio subscription. The Nova's cockpit also includes the ProMaster's leather-wrapped steering wheel, cruise control, and in-dash infotainment system.
Engine & Power
Built on the same chassis as its competitor, the Nova has the same Chrysler PentaStar V6 engine, with the same 24-gallon fuel tank and six-speed transmission. The chassis has been beefed up a little with the addition of the Sumo Spring front and rear suspension improvement. The GCWR on the vehicle remains a solid 11,500 pounds.
For your electrical power, the Nova has a Firefly Multiplex 2000W inverter and a 330 amp-hour AGM 8D battery. While you're camping or traveling under bright skies, the Nova's 220W solar charging system can capture some free energy for your system.
Related Posts
Water System
The Nova 20C and 20RB both pack a 27-gallon freshwater tank. Their gray and black water systems are configured differently.
Nova 20C: black water is 19 gallons and gray water 20 gallons.
Nova 20RB: black water is 10 gallons and gray water 23 gallons.
Galley
Coachmen offers unique, upscale interior decoration in the Nova's galley. Cabinets can be built in a high-gloss white or maple color and come in solid wood, which sets Coachmen's trim apart from the competition. The galley features a 2-burner LP-driven cooktop and a Nova Kool refrigerator.
Nova Kool refrigerators are designed with simplicity and efficiency in mind. Unlike some RV refrigerators, Nova Kool units are built specifically to run in rugged, off-grid environments. They are lighter, quieter, and more efficient than traditional kinds of refrigerators, making them perfect for your Class B RV. The Nova Kool runs on your onboard power system.
The galley also features a lovely high-rise faucet and sink. The water and LP systems have tru-tank sensors that read out capacity in 5% increments, so you can keep a close eye on your resources and know when it's time to head back into town.
Bath
One of the finest features of the Coachmen Nova is the fiberglass shower. Most RVs and campers use acrylonitrile butadiene styrene (ABS) for their wet areas. Coachmen uses fiberglass in their wet areas, which provides a more homey and durable feel than ABS. The Truma Combi Eco Plus heating system provides hot water in the wet bath. The 20C comes with a Shower Miser water-saving device to help you conserve your water on the road.
Living Space
Hanging out in the RV on a rainy day or just relaxing between hikes is improved with the new 24″ LED TV that comes installed in Nova's living space. The worldwide web is never too far away with the new Ranger Sky Pro wifi system. A Coleman AC unit mounted on the roof keeps your RV at a pleasant temperature even in the warmest climes. Death Valley, here we come!
Exterior Features
Nova's exterior space is comfortable and expansive. A 13-foot awning expands off the starboard side of the RV and offers plenty of shaded seating space. A remote-controlled fan with a rain sensor generates a lovely cooling breeze.
Cargo Features
The Coachmen Nova has a convenient bike rack option available on the back door of the vehicle. A roof rack and a ladder allow you to store gear and equipment outside of the living space to keep your camper tidy. The Nova can tow a trailer, so you can bring your motorcycles, jet skis, bikes, and other fun stuff with you on your trip.
Bonuses
A hidden but very valuable addition to the Coachmen Nova is the Rockwool R-15 rated insulation that Coachmen has applied to the ProMaster. This insulation is better than any competing RV built on the ProMaster chassis. The imported dual-pane acrylic windows have solar reflecting technology that helps keep your RV from boiling in the sun.
Showdown: Sequence vs. Nova
How can we decide between the Thor Sequence and the Coachmen Nova? Both of these RVs offer the aspiring RV owner a lot of excellent options. Both of them are built on the Ram ProMaster chassis. And both of them have the same engine and powertrain. This showdown will compare the Thor Sequence and the Coachmen Nova so you can decide which one of these outstanding RVs is best for your needs.
Electrical System
The electrical system is of critical importance. Our refrigerators, TVs, and electronic gadgets all need to be able to run from the onboard power system. Which RV has a superior electrical system?
Thor Sequence: The Sequence comes with a 30-amp detachable shoreline power cord, an Onan QG 2800 generator, a 1000 watt inverter, and a 190W solar charger. There is an optional Lithium-Ion renewable battery system that expands the capabilities of the electrical system. The Sequence comes standard with two AGM house batteries.
Coachmen Nova: The Nova's electrical system comes with a 330AH AGM 8D battery, a 2000w inverter, and a 220W solar charging system.
Winner: Thor Sequence. While we like the Nova's solar system and inverter better, the Sequence has easy shoreline power and a modern, quiet gasoline generator.
Offroad Capabilities
RVing is a great way to see the country. Whether we're enjoying our amazing national parks, journeying through a state park system, or just seeing where the road takes us, the RV is the king of the open road. But what about off-roading? Can one take their Sequence or Nova and head off into the bush?
Neither of these vehicles is explicitly built for off-roading. Some users have reported that the stock ProMaster chassis can perform well in off-road conditions. In some online forums, people have shown off upgraded chassis with improved suspension and off-road tires. In their standard configurations, neither the Nova nor the Sequence is explicitly intended to be taken off-roading.
Winner: Tie.
Outside Space
If we can't go off-roading, can we at least go outside? The Coachmen Nova and the Thor Sequence both offer a nice awning that extends from the roofline of the starboard side. And both have nice windows that you can open to let air circulate through the RV. It almost looks like this might be a tie.
However, the Sequence has a cunning TV mount that lets you see your TV from your awning. Is this a silly criterion? Maybe, maybe not. After all: RVing is about enjoying the outdoors in style, and watching your favorite TV show or movie while camping is pretty fun.
Thor Sequence: Can sit under the awning and watch TV from outside the RV.
Coachmen Nova: Can sit under the awning but cannot watch TV from outside the RV.
Winner: Thor Sequence.
Freshwater Capacity
Water isn't just where we go to play, swim, and fish. It keeps us alive and clean. How much of this precious resource can your RV accommodate?
Thor Sequence: 27-gallon freshwater system.
Coachmen Nova: 27-gallon freshwater system.
Winner: Tie! That said, the Nova comes with a Water Miser shower system designed to conserve water, which might give it a little bit of an edge depending on your specific needs.
Gray and Black Water Capacity
Using clean water eventually leads to dirty water. It may not be the most fun part of RVing, but thinking about the wastewater storage capacity is essential when you're planning to be out in nature for a few days.
Thor Sequence: The Sequence 20L and 20K models both store 13 gallons of black water and 13 gallons of gray water. The Sequence 20A stores 20 gallons of gray water and 6 gallons of black water.
Coachmen Nova: The Nova 20C can store 19 gallons of black water and 20 gallons of gray water. The 20RB stores 10 gallons of black water and 23 gallons of gray water.
Winner: The Coachmen Nova has superior black and gray water storage.
Style
Both of these RVs share a similar overall look because they're built on the same chassis. But the process of converting the van into an RV does allow each company to make design and style choices. Both RVs feature rooftop AC units, bike racks, and roof racks. Does one of these machines look better than the other?
Thor Sequence: The Sequence keeps the basic look of the Ram ProMaster chassis. It is available in charcoal, silver, or white. The awning extends from the starboard side and rests on two legs. On the inside, the Sequence is tastefully decorated in modern neutral colors. You can add your own touch of character to the interior based on your decor, accessories, and so on.
Coachmen Nova: Much like the Sequence, the Nova also retains the ProMaster's overall lines and appearance. The Nova's 13-foot awning also extends from the starboard side. The interior decor is a little bit higher-end than the Sequence, with solid hardwood cabinetry and upgradable cockpit seating. The fiberglass shower is also a nice touch.
Winner: The Nova edges out the Sequence based on available interior styles.
Price Tag
Thor Sequence: The 2021 Thor Sequence begins at $92,375.
Coachmen Nova: The 2021 Coachmen Nova starts at $122,059.
Winner: The Thor Sequence is about $30,000 less expensive than the Coachmen Nova.
Thor Sequence vs. Coachmen Nova: Who Wins?
When comparing the Coachmen Nova and the Thor Sequence, it's hard to pick a concrete winner. Both vehicles share the Ram ProMaster chassis and the Chrysler PentaStar engine. Both come with 24″ LED TVs installed in the living quarters. And both have a functional galley and a convenient wet bath. How will we decide who wins?
In terms of outdoor space, both RVs are pretty similar. However, the cunning TV swivel on the Thor Sequence adds a layer of fun that the Coachmen Nova does not have. On the inside, the Coachmen offers high-level trim upgrades that are hard to compete with. Once again, it seems like we have a difficult time deciding between models.
Maybe it comes down to price. Most people want to be vigilant about their budgets, even when buying a big-ticket item like an RV. If that's the case, then the contest belongs to Thor: the Sequence has an MSRP almost $30,000 lower than the comparable Coachmen Nova. However, some might argue that the improved trim of the Nova is worth the cost.
Whichever RV you choose, you'll find that the Coachmen Nova and the Thor Sequence are both excellent choices for a Class B RV, and whichever model you choose, "you" will definitely be the winner.