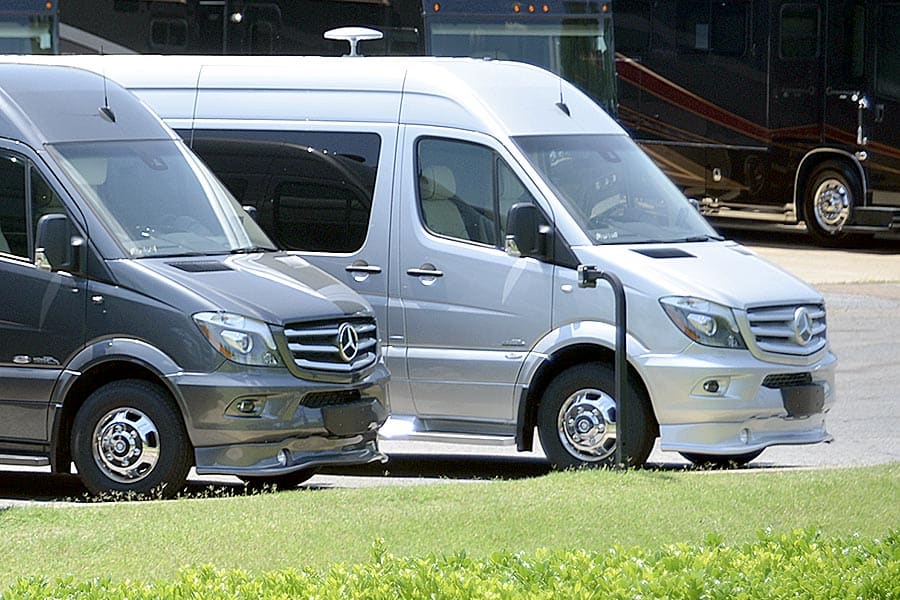 RV companies start with a chassis made by popular vehicle manufacturers to build their creations. In fact, they start with a chassis from companies such as Ford, Chevrolet, Dodge, and Mercedes-Benz. The Sprinter chassis tends to be one of the most highly sought-after parts of motorhomes these days.
The RVs built on a Mercedes-Benz Sprinter chassis include the Thor Delano & Tiburon, Winnebago Revel, Coachmen Galleria, Coach House Arriva, and plenty of others. Having a Sprinter chassis provides top-notch durability, stabilization, and longevity.
Throughout this post, we'll discuss the following information about Sprinter chassis:
Popular RVs that have a Mercedes-Benz Sprinter chassis
Details about each motorhome, as well as a link to the manufacturer's site with more info
Numerous reasons that so many people want a Sprinter chassis on their RV
The following RVs offer all kinds of bells and whistles, but you still need outdoor gear to go with them. Camping chairs to sit around relaxing with the family are at the top of the list.
This moon saucer chair from KingCamp is comfortable – whoo-wee, it just cradles you in comfort. At a little over 33 inches wide, it will be a hit with the whole family. It is stable, and the heavy-duty fabric will give you lots of years of use. Folds up quickly and comes with a handy bag for easy carrying.
This chair takes enjoying the campfire to the next level!
Light up the night with a Luxpro lantern. This ingenious LED lantern is dual powered and a perfect addition to your camping gear. Included with the lantern is a rechargeable Li-ion battery, but you can also power it with alkaline batteries – 3 C cells. The runtime is 150 hours.
You can adjust the brightness from 75 to 1,000 lumens by turning the knob. Plus, get this, it has a USB port and a cord to power other devices. The lantern is weatherproof, rubberized, and casts a 360-degree beam. Not only is this lantern great for camping, but it works perfectly when the power goes out when you are at home!
Both of these items are excellent additions to have while you are on the road.
Jayco Terrain Class B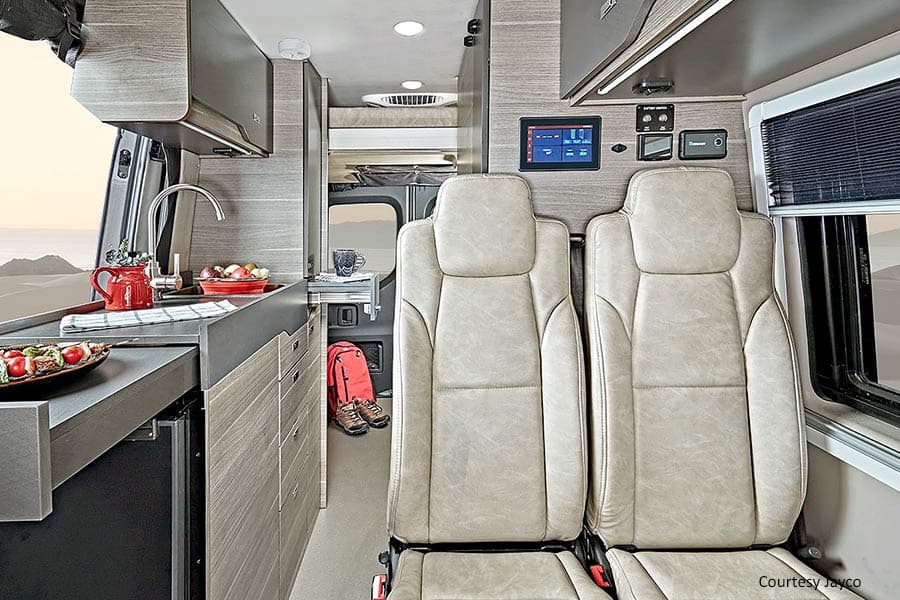 The Terrain lives up to its name, and this rugged campervan will take you to your favorite remote boondocking destinations. Is your campsite off the beaten path? No problem, the Terrain is built on a 144-inch wheelbase, Sprinter 2500, and most importantly, it has four-wheel drive. A rugged skid plate protects a heated grey tank, so you won't have to worry about punctures. 
The floor plan allows for all the comforts of home in a small compact space, including a wet bath, kitchen area, and room for 2 to sleep. Overall length is 19'7″ with an interior height of 6'1″. Durable rubber flooring makes for easy clean-up, and screens on the side and rear doors keep the bugs from bothering you!
The starting price is around $201,000, but it is packed with all the features you'll need for this compact Class B to be your home away from home.
You can see a complete list of all the features at Jayco.
Entegra Coach Launch Class B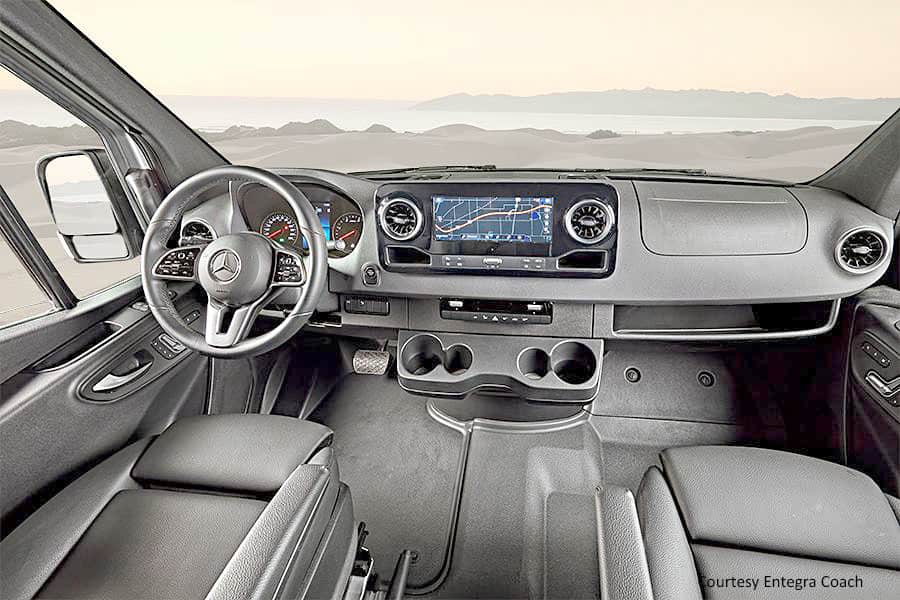 The Entegra Coach Launch starts with a Sprinter 2500 on a 144-inch wheelbase and has six paint options available. Not only does it look good, but it will also get you to where you want to go with its capable 4-wheel drive and all-terrain BF Goodrich tires.
The freshwater tank is mounted in the interior of the RV, and a skid plate protects the heated grey water tank, so you don't have to worry when in the most extreme locations.
It has a 30-amp electrical service and a 3500-watt inverter with roof-mounted solar panels (200 watts). 
Get a goodnight's sleep on the nifty bed (it can support 750 pounds) that drops down from the ceiling. You can store things away in the conveniently placed under-bed storage bags. Moisture is vented with a MaxxAir roof vent.
The Launch has a portable induction cooktop, 3 cubic foot DC fridge, stainless steel sink, European-style cabinets, wet bath with cassette toilet and shower, and many more amenities.
Need to pull some toys along with you? The 3,500-lb. hitch receiver will let you get the ATVs right to the trail. 
For more information to see if the Launch is right for you, visit Entegra Coach.
Leisure Travel Vans Unity Class C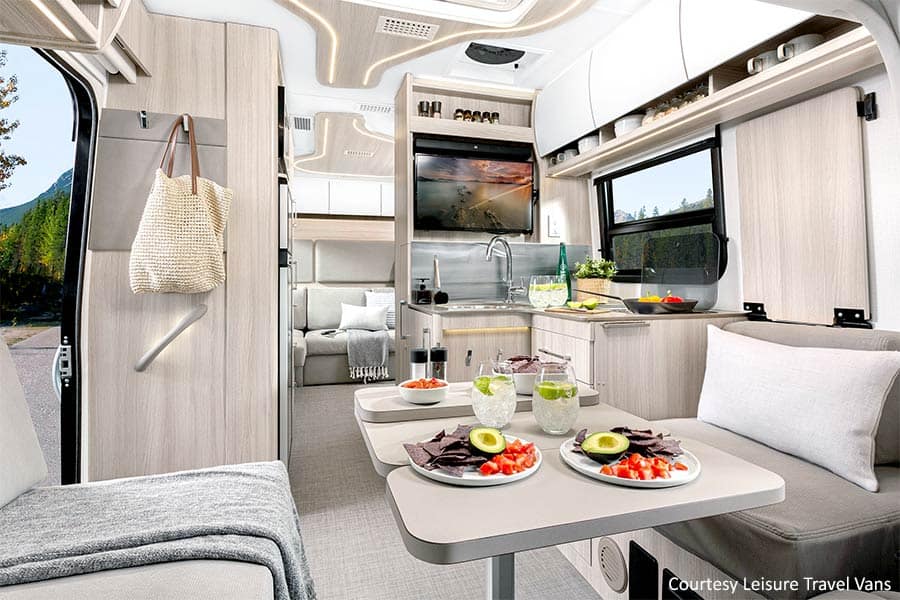 When you are shopping for a camper van, having a lot of choices lets you select the best layout for your personal preferences, and the Unity provides six floorplans for you to pick from.
This easy to drive, spacious, comfortable motorhome gives you the option of a queen-sized Murphy, corner, twin, and walk-around island beds. There is a full dry bath with a shower, and the RV has a water filtration system throughout.
You will ride in comfort in the heated driver and passenger captain's chairs with swivel bases. The RV design allows for abundant storage space so you can take the maximum amount of "stuff" with you.
If you want to BBQ, there is a quick connect LP outlet and an exterior table for eating outside. They have thought of just about everything when designing this luxurious coach.
For more information about the Unity, click here.
RoadTrek SS Agile Class B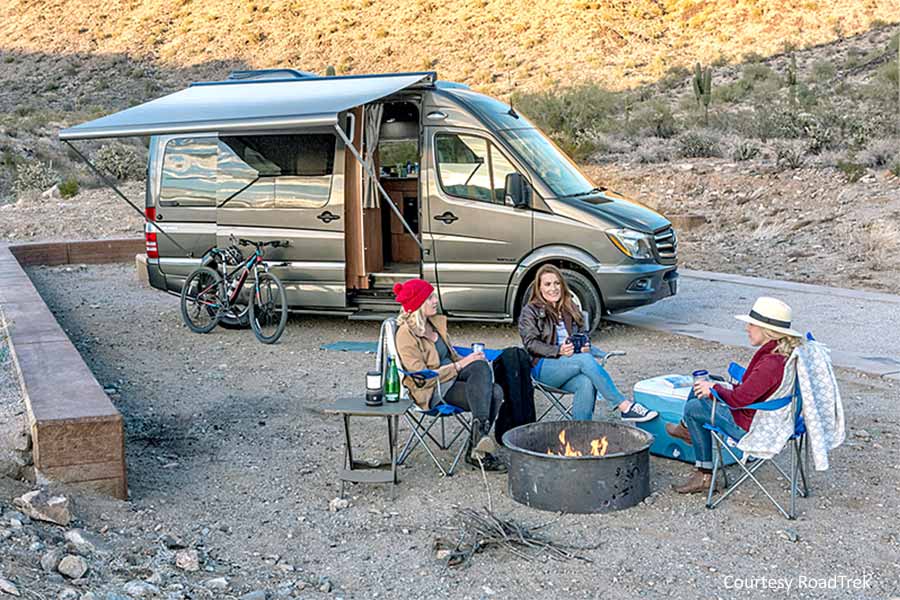 The SS Agile from RoadTrek lives up to its name. If you want to buy an RV that moves quickly and easily, look no further. The compact design makes it a joy to drive, but it also offers the conveniences that make every road trip a pleasure.
It is built on the short Sprinter base, which makes the overall size less than 20 feet. It has air conditioning, propane heating, an entertainment system, and also includes a three-piece bathroom.
The simplistic design in the kitchen includes a two-burner propane stove, a convection microwave, and a refrigerator. The appliances are more than enough for camping trips, and you can definitely cook all of your homestyle favorites.
For more information about the SS Agile, click here.
Thor Delano Class C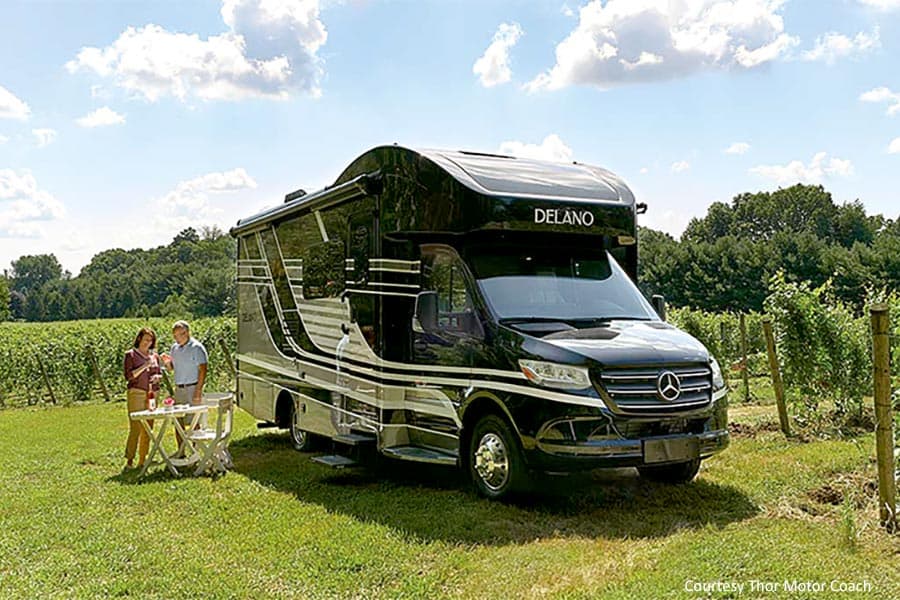 The Delano is a top-of-the-line RV that rests on a Sprinter chassis. It has push-to-start technology and keyless entry on the driver's side door. This beautiful motorhome comes with a 10.25-inch display right in the center console for Bluetooth connectivity, temperature control, GPS navigation, and more.
If you're someone who loves the luxuries of modern RVs, then you'll truly appreciate the WiFi extender that comes with a 4G hotspot. The creature comforts of this RV include an expanded kitchen with full-size appliances, a comfortable mattress, and wood flooring.
For more information about the Delano, click here.
Thor Tiburon Class C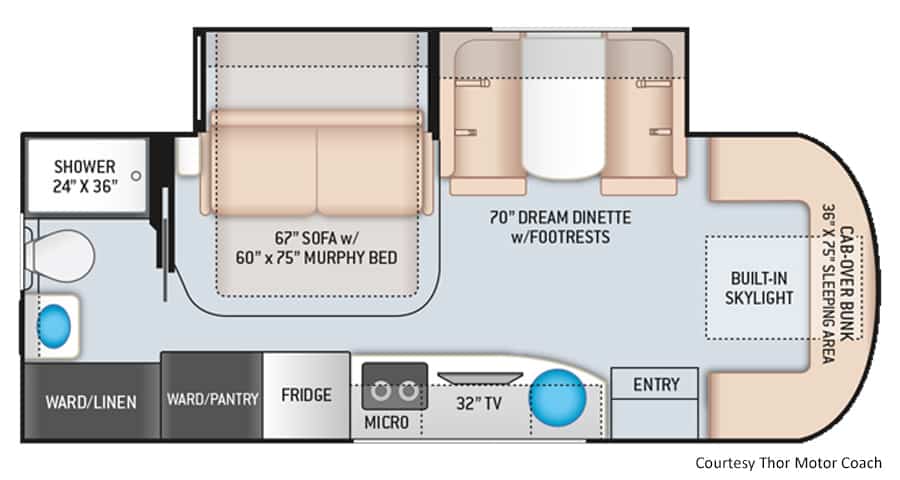 The Tiburon Class C Sprinter is an excellent choice if you're camping with several friends or family members. It comes with an overhead bed that sits over the driver's seat and a rear mattress for two. There's a convenient ladder that leads up to the overhead beds that cross next to a touchscreen control panel.
Much like the Delano, this RV comes with a large touchscreen display and all of the next-generation additions. The floor plan also includes a table that converts into yet another sleeping area, ultra-wide ceilings, a power charging center, and an angled awning outside.
For more information about the Tiburon, click here.
Thor Quantum Class C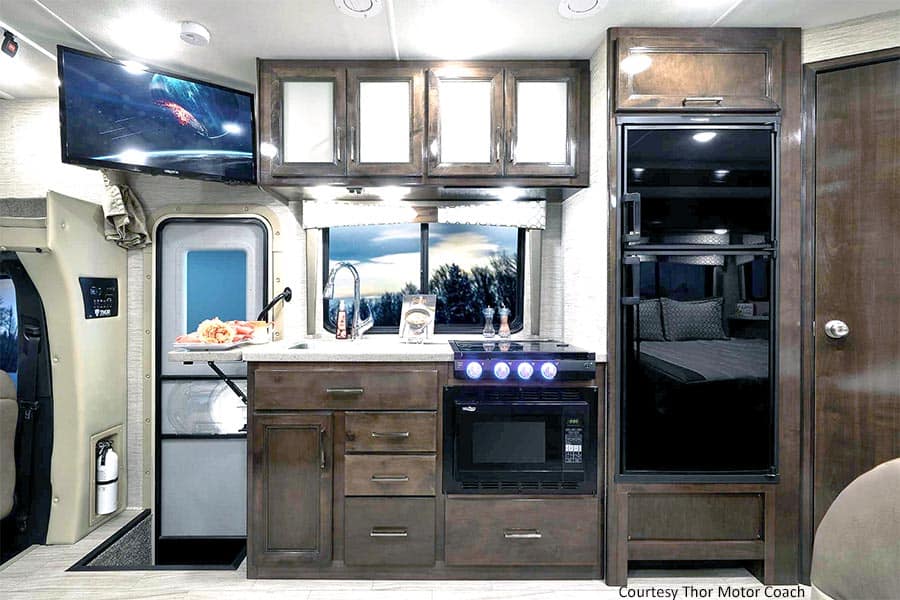 If you want a smaller version of the previous two RVs without sacrificing the high-end luxuries, then you should try the Quantum Sprinter. It's just over 25 feet long, making it ideal for first-time RVers. It comes with a V6 engine, saving you money with a better fuel economy while handling the 15,000-pound weight limit.
The Quantum Sprinter sleeps four passengers, which is ideal for small families. It also has a 40-inch TV over the dining area to keep your guests entertained. Across from the kitchen table sits a comfortable couch with enough sitting space for two to three people. All in all, the compact size of this RV is a bit deceiving, considering the fact that it's big enough for large party gatherings.
For more information about the Quantum, click here.
Thor Chateau Class C
The Chateau Class C Sprinter has central air conditioning, a wide HD display in the center console, and a 4G hotspot built into the motorhome. There's also a set of USB charging ports in the cubbies near the front of the vehicle. You can keep all of your phones, tablets, and laptops ready to go as you drive.
The 32-inch TV rests near the front door, providing entertainment from all angles. You can also relax on the couch across from the 76-inch dining table to view the 40-inch HD TV as well. The narrow hallway separates the bedroom from the kitchen, expanding the interior space to make it feel even bigger than it already is.
For more information about the Chateau, click here.
Pleasure-Way Plateau FL Class B
One of the most classic RVs on a Mercedes-Benz Sprinter chassis is the Pleasure-Way Plateau. This lovely Class B has a 24-inch Smart LED TV, plenty of window space to look out while you're relaxing, and spotted ceiling lights to illuminate the whole vehicle inside.
Right in front of the comfortable bed sits the TV mentioned above, giving you the ultimate breakfast in bed setup. There's lots of cabinet space to store everything you have, as well as a mini toilet/shower combo room.
For more information about the Plateau FL, click here.
Coachmen Galleria Class B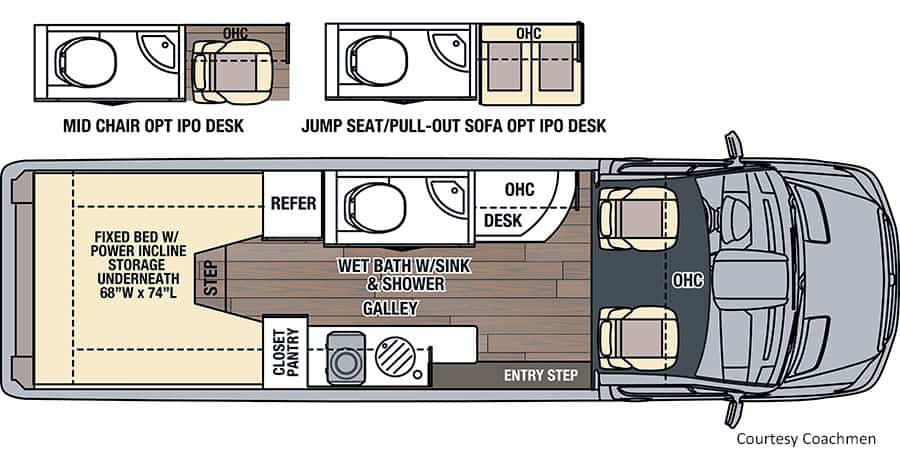 Those in search of a high-end Class B RV on a Mercedes-Benz chassis will love the Coachmen Galleria. It comes in four different floorplans, allowing you to choose which one best suits your needs. One of them removes the rear bed in favor of an overhead bed to open up more kitchen space, while another sits on an extended chassis.
Regardless of the Galleria floor plan you choose, you'll enjoy the full-size fridge, swiveling chairs, crystal-clear HD TVs, and the storage space under the rear bed (or overhead bed if you choose the 24FL).
For more information about the Galleria, click here.
Other Posts of Interest
Coachmen Prism Elite Class C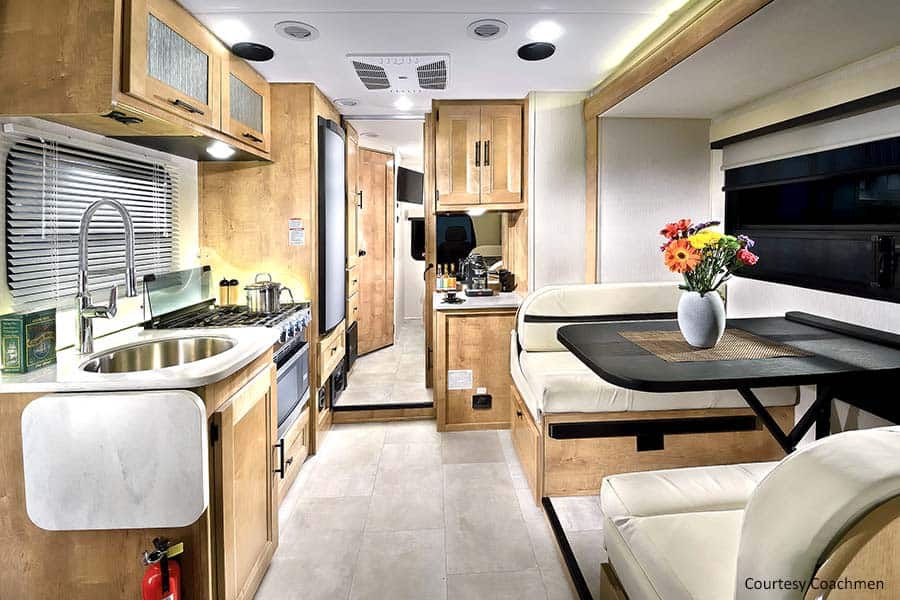 The Coachmen Prism Elite is a great Class C motorhome that extends with pullouts. If you want to have a little more room than traditional Class B RVs, this one will be your favorite. The slideouts allow for a massive queen-sized bed as well as a large kitchen dinette.
Despite its compact size, you'll have access to a spacious toilet and shower. There's also a stove, oven, microwave, and plenty of counter space to chop veggies and dice fruit. The whiteout blinds allow you to keep the RV cool, as does the central cooling and heating system.
For more information about the Prism Elite, click here.
Airstream Interstate 24GL Class B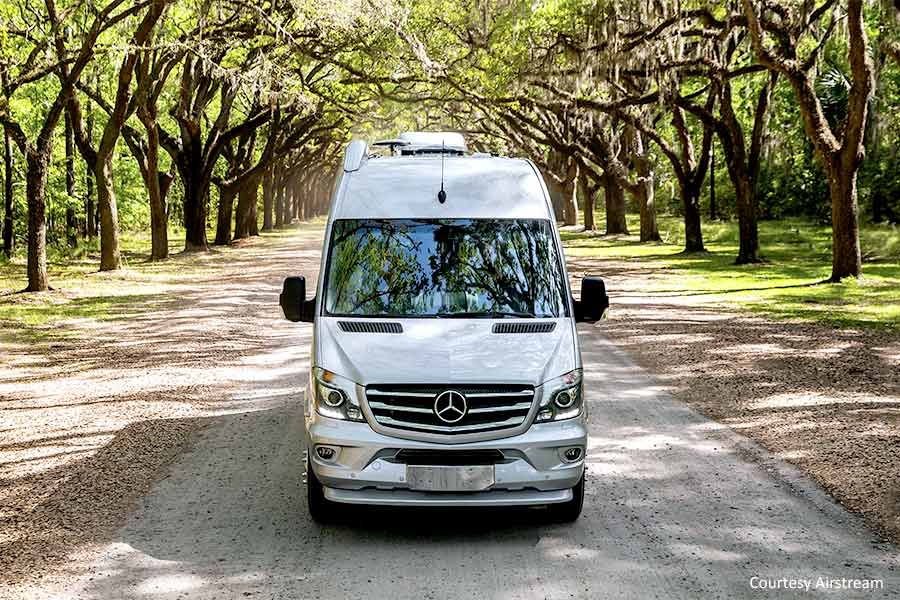 The Interstate 24GL provides so much comfort that you will want to live on the road! The Interstate has a powerful 3.0L V6 turbo diesel engine. The rear and side view cameras, lane assist, and cruise control offer assistance to keep you safe. There is even an optional on-demand four-wheel drive available.
The Interstate sports two widescreen LED TVs for when you get bored or just want to wind down after spending a long day on the road. Also included is a bathroom with a toilet, sink, and shower, an efficient tankless water heater provides the hot water.
Easy to care for Corian tops all the galley countertops, the table, and work desk. The cabinets are faced with hardwood providing a setting that you won't want to leave anytime soon. USB power ports are conveniently located.
An exterior power awning has been designed to withstand high winds, and sliding and powered screens allow for a breeze to flow through in addition to the air conditioning and top it off with a powered sofa/bed, what more could you ask for.
For more information about the Interstate 24 GL, click here.
Dynamax Isata 3 Class C
The Dynamax Isata 3 is a luxury RV with five models, four of which include slideouts. You can expand the bedroom, dining room, or almost any other portion of the vehicle, depending on which model you choose. Sofas, pantries, dinettes, and comfortable bedrooms are all part of every model.
You will find central heating and air conditioning, as well as optional solar panels, a touchscreen control center, and two batteries to double-up on the power source. You can hook it up when you arrive at a campground or dry camp wherever you go.
For more information about the Isata 3, click here.
American Coach Patriot Class B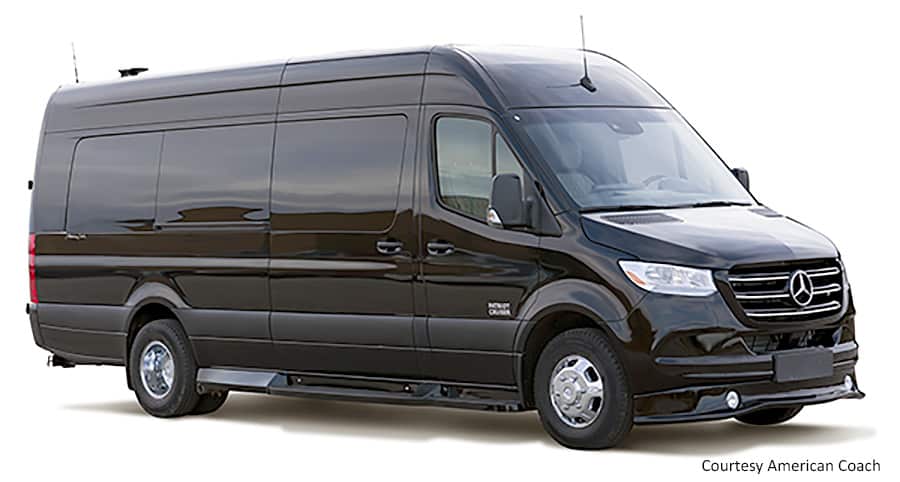 The American Coach Patriot is the embodiment of efficiency and multipurpose functionality. The bedroom consists of two large sofas that fold down the center to create a queen-sized bed. On top of that, there's also additional storage space below the bed. Behind the driver's side of the motorhome sits a toilet and shower, reducing the space necessary to get ready in the morning.
With multiple floorplans, three color schemes, and two types of wood to choose, you'll have the final say in how everything looks and feels. Although this motorhome is simple in terms of technological updates, it comes with a 36,000-mile/3-year warranty from bumper to bumper.
For more information about the Patriot, click here.
Coach House Arriva Class B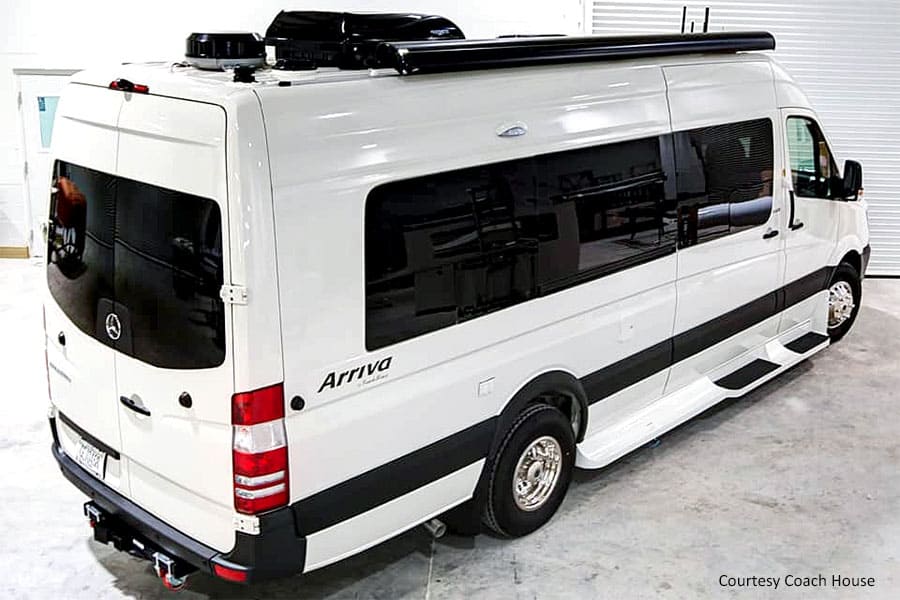 If you are looking for a high-tech motorhome and want to feel like you are living in the lap of luxury, you will want to explore the Arriva a little closer.
This sumptuous camper van has a Sprinter 3500 extended chassis. Surrounding you is a beautiful maple, cherry, or teak interior providing a feeling of luxury. The bathroom has a toilet and shower and it is not even a wet bath.
You will be guaranteed to get a good night's sleep on twin beds that convert to a big comfortable king and watch two 22 inch HD flat-panel televisions. The galley has a stove, sink, and a large 6 cubic foot refrigerator so you won't have a bit of trouble whipping up a delicious meal after a long day on the lake fishing.
Swivel front seats cradle you in comfort as you travel down the interstate. It also has WiFi 4G LTE with a booster, 110-volt electric receptacles with USB ports conveniently located for charging your electronics.
At the end of your active day, you can clean up at the outdoor shower, relax under the power awning, and watch one of the TVs that is viewable from outside. They have even concealed the 55-pound propane tank!
For more information about the Arriva Class B, click here.
Winnebago Revel Class B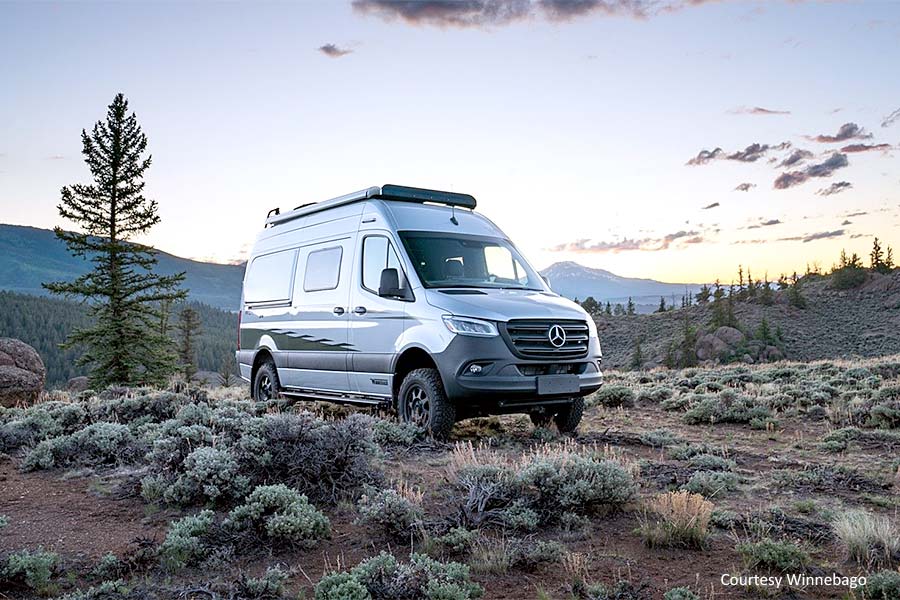 Upon first seeing the Winnebago Revel, you'll immediately want to set out on an off-road adventure. The tough, rugged look of this camper van lets you know that where you want to go, it will get you there. The on-demand four-wheel drive will give you the freedom to take the lesser driven road.
Cab seats with armrests and lumbar support, WiFi hotspots, adaptive cruise control, USB charging all take this RV to the next level. The built-in solar power allows you to operate the 12V outlets found throughout the van and includes two 125 amp-hour lithium batteries. This rugged camper van truly combines luxury, comfort, and practicality, providing the perfect home on wheels for any adventure you set out on.
For more information about the Revel, click here.
Winnebago Boldt Class B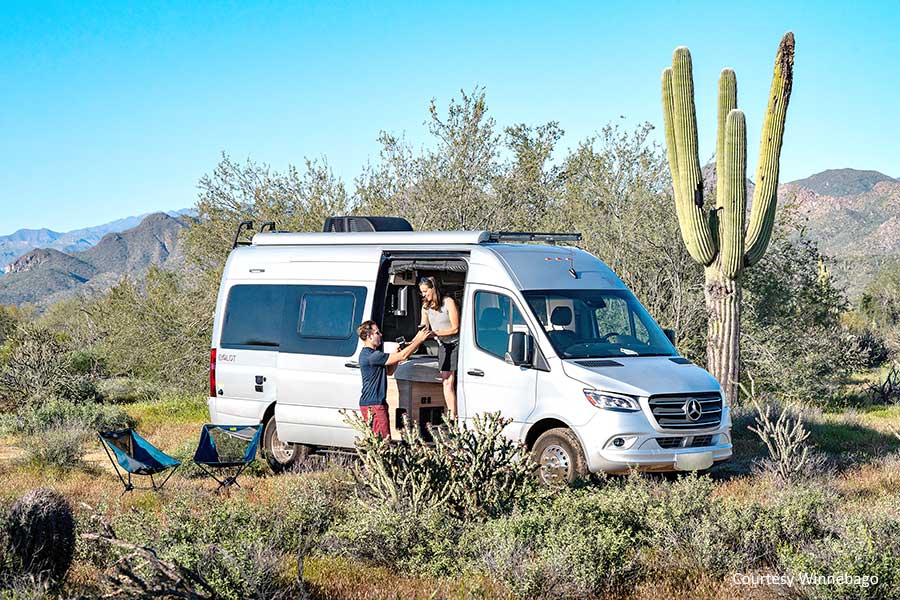 Upon first stepping foot into the Winnebago Boldt, you'll immediately understand why it comes with the high-end price tag. This spacious camper van sits on a Mercedes-Benz Sprinter chassis and allows you to camp in all seasons.
Meal prep is easy with a microwave oven, single burner induction cooktop, refrigerator/freezer, and Corian topped counters. The bathroom has everything you need with a sink, toilet, and shower, and it has a powered roof vent to help get rid of moisture. You can relax in a small RV that's easy to drive while still having all of the comforts you enjoy at home.
For more information about the Boldt, click here.
Winnebago Navion Class C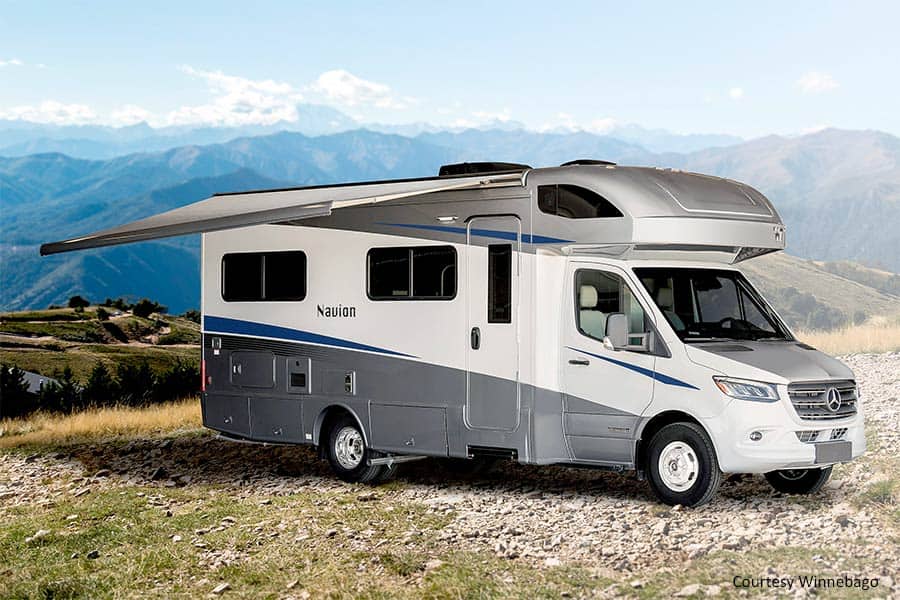 The Winnebago Navion is all about going big. The bed, dinette, and kitchen are all much larger than the average motorhome. All three models stretch 25.5 feet in length by 7.5 feet in width. These motorhomes are 11 feet tall, providing a 6'8″ interior height, making it feel quite roomy. It has extra-large 41-gallon water tanks, both for gray and black water.
The Navion also includes 200 watts of solar power energy, a 2,000-watt inverter, and LED notifications for the water pump and other appliances. Keep track of everything from the Zamp solar power display right above the fridge. This roomy RV is equipped with all of the gadgets to power your adventure on-road and off-road.
For more information about the Navion, click here.
Winnebago Porto Class C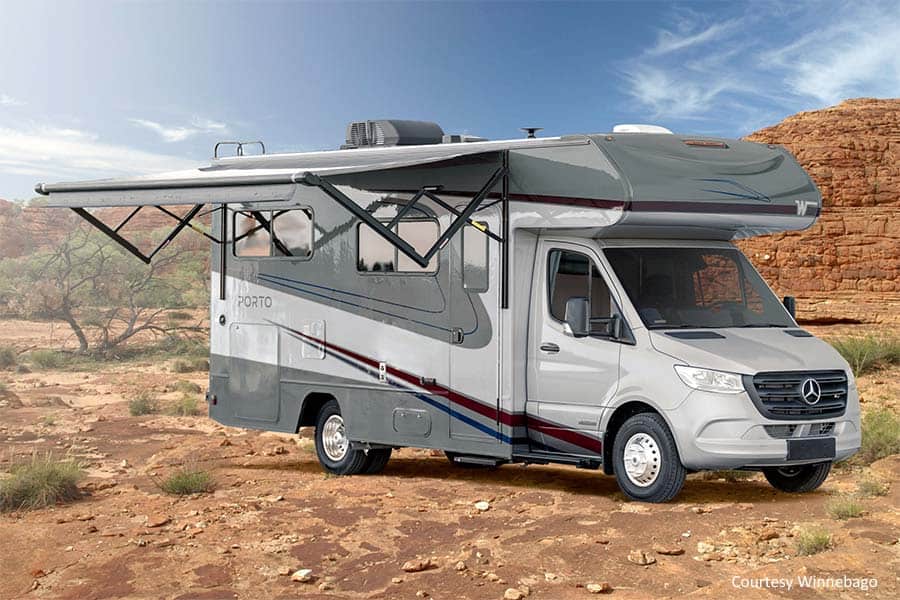 Last but definitely not least is the diesel-powered Winnebago Porto. This motorhome sits at the same asking price ballpark of the Vita, but there are a few alterations worth noting. For example, it can carry up to 1,810 pounds of belongings. You don't have to worry about limiting your items when you're going on long-term road trips.
It also has an LED control display with an overhead bed to sleep two more passengers, bringing the total to four. There's also a hydraulic leveling system that allows you to camp on uneven surfaces. Enjoy rear parking cameras, WiFi hotspots, and GPS tracking wherever you go.
For more information about the Porto, click here.
Renegade Vienna Class C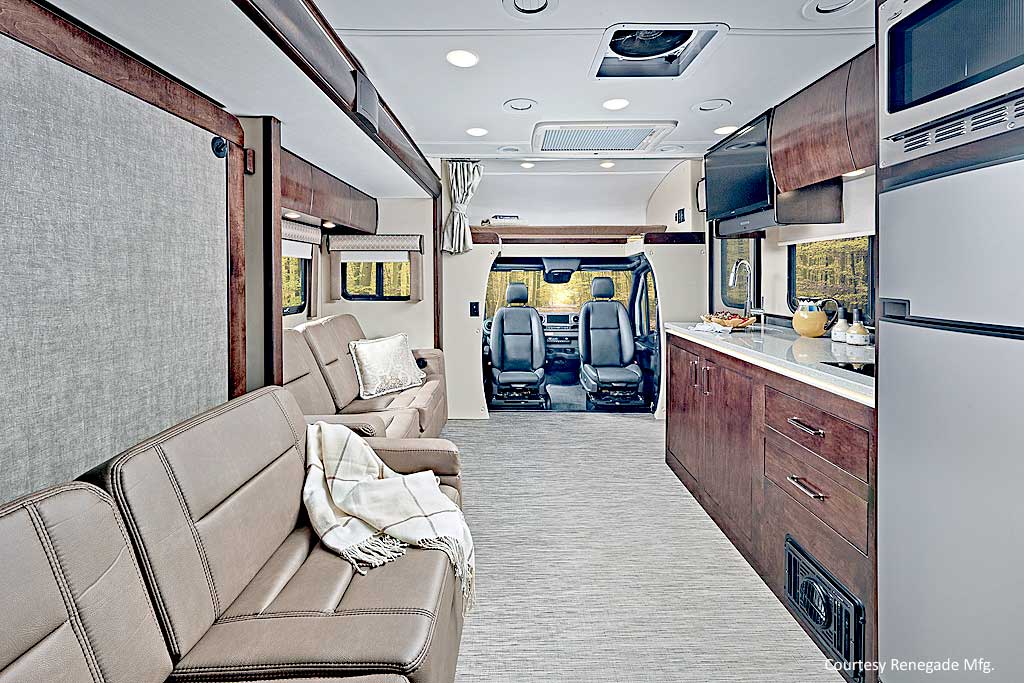 If you are searching for quality craftsmanship combined with the longevity of a Mercedes-Benz Sprinter, look no further.
The Vienna will envelop you in comfort whether you are riding down the road or relaxing after a long day. With multiple floorplans to choose from, there is one guaranteed to be just right for you. And you can choose from five paint color options.
With over 6 1/2 feet in headroom, you won't have a bit of trouble moving around. The coach is decked out with Maple cabinets, solid surface countertops, soft touch padded ceiling and walls, and durable, easy to clean woven vinyl flooring.
The galley includes a 7 cubic foot double door fridge, a two-burner cooktop, and a microwave oven to help make meal prep fast and easy.
Do you camp when the weather isn't exactly ideal? You will not have to wonder about your black and gray tanks when the weather is getting close to freezing since they are both heated. And the 18,000 BTU furnace will keep you warm and comfy inside.
To learn more about this great RV, check out this brochure on the Renegade Vienna.
Pros and Cons of a Mercedes-Benz Sprinter Chassis
Mercedes-Benz is known for high-end vehicle parts, so it should come to you as no surprise that all of the RVs on this list are as good as it gets. Unfortunately, there are a couple of disadvantages as well. It wouldn't be fair to detail all of the motorhomes without explaining the good and bad features.
Here's some pros and cons of an RV with a Mercedes-Benz Sprinter chassis:
Pros of Sprinter Chassis
Mercedes is known for its high-end components and unmatched craftsmanship. You'll be guaranteed to get the same level of commitment and integrity when you buy an RV with a Sprinter chassis. It's durable, long-lasting, and designed to withstand the elements, including off-road driving.
Every single one of the new motorhomes with a Mercedes Sprinter chassis comes with some sort of warranty. The bulk of them has a 36,000-mile/3-year warranty that includes chassis components. It covers manufacturer defects, so you'll be protected for either 36,000 miles or three years, whichever comes first.
A Sprinter chassis is strong enough to carry several thousands of pounds. For example, a few of the motorhomes on the list have a total weight capacity that goes over 15,000 pounds. Some of them are capable of carrying even more. If you want something that can bring all of your belongings, Mercedes has the ability.
Sprinter vans are an ideal vehicle for road trips and camping. By using the Sprinter chassis and incorporating it into new Class B and Class C RVs, these companies have created motorhomes that are unlike any other. They have the same familiar, luxurious feeling and handling right at the front of the perfect RV.
The resale value of your motorhome will be exponentially higher for much longer than other brands. Mercedes is a luxury brand, so their products are always better for the seller when they want to sell or trade-in. If you're thinking about replacing it sometime down the road, you'll love how well it turns over.
Cons of Sprinter Chassis
As you could probably imagine, any vehicle with a Sprinter chassis costs quite a bit more than others. You should expect to spend about $5,000 to $10,000 more on average than you would for other vehicles. Remember that you won't find the same luxuries, but the price difference can be a deal-breaker for some people.
Once you're outside the covered warranty period, the repairs on any Mercedes-Benz vehicle will be high. Remember that buying a used vehicle sometimes voids the warranty, so it's worth asking before you sign any papers. Small repairs can become big problems if you're dealing with a newer model.
As you can see, both of the cons have to do with money. Mercedes-Benz is far from a cheap brand, but you'll get top-tier quality from front to back. If you're worried about buying a brand-new motorhome with a Sprinter chassis, consider getting a used one. Again, inquire about the warranty and how much time it has left.
Conclusion
A Mercedes-Benz Sprinter chassis adds value to any RV. If you're considering buying a used or new RV, there's no better brand to consider. Whether you're looking for luxurious touchscreen displays and keyless entry or simple, budget-friendly motorhomes, this list has everything you need to know.
Here's a quick breakdown of the post:
Winnebago, Coachmen, Thor, and many other popular motorhome manufacturers use Sprinter chassis.
Mercedes-Benz chassis are quite expensive and very durable.
You can get a Class B or a Class C RV with a Mercedes-Benz Sprinter chassis.
These chassis are strong enough to hold thousands of pounds.
The craftsmanship of these motorhomes is second to none.