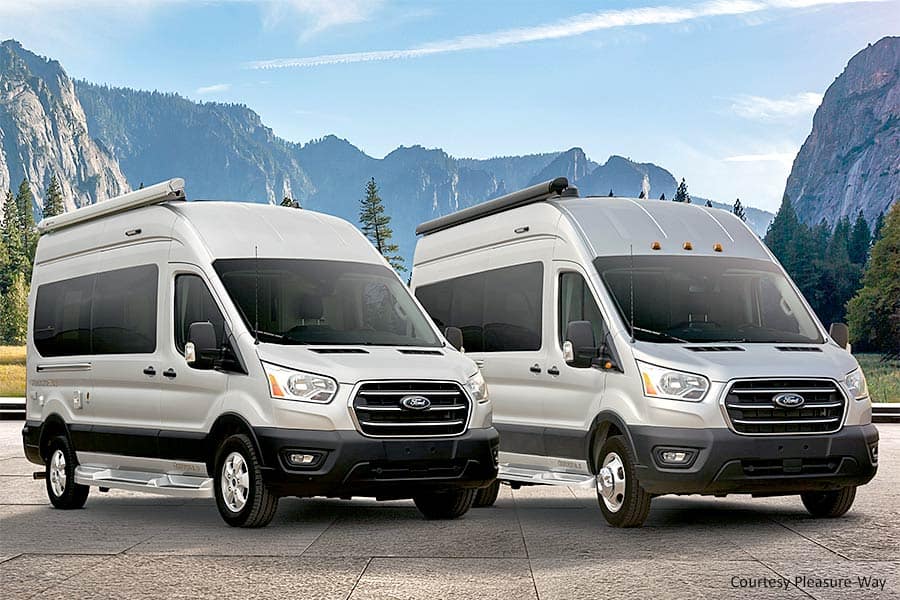 Brand personality, most of us have it, but what is it? It's a personal preference to a particular brand that you prefer, purchase and stick with it. So, it logically follows that this also applies to the vehicles we drive. Maybe you have always bought Chevys, Dodges, or Fords, whatever your favorite model that often follows over to the RV that you want to spend your time on the road in.
Ford is a popular manufacturer of trucks, vans, and other vehicles. And many people are diehard Ford lovers. Manufacturers of RVs meet enthusiasts' needs by creating comfortable, homey atmospheres for you to spend your time in while camping and traveling to destinations around the country, powered by a Ford Transit. In this post, I will look provide you with some of the choices you have for purchasing your Ford "home on wheels."
Pleasure-Way Ontour 2.0 – Class B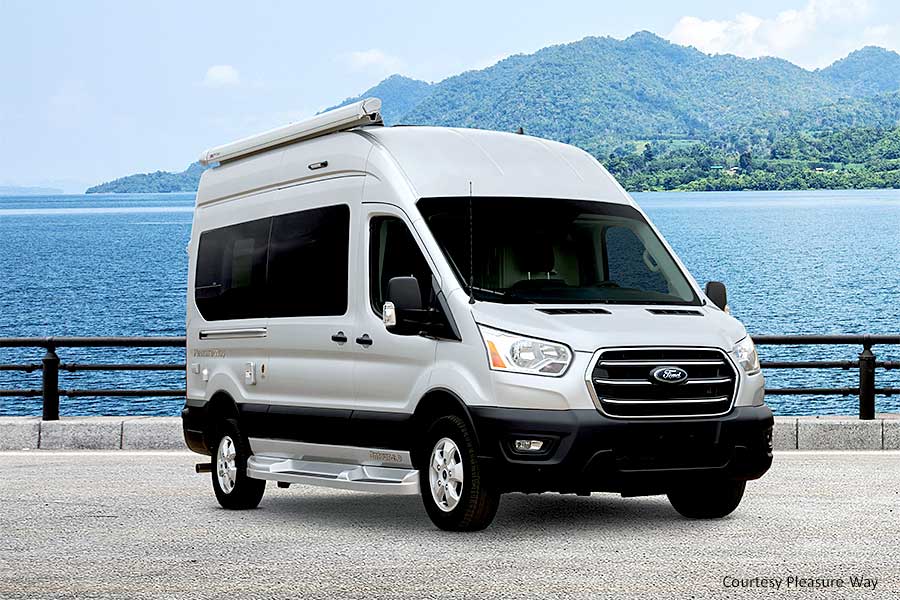 Pleasure-Way built this beautiful Class B by starting with a Transit 2500 chassis. Are you worried that the Ontour might be too big for you to drive? Worry no more. This RV is easy to park and maneuver since it is only 19 feet and 8 inches long, which is really advantageous when traveling. It comes with a rearview camera that helps you when you are trying to park in tight places or know what is behind you.
Power is no problem with the peppy 3.5L EcoBoost V6 gasoline engine, and it is certain to get you where you want to go. Plus, it has a 10-speed automatic transmission which makes it easy for anyone to drive.
The driver and passenger seats swivel and allow for easy movement between the front and rear areas. Safety has been a top priority with driver and passenger, front-seat side, and side curtain airbags. Also, it has roll stability control, lane assist, forward collision warning, and other safety features.
Preparing meals in the Ontour is a breeze. Corian® topped counter space and a high arc faucet that allows you to rinse vegetables and fill pots easily. You have the option of using the one-burner induction stove or microwave for cooking. The fridge/freezer combo gives you 3.2 cubic feet of food storage. Drawers extend fully and softly close, allowing utensils to be stored close at hand.
One more feature that you will absolutely love is the wet bath with a shower. Having your own bathroom facilities is a big plus when you are on the go for days at a time, and this small but functional bath is super! In addition, it also has an exterior shower.
The Ontour 2.0 might be a small package, but you won't feel a bit cramped when you stretch out on the 68″ x77″ queen-sized bed. And you won't have to struggle to get it set up because the sofa/bed is powered. During the daytime, it will also double as a couch or room for passengers to travel.
The utility center on the driver's side makes hookups convenient as the water, cable, LP switch, and power outlet are right there on the side.
Learn more about the Pleasure-Way Ontour 2.0 camper van.
Pleasure-Way Ontour 2.2 – Class B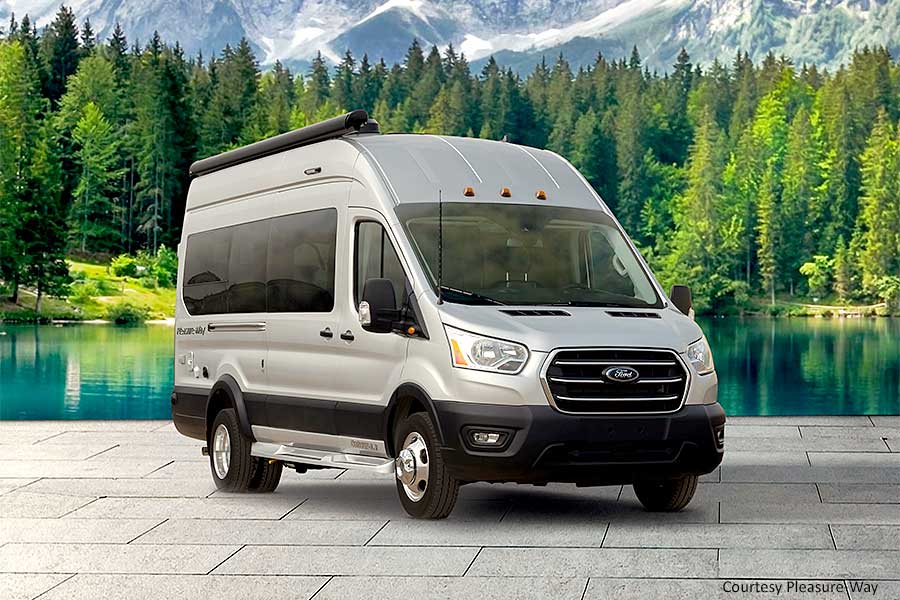 The Ontour 2.2 starts with a Ford Transit 3500 chassis, and it also is powered by a 3.5L Ecoboost V6 gasoline engine. Though, the overall length is longer than the Ontour 2.0, coming in at 21 feet, 10 inches.
The Ontour 2.2 has many of the same features as the 2.0, but you will find that the fridge/freezer is larger with 5.5 cubic feet of space. It has a 300-watt solar package vs. the 200-watt package that the Ontour 2.0 comes with.
Both models come with an 11,000 BTU Dometic air conditioner, Truma VarioHeat furnace, Shurflo® automatic demand water system, and an LP tank with an electric shut-off switch.
For those times when you want to take it easy and relax outside of the van, a power awning will shade you from the sun or protect you from the rain, you can make some tasty BBQ using the LP quick connect, and when you are out after dark, the awning lights will help light up the night.
For more information about the Ontour 2.2, visit Pleasure-Way's website.
Pleasure-Way has been creating quality Class Bs since 1986, and they just keep getting better and better at it. The two models above will allow you to travel with the creature comforts you are used to at home, all in a state-of-the-art camper van.
Winnebago Ekko – Class C
The Winnebago Ekko is a revolutionary Class C RV built on an AWD Transit chassis. A 3.5 EcoBoost V6 gasoline engine powers the Ekko, and it has an automatic 10-speed transmission; and even better, it comes in two options. The 22A offers 23′ 2″ length, and the 24C is 25′ long.
The kitchen comes with all the conveniences you need to prep meals on the road, including a 5.3 cubic foot refrigerator/freezer, microwave, and the LP cooktop that gives you two burners for cooking, a stainless steel sink, and there is even a pantry!
One of the notable features it has is the heated rear gear garage with doors on both sides. The garage is great for storing bicycles and other items, and it even has lights, so you don't have to fumble around anymore in the dark. What is not to love about this vehicle?
With this RV, you will no longer have to sit at home when the weather is not ideal for camping. Insulation in the floor, roof, and walls provides a barrier to the cold, and the water lines and tanks are inside the camper above the floor, though you still will have to follow their recommendations for camping in freezing conditions.
A couple of other neat options available on the Ekko is the pop-top option on the 22A and the exterior kitchen that offers a two-burner cooktop, fridge/freezer, a quick-connect faucet, and collapsible sink.
For more information on the Ekko, visit Winnebago's site.
Other Posts of Interest
Coachmen Beyond – Class B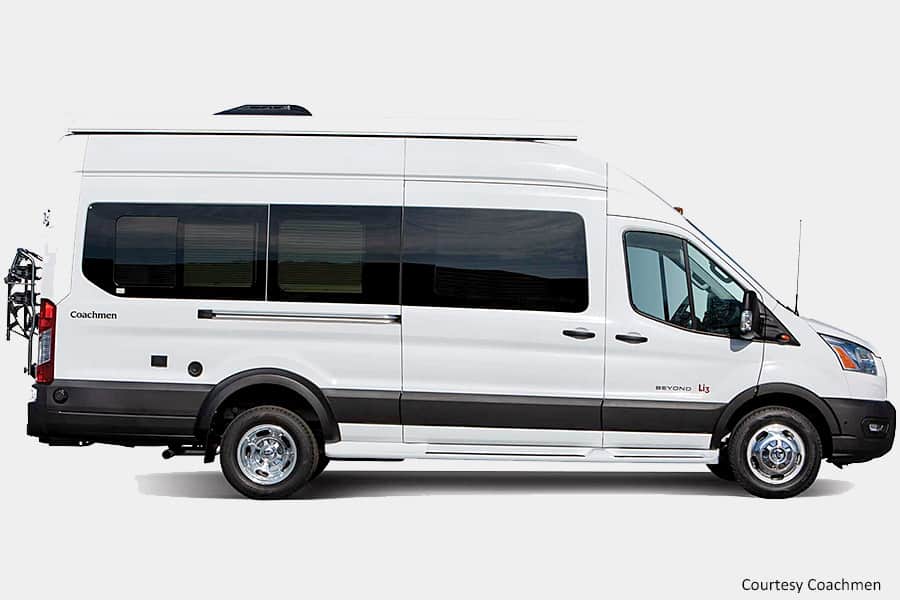 Coachmen has long been a favorite brand with campers, and the Beyond is the ultimate vehicle to start your next adventure with. All of the options that the Beyond comes in start with a Ford Transit 350 HD. It is powered by a 3.5L EcoBoost engine and has a 10-speed transmission.
The Beyond is available in both rear-wheel drive and all-wheel drive so you can feel confident when you are going where the going is a little more challenging or driving when conditions aren't just exactly optimal.
The swiveling captain seats envelop both the driver and passenger in comfort, giving you a tireless ride to your destination. Whether you are heading out for a long weekend or a month-long adventure, you will have all the amenities that you need right in the van.
Beautiful hardwood cabinetry keeps all of your equipment out of sight. Another essential feature is the side screen door that allows air to circulate but keeps the biting bugs out!
To learn more about why you should consider the Beyond visit their website.
While I am thinking about this, something that comes in handy while you are on the road is a first aid kit. I hope no one ever gets into a situation where something unforeseen happens, but it is best to be prepared with some necessary first aid items .
The M2 Basics kit has 300 pieces and includes bandages, alcohol prep wipes, tweezers, disposable gloves, a whistle, safety pins, and more. The kit will help you be prepared for minor injuries that might occur on your adventures.
Everything comes packed in a carrying case to help items stay organized and keep them together. The kit also comes with a carabiner so that you can attach it to a backpack.
Coachmen Cross Trek Transit – Class C
The Coachmen Cross Trek offers floorplans conveniently designed to give you all the comforts of home, all in a small package. It comes in 2 options, the 20XG and the 21XG; both units are 24'1″ long and have a 156″ wheelbase. Another really great thing about the Cross Trek is that it is available in either RWD or AWD.
They both come with a 3.5 L Eco-boost V6 engine. They don't have a generator, but the electrical system allows you to operate all functions from battery power, and the large battery bank lets you stay off-grid longer.
When it comes to meal prep, the ample counter space that the Cross Trek has makes fixing dinner easy. It comes with a 5 cubic foot Dometic 3- way refrigerator which allows you to run it from 12 volts, electric or propane. You can run the fridge from the battery power as you are driving.
It has a two-burner stove, microwave, a stainless steel sink, and a convenient dining area.
Since this is a Class C, it enables you to have more room for the bathroom and the kitchen, which is a huge benefit when you are living in a small space. And this RV has an amazing amount of storage.
Coachmen has designed a large storage area for carrying gear like a BBQ, bicycles, or adventure gear. This feature makes this an ideal RV choice for the active adventurer.
You can learn more about the Coachmen Cross Trek by visiting their website.
Leisure Travel Vans Wonder – Class C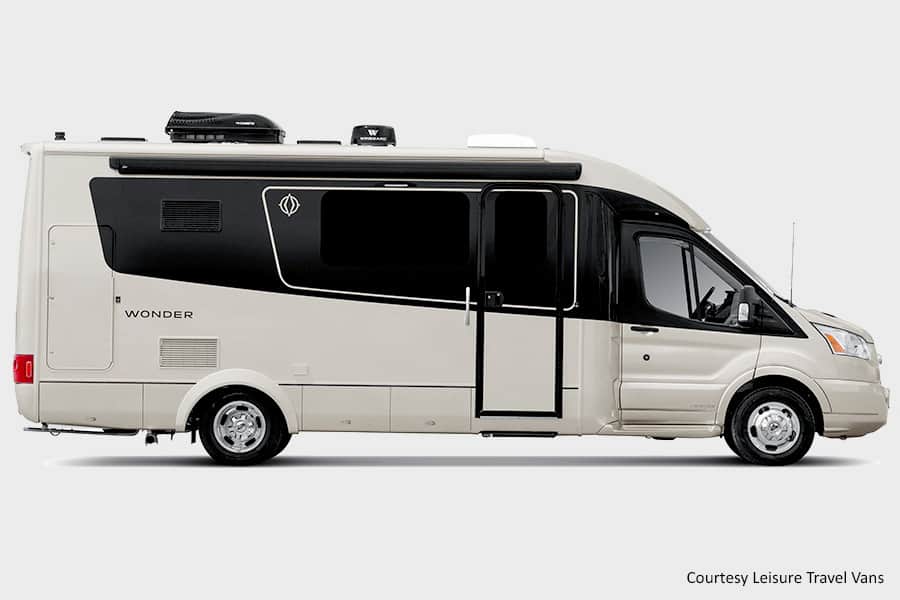 With four great floorplan options (RL, RTB, FTB & MB), the Wonder packs an incredible amount of features in a 24′ 9″ long package. The 6′ 5″ interior height gives you ample room to move around inside.
The Wonder is built on a Ford Transit Dual Rear Wheel chassis and is powered with a 3.5L Eco-Boost V6 gas engine guaranteed to get you to where you want to go. It is easy to drive, set the cruise control, and enjoy the ride.
LED lighting illuminates the bedroom and living areas, and an opening skylight with a screen allows in even more light, making the space seem larger.
The kitchen includes a 6.7 cubic foot fridge/freezer, LP cooktop, microwave, and durable Corian® countertops. Everything is well designed and crafted with quality materials. Plus, the cabinets are even soft close.
The spacious bath has a foot flush toilet, medicine cabinet, undermount sink, shower, plus a shower skylight. It even has an exterior shower.
Optional items include a 200W or 400W low-profile solar panel, dual 12V lithium coach batteries, exterior ladder, plus a lot more. The Wonder is sleek looking, aerodynamic and you can even select from seven colors. After taking this RV on your first trip, you will wonder why you didn't purchase one sooner.
Visit Leisure Travel Vans website to learn more about this innovative RV.
Thor Motor Coach Compass – Class B Plus RUV™
Thor markets this innovative Class C RV as an RUV or a Recreational Utility Vehicle. You will no longer need to be anxious if the weather gets a little dicey because the Compass has AWD, so you will be able to get to where you want to go. Bad weather will no longer be a problem.
For your safety, they have included features like Roll Stability Control™, lane departure warning system, rain-sensing windshield wipers, fire extinguisher, LPG, carbon monoxide, and smoke detectors.
The Compass measures in at 23'6″ in length and comes with two floorplan options. The 23TW has a full wall slideout with a 68-inch dream dinette, and the 23TE has a Murphy bed and rear bath.
The manufacturer's suggested retail price is $117,450 on both floorplans, and both are powered by a 3.5L V6 Eco-Boost turbo gas engine. The interior height is 6′ 6″, giving you lots of headroom, making moving around easy. The 23TW sleeps three travelers, and the 23TE sleeps two people.
Cleaning on the road is one of the things that you absolutely dread, so the easy-care vinyl flooring will make keeping the coach clean easy after hiking, skiing, or outings on rainy days.
The kitchen has everything you need right at your fingertips with a two-burner gas cooktop, convection microwave, single bowl sink, laminate countertops for meal prep, and a 3-way fridge.
A tankless heater provides hot water, and the bath has a shower, medicine cabinet, and sink, basically all of the comforts of home, so you don't have to rough it.
Do you want to spend a little time boondocking? A 100W solar panel comes standard.
Visit Thor's website for more information about the Compass.
Thor Motor Coach Gemini – Class B Plus RUV™
The Gemini measures in at 23′ 6″ in length and, like the Compass, comes with two floorplan options. The 23TW has a full wall slideout with a 68-inch dream dinette, and the 23TE has a Murphy bed and rear bath. The manufacturer's suggested retail price for both floorplans starts at a little above $117,000.
Ample storage, vinyl flooring, Euro-style cabinet doors, a kitchen designed for easy meal preparation are all features of this comfortable home on wheels.
The Gemini takes the worry out of trip planning since it is AWD. Never again will you have to worry when the traveling weather isn't exactly optimal.
Modern conveniences not only help you to get to your destination but also make your stay comfortable after arriving at your destination.
The Gemini has a full bath, so you won't have to wonder where there is a bathroom or where you can take a shower, and as any traveler knows, that is sometimes a problem.
Winegard® ConnecT™ 2.0 works as your WiFi router, 4G hotspot and TV antenna for working on the road and entertainment when you just want to relax, so you no longer have to be out of touch, it allows you to contact the office, check in with family or visit with friends.
If you want to learn more to see if the Gemini might be the right RV for you, visit their website.
Coach House Platinum III – Class B Plus
Coach House didn't scrimp any when creating the Platinum III coach. Starting with a Ford Transit 3500 chassis, they made the most amazing RV, and the shell is constructed from one-piece hand-laid fiberglass.
The way that they manufacture this RV eliminates joints, gives you a durable, stronger shell, and creates an aerodynamic motorhome guaranteed to last you for many years to come.
And speaking of guarantees, they stand behind what they sell with a three-year or 36,000-mile warranty on the drive-train and conversion. You can get any warranty work completed at their plant in Nokomis, Florida, or a repair shop of your choosing. Their respective manufacturers cover the warranty for the appliances.
Some of the great features included in this over-the-top coach include a concealed 68 lb. propane tank, lockable exterior storage compartments, heated holding tanks, 30,000 BTU furnace, and a 4.0 Onan generator.
A back-up video camera provides a view to guide you into hard to park in places. LP gas, carbon monoxide, and smoke detectors give you peace of mind while you are sleeping.
A 1,200W pure sine wave inverter will keep all of your delicate electronics running worry-free. If you are looking for a quality-built RV, this is one company you will want to check out before making a final decision.
You can find out more information about the Platinum III by visiting Coach House's website.
Don't forget the extras! You don't have a perfect camping trip unless you get to sit outside and enjoy the scenery and spend time around the campfire. Mossy Oak camping chairs are a great addition to your camping trip. They are oversized, heavy-duty (can support up to 400 pounds), and are foldable.
The chair weighs in at 8.5 pounds, has an insulated can cooler, a cup holder, and a shoulder strap for carrying. Plus, they make excellent deck chairs when not using them camping!
You won't find a better way to end an adventurous day than by relaxing around the campfire with family and friends, toasting marshmallows, making s'mores, and cooking mountain pies with pie irons.
Before You Buy
You are going to be spending a whole lot of time in your RV, so before buying, make a checklist of what requirements you have to have, and you might even want to consider renting a camper van before you buy to make sure this is something that you will like doing if you haven't owned one before.
There are many choices for you to pick from when purchasing an RV built on a Ford Transit chassis, don't buy the first one you look at. Explore all of the options available before making your final choice. Also, remember, if you have questions, don't be shy. Ask the salesperson whatever it is you want to know.
All of the models I have mentioned have been designed to provide you with all the necessities and comforts you need to make your next adventure an enjoyable one without actually having to "rough it." And best of all, they are built on your favorite brand of vehicle.