Class B RVs are becoming more and more popular in the recreational vehicle crowd. Built on small and nimble chassis, Class B's are fuel-efficient and economical with their interior space. For all this, modern Class B RVs feel very adventurous, and many are capable of off-road excursions. So how much will one of these appealing RVs set you back? What is the cheapest Class B RV you can buy?
The least expensive Class B RV on the market is the Pleasure-Way Tofino, an agile and modern RV built on the RAM ProMaster 1500 chassis. Starting at just $74,750, the Tofino offers RVers a nicely equipped and capable vehicle for a very reasonable price.
How feasible is an RV this inexpensive? Businesspeople are taught that a price too far below market value can seem suspicious to consumers, and rightly so. Is it genuinely possible to get an enjoyable, decent quality Class B RV for about the price of a new Suburban? Read on to find out!
What is the Least Expensive Class B RV?
Like many hobbies, RVing has no upper limit on how much you can spend. Even in the market of Class B RVs, you can spend hundreds of thousands of dollars on your vehicle, accessories, and equipment. And indeed, many people believe RVing to be tremendously expensive or out of reach for those who do not have abundant financial resources. But that is not true. One can indeed obtain a brand-new, capable, nicely equipped Class B RV for about the same cost as a new full-size SUV.
Why are Class B RVs less expensive? Surprisingly, they are not always less expensive! There are many Class A and Class C RVs on the market that have MSRPs starting below what some Class B RVs cost. For example, one can purchase the Class A Thor Axis or Class C Winnebago Outlook for less than the cost of the Class B Winnebago Boldt. That said, there are many affordable Class B models available, and your price is going to vary depending on model year, trim, additional features, chassis, manufacturer, and general economic conditions at the time of purchase.
The price tag shouldn't be the only consideration, though. Class B RVs are efficient, nimble, easy to drive, and comfortable – even if they don't host as many campers or offer quite as many luxuries as other types of RVs. Some Class B RVs can go off-road or offer other unique features that may affect the price tag. And some campers like the style of the Class B compared to its peers. Your reasons may vary, but it's not uncommon to look at a Class B RV and find yourself wondering how much it would take to get into the cockpit.
With all of that in mind, the least expensive Class B RV currently on the market is the Pleasure-Way Tofino. This vehicle is built on the RAM ProMaster 1500 chassis and has a full suite of features, options, and conveniences for the RV camper. The MSRP of the Tofino is about $74,750, making it a bargain: people will pay more for a fully loaded Chevrolet Suburban than they would for a nicely equipped Tofino, and the Tofino definitely camps better than an unmodified SUV.
As I mentioned, the Tofino is built on the RAM ProMaster 1500 chassis. This chassis is an excellent choice to create an RV on, and drivers will enjoy the car-like handling. The powerful 3.6-liter, 280HP engine produces 260 foot-pounds of torque. The RAM takes gasoline, not diesel, so the 24-gallon fuel tank is cheaper to fill up. The chassis also offers front, side, and side-curtain airbags to keep you safe if things go pear-shaped.
The Tofino offers the driver and passenger a relatively comfortable cab area. Standard features include cruise control, air conditioning, power accessories, and keyless entry. Modern times bring modern conveniences like a smart steering wheel with audio controls, a 5-inch in-dash smart display that can connect to your smartphone, integrated Bluetooth controls, a backup camera, and integrated TomTom navigation.
Why would one shop for an inexpensive RV? After all, you often get what you pay for. A laptop computer that costs $300 is generally less capable than a laptop that costs $1,800. Intuitively, the same sort of rules should apply to RVs: less money means fewer features. And while there is some truth to that, many campers prefer a simpler experience.
Another excellent reason to consider a less expensive RV is simply to save money. If your monthly payments or overall expenses for your RV are lower, you can afford to enjoy it more. Lower-priced RVs also open the hobby up to enthusiasts with smaller budgets, and any hobby needs a steady stream of fresh enthusiasts to survive. RVing is no different.
RVers who want to save money can also enjoy lower insurance rates in an inexpensive Class B RV than they would in a Class C or Class A vehicle. Class A drivers can expect to pay somewhere between $1,000 and $4,000 a year for insurance, while Class B drivers should spend between $500 and $1,000 for insurance. This lower cost leaves you more money to do fun things with.
Other Posts of Interest
What are the Standard Features in the Tofino?
Small but mighty, the Tofino packs a lot of features into a small space. The interior of the camper comes with magnetic latching roller shades, folding privacy shades for the windshield and cab windows, USB charging ports in the galley and bunk area, dimmable LED lighting, and fiberglass insulated walls and roof.
The galley comes with a 2.3 cubic foot refrigerator, an induction burner, a stainless steel sink, and a laminate-topped counter. You can monitor LP fuel levels and water levels from a touchscreen panel that also monitors the status of the RV's electrical system.
Outside, the Tofino has an LED porch lighting system, a power outlet and a 30-amp outlet, an LP switch and water connection, a spray port, and roof tenting.
What Are Some Unique Features of the Tofino?
One of the most interesting and unique features of the Tofino is the fold-out roof bunk. To add more sleeping space into the Tofino, Pleasure-Way decided to build up. A manual pop-up chamber built into the roof of the RV opens into a 49"x72" bunk space. There is also a traditional folding seat that converts to a 54"x72" bunk on the main floor of the RV, meaning you will enjoy two bunks in this uniquely designed RV.
Is There Room to Bring My Stuff?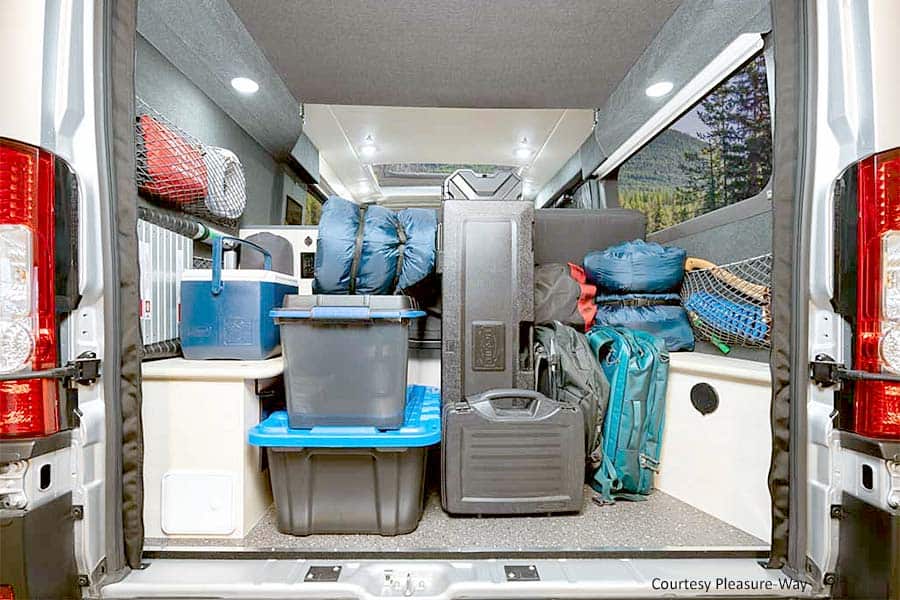 Part of RVing is the adventure you have at your destination. These adventures might include biking, golfing, camping, hiking, flying a drone, or any other outdoorsy activity. Or, you might be heading to a major event like an air show or a festival and wanting to camp for several days.
The Tofino has 70 cubic feet of storage space in the back of the vehicle, which is plenty of room to pack your major accessories. For those who like paddleboarding or kayaking, the optional roof rack can hold your equipment. The Tofino might be smaller, but you can pack almost everything but the kitchen sink with you. Oh, I take that back; it already comes with a kitchen sink!
What Doesn't the Tofino Have?
Some Class B RVs, like the Winnebago Boldt, have wet baths that include showerheads and toilets. Others come with installed TVs, wireless access, and expanded water tanks. The Tofino does not offer these amenities. Regardless, it's an excellent little RV.
Does the Tofino Come With a Warranty?
The Tofino is built on the Ram ProMaster chassis and carries the ProMaster's 3-year, 36,000-mile warranty. The powertrain can be warrantied for five years or up to 60,000 miles, and the warranty includes roadside assistance for five years or 60,000 miles. Pleasure-Way offers a limited warranty that covers your vehicle for five years or 60,000 miles that will cover issues in material or craftsmanship on non-chassis portions of the vehicle.
Is the Pleasure-Way Tofino a Good Value for the Money?
The Pleasure-Way Tofino may not be a huge RV, and it certainly is not expensive as RVs go. Is it a good value for the money, or is it a cheap vehicle that will break down or fall apart with use? It may be inexpensive, but the Tofino is a bargain for the price.
RVers camping in the Tofino have reported that it is comfortable and economical, with the 200 amp solar panels keeping batteries charged even during heavier use periods. If you're looking for a capable RV that won't break the bank, the Pleasure-Way Tofino is an excellent value for the money.
Cheap Means Affordable, Not Low Quality
RV campers looking for an economical way to get into a Class B RV should look no further than the Pleasure-Way Tofino. It provides an innovative use of space, a unique expanding topside bunk, an efficient electrical system, and a laundry list of features. However, there is no wet bath and no integrated TV, but those are expensive upgrades that many RV campers can do without – at least for the duration of their excursion.
Camping, after all, is about getting away from the humdrum routines of everyday life, and for that, the Tofino is perfect. And, it's built to last. This RV is a reasonably priced entry-level camper van that offers everything you need to have a pleasant camping experience.