Campfires, escaping the sights and sounds of your reality, putting away your phone and pulling out the real-life rugged experiences. Oh, the joys of camping. Especially when you have your van with you, it's truly a home on wheels. What can ruin this day? I'll tell you what, BUGS! Guard yourself against nature with a screen to make your van camping experience a joyous one.
Screens that are best for van camping- all with simple installation and set up.
Roadie-Overnight Window Tent
TheFitLife-Magnetic Screen Door
Mkicesky-Upgraded Screen Door
Magzo-Magnetic Screen Door
Housegold Magnetic Screen Door
Reliancer-Magnetic Thermal Insulated Door Curtain
Napier-Sportz Cove Tent
No one can enjoy themselves when pesky pests surround you, especially the ones that bite and leave behind itchy red bumps. Are you ready to head out into the great outdoors? Once you pick out your new van camping screen, you will be.
Van Camping And Screens
Are you ready to go camping? You need to choose which method makes the most sense to you and your lifestyle. Tent camping is great for those people who like being outdoors and camping in remote areas that are only accessible on foot, or perhaps an RV is more your style with many of the comforts of home.
For us, van camping just makes sense, it falls somewhere in the middle between tents and RVs, and it fits us just right. Camping in a van gives us plenty of mobility and accessibility to camping sites while allowing us to bring along some of the conveniences of home.
Van camping is not a new idea, by any stretch of the imagination, but it has become an ever-growing trend ever since the tiny home movement began.
There are pros and cons to van camping, just like anything else in life. And, one thing that is considered a disadvantage is a wide-open door. With an RV, you typically have screens built-in. But, with a van, you don't have that advantage.
A screen can help keep out the insects and birds that are flying around, plus it can help discourage pets from escaping from inside. You can enjoy ventilation and fresh air, without altering your view too drastically.
Even if you are not the real handy type, you most likely will be able to install one of these terrific screens in your van easily. Camping may not be all about having everything you want, yet most would agree that a screen could be on the essential purchase list.
All these screens will need to be cut and fitted to your particular window and door size except for the Roadie and Napier-Sportz Cove.
1. Roadie: the Overnighter Window Tent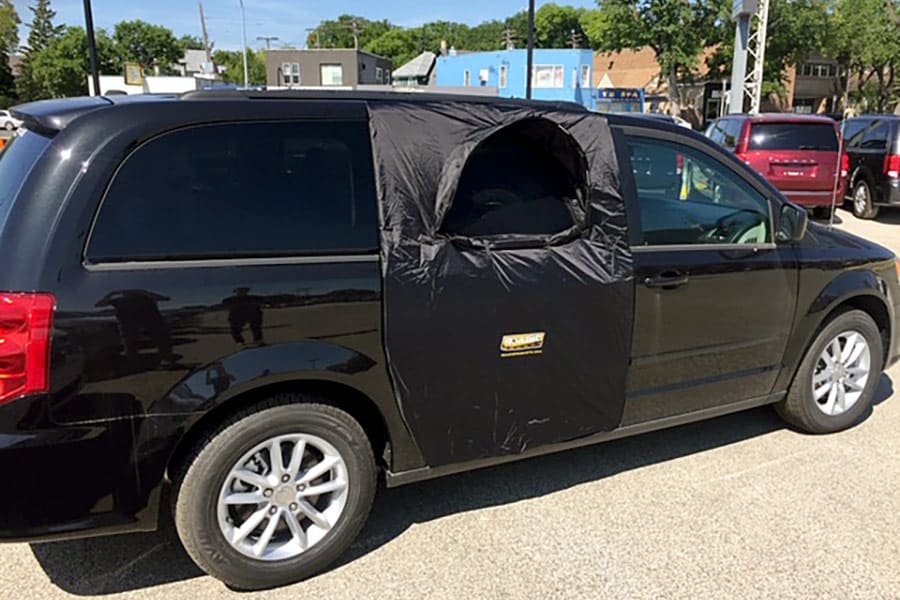 Ok, let's start with the front doors/windows. For the driver and passenger side windows, we have a simple, no-tools-required screen: the Roadie. This screen is like a slipcover for your door. It's comes equipped with a full zip-up screen cover and a retractable sunshade/rain guard.
Simply open the van door that you wish to install the Roadie and slip it over the door. The entire thing has a durable elastic edge that will hold it in place during use, though you will need to remove it while driving.
Leaving the windows down without the use of screens could result in a van full of biting or stinging insects. These screens have a fine screen mesh that keeps unwanted bugs out.
Perfect for a mini-van or SUV, order two so you get good cross-ventilation, and the price seems reasonable. It comes with a pouch and when folded fits in your glove compartment, as well.
2. TheFitLife Magnetic Screen Door
Moving back to the side and rear doors of your van, we will explore options like TheFitLife screen.
We are all about simple, user-friendly installations here. For instance, with TheFitLife screen, you can have it installed in less than 10 minutes without the use of any special tools. That's right; no tools required.
Ok, maybe that was an exaggeration. You will need a measuring tape to measure the van opening and a pair of scissors for the project and perhaps some alcohol to clean the surface. But that is it. We promise.
Your purchase will include a roll of durable Velcro, with an adhesive backing.
Simply measure the metal frame of the door and decide where you will want the center of your screen.
Place the magnets in the center where the flaps open to hold the flaps together.
Carefully peel the protective paper from the adhesive backing on the Velcro strip.
Press it firmly onto a clean surface. The strip will run along the top of your van door and continue along down the side.
When your adhesive sets, you can attach the screen using the Velcro backing on the trim of your screen. Line it up so that the center point meets where you intended it to be. Great, now you have a screen door.
Before you add this item to your cart and check out, be sure to measure the width and height of the van door you wish to cover and make sure it is open when you take down the measurements to ensure accuracy. TheFitLife measures in at 62″ x 82″, and fits openings 60″ x 80″.
Consumers love how easy this screen door is to install, how strong the magnets are that hold the screen flaps closed, and of course, the price is also right.
Other Posts of Interest
3. Mkicesky Upgraded Screen Door
It's no surprise that this screen door is a popular choice amongst van campers. Mkicesky has designed a durable, and bug proof screen door for your van camping needs. A tightly woven fiberglass mesh screen will protect you from even the tiniest of pesky insects.
Easy to install and to take it down. Should you want to get it out of your way, or to stow while driving, gently pull the screen away from the Velcro you attached to your van. The screen is flexible enough to be folded and placed in storage until you need it next.
It is so simple to use, even your pets and children will be able to go in and out of the screen with great ease. Just remind them to step down because on the other side of that screen is a drop of several feet.
Made from durable fiberglass, which is ten times stronger than traditional polyester screens. Available in two sizes 60″ x 80″ and 72″ x 80″.
4. Magzo Magnetic Screen Door
The most significant selling point of this screen vs. the competitors is that it comes in white. Most screens on the market only come in black, but not this one. And, their slogan is "quality beyond your imagination."
Magzo's magnetic screen door for van camping is unique because it has been tested and reinforced to protect against being blown open by the wind. Built into the middle and the bottom of the screen is a specially designed hook and loop hasp, which keeps your screen closed, even in high-speed winds.
This screen is wider than most out there, perfect for the vans with big doors. Magzo manufactures not only magnetic screens that we use for van camping, but they also make screens and doors for the home. You can count on Magzo.
If you are camping in a spot that has wide-open spaces, or are known for their high winds, this could be the van camping screen for you.
5. Housegold Magnetic Screen Door
Housegold offers another screen option for keeping the bugs out. This screen comes in different size options, so you can select the one that comes closest to your van openings.
The screen is made from tough fiberglass instead of polyester, which in turn will lead to fewer holes and tears. In fact, one of their selling points is that it is ten times stronger than traditional polyester screens.
These screen doors are easy to install with Velcro, you can hang your new screen door in your van. They are made from durable fabric to withstand heavy use.
The center walkthrough is self-closing and automatically secured with magnets on either side of the opening. Plus, it is easy to walk through and closes without having to lift a finger.
6. Reliancer Magnetic Thermal Insulated Door Curtain
This curtain is not a screen. But it can be helpful when you are van camping. This product is the opposite of a screen door, instead of providing ventilation, this door curtain insulates instead of ventilating.
The installation is the same as all of the others on our list: Velcro. Simple, fast, and effective. This door covering is semi-transparent, allowing some light to come through while providing some privacy.
Enjoy your camping outing even more by using this door covering to keep the hot air out during the summer with thermal properties and 60% blackout properties. For Sprinter style vans, this works great to hang between the cab and the cargo/living space.
And, in the colder months, you will love this thermal door because of the way it can help keep the cold air out and the heat inside. Use in the colder months can help insulate when left hanging up and kept closed.
Curious about this unique product? Check out the Reliancer magnetic thermal insulated door curtain.
7. Napier Sportz Cove Tent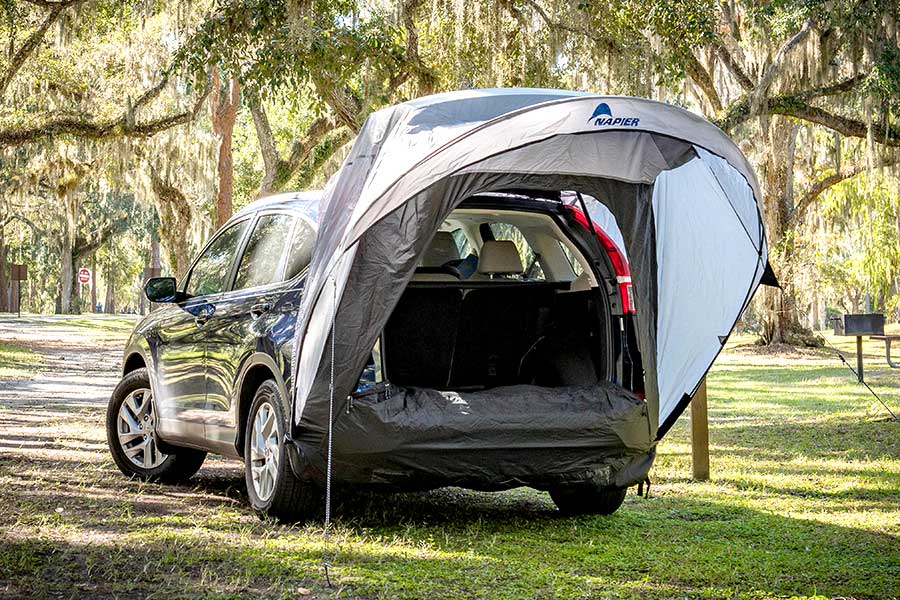 Now, this is cool. You asked for a mini-van camping screen, and we delivered. Picture a partial tent, as you open up your mini-vans back doors—the true meaning of van camping.
This tent is secured to your van with elastic and secured to the ground with rope and tent stakes. A canopy extends about two feet out to shade you from the sun and protects you if it rains. This screen also has a vinyl covering that zips up to create a barrier from the wind.
Instead of magnets holding it closed, the screen zips up very similarly to a tent. Within a couple of minutes, you can quickly have your new van tent assembled and secured. See the Napier Sportz Cove van tent to learn more.
Vehicles commonly used for van camping come in many shapes and sizes. Before ordering, measure the opening where you plan to put the screen in your van and check to see if the screen you are considering comes in the size that you need. Also, some of the suggestions above work best in the smaller type of vans and SUVs.
Unfortunately, bugs are an annoying factor you have to deal with while camping. In addition to screens, there are other ways you can deter these pests, read "20 Ways to Repel Bugs When Camping" for more ideas.
Van Camping: Picking Your Spot
Even if you've got it all planned out, and have arranged the entire camping trip from location to departure, you still may not be thoroughly familiar with the area and site. Things are different when reading about them on paper or the internet, so you won't know everything about the site until you get there.
Protecting yourself from the unknown can be as simple as being alert and prepared. Choose a spot based on your instincts; you can trust your gut to guide you. If you have a bad feeling about the place you chose, pack it up and move it out. Better to be safe than sorry.
Most people consider well-lit areas to be safer than areas that are dark and hidden. And dry places are considered to be better than wet or damp ones. Moisture seems to attract bugs.
Pest Control When Van Camping
You are doing everything you can to defend against pests like insects. Installing a magnetic screen door is a great start. Let's look into a few other options to help you win your battle against the bugs.
Keep a lid on it. Bugs will not stop bugging you if you have uncovered food and drinks around your van. Insects like bees, mosquitos, and flies are attracted to your lunch, and your garbage.
If you store your trash outside of your van, it will help, but to be honest, it won't keep them from ruining your camping trip. Depending on where in the world your campsite is, you could also attract much bigger unwelcome guests than flies and bees. Bears and raccoons may come around to see what's for dinner if you don't keep your waste safely contained.
Don't park near the water. Even though camping next to a body of water makes for a picturesque sight, the factor of nearby water may trump falling asleep to the sound of the river. Let's face it, getting eaten alive by mosquitoes is not going to help you fall asleep, is it?
Keep the lights off. Unless it is necessary, or you are using lights for security purposes, turn them off. Lights are well known for attracting insects at night. Having a bunch of lights on is just an insect open invitation.
Packing the Essentials – Oils, That Is
Certain smells are known to attract pests, but what about the scents that keep them away? Essential oils may become your best friend on camping trips.
A simple dilution in a spray bottle full of water should do the trick. Essential oils are powerful, so you may only need about five drops for every 8 ounces of water. Here are a few essential oils that you can try for pest control. Pick your favorite:
Citronella
Cedarwood
Clove
Eucalyptus
Tea Tree
Rosemary
Lavender
Peppermint
Use caution with essential oils, as we said they are powerful, and should only be used according to the product directions.
If you have pets, do not spray them, or near them.
If you are pregnant or nursing, you will want to use extreme caution, avoiding some if not all essential oils altogether.
For exterior use, spray all around your vehicle and your garbage. For interior use, mist your screen and around windows and doors. If the wind is blowing, make sure the spray doesn't blowback at you and get in your eyes or mouth.
Keeping Things Secure When Van Camping
A bug screen installed on your van door can provide a bit of peace of mind while you are camping and sleeping. But how can we feel even safer? Is there a simple solution to van camping safety and security?
The suggestions listed below are from tips and tricks van campers provide. That is one fantastic bonus from being part of the van camping or van life community – they're eager and willing to share their wisdom with you.
Let's begin with your overnight parking choice. If you are not in a campground and are camping in an unfamiliar area, your first line of defense is picking a safe place to sleep. It might appear to be a good location, but after being there a little while, you may find that there are things that you don't like, so then you can just move on.
Stealth camping is fun and can open up a whole new world to you. Forget being tied down to a campground with their rules and fees. Just pull into any well-lit quiet neighborhood, gym/store parking lot that is open 24 hours, and kick off your shoes. Double-check with the facility to ensure you won't get kicked out in the middle of the night.
Having window coverings of some sort will block out the harsh sun in the morning, and the bright streetlights at night. Window coverings also provide privacy. Locking your doors can be an obvious security measure, don't forget to lock it up before closing your eyes.
Installing a security system in your van is just as sensible and smart as installing one in your home. Best done by a professional, installing an alarm in your van will prove to be worth its weight in gold.
Need a security system on a budget? A shortcut (and cheaper route) to this would be to pick up a few of those wireless door sensors with either chimes or alarm bells that sound off when someone walks by it. Place them in your windows, facing outside.
We have a post, "Do Campervans Get Stolen? A Guide To Preventing Theft" that will give you further tips when setting out on your trip. Stay safe and bug-free – and enjoy your van camping adventures.