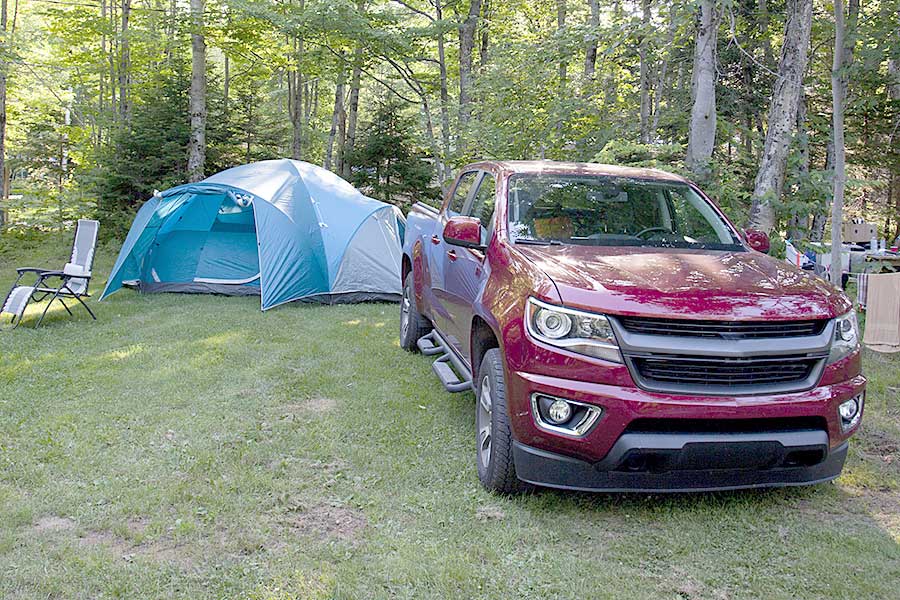 Vacations are great, but sleeping in a motel room doesn't truly feel like getting away. Sometimes you need to go out there and experience the great outdoors, and the best way to do that is to drive your 4×4 vehicle down the road less traveled with your spouse or best friend. But before you leave the house, you'll need to pack up your 4×4 with everything you need.
How do you pack a 4×4 for camping? There are many ways to pack a 4×4 for camping. Below are a few tips to help:
Focus on the essentials, and try to keep the weight down.
Place heavier things on the bottom, lighter items on top.
Keep the items you'll need right away easily accessible.
Don't load your vehicle down by packing items you don't need
Safety first, pack smart, and be prepared for emergencies.
Determining specifically what you should bring and how to prepare can depend on a lot of different factors. Keep reading for some helpful ways to make your 4-wheel-drive camping trip an unforgettable one.
Packing Up Your 4×4 for Your Camping Trip
Loading your vehicle for a camping trip takes some forethought and planning; you want to make sure you have everything you need, and space is critically important. You're not driving around the corner to go grocery shopping, after all, so you could almost think of your truck as a big backpack with wheels. Here's a brief overview of what to think about as you load up your vehicle.
Focus on essentials – Make a list of everything you'll need and go shopping, then take an inventory before you ever pack a single bag. Odds are there won't be a convenience store anywhere near your campsite.
In all the excitement to get on the road, sometimes you can overlook essential things in packing. To help you think of items that you might need, download our free camping checklist. You can print out copies, so you can simply check off the items you require.
Plan before you load – Think about what you will need and when you will need it and load it in the appropriate order. Pack commonly used items in easy to get to locations, such as the camp stove, cooking items, and hygiene items.
Heavy things on the bottom – It sounds like a no brainer, but you're going to have a lot of heavy stuff with you when you're camping, a lot more than your average day trip. Start your packing foundation with the heavier items and protect the more fragile items by packing them on the top. The following list is some of the things you should put on the bottom.
Tent
Propane
Charcoal
Grill
Cooler
Toolset
And more
Secure the heavier items if you need to with straps – When you're driving on very bumpy, uneven roads, you don't want the heavier items shifting all around.
Keep the items you'll need first or using multiple times in a spot that is easy to get to – If you're arriving at your campsite at dinner time, you want the camp stove and cooler easy to get to so you can prepare a quick meal. If you're arriving late Friday night after a long day at work and it's dark, you might want to keep your flashlight on the top of the pile. Likewise, you don't want to have to unpack your whole vehicle every time you want to use the camp stove.
Don't pack items that you won't need – I know the temptation is there to pack all kinds of gear and equipment, but limit it to only the things that you are going to need on this specific trip and for the time that you are going to be gone.
Safety is king – Safety should always be your number one priority. Make sure to pack your 4 wheel-drive securely, and that you have a first aid kit and fire extinguisher with you. In case an emergency should occur, be familiar with the location of the closest emergency room.
4x4s That Are Great for Camping
However, how you pack and what you bring primarily depends on how you're getting there. Yes, you want to get going. But if you don't own a 4×4 (or at least not yet), here are a few different types to consider before buying or renting.
Jeep – The classic 4 wheel-drive vehicle. Rugged, durable, and can get you just about anywhere off-road. It carries plenty for two people who are just going out and pitching a tent.
Other Small SUVs – You don't always need to go with one of the big well-known name-brands, though. There are plenty of other 4×4 SUVs that are rugged, can go off-road, and carry plenty of cargo like the Subaru Forester and Honda CR-V, for instance.
Crossovers – These vehicles are in between a car and an SUV, hence the name. The Subaru Crosstrek or its hybrid version is great for a basic trip, but keep in mind these vehicles typically have a unibody design, not a frame. In this case, that means you won't be able to tow as much. They have limited off-road capability. However, on the plus side, they have excellent interior comfort.
Pickup Truck – On the other hand, pickups have frames and are great for towing. You can even camp in the truck bed itself, either in a tent or under the stars. The Chevy Silverado and the Ford F-150 trucks are tried and true with many hardcore truck camping aficionados.
Setting Up A 4×4 for Camping
Is this a once or twice a year endeavor, or are you planning on doing this all the time? That matters in determining how you want to set up your 4×4. If you own your vehicle, you might want to consider making some fundamental changes to it either now or down the road. Although this can depend on what kind of 4×4 you have, here are a few changes and installations you can do to make packing your vehicle even more straightforward.
Shelving
If camping is the primary goal of owning your 4×4, then you may want to install some small shelves in the back. It'll take some work and time, but they're a great way to organize your equipment and gear.
Other Interior Storage Options
If shelving is something that doesn't fit well in your 4×4, there are some other items you can try that will still keep your gear organized. Affordable storage boxes can do the job or consider buying under-seat storage boxes to hold small items..
Hitches
When going camping, you might have a little more gear than you can haul in your truck, or you might want to take an ATV or two along with you, now what option do you have? Or you might want to tow a camping trailer, a trailer for your toys, or you might even just want a sturdy mount for a bike rack. In this case, you're going to need a hitch. Here are a few well-known models.
When going to links, you will have to search for your specific vehicle to find the right hitch.
Here is a hitch from Curt that is rated for 6,000 pounds gross trailer weight. It has a 2″x2″ square receiver and has been coated with Bonderite and is black powder-coated. Everything you need to bolt it to the frame comes with it.
Draw-Tite is another well-known name that makes hitches for trucks, SUVs, and vans. This hitch has a 2-inch receiver opening, has a black powder coating to keep your hitch looking good. They also back their hitches with a Nationwide Limited Lifetime Warranty.
Reese is also a good choice when looking for a hitch. This selection has a gross towing weight of 5,000 pounds. It has a 2-inch receiver, and installation is easy. This hitch has all-welded construction and is coated with some of the best coatings to provide long-lasting durability.
Don't forget, after you have selected your hitch to order any accessories like the ball mount, ball, wiring harness, brake controller, and hitch covers.
Trailers
Getting a trailer will undoubtedly solve your space problem. But it also severely decreases your maneuverability, which is a bit of a problem on those rocky, tree-surrounded roads you'll be driving your 4×4 through.
Maneuverability isn't much of an issue at state and national parks, where trails are well-designed and maintained. However, it might become a problem when traveling through unfamiliar territory. Should you decide to add the hitch and get a trailer, here a few different kinds popular for camping.
Pop-up – As the name suggests, these rectangular-shaped trailers "pop-up" into an impressive tent-like structure, often with multiple beds and even a kitchenette. They provide a decent amount of space and are more comfortable than a tent. When folded up, they don't take up a lot of space and are easy to store.
Fifth Wheel RV-style trailer – The outdoors, what's that? If you've got a large pickup 4×4 with the horsepower to pull one of these houses on wheels, you might forget where you are. It's comfortable, that's for sure. Great for that family member who won't step foot in a tent.
Storage trailer – If you don't mind pulling it, having a trailer for even more storage space is always great.
Other Posts of Interest
Making a Tent in a Pickup Bed
This option is a great idea. It will keep you up off the ground, but still, give you the tenting experience.
Set up your store-bought tent in the back of the pickup. This option requires very little work ahead of time. Just make sure it fits in the bed, and you have to have a way to tie it down. Also, the grooves of the truck bed aren't very comfortable, so you'll want foam pads or a cot.
Here's a Napier Backroadz Truck Tent that's affordable. This tent has a full floor, 5'6″ of headroom, and a rainfly that protects you from the weather. The tent is constructed out of polyester taffeta; it has screen windows and a big entrance door. It is an excellent option for two people.
Options for Sleeping on the Roof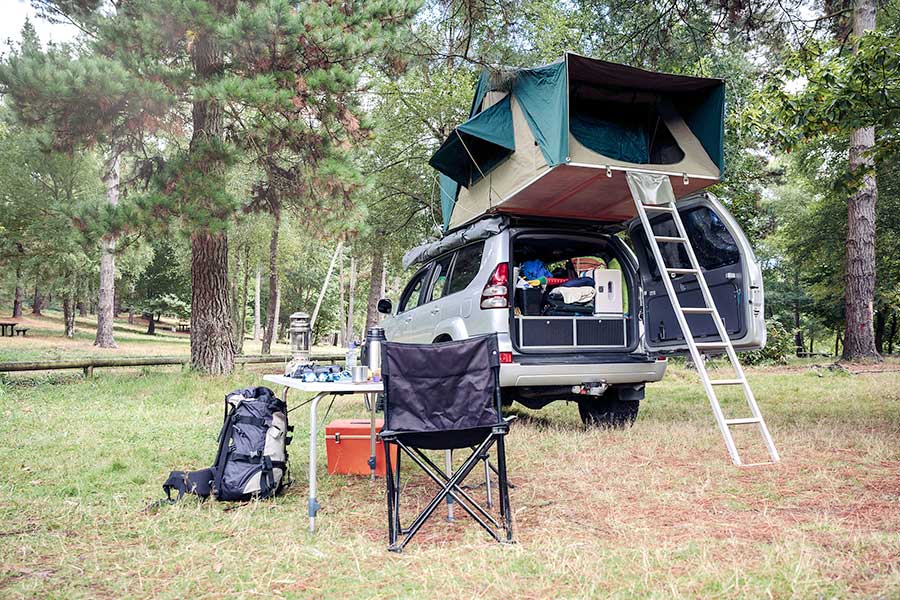 Sure, you can store stuff on the roof, but doesn't it sound more fun to put yourself up there? Just make sure your 4×4's roof is sturdy enough. Also, not a great idea if you're a sleepwalker. Here are a few good options for you to consider:
Front Runner Rooftop Tent – If you are looking for an instant place to camp, this tent is just what you have been looking for. It is just the right size for two people, it's easy to set up, and it weighs 93 pounds. It comes with an aluminum ladder, a mattress, and it has privacy panels on all the windows.
Raptor Rooftop Tent with a ladder – The tent is easy to set up and provides shelter for two people. This tent has been designed to handle heavy winds, has built-in air vents, and it even has an awning.
Smittybilt Overlander Tent – Again, here is another tent that is easy to set up and take down. It will sleep 2 to 3 people, includes a mattress, it has side windows and many other convenient features.
The Cheap and Easy Way: Just Fold Down the Seats and Sleep
Of course, if you don't feel like spending hours retrofitting your 4×4, there is always the option to just sleep in the seats. There are some pros and cons to that, though:
Pros:
Don't need to set up a tent. Your 4×4 is your tent. Minimal effort.
You don't have to pack-up a campsite; just drive away when it's time to leave.
Safe from bears and other wildlife – You can even lock the doors.
Your bed is as comfortable as, well, a car seat.
Cons:
Your bed is as comfortable as, well, a car seat.
You need to account for the people sleeping in your 4×4 when you're packing it, so you'll have room for all passengers in a reclining position. You're going to end up with a lot less space.
Are you sure you don't want to be outside? It is camping, after all?
No fresh air, unless you open the windows. But if it's a nice enough temperature to do that, then there's the issue of bugs getting in.
Since You're Not Sleeping In It, Here Are the Items to Keep in Your 4×4 While Camping
There is no sense in completely emptying your 4×4 when you get to your campsite. You may as well take advantage of having it there. Keep these items in your 4 wheel-drive until you need them:
Food – So animals can't smell it and get to it.
Valuables – Jewelry, wallets, and even cell phones can stay locked in your truck, so there is no risk of losing them by either misplacement or other campers walking off with them. Just don't lock your keys in there too.
Anything else you're not going to need constantly. For instance:
Extra water jugs
GPS devices
Tools
Emergency kit (as long as it's still easy to get to)
Don't Keep These Items in Your 4×4 While Camping
It is not safe to keep certain items in your 4 wheel-drive for days on end, especially if that's where you're sleeping. Never sleep in your vehicle with these items inside.
Extra gasoline containers – dangerous fumes in a closed environment
Propane – hazardous fumes in a closed environment, especially when being used. Let me reiterate: never use propane products in a closed environment like a tent or vehicle. Carbon monoxide is odorless, invisible, and a deadly gas in these conditions.
Anything else combustible like kindling, fire starters, and matches.
Of course, all of these items, when used correctly and safely, are very helpful while camping. Here are some good ways to transport:
Put them on the roof rack or hitch cargo carrier if you have one. Check out this Curt model. That way, they're in the open air, not the cabin.
If your 4×4 is a pickup, keep them in the back.
If you must transport them in the cabin, keep them in a safe spot, by themselves, and keep the windows cracked open a little bit to ensure any fumes can safely escape outside. Make sure that all of the caps and lids are on tight to avoid any leakage. Use a cargo mat liner in case anything leaks.
Other Fun and Helpful Tips
There are plenty of practical and safety requirements to have your 4×4 as the centerpiece of your campsite. But there are also many fun hacks and homey touches you can make to it as well. Here are a few ideas:
String up lights (just don't plug them into the cigarette lighter if you plan on starting the vehicle and going home)
Build a raised platform for an air mattress on top, storage underneath
Clip a sheet to the ceiling to use as a privacy curtain
Hang a shoe organizer to store essentials
If it's raining and you have a hatchback, keep that door open and place chairs under there. It's better than getting soaked.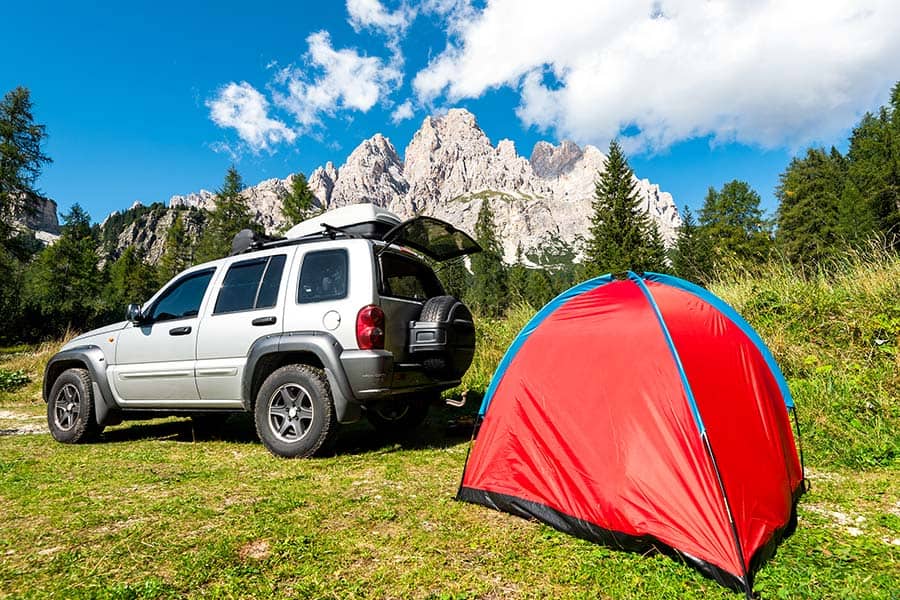 Plan Your Trip First So You'll Know What to Pack
Ask yourself these questions first before you pack a single thing.
How far are you going?
Is it a lot of highway driving, or is it more off-roading?
Will there be plenty of gas stations along the way, or will you need to bring extra with you?
Do you need to bring food for the road, or can you just stop at a fast-food restaurant?
What's the bathroom situation on the way? You can use your imagination for that one.
Flying, Then Renting Severely Limits What You Can Pack
If your trip first involves hopping on a plane and then stopping at the airport vehicle rental kiosk, you can't bring a whole lot of stuff. Flammable materials and plenty of tools are out of the question, and there are often weight restrictions as well. There are a lot of items you're allowed to check, though. Confirm with your airline long before heading to the airport.
Where and How Long You are Gone is Important When Planning
How long will you be gone?
How much food do you need to bring?
How many changes of clothes?
How much propane, charcoal, or kindling do you need?
If it's going to be more than a few days, it doesn't hurt to bring extra first aid items (more than a box of Band-Aids) just in case.
Where Are You Going, and What's the Weather Going to Be Like There?
Is it going to be cold? Bring plenty of coats and thermal gear. You can never be too careful with hypothermia. Important tip: even though deserts can be hot during the day, they can get cold overnight.
If there is even a small chance it might rain, bring rain gear. You or your stuff getting wet just ruins it for everyone. Remember, you're in the outdoors and vulnerable to the whims of Mother Nature. Putting a tarp on your tent floor is also an easy way to keep groundwater and your gear dry. 
Is it going to be hot? Here are a few ideas to help stay cool.
Battery-powered fans
Light, loose-fitting clothes
Plenty of extra water. Plan on a gallon per day per person.
Are You Going to a Well-Used, Accessible Campsite, or Are You Really "Roughing It?"
State and national parks have official campsites, often with easy to use grills. But if you're taking your 4×4, odds are you're not in the mood for a developed campground. In this option, make sure you have a reliable way to cook your food. Since your spot might be a little more desolate than most, consider bringing extra supplies if you have space.
What Are You Planning to do When You Get There?
Here are a few specific things you might want to consider bringing depending on your planned camping activities.
| Fishing | Swimming | Campfire | Entertainment | Stargazing |
| --- | --- | --- | --- | --- |
| Rods | Bathing Suits | Firewood | Board Games | Binoculars |
| Reels | Towels | Kindling | Cards | Telescope |
| Hooks | Sunscreen | Matches or Lighter | Sports Balls | Red Beam Flashlight |
| Bait | Water Shoes | S' mores | Frisbee | Constellation Guide |
What About the Essentials?
That's all well and good, but here are the essential things you'll need to pack in your 4×4 before you go camping:
Tent:
Tents pack up pretty small (one or two bags, depending on the size), so space isn't a huge factor for them. 
Sleeping Bag(s):
No one feels like packing a whole sheet set and comforter when there is the risk they're going to get dirty anyway. Bring sleeping bags for everyone. They stuff into duffle bags, so they don't take up an excessive amount of space.
Something to Put Your Sleeping Bag On:
You have a few different options here of various sizes, depending on how much space you have:
Foam pad – They roll up small and give some padding between you and the ground or truck bed.
Air mattress – They come for one person or two and provide comfort. But power sources are limited in the outdoors, plus if it pops, you're out of luck.
Sleeping cot – A basic sleeping cot will get you off the ground and suspend you on a sturdy cloth, nice and comfortable. Cots are an excellent choice for camping since you will have storage space underneath. 
Food:
You need to eat, and cooking over the campfire or a small grill is possibly the most fun part of camping. Sandwiches are always a simple choice, but bring a cooler with meats or other grill-worthy food. Just remember, you'll want to keep raw meat sealed and eat it fast since you can't keep things frozen for long.
You'll also want to bring plates, bowls, silverware, and cups. But your fancy china at home could get damaged and doesn't exactly set the right mood for camping. Try out this durable 4-person dinnerware set instead. This dinnerware set has 24 pieces; it is lightweight and comes with a convenient storage case that will keep all the pieces in one place. Of course, you don't have a dishwasher either, so bring some dish soap and paper towels with you as well.
Other Essentials, a Basic List
Backpacks and duffle bags, not fancy suitcases that get dirty and can't roll across the grass and rocky trails
Clothes, coats, and bathing suits
Toiletries – this isn't a hotel room, after all.
Trash bags – To haul away the trash, especially if you're in a park that has a "Carry in, carry out" policy. Also, if it rains, you can store your wet tent in a bag until you can get home and air out to dry.
Tools – to make repairs and keep you going. Don't forget the WD-40 and duct tape; it comes in handy.
Non-Essentials
As long as you've still got room, here are some fun things to bring with you on your 4×4 camping trip:
Balls and outdoor game equipment
Toys for the kids
Kayak
Binoculars for bird watching
Books
Some Things to Keep in Mind When You Get to Your Campsite
Clean Up After Yourselves
Even if it's not a specific policy where you're camping, "carry in, carry out" is an excellent policy to live by in the great outdoors. Whatever you take in with you, bring home with you, especially trash. You're out here to experience the Earth in all its natural beauty. Don't ruin it for yourself, the next family, and future generations.
Keep Food in a Safe Place
If you can't keep it in your 4×4, try using a locked container. Some people put their food into a bear bag and use a rope to hang it from a tree. The last thing you need is a bear feeding frenzy at your campsite.
Observe All Local Regulations When It Comes to Building Campfires
Federal, state, local parks, and campgrounds are going to have a set of rules regulating your ability to build campfires. Make sure to check to see if campfires are permitted the time of year you will be camping or if there is a ban.
Are you allowed to bring firewood with you, or do you have to purchase it at your camping destination? The final point on campfires is to make sure that you are there watching it while it is burning and be sure to extinguish the fire completely before leaving.
Keep a Checklist of All Your Belongings
One thing you don't want to do is leave something at your campsite and have to go back. Keep a checklist of everything you brought with you, so you can make sure it's all packed before you head home.
If you planned correctly, you probably ate all your food by the time you're ready to leave. Now you have some extra space. Use it to pack up your trash. Just keep it as separate as you can so it doesn't stink up everything else.
Keep Dirty and Clean Clothes Separate
You'd probably do this anyway, but it's especially important now since your dirty clothes might have bugs on them. Keep them separate and wash them in a load by themself as soon as you get home; that way, if you have ticks and other unwanted guests, they will get washed away.
Air Out Your Tent When You Get Home
Even if it didn't get wet on your camping trip, you still want to air out any smells of smoke and body odor, and give any bugs a chance to leave, after you get home. Set up your tent in your backyard for a couple of dry days before putting it away to store.