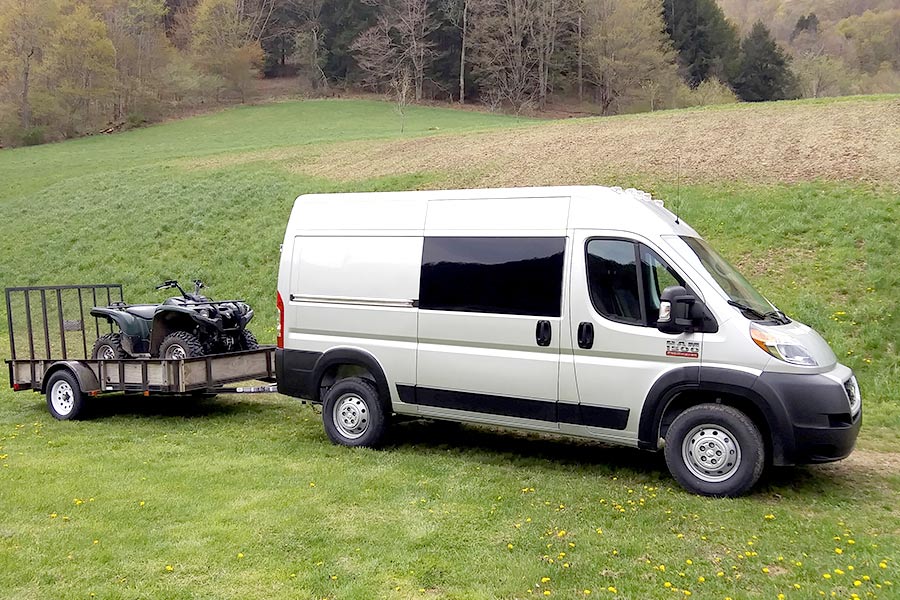 There are a lot of reasons that you might want to know how much you can tow behind a Ram ProMaster. You might want to hit the road for an extended period in your van conversion, and you want to pull your car along with you, or maybe you want to buy a boat to take to the lake on weekends. Perhaps you are looking to purchase a new Ram ProMaster, and you want to know how much you can tow. There are many reasons that this information is important.
So how much can a Ram ProMaster tow? Towing capacities for the Ram ProMaster are going to vary depending on the models. The towing capacity will start at 6,410 pounds; different factors are going to determine the capability of each model.
In this post, I will breakdown exactly how much each model of the Ram ProMaster can tow at the time of this writing. As I said, 6,410 pounds is going to be the starting point, and the towing capacity will increase from there.
No matter what Ram ProMaster you are considering, we will give you the details on its towing capacity so you can make an informed decision for whatever your purpose may be. Before we move on, there are few other things that you need to know.
What is GCWR?
You have probably run across the letters GCWR in relationship to towing. But what does GCWR mean? First of all, it stands for Gross Combined Weight Rating. Now I know what you are thinking, yeah, that's good, but what does it mean?
Gross combined weight is going to be the weight of the vehicle that is going to be doing the towing plus the trailer that it will be towing. Additionally, it will include both the load and any cargo that you place in either the tow vehicle or the trailer.
The vehicle manufacturer will determine the maximum weight of your vehicle with a trailer hooked behind to come up with the maximum weight specifications.
The strength of the vehicle frame, axles, suspension, and other apparatus related to towing is used to determine the gross combination weight.
What is GTW?
The gross trailer weight (GTW) is the total weight of the trailer itself with the cargo added. Your gross trailer weight should never be more than the gross vehicle weight rating of the trailer as given by the manufacturer.
What is GVWR in Relationship to a Trailer?
Another term that you might encounter is gross vehicle weight rating or GVWR. The GVWR is the maximum weight allowed for any vehicle, no matter what the type of vehicle that you are talking about. Depending on what vehicle (truck, trailer, van, etc.), it would be the loaded weight with cargo, passengers, and the vehicle.
In the case of a trailer, it would mean what the manufacturer set as the amount that the trailer can weigh, including the cargo.
How Much Can a Ram ProMaster Tow
The following tables will provide you with the towing capacities of the various Ram ProMaster models.
| | Wheel Base | Roof Height | Maximum Towing |
| --- | --- | --- | --- |
| 1500 Cargo Van | 118″ | Standard | 6,910 |
| | 136″ | Standard | 6,800 |
| | 136″ | High | 6,700 |
| 2500 Cargo Van | 136″ | Standard | 6,800 |
| | 136″ | High | 6,700 |
| | 159″ | High | 6,480 |
| 2500 Van with Windows | 159″ | High | 6,480 |
| 3500 Cargo Van | 136″ | Standard | 6,700 |
| | 136″ | High | 6,600 |
| | 159″ | High | 6,480 |
| | 159″ Ext. | High | 6,410 |
| 3500 Van with Windows | 159″ Ext. | High | 6,410 |
In my effort to provide you with the most helpful information that I can, just in case you came to this post for the towing details on the ProMaster City, here it is also.
| | Model | Maximum Towing |
| --- | --- | --- |
| Ram ProMaster City | Wagon | 1,878 |
| | Wagon SLT | 1,878 |
| | Tradesman® Cargo Van | 2,000 |
| | Tradesman® SLT Cargo Van | 2,000 |
Other posts of interest:
What You Need to Know About Towing Safely
When towing a trailer, there are some factors that you need to remember. Your tow vehicle is going to handle vastly different with a trailer in tow than without one. Your combined vehicles are going to be harder to maneuver, whether it is changing lanes or even parking.
You will need to remember to allow more room when passing to allow for the trailer you are towing, so you aren't cutting other drivers off. It is going to take more time to accelerate to get up to speed, towing a trailer. You will also have to allow more stopping distance to get stopped, as your combined vehicles are heavier.
Also, when going around corners, don't forget that now you have a trailer attached behind your vehicle, swing wide to prevent running over curbs, scraping other cars, or other roadside hazards.
Don't overload your tow vehicle or trailer. Make sure that your tow vehicle has the capacity to tow whatever cargo load you may be hauling. Check the tire pressure in your trailer tires and make sure to have a spare and also check the air in it.
There are five classes of hitches, ensure you have the appropriate hitch for your application. Reese has an excellent resource that gives the different classes of hitches, receiver openings, what type of vehicle they are commonly used on and applications. You can read this resource here.
Use the proper towing equipment – use the right size receiver, the right size ball and hitch. Do not mix equipment that isn't compatible with each other. That is just an accident waiting for a place to happen.
When attaching the trailer, remember to hook up the wiring for the trailer brakes, brake wiring should never drag on the ground, but don't connect it so short that when you are going around corners that it will break.
Make sure to have safety chains that equal or exceed the gross trailer weight. Your safety chains should never drag on the road.
Ensure that the trailer coupler is firmly seated and locked onto the ball.
Before pulling out after your initial hookup, double-check to make sure that you have put the trailer jack up and that it is secure.
Check the hookup occasionally while towing, pull off of the road once in a while, to make sure that everything is still securely connected.
Each state is going to vary on what laws you have to obey when towing a trailer. At the very minimum, you will have to have all turn signals, brake lights, and essential equipment in working order. The majority of states will also require you to register your trailer through the department of motor vehicles.
In Conclusion
The Ram ProMaster has a model to fit many towing applications. Whether you are trailing your car to a weekend car show, pulling a teardrop camper, or hauling building materials to the job site, there is bound to be one that is right for you.
Having the capability to tow a trailer will give you more cargo room if your van isn't quite large enough to carry all of your camping gear inside. This additional room will expand the recreational activities that you can enjoy on your next camping trip.
Once you get used to towing a trailer, you will find that it will become second nature to you, and you won't have any problems. The main thing is never to forget that you are towing one and allow for the appropriate distance when turning and passing. And one more thing, if you aren't good at backing up with a trailer, don't pull into places that you will have to back out of! Look for places you can just pull through.