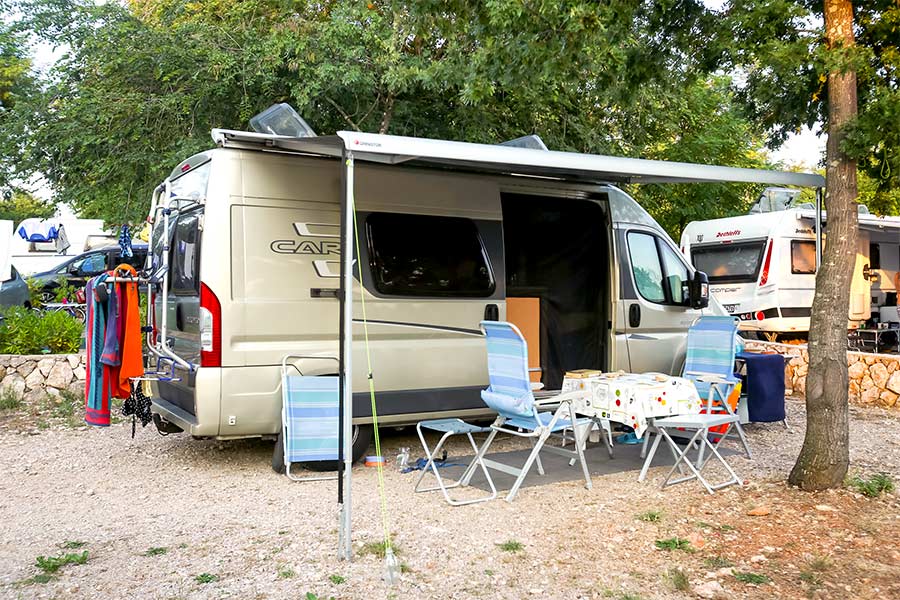 If you're looking to improve your vacations this season, an adventure van is the perfect vehicle for you. They're relatively affordable, you can take them anywhere, and many campgrounds allow you to park your van, providing a great place to stay.
So, what is an adventure van? An adventure van is a van outfitted with all of your favorite camping and road trip necessities. You can put a bed in the back, a cooler to pack meals in, or mount a surfboard on top. Many campers take it to the next level by adding refrigerators, solar panels, and sinks.
Some people might want to explore more remote and out of the way parts of the country. To explore to the utmost, you might want to consider having a 4-wheel drive adventure van. A 4-wheel drive van will give you more clearance, improve traction, and will allow you to go off-road.
To truly understand what an adventure van is, you have to decide what you want to do with it. Let's dive into the details in the next section.
What Is The Purpose Of An Adventure Van?
Adventure vans can be used for one of two reasons:
You want to have a mobile camper for road trips, camping in remote places, and campgrounds.
You want to live a new life on the road.
If you're making an adventure van to enjoy on road trips, camping, and other short vacations, you won't need to add as much to it.
The whole purpose of an adventure van is to have everything that you need while you're exploring the area. Rather than having to go back to a hotel room, you'll be equipped with all the living necessities you need right in the comfort of your van.
What Can You Put Inside Of An Adventure Van?
You can put anything that you need to have a blast while enjoying the basic essentials of life.
For example, some people prefer to have a counter with a sink installed in it. You could use a small water basin inserted into a piece of wood to create a makeshift sink in under 30 minutes.
Here's a list of items you might put in an adventure van for short road trips and camping:
A foldable bed frame that converts into a table. You can use the table to eat, study, and play board games in the evening. Take it a step further by adding drawers underneath.
A nightstand or a small shelf is always an excellent addition to a van. Having additional storage allows you to make the most of the small amount of space that you have.
It would help if you also considered a durable cooler. 45 to 60 quarts of capacity should be enough to hold food. Store drinks, food, and other perishable items in the cooler while you're on the road. If you get a heavy-duty cooler, you could use it as a seat if you don't have one with you.
Other Posts of Interest
Curtains make any van look much more adventurous. Imagine drawing open the curtains right as the sun rises. It's a magical feeling that adds to the aesthetic of the adventure.
Add roof racks to bring surfboards, kayaks, and other gear along with you. After all, what would an adventure van be without the necessary equipment to have a good time?
And here's a handful of items that you could install on an adventure van for long-term living and road trips:
One of the first suggestions would be to add solar panels to the roof. Solar panels provide electricity wherever you go. Depending on which type of panel you get, you could potentially draw power from the sun on a cloudy day. You can charge your smartphone, laptop, and other devices from a small 150 Watt solar panel.
This solar kit is easy to install and will allow you to recharge your batteries easily. A charge controller, adapter kit, connectors, and mounting brackets are all included.
Getting a good refrigerator is essential if you plan on staying on the road for a while. A cooler ends up costing way too much money when you continuously have to buy new ice. Not to mention the fact that nobody wants to drain their ice chest every two days. You can hook the fridge up to the solar power to keep your food and drinks cold around the clock.
The Dometic CF18 12v Electric Powered Fridge provides an excellent alternative to a cooler. Their compact size takes up less space, and there are 7 options available.
Another great suggestion is to install a roof vent fan. They'll create airflow, especially if you leave a window open to make a wind tunnel. Again, you can hook the roof fan up to the solar power to have instant access to a central cooling system right at the top of your adventure van.
Throw a nice mattress on a bed frame for ultimate comfort right in the back of your van. Camping and traveling are fun, but staying relaxed and free of muscle aches is crucial to continuing the adventure. It would help if you also considered getting a mattress topper or a few cushioned blankets as well.
Cooking is a significant part of camping and exploring new places. You can make a foldable cook stand for your camping stove right on the back of your van. They're easy to build, and you can enjoy delicious food from anywhere that you're parked!
How Much Does It Cost To Setup An Adventure Van?
The price is entirely dependent on your budget. If you already have a van, you can convert it for only a few thousand dollars. Making everything yourself, including building the bed frame and installing the solar panels, will save you tons of money along the way.
A basic adventure van that includes the amenities of the first example above would cost anywhere from $2,000 to $5,000. The roof rack adds quite a bit to the total, but you could definitely run under $1,500 without it.
An advanced adventure van that has all of the next-level gadgets and amenities such as the second example above would cost between $3,000 and $10,000. The range is pretty broad, but it depends on the quality of the items and how well you can penny-pinch.
Ultimately, the price comes down to how much money you're willing to spend. The more luxury that you're after, the more money you'll have to put down. DIYers will be happy to know that they can save a tremendous amount of cash by not paying a mechanic or another professional to do the work for them.
Where Can You Take An Adventure Van?
The great thing about an adventure van is that you are not limited to camping in a campground. You can park on BLM land, enjoy remote locations, or even overnight in a parking lot.
Adventure vans can park at campgrounds if you want to be in a community of campers. If you're going somewhere that allows cars, RVs, and everything in between, you shouldn't have any problems getting in. The only two common issues are as follows:
Some RV parks don't allow anything other than licensed RVs (aka motorhomes and camper trailers).
Hike-in campgrounds don't have access for vehicles, so you won't be able to park your adventure van close enough to enjoy the site.
That being said, you can call any RV park before you book a reservation. Many of them will accept your request. Your best bet is to ask in the off-season when most campers are at work or don't want to come to the campground. Camping off-season typically starts in September and ends in April.
Read our post "Do RV Parks Allow Vans?" for more information about staying at RV parks.
Conclusion
Camping, traveling, and exploring in an adventure van is exciting and thrilling for outdoor enthusiasts.
You don't have to get out and pitch a tent, nor do you have to drive around a large motorhome everywhere you go. Everything that you need and want is tucked away in your mobile house on wheels.
Here's a quick breakdown of everything you should've learned throughout this article:
Adventure vans can be used for road trips, camping, and alternative lifestyles.
You can spend anywhere from a few hundred dollars to over $10,000, converting a van.
There are a few camping limitations, but you'll be able to explore most campgrounds.
You can completely customize a van to fit your specific requirements, making every adventure van unique to its owner.