The Ram ProMaster's biggest competitor has undoubtedly been the Mercedes-Benz Sprinter van, one of the top sellers in the industry. When it comes to camping vehicles, these two contenders are two of the best that money can buy.
So, between the Ram ProMaster vs. Mercedes-Benz Sprinter, which is right for you? More than any other van on the market, the Mercedes-Benz Sprinter offers the best in comfort and luxury. However, on the other hand, the Ram ProMaster is tough, dependable, and manufactured to last.
Throughout this post, you'll learn the following information:
The main differences between both competing vans
The pros and cons of each
How much it costs to convert the vans to camper vans
How to choose one over the other
Different models to test out for both vans
Differences of the Ram ProMaster and the Mercedes-Benz Sprinter
Even though they have some similarities, there are a few differences between both vans. Here are six differences between Ram ProMaster and the Mercedes-Benz Sprinter van.
When comparison shopping, the first noticeable thing is the manufacturer's suggested retail price. The ProMaster's (MSRP) is lower than the Sprinter. Also, the overall yearly costs for the Sprinter are higher as well as the parts & labor.
The ProMaster employs front-wheel drive while the Sprinter is rear-wheel drive, and it's also available with a 4-wheel-drive option, which adds to the overall cost. They have a front-wheel-drive version; however, it is only available in certain countries at this time.
The ProMaster has the edge when it comes to interior maximum floor width with 75.6 inches vs. 70.4 inches for the Sprinter. The width of a van is very important if you want to do a DIY van conversion and intend to camp out of it. You'll have more space to set the bed sideways, add additional amenities, and so on.
The Mercedes-Benz Sprinter high-top van has a longer wheelbase length, as well as a little more inside height compared to the Ram ProMaster. The specs for the Sprinter are 79.1 inches inside height, whereas the ProMaster is 76.8 inches inside. When it comes to length, the wheelbase options for the ProMaster van are 136 and 159 inches. The Sprinter is available in a 144-inch and 170-inch wheelbase options. Both vans have extended options on their longest wheelbase.
The Ram ProMaster van lacks a little bit in the GVWR compared to the Mercedes-Benz Sprinter van. The totals come out to 8,900 pounds for the Ram van, and 9,050 pounds for the Mercedes-Benz van. This small difference is something to consider when you're thinking about adding more weight for a conversion.
When comparing the maximum towing capacity of the 2500 high roofs, the Mercedes-Benz Sprinter has a 5,000-pound maximum towing capacity, and the Ram ProMaster wins it at 5,100 pounds.
Ram ProMaster vs. Mercedes-Benz Sprinter Van
Both of the vans are excellent choices for anyone who wants to find a DIY conversion van. Maximum storage space and a blank canvas make them perfect options, but some people might argue in favor of one over the other. After you've seen all of the advantages and disadvantages of both vans, you'll be one step closer to choosing what's better for you.
Below I will provide you with some of the pros and cons of each van:
Ram ProMaster Van Pros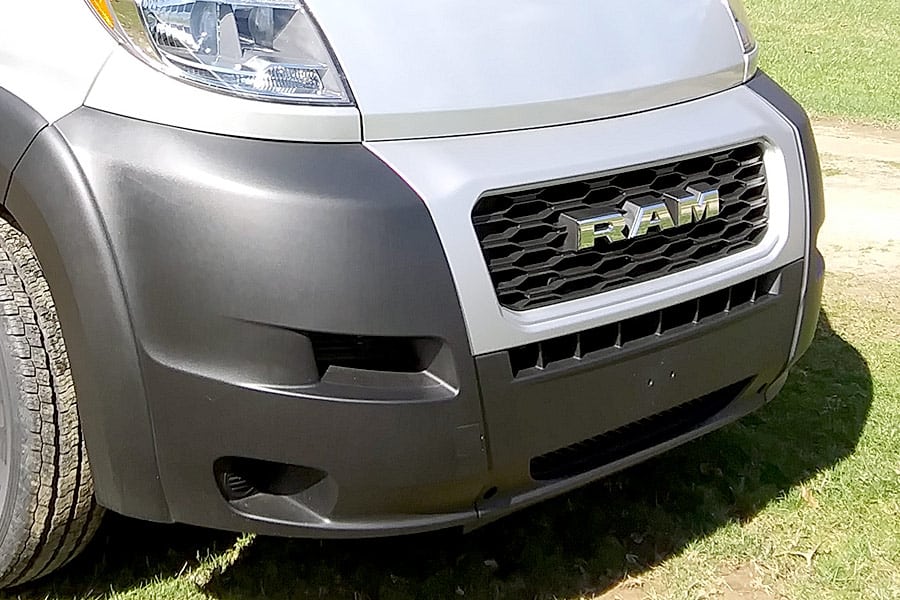 Other Posts of Interest
• Can You Carry A Knife While Camping? The Law Explained
• Hymer Aktiv Loft vs. Pleasure-Way Tofino: Which Is Right For You
• Wild Van Camping in the PA Wilds – Hammersley Wild Area
Ram charges the same price for the base model of their ProMaster as they do for most of their trucks. You won't have to spend a whole lot of money to get a good model. Even the 2500 van has a reasonable price, unlike a lot of other comparable vans on the market.
The square shape of the ProMaster was the first of its kind in the van industry. Most other cargo and passenger vans had rounded sides for a smooth appearance. When Ram designed their van, they proved that cutting corners never worked. Their sides are almost vertical, giving van campers the spaciousness that they desire.
Ram ProMaster vans can use diesel or gasoline, depending on which year and model you choose. Having the freedom to be able to pick the fuel type that you'll be around most often can't be understated. If you're camping around your state, you know what's available more often than not.
Ram ProMaster Van Cons
The square shape isn't as visually appealing as the smooth Mercedes-Benz-Sprinter van. It's also not as easy to find places to park, and the added height of the ProMaster can be a problem if you're trying to fit into garages or drive-through food restaurants. These might be opinions, but they're worth considering.
Ram doesn't currently have a V8 version for the ProMaster. While it's not a huge deal, you're going to feel a bit slowed down when the cargo space is loaded up. After adding a bed frame, refrigerator, storage space, and other camping necessities, it could become a bigger problem.
Mercedes-Benz Sprinter Van Pros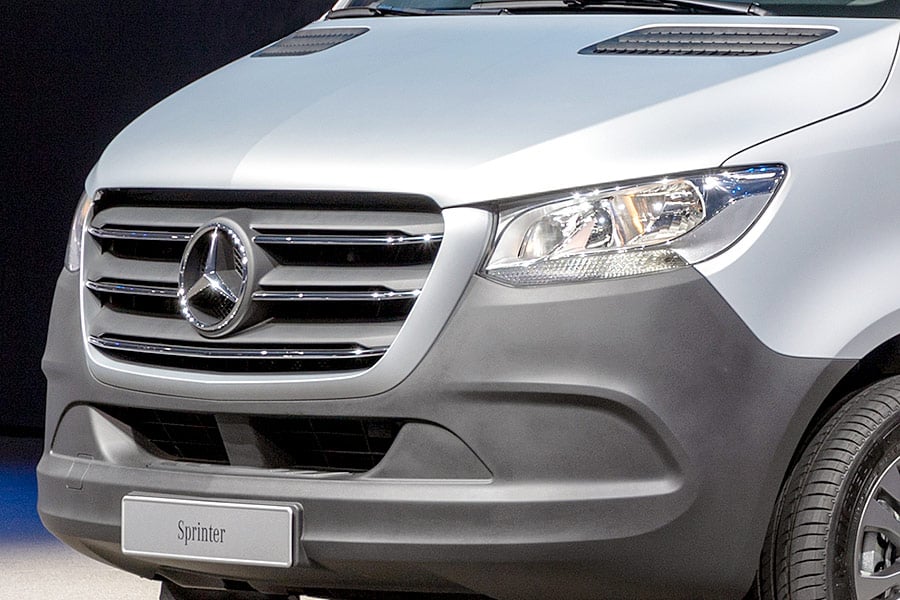 Mercedes is known for its luxury more than anything else. Although cargo vans aren't a symbol of extravagance, the company managed to incorporate all sorts of style and functionality upgrades. You'll be able to camp with touchscreen stereo features, some of the best air conditioner options on the market, and more.
The interior height of the Mercedes-Benz Sprinter is one of the main selling points, especially for people who want to convert it into a camper van. Being able to stand is almost an essential aspect of camping out of a van, which is why the Sprinter continues to be the face of the van life movement.
Having a van that you can stand up in is an essential feature when trying to decide on a van to camp in. We have a post that will provide you with more information on this subject.
Depending on which configuration you decide on, the Sprinter can tow between 5,000 to 7,500 pounds. If you want to use the van for storage while pulling a trailer to sleep in, then the towing capacity of this vehicle is an excellent feature for you. The van's cargo space is huge, which allows you to load up all the gear that you need for van camping.
Mercedes-Benz Sprinter Van Cons
Mercedes is known for its luxury, but unfortunately, that comes at a high cost. You'll often find that Sprinter vans cost much than other vans of the same caliber simply because of the name alone. Even used Mercedes-Benz Sprinter vans can cost as much as a brand-new Ram ProMaster.
Mercedes-Benz doesn't have as many dealerships throughout the country as Ram does. You might have to drive a couple of hours to find a dealer to purchase from, and this can be a significant problem when on the road, and you need service or repairs.
There are many options to consider before choosing either of the vans. Mercedes offers luxury and gas or diesel options, while Ram offers spaciousness and straighter sides to customize your camping experience. Truthfully, either of them would make for an excellent camper van.
If you are wondering how long your Sprinter van will last, we have a post that will provide you with the information that you need.
Both vans are good all-purpose vehicles that provide the roominess needed to build out a bed platform, cabinets, and all the amenities that you will need in your camper van.
Each company has a variety of configurations for you to choose from and offers additional upgrades should you decide to add more.
Purchase & Resale Value as a Conversion Van
Camper vans are more popular now than they ever have been. Since the average brand-new motorhome costs over $60,000, it's easy to see why so many buyers are leaning toward custom builds. You can buy a camper van for $30,000 and spend only about $10,000 to have high-quality amenities.
Let's check out the buying and selling value of converted Ram ProMaster and Mercedes-Benz Sprinter vans below.
Ram ProMaster Converted Resale Value
Currently, the Ram ProMaster costs about $28,000 brand-new. That's the base model without any special features. If you want all of the customizations and the best engine, you'll have to spend about $45,000+.
As mentioned above, converting a van to a camper van can cost about $10,000 if you want all of the additions. However, you can easily get away with only spending $2,000. Make a list of what you want before buying the van so you can have a quick budget ready to go.
If you buy a used Ram ProMaster for about $15,000 to $20,000, you possibly could make a profit by reselling it. A lot of people don't want to do the conversions themselves, so you can spend a total of $25,000 and sell it for $30,000. Try to convert it using amenities that everyone enjoys, such as solar power and efficient storage space.
Mercedes-Benz Sprinter Converted Resale Value
The base model of the Sprinter van is about $35,000. Keep in mind that it's the competitor of the Ram ProMaster, but it's about $7,000 more. As mentioned above, Mercedes vans cost much more than most others. If you want to buy a used model, it'll cost about $20,000 to $25,000 (in good condition).
The good news about buying Sprinters is that they've been around for much longer, which means that you can find old used Sprinters for about $10,000. ProMasters have only been around for a few years, so the resale value is still very high.
If you buy a used Mercedes Sprinter van for about $10,000 to $25,000, you can still make a decent profit from the name alone. After conversions are all said and done, it's safe to say that you'll at least make as much as you spent (as long as the van stays in good condition).
As you know, mileage, wear and tear, and the quality of your conversion all go into the resale equation.
If you are interested in how well camper vans hold their value, we have a post here that you might enjoy.
Different Models for Ram ProMaster and Mercedes-Benz Sprinter
Another issue with the competition between Ram and Mercedes-Benz is that they both have multiple models for their vans. Each company offers different configurations to enable you to get the one that fits your needs the best.
Each offers a high-top, but the Ram offers both low-top and mid-top options. Mercedes-Benz tends only to sell a high-top for the most part, but there are low-tops available if you search hard enough. Keep an eye out for used models if you want something a bit short.
The three most popular Ram ProMaster models are as follows:
The 1500 Low Roof ProMaster (136-inch wheelbase)
The 2500 High Roof ProMaster (159-inch wheelbase)
The 3500 High Roof ProMaster (3-door extended)
The three most popular Mercedes Sprinter models are as follows:
The 2500 Standard Roof Sprinter (144-inch wheelbase)
The 2500 Passenger Standard Roof Sprinter (144-inch
wheelbase)
The 2500 High Roof Sprinter (170-inch wheelbase)
If you choose to get a passenger van, you'll have a carpeted interior, but you'll have to remove all of the seats. Thankfully, this process can be done in only about 20 minutes if you have someone to assist you.
For camping purposes, there's no denying that high roof models are the best choices offered by both companies. They both allow you to stand up inside, which is a huge benefit, and you can choose to purchase an extended cargo area for more length.
Top Questions to Ask Yourself Before You Choose a Van
Buying a van from either company is a significant investment. Before you make a decision, you should consider a variety of questions and concerns that you might have. After all, you should be able to convert the van and enjoy your camping experience without having a buyer's remorse problem.
Here are the five questions that you should ask yourself before you buy a Sprinter or ProMaster:
Are you worried about availability and guaranteed longevity? If so, Mercedes has made Sprinter vans for plenty of years, which means you'll be able to find parts for every year and model without a problem. The Ram ProMaster is relatively new, which makes it harder to find parts.
Are you on a tight budget? Mercedes vans are almost always more expensive than a Ram ProMaster. On top of that, repairs and maintenance costs are higher for each part. If you want to get it fixed at a dealership, then you'll have to spend even more money.
How many people are going to be camping with you? Both vehicles have space for two people, but the ProMaster is a bit more spacious. If you're concerned about having enough room to move around without feeling cluttered or congested, then you should try to buy one of them. Solo campers can use both vans.
Do you prefer extra amenities? Mercedes always seems to be ahead of the curve when it comes to conveniences. If you're someone who prefers luxury, then the Sprinter is the van to pick. The ProMaster has a lot of features, but the Mercedes has everything you could want.
Would you want your van to be wider or longer? The ProMaster has a slightly wider interior, which allows you to put beds sideways. There's enough room to do the same with a Mercedes Sprinter van, but the extra width in a ProMaster exceeds anything you'll find from the competition.
How Much Will It Cost to Convert Each Van?
Contrary to what you might think, you can convert both vans for the same price. The slight difference in length, width, and height won't change how much you'll have to spend on luxuries. That means that no matter which van you choose, they both are great DIY camper van projects.
Before you start the building and converting process, create a budget to know exactly how much you'd like to spend. Here are a few items that people often add when renovating and converting camper vans:
Solar panels, a solar charger, and a battery storage bank.
A bed frame that's raised off of the floor to allow room for storage underneath.
A roof vent fan.
Sinks, cabinets, and counter space.
A water pump.
For all of the items above, you can spend about $2,500. However, if you want to take a step up from the lower end products, you could spend much more. It depends on the materials you buy, how many watts you need from your solar power, and so on. All in all, the conversion costs range from $2,000 to $10,000.
Summing It Up
When it comes to the competition between the Ram and Mercedes vans, it's too close to call. You have to figure out which of the two is a better option for you. Camping shouldn't make you have to make a stressful decision, so purchase the camper van that suits your taste and start converting it when you can.
Whether you prefer the luxury of the Mercedes or the spacious interior of the Ram, you're going to love the van that you buy. Since the dimensions and other specs are all so similar, there's no way that you could end up with a wrong choice between the two of them.
The Ram ProMaster and the Mercedes-Benz Sprinter are a couple of the most popular vans used for DIY camper van conversions, and you can hardly go wrong with either option.