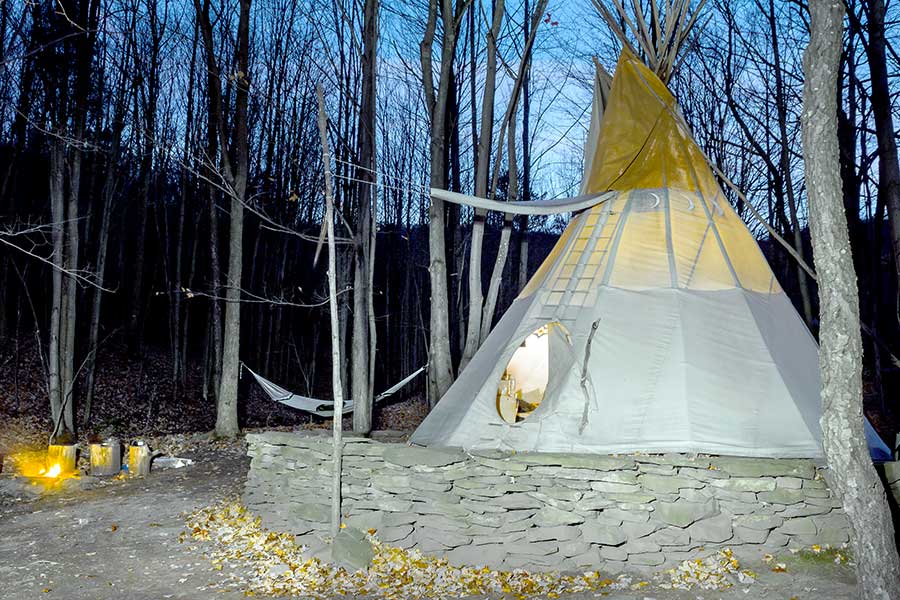 Are you looking for a unique and unforgettable vacation? If so, then glamping may be the perfect option for you. Unlike hotel stays, glamping offers an immersive outdoor experience where you can still enjoy many of the comforts of home. 
Glamping offers a unique getaway experience with luxurious amenities such as hot tubs, outdoor showers, and fire pits. On the other hand, traditional hotels are typically more budget-friendly and located in accessible areas with fewer added luxuries.
From cozy cabins to luxurious tents, plenty of options are available when it comes to glamping accommodations. In this post, we'll explore how glamping differs from a hotel stay so you can decide which type of accommodation is best suited for your next holiday.
Glamping: What Is It?
Glamping is an exciting way to experience the outdoors without sacrificing comfort. It involves luxury camping accommodations such as cabins, tents, yurts, and other structures that provide a luxurious vacation experience amidst nature. Glamping combines the best of both worlds – the adventure of camping with creature comforts such as heating, air conditioning, a kitchenette, and a whole lot more.
This form of camping has become increasingly popular as a vacation option as more people look for unique, one-of-a-kind experiences. This luxurious take on camping offers all of the great benefits of nature without sacrificing comfort or convenience. In fact, it has become so popular that resorts and campgrounds have begun offering glamping experiences in addition to their usual offerings.
Glamping vs. Hotel Stay
The environment is the most significant difference between glamping and a hotel stay. With glamping, you get to immerse yourself in nature while still enjoying all of the comforts of home. Glamping offers a unique and unforgettable experience you won't get in a typical hotel room, from cozy cabins with wood-burning fireplaces to luxurious tents with all the amenities.
Another significant difference between glamping and hotels is the activities available. Glampers enjoy outdoor recreation such as hiking, kayaking, fishing, biking, and more, while hotel stays typically limit you to the confines of your room. Glamping also offers great opportunities for connecting with nature and experiencing a sense of freedom that isn't possible during a hotel stay.
Finally, glamping is often more cost-effective than hotel stays as many extras are included. For example, many glamping resorts offer all-inclusive packages.
Location and Setting
Have you ever dreamed of having a one-of-a-kind outdoor experience? Glamping offers a unique and beautiful way to explore nature's hidden gems. Sites are often located in some of the most picturesque locations on Earth, from the towering redwoods in California to the snow-capped Alps in Switzerland.
Whether it's a safari tent in Africa, a yurt sitting atop a hill with a view, or a cabin next to a lake surrounded by majestic mountains, glamping ensures you experience nature as never before. Access to hiking trails, guided tours, and wildlife watching allows you to immerse yourself in the great outdoors. Explore the world with glamping and see why so many adventurers choose this unique travel method.
On the other hand, traditional hotels are typically located in urban or suburban areas, providing convenience and access to nearby attractions. 
Hotels offer travelers the perfect hub to explore their destination, from museums to shopping malls and entertainment venues. Guests can relax in a comfortable and familiar environment.
Whether you're looking for on-site amenities such as pools, fitness centers, spa services, or just a place to rest your head after a long day of sightseeing, hotels provide all the comforts of home with top-notch customer service. You'll enjoy the convenience of being close to all your city destination has to offer while staying in a luxurious setting when choosing hotel accommodations.
Accommodations
Glamping accommodations are often more unique and unconventional than hotel rooms, offering a one-of-a-kind outdoor experience.
Glamping sites come in all shapes and sizes, from rustic cabins to luxury yurts. With the opportunity to explore unique environments such as desert canyons, snowy mountains, tropical rainforests, or even the middle of the ocean, glamping allows adventurers to immerse themselves in nature in an intimate setting that few others have experienced.
Some accommodations offer fun activities like zip lining or kayaking with guided tours from local experts. Others provide homey touches, such as cozy fireplaces and comfortable furniture that make you feel right at home while surrounded by breathtaking views. Enjoy exploring new destinations and taking in exquisite landscapes when you choose glamping for your next outdoor adventure.
Glamping structures come in many shapes and forms like the following:
Yurts:

 Circular, tent-like structures with latticed walls that provide a cozier feel than traditional tents.

Treehouses:

 A unique form of lodging nestled in tree branches and often have outdoor decks for panoramic views.

Tents:

 A glamping tent provides the perfect combination of nature and luxury, offering a unique outdoor experience with all the comforts of home.

Teepees:

 Large cone-shaped structure with a smoke hole at the top that is perfect for keeping cool in warm climates.

Cabins:

 Rustic wooden lodgings typically found in forested areas, equipped with cooking facilities and comfortable furniture.

Tiny houses:

 Compact dwellings designed to be self-sustainable and off the grid, typically equipped with solar panels or an outdoor fire pit. 

Conestoga Wagons:

 Patterned after a 19th-century mode of travel, they are an iconic form of glamping, offering a unique and comfortable way to experience the great outdoors.
Glamping accommodations are typically much more extensive than hotel rooms and offer various layouts. With glamping, you can choose from open floor plans, separate sleeping compartments, and lofted ceilings, which provide plenty of space for all your gear, depending on the structure you select. 
In short, glamping creates a unique outdoor experience without having to rough it.
Other Posts of Interest
Size and Layout
Glamping is increasingly becoming a favored option for vacationers. But what sets it apart from hotel rooms? The main difference between glamping accommodations and conventional hotel rooms lies in the size and layout.
Glamping accommodations are generally much more extensive than hotel rooms, usually with one or two bedrooms, a spacious living area, well-equipped kitchenettes, or even radiant floor heat. This creates plenty of space for guests to move around, making the environment much more comfortable. Furthermore, glamping accommodations often feature outdoor areas like decks, patios, or balconies that help provide a sense of openness and freedom.
In comparison, hotel rooms tend to be much more compact and utilitarian. They typically only have one bedroom and a bathroom, plus minimal furniture such as a bed, desk, and dresser. This setup can feel cramped if multiple people share it simultaneously. Plus, there are no outdoor areas, so guests may feel confined.
Glamping accommodations offer a unique experience that many enjoy for the connection to nature it provides and the spaciousness compared to hotel rooms.
Access to Nature and Outdoor Activities
One of the benefits of glamping is its close connection to nature. Glamping sites are often located in remote or wilderness areas that provide an abundance of outdoor activities. This means glampers can enjoy hiking, birdwatching, canoeing, and more activities without having to travel far from their accommodation.
In addition, glamping sites will often offer on-site amenities like charcoal grills, fire rings, or picnic tables that allow guests to relax and take in the beautiful surroundings. This creates a unique experience for those who love exploring the outdoors but still want a comfortable place to stay at night.
Combining a cozy accommodation and access to plenty of outdoor activities makes glamping an excellent option for those looking for something different from a hotel stay.
Conversely, traditional hotels may provide a comfortable and convenient stay, but they often do not offer the same level of access to outdoor activities as glamping sites.
Since most hotels are located in urban areas or tourist destinations, guests may be limited to the type of activities available close by. This could mean participating in more touristy activities such as shopping or visiting attractions rather than being able to explore nature and take part in outdoor activities like fishing or kayaking.
Furthermore, hotels usually don't have on-site amenities such as fire pits or picnic tables that allow guests to truly experience their surroundings. This can make it difficult for travelers who want to enjoy the beauty of nature during their vacation.
Glamping offers an ideal solution for those looking to get out into nature and have access to plenty of outdoor activities without sacrificing comfort.
Privacy and Seclusion
Hotels usually have many guests sharing the same facilities and spaces, making it difficult to find privacy or seclusion. This lack can be a significant drawback for travelers looking for peace and quiet during their stay.
In contrast, glamping sites often give guests much more privacy. In addition, many locations feature separate accommodation units that provide more separation from other guests. Privacy creates an intimate atmosphere for those seeking to indulge in some alone time away from the hassles of everyday life.
What's more, since glamping sites are located in remote areas, they often provide stunning views of nature that one can't find in hotels. In addition, the location adds another layer of seclusion as it allows one to enjoy the scenery without worrying about large crowds or noise pollution that may be common in more urban settings.
Examples of Glamping Sites
If you're looking for an exceptional getaway experience, there are plenty of glamping sites to pick from.
Are you looking for something different? Sandy River offers luxury tipis near Farmville, Virginia, providing an unforgettable family-friendly escape. Equipped with all the comforts of a hotel and more – like linens and towels, kitchenette amenities, fire pits with grills, high-speed wifi, and Netflix – their fully furnished tipis bring you a private home away from home experience.
Or how about immersing yourself in the 19th century and glamp in style in a Conestoga Wagon at Zion Ponderosa? Their wagons provide the charm of an old Conestoga Wagon, with all the comforts you desire. Enjoy stepping outside your wagon to gaze at a night sky full of stars or wake up to a great breakfast at the on-site restaurant. All camping sites include a king bed and two twin bunk beds, along with heaters, wifi, electricity outlets, access to open use activities, coin-op laundry, and hot showers – so you can "rough it" in style!
Experience the beauty of Maine's woods at In the Trees Grand Oak Treehouse in Stoneham. This exquisite 1200 square foot 2-story treehouse has all the amenities – from a full kitchen to wifi and TV – to a soak in the hot tub big enough for two. Spend time on the private deck that wraps around the entire front of the treehouse, sipping your morning coffee or basking in the beauty. Plus, try your hand at disc golf or explore the 56-acre property – all while staying cozy indoors with a wood stove or A/C in hot weather.
These are just three examples of many glamping sites that provide unique outdoor experiences with access to luxury amenities in magnificent natural settings.
Comparing Glamping and Hotel Prices
When considering accommodations for your next vacation or getaway, you may be curious which option is more affordable – glamping or a hotel. The truth is that both come with different price points depending on the amenities and locations.
Generally speaking, glamping can be more expensive than staying at a hotel due to its added luxuries, such as hot tubs, outdoor showers, fire pits, and fully-equipped kitchens. In addition, many glamping sites are located in remote locations requiring longer drives and more expensive travel arrangements in order to reach them.
On the other hand, hotels tend to offer budget-friendly options for those looking for something more affordable. Prices differ based on location and amenities but typically remain at an accessible cost for most travelers.
At the end of the day, it really depends on what type of experience you're looking for when deciding if glamping or a hotel is suitable for you. If luxury and seclusion are important factors in your decision making process, then glamping could be your best bet. But if the price point is a primary concern, then a hotel may be more suitable for your needs.
A True Vacation Adventure
Glamping and traditional hotel stays offer unique experiences with various amenities depending on your budget. Glamping is known for providing luxury getaways in secluded diverse locations that come at a higher cost due to their added luxuries and features. But it is guaranteed to give you a vacation to remember.
On the other hand, hotels typically provide more affordable accommodations with fewer amenities but greater accessibility to urban areas of interest. Ultimately, it all depends on what type of experience you're looking for – whether it be something luxurious or just an accessible place to stay during your travels. With so many options out there, you'll be able to find a solution that suits your needs.