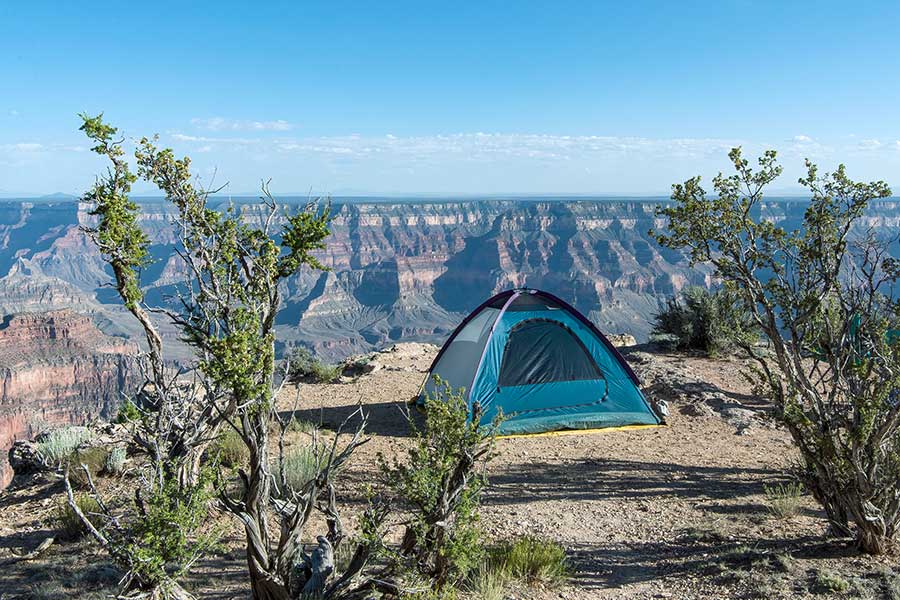 Tent camping can be a great way to experience the outdoors and enjoy all the sights, sounds, and smells nature offers. But for those looking for something a bit out of the ordinary – something more adventurous and unique – there are plenty of exciting tent camping experiences worth trying.
From camping on a mountain or beach to sleeping under the stars in a natural setting, these unique camping experiences can be fun and educational, allowing you to explore nature in new and unexpected ways. In this post, we'll explore some of the unique tent camping experiences available today and explain why you should try them.
Unforgettable Tent Camping Adventures
Tent camping can be an unforgettable experience, full of adventure and discovery. In addition, by being up close to nature, you can have a greater appreciation for the earth's natural beauty. Not only is it enjoyable and good for your health, but it can also be rewarding; you will feel a sense of accomplishment after overcoming challenges such as setting up camp, building a fire, or cooking over an open fire. One of the ways to accomplish this is by glamping.
1. Glamping
Glamping is a type of luxury camping in which people enjoy the great outdoors in style. A glamping tent is an exciting way to experience nature while still having access to luxury amenities. You can set up a tent on your own or rent one for the week, already set up to go, and the tents come in all shapes and sizes, like teepees and bell tents.
Glamping tents often have modern conveniences such as air conditioning, electricity, and even hot tubs. As a result, they provide a unique way for campers to maximize their camping experience without compromising comfort. Whether looking for a luxurious getaway or just a few days of leisurely exploring nature, tent glamping can be an unforgettable experience.
Each one provides its own unique features and experience for campers looking for something extra special. So whether you choose a yurt on a mountain top or a teepee beside a river, there's sure to be something perfect for your next glamping getaway.
The benefits of glamping include enjoying nature's beauty without forgoing creature comforts, such as comfortable beds, gourmet meals, and sometimes even electricity or hot tubs. Glampers also don't have to worry about pitching tents or bringing sleeping bags, as many glamping spots provide these amenities. Furthermore, there is often a wide variety of unique structures and locations to choose from for the perfect getaway experience.
On the other hand, glamping can be more expensive than traditional camping due to the cost of amenities and accommodation. Also, some may argue that it can take away from the "authentic" camping experience since you're not really roughing it in the wilderness. Some may also find that they miss out on a genuine connection with nature if they stay in a yurt rather than camp in a traditional tent.
2. Backcountry Camping
Backcountry camping is a type of camping that takes place away from developed campgrounds and facilities. Backcountry camping generally requires hikers and campers to carry all their supplies with them, including food, water, shelter, clothing, cooking supplies, and other items.
This can be a challenging but rewarding way to experience nature as adventurers are able to explore remote parts of the wilderness with minimal human interference. However, backcountry campers need to have an appropriate level of knowledge and use safety precautions when entering the backcountry environment.
Proper preparation and planning is essential for a safe, enjoyable backcountry camping experience. It is crucial to have the right tent, gear, clothing, and supplies, as well as knowledge of the area, weather patterns, and potential hazards. Being organized beforehand helps to guarantee that you are prepared for any possible weather or emergencies.
Having ample food, water, and shelter can also help make your camping trip more comfortable. Additionally, having a good knowledge of navigation techniques such as map reading and compass use may be necessary to reach your destination safely.
Backcountry camping offers unique experiences and benefits not available in a traditional camping environment. Adventurers can explore remote parts of the wilderness that are otherwise inaccessible due to limited vehicle access.
With minimal interference from human development, campers can have an up-close glimpse at nature's beauty and wildlife. However, this type of camping also provides physical and mental challenges as campers must plan their route, carry their tent, cook food, and properly manage waste while abiding by all environmental regulations. Ultimately, backcountry camping allows adventurers to disconnect from everyday life and connect with nature while living on their own terms.
3. Winter Camping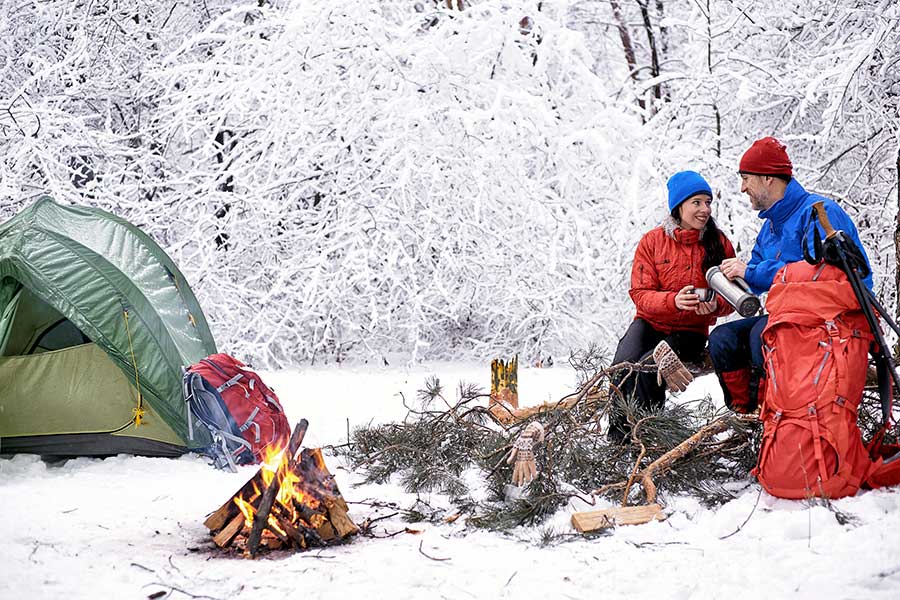 Winter camping is camping in the winter season, typically in cold climates. It requires additional preparation and planning due to the colder temperatures and harsher weather conditions. It is essential to have the right gear, such as a four-season tent, warm sleeping bags, adequate clothing, and food that can withstand freezing temperatures.
When camping in winter, it is essential to be aware of potential hazards such as avalanches or hypothermia and follow safety protocols. Additionally, campers should pay attention to local wildlife regulations as some areas may restrict winter camping due to increased animal activity during this time.
Winter camping offers unique experiences and benefits you won't find during other seasons. With proper preparation and gear, you can have a chance to catch glimpses of the natural beauty that winter brings, such as snow-capped mountains or lush evergreen forests.
Additionally, the cold weather can provide a peaceful respite from everyday life. Not to mention that winter camping can help build resilience and confidence since it requires extra effort in planning and execution. With winter camping, you can enjoy all these unique experiences while also having fun and creating lasting memories with loved ones.
4. Desert Camping 
Desert camping is a type of camping that involves traveling and sleeping in arid, dry regions. It can provide an exciting and unique experience for those looking to explore.
When campers go desert camping, they typically opt for lightweight gear, including sleeping bags, tents, and other supplies designed to withstand harsh temperatures day and night.
Additionally, campers should always be prepared with adequate amounts of food and water, as these areas can be dangerous due to heat exhaustion or dehydration. Finally, campers should research the location beforehand to know what risks they could face. By following these steps and being aware of their environment, campers can make their desert camping experience enjoyable.
Tent camping in the desert can be an enriching experience. But it also comes with unique challenges that require special attention and preparation. Two of the most important things to consider are water and sun protection.
Water is essential in any environment, but especially in hot climates like deserts. Therefore, it's critical to bring sufficient clean drinking water and extra for other uses such as cooking, cleaning, or bathing when possible. 
Packing a portable water filter for additional needs is often wise for longer trips or larger groups. It's also important to plan ahead and research local water sources, if any exist near your campsite or along your route.
In addition to water, sun protection is key when camping in the desert. Protection can include:
Wearing protective clothing and wide-brimmed hats.

Using sunscreen throughout the day.

Making sure you have access to shady spots whenever possible.

Investing in quality sunglasses is also essential for protecting your eyesight from harmful UV rays.

Taking breaks during peak hours of sunlight is another excellent way to cool down and give your body a break from the heat.
Overall, desert camping can be an incredible adventure – if approached with careful planning and caution. By taking proactive steps such as stocking up on enough clean drinking water and engaging in proper sun protection measures, you can maximize the potential rewards while avoiding potential risks associated with this unique climate environment.
Desert camping can offer unique experiences that can't be found anywhere else. The vast, awe-inspiring landscape that stretches before you is simply breathtaking, and taking in the beauty of a starry night under the clear desert sky is an experience like no other. Exploring terrains like sand dunes, canyons, and rock formations can also provide some fascinating adventures during the day.
In addition to a spectacular view, desert camping offers several benefits for the intrepid explorer. One benefit is the peace that comes with such remote locations – you won't have to worry about city noises keeping you awake at night.
Another perk of desert camping is the convenience: since many desolate areas are sparsely populated and totally off-grid, it's often much easier to find a great spot to pitch your tent than it would be in more developed settings.
Other Posts of Interest
5. Beach Camping
Ahh, the beach. This camping location is ideal for all of you beach lovers. Beach camping is the perfect way to combine a relaxing beach getaway with the excitement of exploring the great outdoors. From rugged coastline tent camping to spots right on the sand, beach camping offers a wide range of options for those looking for a unique and memorable coastal escape.
At its simplest, beach camping refers to pitching a tent near the shoreline and sleeping in it throughout your stay. Depending on your preference, it can be done on public beaches or more secluded spots. Beach campers also commonly set up hammocks or sleep on mattresses in beds beneath the stars.
Beach camping can offer many benefits over traditional campsites. Not only do you get stunning ocean views and peaceful sounds of waves lapping against the shore, but you also get access to all sorts of incredible activities like swimming, surfing, fishing, kayaking, and sun-tanning – all steps away from your tent or van. There's even often plentiful wildlife around for amateur birdwatchers and nature enthusiasts alike.
Camping at the beach often requires special preparation, as temperatures during summer can be extreme, and various equipment might need additional protection from sand or water – such as securely closing tents, keeping electronic equipment sand and water free, and covering items with tarps. But with proper planning and preparation, there's no better way to enjoy an unforgettable experience than through beach camping.
Beach camping is a great way to enjoy the beauty of nature while taking in stunning ocean views, but it comes with an important caveat – permits and regulations. Therefore, knowing any local laws that may affect visitors when planning a beach camping trip is essential.
Not only is it important to have all necessary permits (often issued by national park rangers, state parks, or other agencies) before setting up camp, but familiarize yourself with the area's local rules and regulations. This includes any restrictions on campfires, fishing, and recreational activities such as swimming or surfing.
It should also be noted that beach camping often involves unique legal considerations due to its proximity to endangered species. For example, large sections of beaches in many popular destinations are off limits for visitors due to the presence of nesting turtles or birds – so be sure to check ahead of time if these areas are open for access.
In addition, some beaches may require campers' tents and other equipment to be at a certain minimum distance from the high tide mark so as not to disturb wildlife living in the sand dunes. Similarly, fire pits must follow all applicable guidelines, including a designated distance from trees and foliage, to prevent wildfires or other damage caused by careless use.
By making sure you have all necessary permits and adhering strictly to local ordinances when beach camping, you can ensure everyone has a safe and enjoyable experience while protecting wildlife and the environment around you.
Beach campers also enjoy exclusive benefits like breathtaking sunrise views over the ocean's horizon or relaxing sunsets among the waves. Of course, quaint beach towns can make for memorable explorations during your stay – giving you a chance to take in local flavors and culture as well.
All these things combine to create unforgettable experiences that can't be replicated with city lodging or other conventional vacation packages. There's no better way to get away from it all than to pitch your tent and relax by taking some time out at the beach.
6. Rooftop Tent Camping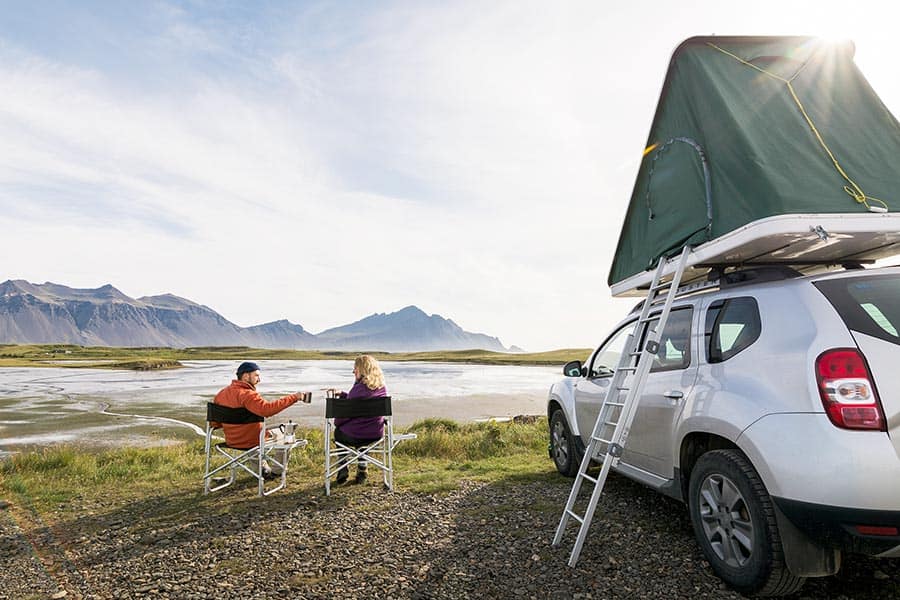 Rooftop tent camping is a unique way of enjoying the outdoors. It involves setting up a tent on top of an SUV or other vehicle, usually with the help of a specialized rack or mount. The tent allows campers to enjoy nature while still having the safety and security of their vehicle underneath them.
This type of camping provides campers with unobstructed views, easy access to sleeping quarters, and quick setup and takedown times. Additionally, rooftop tents are often more secure than traditional ground campsites due to their elevated position and portable nature.
Rooftop tent camping offers a unique experience that is unlike any other type of camping. Some of the key benefits and experiences it provides include:
Unobstructed views of the night sky and surrounding landscape.

Increased feeling of safety/security due to elevated position.

Quick setup and takedown times make it ideal for spontaneous trips or those with limited time.

Ability to access remote campsites that are not accessible to RVs.

Increased interaction with nature due to its portable nature, allowing campers to move around quickly.
Rooftop tent camping is an exciting and unique way to explore the outdoors, but it is important to observe safety precautions to ensure a safe and successful camping experience. Here are some of the key safety considerations to keep in mind when planning for rooftop tent camping:
Ensure that your vehicle and rack/mount are in proper working condition before embarking on your trip.

Check the 

load rating of your vehicle

 and rack/mount to ensure you stay within their weight limits.

Securely fasten down the tent with provided straps, as a strong gust of wind could cause the tent to dislodge from its mount if not correctly secured.

If possible, try setting up your tent during daylight hours to spot any potential hazards or dangers better.

Use an air mattress or other cushioning material inside the tent for comfort. Also, bring warm blankets or sleeping bags, as temperatures can quickly drop at night.
7. Tree Tent Camping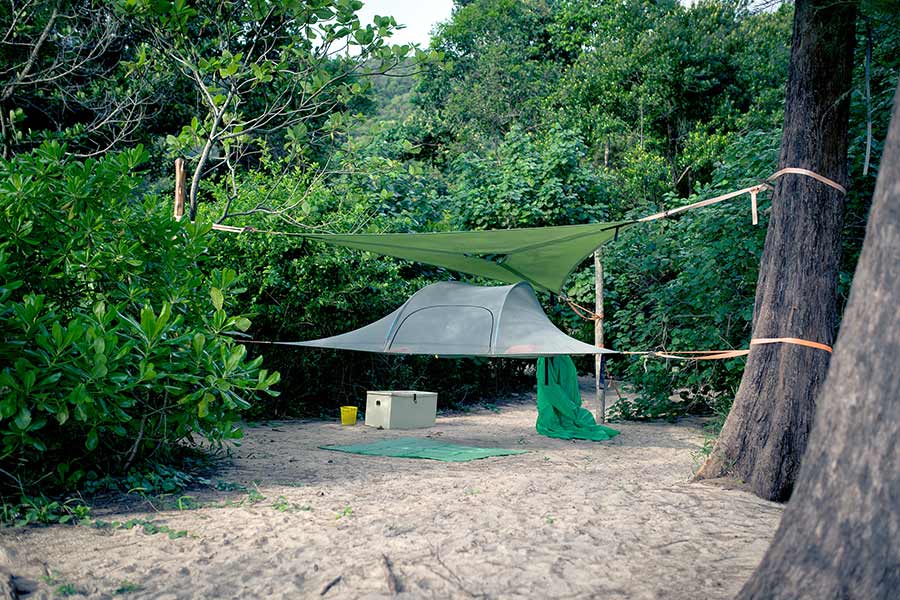 Tree tent camping is an outdoor adventure that involves sleeping in a suspended tent, typically hung between two trees or other supports. It is often referred to as "tree camping" because of the use of trees as anchors for the tents.
The idea of tree camping has grown in popularity in recent years and has become a popular way to explore nature while getting closer to it. With the right gear and equipment, you can enjoy a unique camping experience while taking advantage of nature's most beautiful spots without sacrificing comfort or convenience.
Tree camping is an exciting and enjoyable adventure everyone should experience at least once. It has many benefits, from spotting wildlife to being surrounded by fresh air and peacefulness. 
Whether you're looking for a break from everyday life or just a unique way to spend time outdoors, then this type of camping is perfect for you. With the right gear, you can find yourself in the middle of some of nature's best-kept gems without sacrificing comfort or convenience. So what are you waiting for? Get out there and start your tree camping adventure today!
Tree tents come in various shapes and sizes, allowing you to choose the perfect one for your outdoor adventures. Here's a brief overview of some of the different types of tree tents available today:
Ultra Light Tree Tents: Ideal for those looking to explore nature without sacrificing comfort, these lightweight, easy-to-carry hammock tree tents provide an easy way to sleep when backpacking. Suspend between the trees and settle in for the night. The removable rainfly also provides much needed protection from the elements.
Tree Tents:  Get ready to camp in comfort with these tent-like structures, designed to be suspended between trees. Enjoy all the protection from the elements that a traditional tent offers while suspended above the ground!
Get a good night's sleep in this easy-to-set-up 3-point anchor version. This choice is suitable for two or three people. The rain fly can be removed, allowing you to see all around.
Hanging Tree Tents: If you're looking for an even more thrilling camping experience, why not try a hanging tree tent? These exciting suspended tents offer unobstructed views and the feeling of being truly at one with nature. 
Not for the faint of heart, these suspended shelters require careful setup and testing of the perfect branch or trunk before climbing in. But the good news is, with some practice, it won't take long to master this unique form of tenting.
No matter which type of tree tent experience you choose, it's paramount to make sure that it is adequately secured before climbing in it (and don't forget those bug repellents). With the proper preparation and knowledge, you can safely enjoy all the fun of camping in a tree tent!
Tree tent camping offers a unique outdoor experience that is sure to be remembered. Whether you're looking for an ultra-lightweight hammock or a luxurious hanging structure, there's no shortage of the variety of shapes and sizes available. Plus, with features like built-in rainflies and bug nets, you can enjoy your camping excursion comfortably and safely.
Embrace the Adventure
Tent camping can be a truly unique experience that creates lasting memories. There's something special about being up close to nature, in an environment where you can control your surroundings without worrying about outside disturbances. Whether you stay on the ground or hang out in a tree tent, you can bet that you will always have an adventure-filled time.