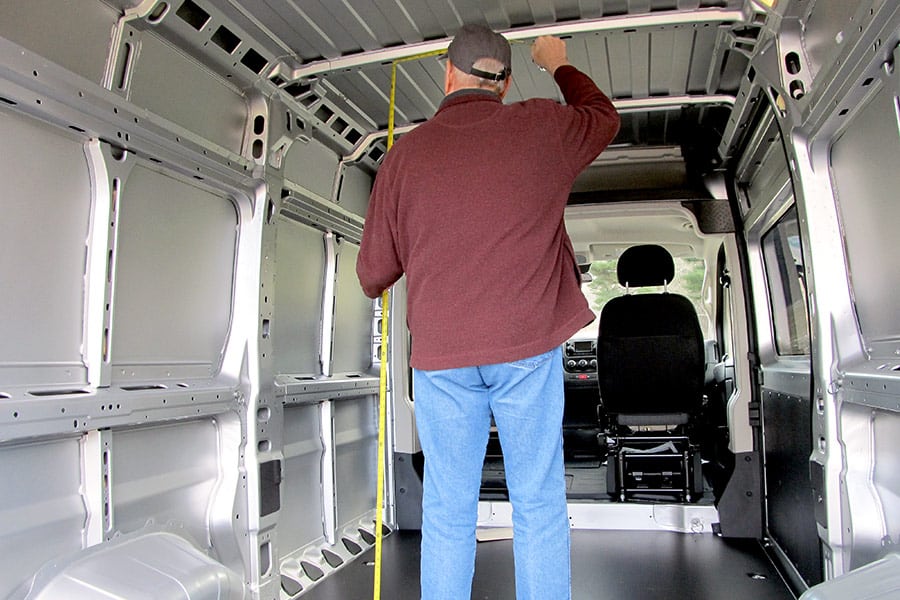 Vans are convenient and versatile vehicles. They have plenty of room for families on the go, and they work well for those who depend on having plenty of storage for either business or pleasure. However, even with all that space, sometimes you need a little more headroom.
What vans can you stand up in? There are several vans with enough headspace to walk around without hitting your head. Some of them include:
Mercedes-Benz Sprinter
Ford Transit Cargo Van
Nissan NV Cargo Van
Ram ProMaster
Conversion Vans
Many people outfit vans into campers for adventures, and many workers need vans for going to worksites where standing up in a van to access their equipment is essential. In this post, you will find vans that can be stood up in comfortably, accessible conversion vans, and some pros and cons of different van types to help you decide which one is best for you.
What Vans Can You Stand Up In?
Some vans are large enough to stand up in without issue straight from the manufacturer, while other vans need converting into larger, more comfortable vehicles. The following list gives some details about the tallest vans available.
1. Mercedes-Benz Sprinter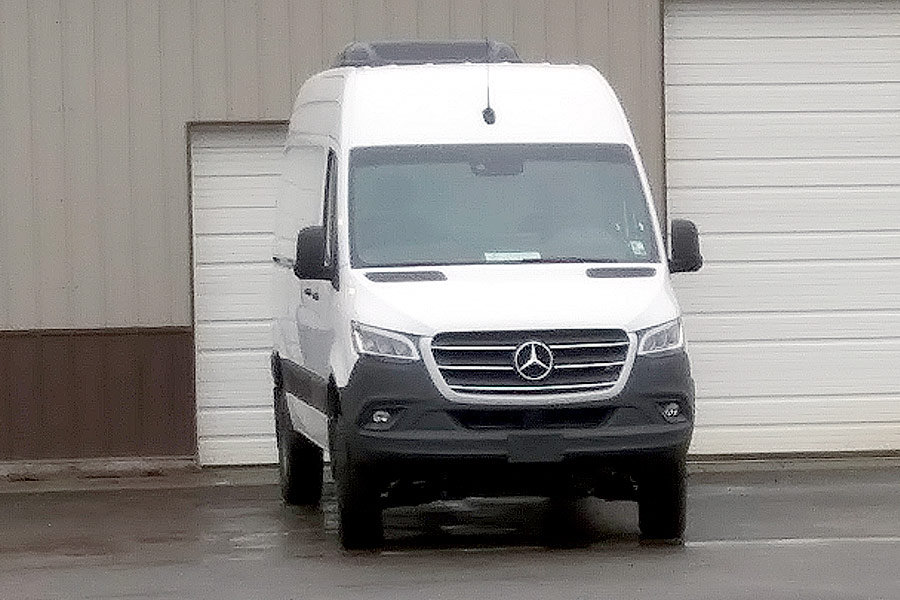 The Mercedes-Benz Sprinter comes with a brand history that includes innovation and technology. There are several models of Sprinter vans available that come in two different lengths – 144 inches and 170 inches. The other options include two different powertrains and four-wheel drive.
The low roof gives you 67.7 inches of room to stand, and the high roof offers a generous height of 79.1 inches of standing room. Some of the Sprinter vans are manufactured in the United States, which some feel is a crucial point to consider.
Check out our post, The Cost Of Converting A Sprinter Van Explained for more related information.
2. Ford Transit Cargo Van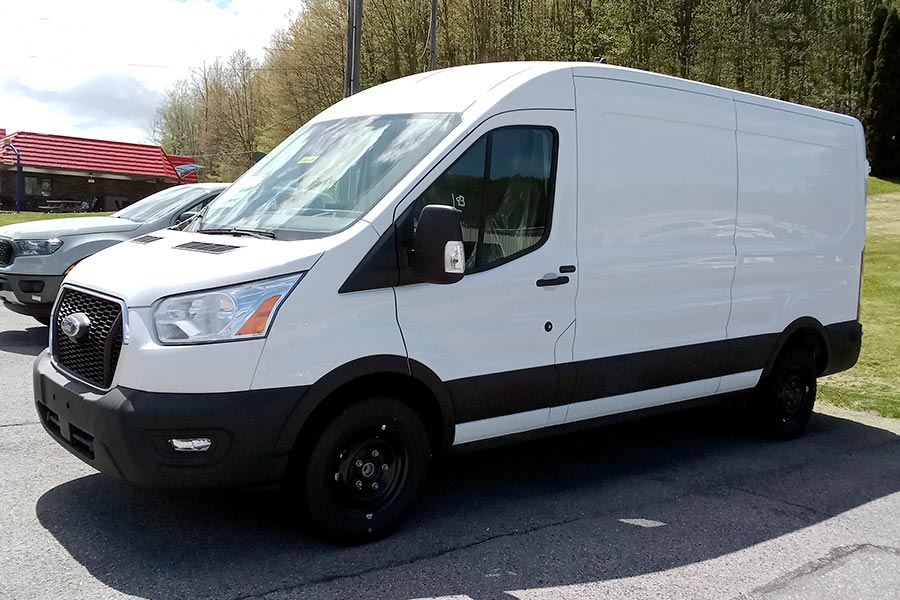 Ford replaced their E-Series van with the Ford Transit. This van has parts that are easy to come by, making it an affordable choice when considering future repairs and keeping up with maintenance. The Ford Transit offers three different body lengths and three different roof configurations. Each of the combinations gives a different overall inside height.
The specifications on the Ford Transit show the cargo height for the long length option, coupled with the medium roof gives you 72 inches of standing height. The long and the extra-long versions with the high roof both have just over 81 inches of standing height.
3. Nissan NV Cargo Van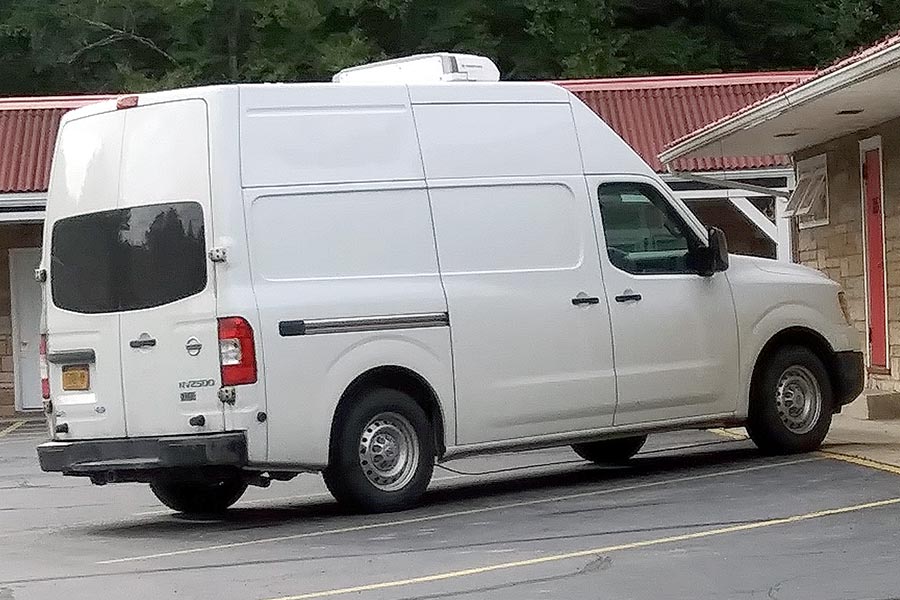 Though no longer in production, there are three models of the Nissan NV Cargo Van that can come with a standard or a high roof. One affordable option is the basic model, but it only has a standard height roof that gives you about 55 inches of space.
The NV 2500 and 3500 models all include high roof options in their build as well as V6 or V8 engines. The high roof models have a cargo height of 76.9 inches. Their commercial van warranty and generous line up of configuration and trim-level options make the Nissan NV cargo van a popular choice.
4. Ram ProMaster
The Ram ProMaster also has multiple options for configuration, making it one to consider when looking for a van you can stand up in.
It is available in four cargo lengths from 8 feet to 13 feet. There are two roof heights to choose between. The regular roof is 66 inches, which is excellent if you are shorter than five feet and five inches. The taller roof is 76 inches, which is suitable for those six feet and two inches tall.
This big van has multiple work configurations for accessing gear, and it is one of the favorite van choices for those who convert their vans for travel and camping due to its extra width, easy to find parts and affordable service.
If you are interested in learning how much a ProMaster can tow, read our post here.
In addition, to knowing the height you need when purchasing a van, you might also want to read our post, "Can You Sleep Sideways In A Sprinter Van?" This post will help you to plan for how much room you need to sleep.
5. Conversion Vans
You can send your full-sized cargo van out to companies that can retrofit your van in a variety of ways, including raising the ceiling. The conversion companies cut off the top of the factory roof and add a fiberglass roof. These conversion companies are third party manufacturers that typically work with American vans to create the van space you prefer.
Conversion vans offer tremendous versatility and allow you a little more flexibility when choosing your van since you know you can have the top converted to suit your needs. When converting a cargo van, you have options beyond raising the roof. You can add awnings, running boards, and pop-up tops rather than a standard raised top.
These add-ons add functionality plus make your van look great.
Running boards provide the extra step that you need to get up into your camper van, helping you to get in and out of your van easily.
To avoid the time-consuming process of finding and assembling the individual components, here is a user-friendly solar kit. If you're concerned that you don't have the skills to undertake a solar project, you can hire a professional to advise and assist you in completing the job.
To protect your cherished van from the elements when you aren't using it, you will probably want to invest in a cover. This Class B cover, from Classic Accessories, manufactured from bonded Tyvek roof fabric comes in two sizes and perfectly fits the bill. The material is water and tear-resistant to provide you with many years of use. The company offers a four-year limited warranty, and it comes with a reinforcement patch kit.
Classic Vans discusses conversion vans in their article, "Complete Guide to Conversion Van Manufacturers." Popular vans subject to conversions include a variety of windowless and bare cargo vans such as: 
Chevrolet Express is a great option because this van has been around for about forty years and has several versions from which to choose.
GMC Savana offers a tremendous amount of space for passengers and gear. This van can seat up to nine people, so after adding extra height, the possibilities are endless.
Ram ProMaster is another favorite for conversion. There are options for the ProMaster to have the higher roof, which is already generous, but depending on how you build the inside of the van, you might lose the headroom when you build the floors and ceiling.
Ford Transit is a popular van for conversions, as well. One option is the pop-up top for the low roof models that extends the interior headroom to nearly seven feet.
Other posts of interest
Pros And Cons Of Converting A Low Top Van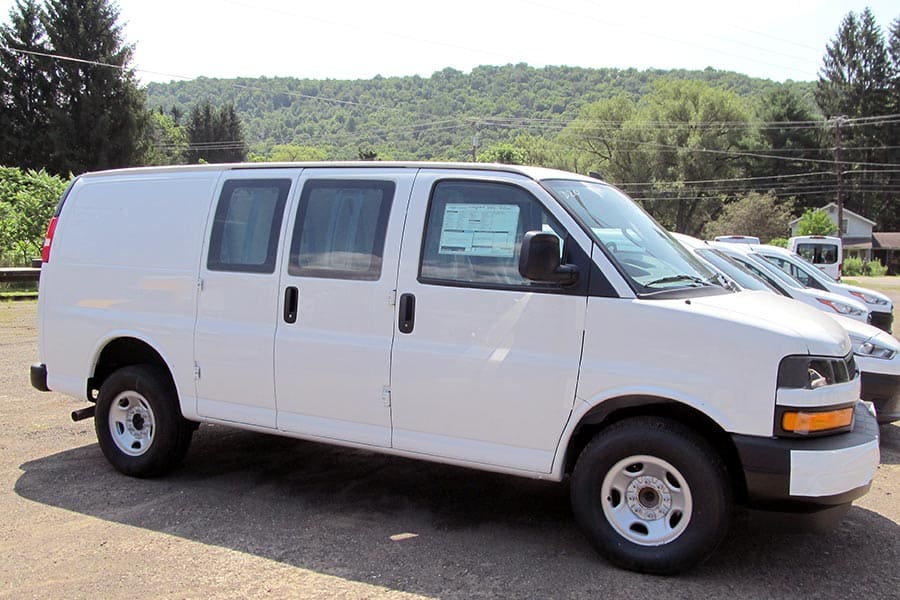 There are many reasons to consider purchasing a van with a low top and having it converted to one with the head clearance you prefer.
Pros of Conversion
The higher top gives you more space.
Most people will be able to stand in the van.
Wheelchair users will not have to worry about head clearance.
Affordable for basic options such as raising the roof for more height.
These types of vans are easier to find used with low miles as they were used for travel rather than daily use.
Cons of Conversion
The cost of conversions could be high if you are choosing extras in your conversion beyond raising the top.
Some parking garages may be challenging or impossible to enter.
The maneuverability of the van may be compromised.
Driving in high winds may be a challenge.
Should You Choose A High Or Low Top Van?
Maybe you do not want to spend the extra money and wait longer for your van to be ready, then you should consider the pros and cons of high and low top vans, so you can purchase the one you need.
Pros of a High Top Van
You can stand up straight when inside your van.
There is more storage due to its height.
With the higher ceilings, you will have more options for building custom space for a work van or even a van used for adventure and traveling.
Pros of a Low Top Van
Low top vans tend to cost less compared to the high top vans.
A low top van is easier to find when shopping.
These types of vans traditionally do better with fuel efficiency.
Easier to get into areas that have height limits such as parking garages, car washes, and drive-throughs.
In Conclusion
Once you decide how you will be using the van and your reasoning as to why it is essential to stand up in it, you can choose which option is best for you. You may decide to outfit a cargo van as if it were a blank slate and customize it to suit you perfectly or you may decide a van already situated with the right height is the way to go. It's all up to you!