When planning a camping trip, one of the most common questions people ask is: Do campgrounds have showers? From primitive campsites to more luxurious RV parks, various camping options are available, and knowing which ones have them can help you plan your camping trip.
In this post, we'll discuss the different types of campgrounds, their amenities, and whether or not they typically include showers. We'll also provide some tips for those looking to stay clean on their next camping trip. So whether you're interested in roughing it or prefer a more luxe experience, the following information will help make your next camping adventure enjoyable.
Getting Clean in the Great Outdoors
When choosing a campground, it's important to consider whether or not they offer shower facilities. For many, having access to showers is an important factor when selecting where to stay. Many campgrounds provide these facilities, though which type is available may depend on the location and popularity of the area.
While primitive campsites and other more basic campgrounds may not have showers or may have outdoor options, more modern campgrounds offer them. So if you're looking for a camping experience with showers, you'll likely find larger and more developed ones have them.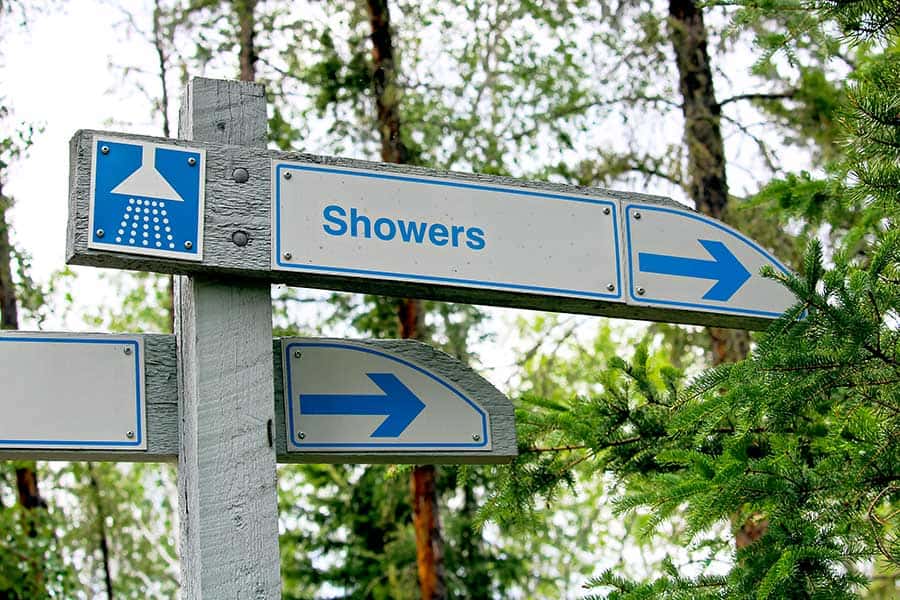 These campgrounds typically charge higher fees due to their amenities, including hot water, individual stalls for privacy, and other luxuries such as flush toilets, fire pits, and picnic tables. Before making your reservation, be sure to check the list of amenities offered by each campground so that you can plan accordingly for your camping trip.
For campers looking to stay in more rural areas, not all will offer these facilities. Primitive sites with fewer amenities often lack shower facilities, leaving campers with the option of bringing their own portable one or taking a dip in a nearby river or lake.
Fortunately, there are still ways to stay clean while away from home. Investing in a solar-powered camping shower is one way to keep fresh and clean without using traditional bathroom facilities. Otherwise, keeping a supply of wet wipes handy can be an easy way to freshen up without access to showers.
Other Posts of Interest
Before making a reservation at a campground, double-check the availability of facilities. While many campgrounds have them on-site, they may be restricted by hours or seasons due to staffing levels or weather conditions.
Inquire ahead of time to make sure you won't be left without access to a way to clean up while camping overnight. When planning a camping trip, it pays to do your research beforehand.
Check the campground's website or reach out to them directly to find out about their facilities, especially if you are going to stay in a more remote area or primitive campground. If there is no access to showers, think about bringing your own equipment or plan on finding alternative ways to stay clean without one.
So do campgrounds have showers? The availability of showers at campgrounds varies depending on the type and location of the campground. Modern campgrounds usually offer full facilities, while more primitive campgrounds will probably have none at all.
Solar Shower Options
An outdoor solar shower is one option when your campground doesn't have one available. Enjoy the convenience of a hot shower anytime by just letting the sun's power heat up your water. Some campgrounds even offer solar-shower stall facilities where you bring your own solar shower bag.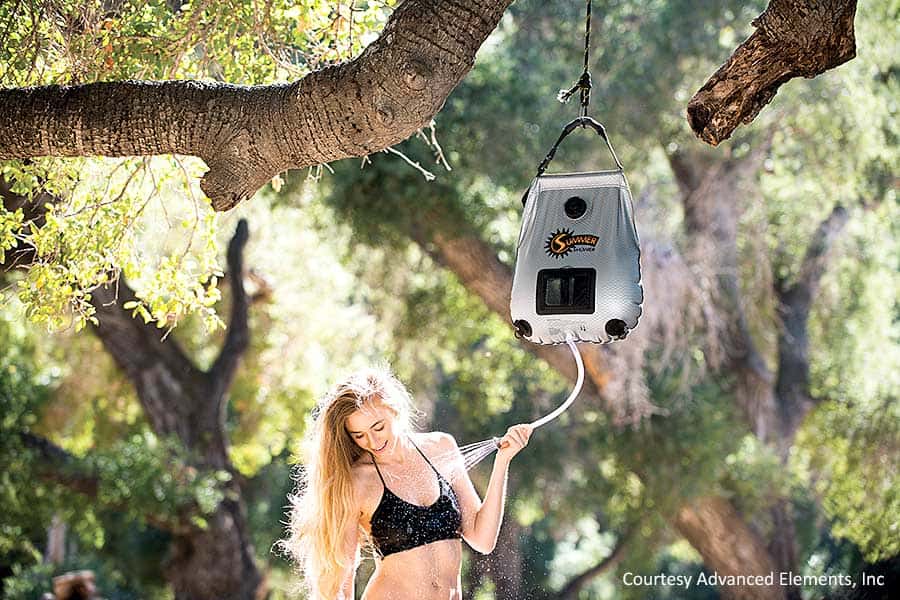 There are several portable solar options available on the market. Some of the most popular brands include:
Advanced Elements 5-Gallon Solar Shower:

Enjoy hot showers outdoors

with this 4-ply bag; it is designed to heat quickly in the sun – plus, it has an easy-to-read temperature gauge, so you know when your water is just right. In addition, it has a strong handle for hanging and carrying, as well as a handy on/off valve to conserve water.

Nemo Helio Pressure Shower:

Make camping cleanliness a breeze with the revolutionary 

Nemo Helio pressure shower

. It's incredibly easy to use; fill the 2.9-gallon tank, and pressurize with a foot pump that gives up to 7 minutes of continuous spraying. For added convenience, you can also set it in the sun so it will be warm at day's end or fill it directly with hot water.

Coleman 5-Gallon Solar Shower:

A practical and 

efficient way to stay clean while camping

, this guarantees hot showers no matter where your outdoor adventures take you. The tough but lightweight construction and the heat-locking material provides warm water even on cool days. It holds up to 5 gallons of water for multiple showers and features a secure handle for easy carrying and an on/off valve that helps save water.
These products are designed to provide a hot shower even when you're miles away from civilization.
Scrub-A-Dub-Dub
In conclusion, most modern campgrounds have showers. However, even if your camping destination doesn't have one, staying clean and fresh with a solar-powered camping shower or wet wipes is still possible. Investing in one of the many portable solar shower options on the market is an easy way to guarantee hot water anytime you need it, no matter where you are. With a bit of planning ahead, you can make sure your camping experience is as comfortable and convenient as possible.