A van offers comfort and convenience while you're away from home on a camping trip. They provide a place to sleep, cook, and store gear and are perfect for exploring the country.
However, selecting the ideal one for camping requires careful consideration of certain factors. In this post, we'll look at some key features to consider when choosing a van suitable for camping.
Key Factors to Consider When Choosing a Camper Van
When considering purchasing a van for camping, whether you plan to convert it yourself or buy one upfitted, evaluate how often and where you will be camping. Consider the following features to decide which ones are important to your situation.
1. Size and Space
Size and space are crucial factors to consider when selecting a van for camping. The vehicle must have sufficient space to house all the necessary gear for your camping trip.
This space needs to include room for a bed, a kitchenette to prepare food, and adequate storage for clothes, food, and other essentials. It's important to note that the amount of camping gear you have may determine the size you need.
If you plan to travel with family or friends, consider a larger van that comfortably accommodates everyone. This will ensure everyone has enough space to move around and enjoy the camping trip without feeling cramped.
2. Layout
The layout is another factor to keep in mind. A flexible design will enable you to create more space by customizing individual pieces, so you can arrange your living space to suit your needs.
Consider one with adjustable furniture or ample space to accommodate your desired setup. Some come with built-in beds, tables, and storage areas that can easily be adjusted or removed, providing you with a more customized layout depending on what you need.
In addition, some models may include variations of seating arrangements, convertible table space, and other features that allow you to maximize space usage. An efficient layout in a van can make all the difference in terms of comfort, flexibility, and space management.
Hence, it is essential to consider what you want your layout to include so you can customize and make the most of the living space.
3. Insulation
Good insulation provides a comfortable environment by helping regulate the van's inside temperature. If properly insulated, it will keep you cool during summer and warm throughout winter, allowing for year-round camping.
Additional insulating features like curtains can further reduce heat loss and block out excess external sound.
So, consider an insulated van for comfortable camping in any weather. Look for one with insulation (or room to add your own), thermal blankets, curtains, etc., to ensure comfort regardless of temperature fluctuations.
Other Posts of Interest
4. Fuel Efficiency
Fuel efficiency is another factor to consider when choosing a van. Opting for a fuel-efficient vehicle will save you money on fuel. For example, you will cover many miles if you plan to travel the country. A van with good mileage allows you to cover more distance while minimizing fuel consumption and saving money, which can then be reappropriated elsewhere.
Usually, smaller vans have better fuel efficiency, so you may also want to consider them. But ultimately, fuel efficiency will be an important consideration for your trip, allowing you to stick to your budget.
5. Off-Road Capabilities
Choose a van that can handle challenging terrain if you plan on boondocking in remote locations. One with good ground clearance and four-wheel drive capability is necessary to navigate rugged and uneven terrain. This will enable you to easily get to your desired camping spots without getting stuck or causing damage.
Also, good, reliable tires will help you navigate rough terrains. So, before purchasing, consider the model's off-road capability, and confirm that it matches your desired off-road needs.
6. Electrical System
The electrical system is an essential factor to consider when selecting a van for camping. You will need an electrical system that can power appliances such as lights, a refrigerator, or other electronics. If doing a DIY, consider where you will run wires and how you will ultimately power your system.
To avoid running out of power while camping, finding one with the electrical capacity to handle your power needs is wise. Solar panels are a fantastic addition to your electrical system, providing free and sustainable energy.
These systems work by converting sunlight into usable electricity and charging the house batteries in your van. With solar power, you can enjoy the benefits of electricity without worrying about draining your vehicle's battery. When selecting a van, it's beneficial if it has solar panels installed, and if not, consider installing them to increase the length of time you can remain off grid.
7. Heating and Cooling System
Comfort is another factor to remember. You will want a van that is comfortable to live in, regardless of the weather outside. Colder or warmer weather can be a challenge in camping trips, and to tackle these extreme weather conditions, a good heating and cooling system is essential.
Your choice should have a heating system that can keep you warm in cold weather and a cooling system that can keep you cool in hot weather. Without proper insulation and heating/cooling systems, camping may prove to be an uncomfortable experience.
If the vehicle you a looking at doesn't have either of these systems, you will have to consider other methods to stay warm or options to cool down.
8. Ventilation
Ventilation is another factor to consider. Proper ventilation helps regulate the temperature and minimizes condensation buildup. Look for models with windows that can be easily opened for fresh air circulation and roof vents that can be closed or opened to further allow unrestricted airflow inside the van.
Some models may include additional venting options, such as side windows, fan-assisted ventilation systems, and more, to give you greater control over air regulation inside. Proper ventilation is essential when considering a van for camping purposes, so select one with enough options available to adjust airflow and temperature inside the vehicle.
9. Lighting
Interior lighting is helpful for activities such as reading, cooking, and getting around during the night. LED lights are the most popular choice as they provide bright yet energy-efficient lighting. Additionally, overhead lights can be used with task lighting installed in specific areas for more focused illumination when needed.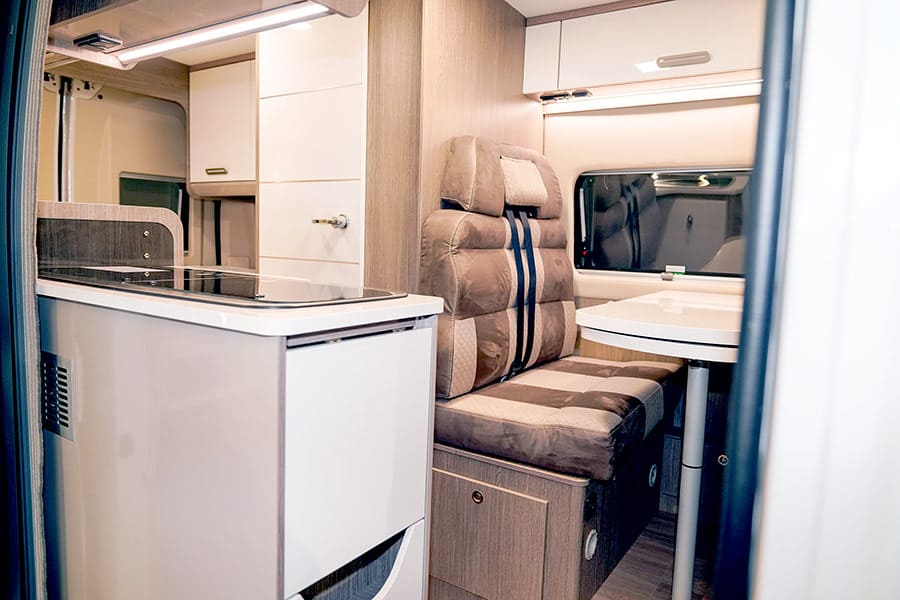 For those who want to adjust the brightness level, dimmers can be installed, allowing users to customize how much light they need at any given time.
You can also bring additional lamps or lanterns to supplement the outside lighting. Having a good light source will be invaluable. Therefore, look for a van with adequate built-in lighting or consider installing LED lights so you can see during evening hours when outside activities are limited.
10. Bathroom Facilities
Some camping locations and boondocking sites may not have bathroom facilities, which can be challenging. So, for added convenience, you may want a van with a built-in bathroom with a toilet and shower. This way, you can have modern amenities, even in the middle of nowhere.
A built-in bathroom is a significant advantage, particularly if you're camping with children or want to have the comforts of home. If you select a van that does not have a built-in bathroom, a portable toilet and shower can be an excellent addition to your camping gear.
Portable toilets and showers are affordable and easy to set up, providing convenience without compromising personal hygiene. Consider purchasing one as an add-on or an accessory to your van, ensuring your camping will be trouble-free.
For showering options, we have a post that will give you a few more ideas.
11. Water Supply
Having easy access to clean and safe water is essential while camping. Many vans have a built-in water tank and plumbing system that allow you easy access for washing dishes or taking showers. Extremely handy if camping in remote locations, as it eliminates the need to bring additional water containers.
However, if your van does not have a built-in water storage system, look for aftermarket solutions that can be easily installed to provide you with on-demand access to clean and safe drinking water. A good choice would be an onboard fresh water tank that stores up to 15 gallons of water, so you have enough for meals, cleaning, or showering while away from home.
12. Kitchenette
After a long day of hiking, a good kitchenette is invaluable. In addition, having a kitchenette in your van will allow you the freedom to cook meals on the go, which is a big plus.
Depending on your cooking style, your kitchenette should include a refrigerator, stove, sink, and perhaps other add-ons, such as a microwave or oven.
Some van models have built-in kitchenettes, while others require installing kitchen units, so choose the best option. To make your camping trip more enjoyable, consider investing in a van with a functional kitchenette or installing one yourself. A kitchenette lets you quickly cook and prepare meals with minimal hassle.
You might want to consider some of the available conversion kits when starting with a bare van.
13. Storage Space
Storage space is another factor to keep in mind when making your choice. You will need enough space to store all your camping gear, cooking equipment, clothes, and other essentials.
Look for a van with ample storage space, cabinets, drawers, and shelves to cater to your specific storage requirements. Consider adding external options such as roof racks, hitch cargo boxes, or roof cargo boxes if you need additional storage space. These options can dramatically increase your van's storage capacity.
14. Privacy and Security
Privacy and security are vital considerations, particularly when camping overnight in rest areas and other public spaces. To ensure your privacy, look for a van with tinted windows or curtains to keep prying eyes away from your personal space. This will give you peace of mind, allowing you to relax and not have to wonder who is looking in.
In addition to privacy, security is another concern, primarily when leaving valuables in your van unattended. Consider adding additional features like an alarm system or a lockable storage compartment to deter thieves and protect your items.
An alarm system can alert you when your van's security is compromised. At the same time, a lockable storage compartment can protect your valuables, even if someone breaks into your van. These additional security features may cost extra, but they can significantly save you money and hassle in the long run.
Time to Take Action
When looking for a van, do your due diligence. Consider features like a kitchenette with refrigerator, stove, and sink; ample storage space with cabinets, drawers, and shelves; and security measures like alarm systems or lockable storage compartments. 
If you are DIYing a camper van or buying one that is finished, keeping these factors in mind will help ensure the van meets your needs while providing maximum convenience during camping trips.