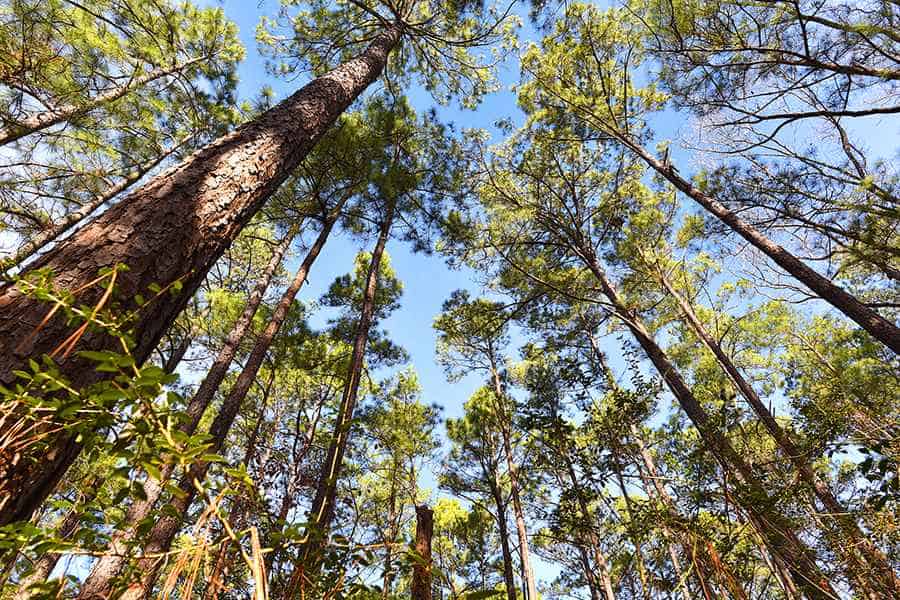 The Piney Woods of Texas contains some of the best camping in the entire state, and in Texas, that is saying a lot! There are places to camp with all the modern amenities and even areas that won't cost you a dime. When you add your van camper to the mix, you can have an excellent camping trip for little or no cash.
Where are some of the best van camping spots in the Piney Woods of Texas? The most awesome places to go van camping in the Piney Woods are:
Hanks Creek
Tyler State Park
Sandy Creek
Magnolia Ridge
Caddo Lake State Park
Mission Tejas State Park
Damsite Texas
Boykin Springs
Rayburn Park
Liberty Hill
Maybe you are worried that there won't be anything to do after arriving at your campsite? That is nothing to worry about; pore over the following list, and you will have all you need to plan an ultimate van camping trip in the Piney Woods of Texas.
The Piney Woods
If you aren't a native Texan, chances are you've never heard of the Piney Woods. This large grove of trees, mostly pines, stretches over 54,000 miles and includes areas of Louisiana, Arkansas, Oklahoma, and east Texas. I am going to highlight only the east Texas portion in this post. It has four rivers that run through its expanse; they are the Cypress, Red, Sabine, and Sulphur.
Each of these rivers, from the Gulf Coast to Southern Oklahoma, has several camping areas that range from full-on glamping to the barest essentials needed to camp. Not having power and water might be deal breakers for some campers, but van camping has a freestyle feel that could lead you further off into the wild. For that reason, there will be a mix of places where you can hook in and enjoy the park or nights when you rough it off the grid.
Van camping is about going where a traditional RV can't go. The smaller size and possibly upgraded vehicle make getting out into the areas where people don't often get to go, much more accessible. It is also excellent to know that after a few nights away from civilization, you can start up and head out somewhere with a full-service campground.
Hanks Creek
Location: 729 Earl Shofner Rd, Huntington, TX 75949
Coordinates: 31.272258, -94.403271
Hanks Creek is located on the Sam Rayburn Reservoir about 20 minutes north of Zavalla and gives you access to 114,000 surface acres for fishing and water skiing. To help you get quickly out on the water, you can use the boat ramp and dock. Fishing there is spectacular with the opportunity to reel in catfish, largemouth bass, sunfish, and more.
The campground boasts 47 sites and offers lots of amenities, including basketball and volleyball courts, which are first-come, first-served with the rule also applying to the surrounding day-use picnic tables. It has a dump station and flush toilets, which are always a plus.
They have 30 and 50-amp electric connection sites for you to get set-up on. The sites on this campground are phenomenal. The sites with power and water range from $26 to $38 per night, and you can reserve your spot by going to the reservation page.
Though some people may disagree, the best thing about this site is the lack of cell service. Hanks Creek can make you forget about the outside world, which is worth more than you can imagine.
When camping, safety is always a big concern. Below is a list of a few items that you might want to have when heading out camping in remote locations:
Tyler State Park
Location: 789 Park Rd 16, Tyler, TX 75706
Coordinates: 32.480635, -95.295795
About a half-hour north of the city of Tyler is Tyler State Park. The camping is situated around a 64-acre lake and has multiple camping loops.
The Civilian Conservation Corps provided the workforce to construct the park from building the roads and the earthen dam to creating the lake.
The Whispering Pines Nature Trail showcases some of the work the CCC workers did. The trail goes 3/4 of a mile round trip and provides a beautiful woodland walk in a peaceful setting with the chatter of gray squirrels and birds to keep you company.
The campground offers sites with full hookups, water, or electricity. And as this is a very popular site, it is recommended that you reserve in plenty of time, so you don't miss out on getting a spot.
There are hot showers, a dump station, restrooms, a playground for the kids, among many other amenities. Plus, the park provides learning activities and has over 13 miles of trails. You can use this trail map to plan your day.
Popular activities center around Tyler State Park Lake and include fishing, swimming, and boating. If you don't own equipment to get out on the water, you can rent paddleboats, canoes, stand-up paddleboards, and kayaks at the park store.
When you run out of diversions at the park, you can head to 308 N. Broadway Avenue in Tyler with the kids to check out the Discovery Science Place. They have interactive exhibits, events, and programs to keep curious young minds entertained.
Boys and girls of all ages have a fascination with airplanes, and the Historic Aviation Memorial Museum at 150 Airport Drive in Tyler can bring it up close and personal.
The museum showcases at least 16 classic aircraft and has a real flight simulator, hands-on exhibits, and more. You will want to plan to take in one of their air shows while you are there.
If you love aircraft, add this to your must-do list while camping at Tyler State Park.
Sandy Creek
Location: Park Rd, Jasper, TX 75951
Coordinates: 32.480635, -95.295795
The Sandy Creek campground is located on BA. Steinhagen Lake, just a short drive from Jasper. Like other lake spots, it has excellent fishing and more than enough space to get out and work on your water skiing.
The biggest attraction at Sandy Creek is the nearby access to the paddling trails, which stretch for 16 miles. Paddling the trails allows you to enjoy nature from a different perspective with many opportunities to see wildlife. The area is full of mature trees, including short needled pines and towering cypress trees.
There are three paddling trails in the area, Sandy Creek Paddling Trail, which is 5.4 miles long and has access points in the park. The trail follows along the shore and then goes out into open water. It is considered a challenging course.
At neighboring Martin Dies, Jr. State Park, you can access the Neches Paddling Trail, which can add up to 16 miles depending on the path you choose, or the Walnut Paddling Trail, which takes about 90 minutes to cover. To decide which trails to take, check out this map.
Sandy Creek has over 70 sites with water and power connections. Sites are $10 – $18, depending on the time of year and if you want electric and water hookups. To find out what spots are available and to reserve a location go to Recreation.gov.
Several parks are located nearby, giving you access to hiking and biking trails that run across the Piney Woods. The amount of paved trails also makes shorter family-oriented biking trips a tempting option. The paved paths make it easier for young bikers to maneuver their bikes and can be a great place to build some needed bike confidence.
A major attraction at Sandy Creek is the amount of wildlife that is in the area. If you are passionate about hunting and looking for a spot to rest between hunts, or a family looking to spend some time relaxing on the lakeshore, you might be interested in Sandy Creek.
If that doesn't check all your van camping adventure boxes, then nearby Martin Dies Jr. State Park should have what you need. Martin Dies, Jr State Park is located four miles away from the campground at Sandy Creek. Some of the most noteworthy features that they have there are guided night hikes, paddling trips, and natural classrooms. It is well worth the drive over to check out Martin Dies, Jr.
Magnolia Ridge
Location: Woodville, TX 75979
Coordinates: 30.879851, -94232986
Magnolia Ridge has access to some of the most beautiful forests in the state of Texas. It is about 20 minutes northeast of Woodville and near the Angelina-Neches Wildlife Management Area, home to excellent hiking and hunting. They have just over 40 sites, with most having power and water hookups.
Like Sandy Creek, Magnolia Ridge also has access to Steinhagen Lake and all the water activities that come with it. There's a group shelter and even flushing toilets at this gem of a camping spot.
Another thing that makes Magnolia such a great place is the fact that it is open year-round. That means you can go on a hunt in the morning then hit the banks for some fishing all in the same day.
This campground is situated on the northern banks of BA. Steinhagen Lake, a 10,000-acre reservoir just east of Jasper. The lake's maximum depth is 35 feet, making it an excellent habitat for blue, channel, and flathead catfish.
During June, the park is host to Kid's Fish Day, where children from all over come to try and catch a fish. They even have a small pond on the property where young anglers can try their hand to catch and release the trophy fish they dream of.
Catering to kids is something that most other parks don't do. A pleasant, relaxing place to take your kids, which is fun for them, is worth its weight in gold. Reserve a site and make the kids happy!
While you are staying here, it would be the perfect time to do a little skydiving. Head over to Gravity Storm Skydiving at 338 County Rd 2020, Hanger #5 in Woodville. They cater to experienced and first-time skydivers.
Have you never been skydiving before? No problem. If you are a novice, they do tandem jumps where you are paired up with an experienced instructor. Wow, that is a relief!
However, if you want to be in control, you can pull the ripcord and navigate the parachute to landing. Or if that sounds like more stress than you want, the instructor can handle the whole trip for you.
Why wait any longer to do it? The ride down will give you an awesome view of the area as you gently glide back to the ground.
If you haven't made up your mind about skydiving yet, then head on over to Naskila Gaming at 540 State Park Road 56, Livingston, to try out your luck at the casino. They have over 800 electronic games that you can enjoy playing in a high energy environment. They are open 24/7 and if you get hungry, try out the food at Cafe Itto Si or Timbers Grille.
If you want to change camping locations, you can also stay at the Alabama Coushatta Lake Tombigbee Campgrounds just down the road from Naskila.
Caddo Lake State Park
Location: 245 Park Rd 2, Karnack, TX 75661
Coordinates: 32.682536, -94.176907
Caddo Lake State Park is located about 5 miles north of Karnack and encompasses 484 acres with towering pines and cypress. The camping area is just south of Saw Mill Pond.
Campsites start at $10 per night, and some sites have full hookups. Sites have picnic tables, fire rings, and access to restrooms. Trees provide ample shade throughout the campground. To see how the land lies, take a look at the park map.
While staying here, you can access Caddo Lake, which covers 26,810 acres. There is a fishing pier so you can while away the afternoon fishing or take out your kayak or canoe to explore the more than fifty miles of paddling trails. Make a reservation to enjoy this unique location.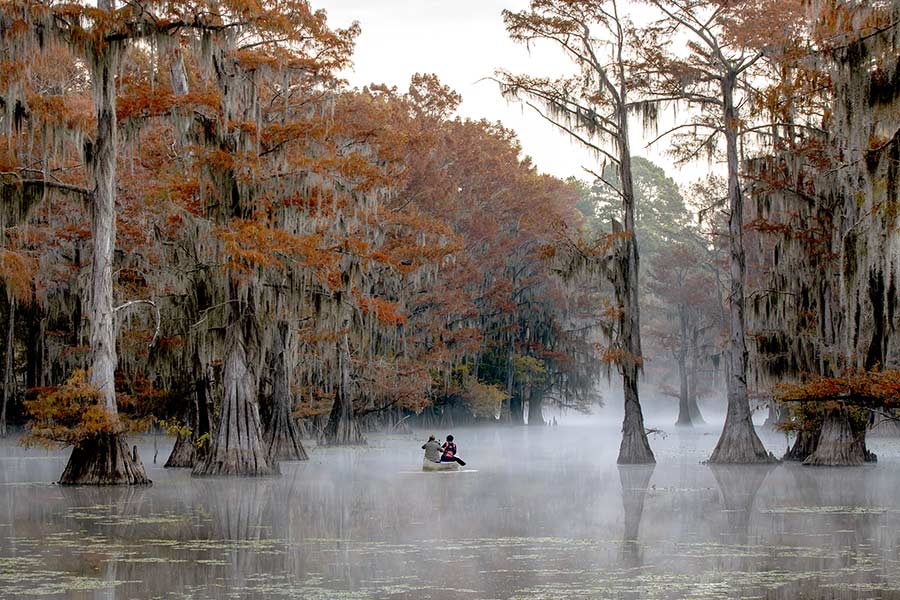 Alligators reside here, so be sure to take the proper precautions while visiting. To help keep you safe, check out this information page from the Texas Parks and Wildlife.
Local companies offer Caddo Lake tours, and a tour guide will provide interesting facts and history of this unique destination. Bayous, sloughs, and swamps make up this area and offer an unparalleled opportunity to view various flora and fauna.
Looking for a place that the kids will like, check out Gators and Friends at 11441 US Hwy 80, Greenwood, Louisiana. This facility is dedicated to educating people about animals and helping folks to understand them more.
They have gators galore with over 150 Louisiana Alligators in the park and an exotic petting zoo. You can expect to see lemurs, Jacob sheep, camels, fallow deer, and much more. After you are done looking at all the animals, you can head over to the zipline course.
You can take an hour's drive to Shreveport, LA, and take in some of the sights and sounds. The Shreveport Aquarium is one of the stops that you will want to check out.
The aquarium has more than 300 different marine life species, including sharks, stingrays, and turtles. They also have a 35-foot indoor sluice where you can hunt for gold, fossils, and other treasure. It is sure to be a fun destination for the kids. You can visit daily except for a few holidays.
You will also want to consider doing some shopping at the Louisiana Boardwalk Outlets in Bossier City and the Shreveport-Bossier casinos. There's certainly no reason for you to be bored when staying at Caddo Lake State Park!
Other Posts of Interest
Mission Tejas State Park
Location: 120 Park Rd 44, Grapeland, TX 75844
Coordinates: 31.549652, -95.236943
Mission Tejas State Park is a jewel in the Piney Woods. It is about a half-hour east of Grapeland and is on the northern end of the Davy Crockett National Forest. I like to see a map of what the park actually looks like before going, so you probably want to see it too; you can find it here at the park site.
This campground is small and peaceful with only 15 sites, but the sites have electricity and water. They also have trees to provide partial shade while camping.
They have a dump station, hot showers, and restrooms at the facility. Sites have a picnic table, fire ring, grill, and a lantern pole, making it convenient to prepare meals, relax, and enjoy the campground's peace and quiet.
Be sure to pack up the hiking gear and bikes when coming here as all 8 1/2 miles of trails are for hiking and biking unless indicated differently. To plan what routes to take, peruse the park trail map.
While at the park, you can check out the log cabin built in the early 19th century, fish along San Pedro Creek, or the small pond. Make your reservation, and enjoy a relaxing stay at this awesome location.
If you are fascinated with trains, about 30 miles north of the park is the Texas State Railroad. Vintage diesel and steam locomotives will whisk you between Rusk and Palestine. The 50-mile trip will take you back in time as you ride in early 20th century coaches for a journey that lasts 4 hours.
Explore the Piney Woods from a new perspective as you take in the sensational views and cross over 24 bridges. There is also a campground at the Rusk Depot with 32 full hookup sites, 16 primitive sites, and 23 group sites.
This campground makes an excellent place to reconnect with nature and family.
Damsite Texas
Location: Power Plant Rd, Denison, TX 75020
Coordinates: 33.813229, -96.557803
The next pick is on the Red River at Damsite Texas. It is a beautiful location and a smaller campground with only 19 spots, all of which have power and water. The entire property has mature Pecan trees that provide tons of shade during the day.
Each site has power and water connections, and there is a dumping station, which is an essential amenity. The campground has restrooms, which have flushing toilets and showers, which always is a great asset when it comes to camping.
The site is close to Denison Dam or Lake Texoma Dam, whichever you want to call it. Known as the "Playground of the Southwest," almost 6 million people visit here throughout the year.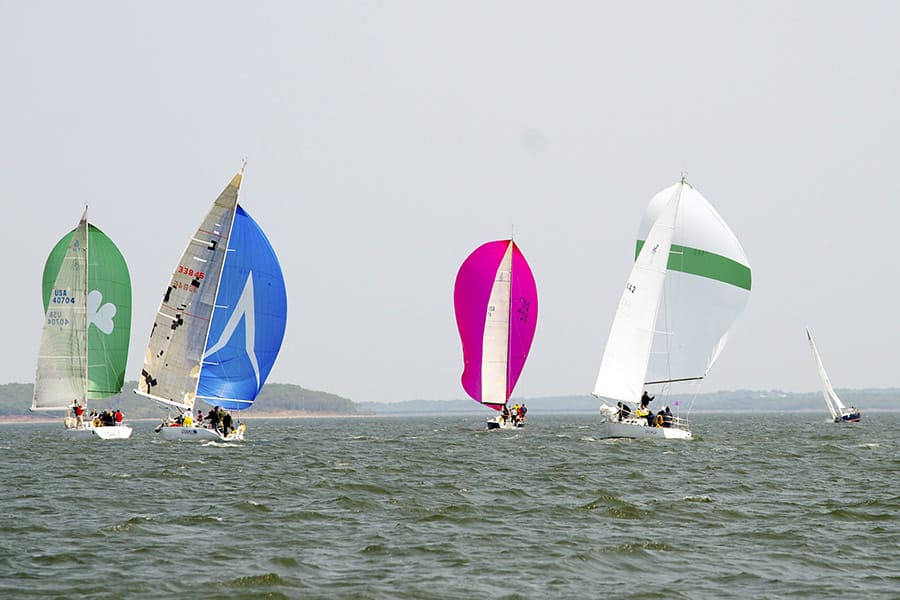 Lake Texoma is known to have some of the best stripe fishing in the country; it is a spawning area for striped bass, a cousin to the largemouth.
If you are looking to spend the time outside of the van fishing, Damsite will be your best bet. Not only can you catch various types of bass but other fish like crappie and catfish. The largest stripe ever caught on Lake Texoma was over 30 pounds.
No matter when you pick to camp, the fee is always $22. The Corps runs this place, and the upkeep is minimal for camping. Reserve your site and enjoy the best place to camp by a dam site!
While staying here, you will want to spend a few hours at the Perrin Air Force Base Historical Museum at 436 McCullum Avenue in Denison. The facility is staffed by friendly volunteers who are only too happy to provide you with a tour to impart the importance Perrin played from 1941 to 1971.
Although there is only one plane there, the building is chock full of memorabilia, guns, pictures, medals, and more. They are open Tuesday thru Saturday. To find out more about this gem of a museum, you can visit their website.
Boykin Springs
Location: Zavalla, TX 75980
Coordinates: 31.061822, -94.274604
Camping in the Angelina Nation Forest at Boykin Springs puts you near to the Sam Rayburn Reservoir, Davy Crockett National Forest, and the historic towns of Lufkin and Nacogdoches.
The Boykin Springs Campground is the ideal place to stay to take in everything there is to do here. If you love hiking, canoeing, kayaking, fishing, or even playing golf, you will only have a short drive to enjoy all these wonderful activities.
The campground has hot showers and flush toilets, which is always a pleasant surprise. Nine of the sites allow you enough room to park an RV up to 24 feet long. At each site, you will find a fire ring and a picnic table perfect for evenings sitting around the campfire and making s'mores.
Campsites are on a first-come, first-served basis. The nightly fee is $10, and water is available. However, there are no hookups at the campground.
If you are looking for a little more entertainment than the campground offers, head into Lufkin. The Texas Forestry Museum at 1905 Atkinson Drive offers a variety of exhibits showcasing the history of logging.
Exhibits include a train locomotive, a paper mill room, kids can play in the sawmill town dress-up house, and more. Admission to the museum is still free, and they are open Monday through Saturday.
While in Lufkin, stop into the Museum of East Texas, located in an old church building at 503 N. Second Street. The museum showcases art, and again the admission is free. Or visit the Ellen Trout Zoo at 402 Zoo Circle, which the kids will love.
Then wrap up the day with some shopping and a bite at a local restaurant before heading back to the campground.
Rayburn Park
Location: Jasper, TX 75951
Coordinates: 31.106639, -94.107372
Rayburn Park is on the Sam Rayburn Reservoir's northern banks and is open to camping year-round. The campground has 46 sites, 30 or 50-amp power and water hookups are also available. They have non-electric sites starting at $14 for van camping if you don't need to hook up.
When you stay at Rayburn, you will have garbage pick-up, regardless of the site type, and campfire rings and lantern posts for when you want that "roughin' it" feel to your camp.
One thing that is not lacking in this part of Texas is access to outstanding fishing, and this location is exceptional for fishing on Lake Sam. The 114,000-acre lake was home to a record 84-pound flathead catfish. That's one big fish! Plus, you will be able to catch other types of fish, offering you some of the best fishing around. 
If you get a little hot, you can head over for some fun at Aqua Zone, located at Powell Park, about 10 minutes away. Aqua Zone is an inflatable water park featuring a 17-foot slide, obstacle course, trampoline, and more. That sounds like a great way to cool down to me!
Want to spend a day on the lake? You can rent various water toys, including pontoon boats or Jet-skis from one of the local rental shops, or charter a boat for a day of fishing.
What's not to like about this camping location? Reserve your spot to enjoy playing and relaxing.
Liberty Hill
Location: Dawson, TX 76639
Coordinates: 31.948439, -96.719642
Liberty Hill Campground is located at Navarro Mills Lake, about five miles from Dawson. It is a popular retreat for folks wanting to get out of the hustle and bustle of the nearby Dallas-Fort Worth area.
You could not find a more picturesque setting of wildflowers and river life for the photographer or artist. The local Bluebonnet and paintbrushes give the land some much-needed color in the wintertime.
The mash-up of terrain at Liberty Hill Campground means that you can do several different activities in one trip. You can swim and kayak on the beautiful lake and watch for over 30 bird species known to visit the Piney Woods.
One of the most terrific activities you can engage in at Liberty Hill is fishing. Navarro Mills Lake is a state record holder for white crappie and has some of the best fishing around.
Many of the spaces have 30 or 50-amp power, suitable for just about any appliance you can fit in your van. The campground has 100+ sites plus a playground to keep the kids busy. Reserve your space to get on your way!
One of the most asked questions at any campground is the bathroom situation. At Liberty Hill, there are flushable toilets and a dump station.
If you didn't have space for a grill in your gear, no worries, the campground has fire rings adjacent to most sites.
If cooking on an open fire isn't an option, there are grills located across the area you can use. These older grills are usually paired up with a cement picnic table. We have a post about the safety of using public grills to help you prepare.
As I brought up earlier, one of the benefits of camping here is its closeness to the Dallas-Fort Worth area. In just a short drive of about an hour and a half, you can be enjoying delicious Tex-Mex and finger-licking BBQ.
If you love animals, check out the Fort Worth Zoo with 540+ species, take in some football as you cheer on the Cowboys, or visit one of the many museums. Shopping and nightlife are another option to keep you entertained, so you won't have any time to be bored here.
Wrapping it Up
As the second-largest state, Texas has many different regions with diverse geographical features. The places above are just a sampling of the campgrounds available in the Piney Woods region. There are many more locations for you to explore.
You can also find some free camping on one of the four national forests located in the Piney Woods. For a more luxurious camping experience, there are numerous privately owned campgrounds in the region. Head to East Texas and start your van camping adventure today!