Are you daydreaming about van camping in sunny Florida? The panhandle is an attractive choice. Florida has some of the most impressive beaches in the country, some of which are on the Gulf Coast of the Panhandle and are perfect for a van camping vacation.
This post features a fun mixture of 11 different campgrounds and state parks to choose from. If you are in quest of the perfect van camping spot in the Florida Panhandle, you've just hit the jackpot.
The region is known for its wildlife watching, nature trails, and soft white sands. So, grab your sunglasses and a bottle of SPF because the "Sunshine State" awaits.
Navarre Beach Camping Resort
It's all right there for you in the title: beach camping resort. Does it get any better than palm trees, fine white sand, and crystal-clear waters? Yes, it does – when you add in van camping!
Navarre Beach Camping Resort receives high reviews from their customers for their facility amenities and cleanliness, as well as their customer service. There are many watersports to enjoy, such as jet-skiing & paddle boarding.
This van camping location even has a pier that you can fish from. Are you not into ocean fishing? Grab your camera instead because this pier is also perfect for taking some fantastic photographs.
Here are just a few bonuses that a van camper will undoubtedly appreciate having on site:
Fitness center: A built-in fitness center for guests means that if you're used to working out daily, you don't have to break your routine when you go on vacation. For those who have difficulty getting back into exercise once they've stopped, this can prevent them from falling off the fitness wagon on vacation.
Laundromat: One of the disadvantages of van camping is that you don't have access to washing facilities in your vehicle, so choosing a campground or landing spot where you can clean your clothes is always a good idea. Besides keeping you from having to tote around a bunch of dirty laundry, it also means you can get off with packing less for your trip, too.
General store: A general store on-site is a useful addition at Navarre Beach since it prevents you from having to leave the beach to go grocery shopping if you want to get as much time in the water and on the sand as possible. The general store provides visitors with convenience foods, cold drinks, toiletries, and other travel necessities.
Rates start at $69 per night for a full hook-up site. To see the location of the sites, check out the park map.
This campground is family and pet friendly so that you can bring the whole gang, or you can just go by yourself for some quality alone time. If you want to learn more about taking your dog camping with you, be sure to check out our post.
WiFi is available, too, for those who have a hard time disconnecting from their electronics. Check out the campground's website for more details on what to expect at Navarre Beach.
Address: 9201 Navarre Parkway, Navarre, FL, 32566
Phone Number: 850-312-7402
Fort Pickens Campground
Picture this—you are lying on a blanket on warm white sands surrounded by emerald green water with palm trees swaying in the background. Maybe you have a tropical drink in your hand and some Jimmy Buffett playing? Fort Pickens Campground can take you there.
This van camping spot is a favorite because it is on a peninsula called Pensacola in the Florida Panhandle. It may be a little more on the rustic side of camping compared to some other locations. However, if you don't need a five-star luxury resort to be happy, then this could be your new favorite place for van camping.
Here are a few things you're going to love about Fort Pickens Campground:
Barrier island: Barrier islands are narrow strips of land that form along the coastline, and these valuable ecosystems are some of the most beautiful and picturesque places to visit in all of Florida. Besides the outstanding shell gathering that you can do, there is also a wide variety of wildlife to see.
Beautiful beaches: The area around Fort Pickens has some of the finest beaches in all of Florida, so if you're looking for some quality sand time, you can't find a much better place to camp with your van than here.
Showers: The Fort Pickens Campground features a campground shower, which can be very useful for van campers since they typically don't have access to a bath or shower like RV campers do.
Historical background: If you're a history buff, there are plenty of cool things to see around Fort Pickens that can teach you about the military history of this region of Florida. Touring the Fort Pickens Discovery Center can make a great day trip if you need a break from getting sun on the beach.
Fishing without a license: A significant advantage of van camping at Fort Pickens Campground is that there is fishing access at this campground that doesn't require a fishing license. No need for a license is a good deal for out-of-towners who don't want to pay the extra cash to buy one.
Rates for van camping is $40 per night and include electricity if you need or want it. To secure your reservations for Fort Pickens Campground, check out the campground website.
Address: 1400 Fort Pickens Road, Pensacola Beach, FL 32561
Phone: 850-934-2622
The Hideaway Retreat
The Hideaway Retreat is the spot to go if you want to get away from the world for a bit. The campground features plenty of big old trees to help keep your campsite cool and provides you with some much-needed privacy. Immerse yourself in the serene views of the Santa Rosa Sound, and enjoy walking with the wildlife through the trails along the water.
Formerly known as Magnolia Beach Campground, this retreat is currently undergoing renovation. Some might say the accommodations are basic compared to other more sophisticated campgrounds, but for many van campers, the Hideaway Retreat will be just perfect.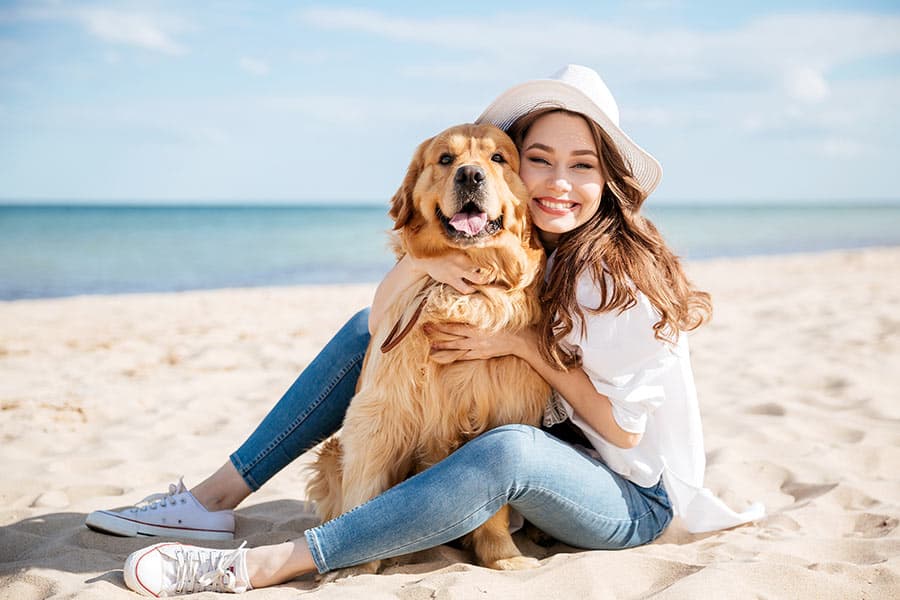 Here are several of the amenities you can expect at the Hideaway Retreat:
Kayaks and paddleboards: If you're interested in doing some watersports while you are van camping in Florida, the Hideaway Retreat has you covered. You can easily rent kayaks and paddleboards so that you don't have to waste valuable van space bringing outdoor gear.
Cornhole and volleyball: Along with watersports, there are also several communal games available that guests can participate in, such as cornhole and volleyball. These activities give visitors a chance to get a break from the beach while still enjoying each other's company.
Laundry facilities: Laundry facilities are a must-have for van campers since they don't have any laundry capability of their own, and this is even more important for long van trips.
Dog-friendly beach: If you've got your dog with you, the Hideaway Retreat is an excellent place to stay since you can freely bring your pup along with you when it's time to hit the sand and surf. This location is different from many beaches along the Florida Panhandle that forbid dogs for fear of environmental damage.
Ditch the community vibe campgrounds if you want to get a taste of this more peaceful retreat. When camping on holidays or special events, there is a three-night minimum stay required. Basic site rates start at $68. However, a premium waterfront site will begin at $105 per night. You can make reservations at the campground website.
Address: 9807 Navarre Parkway, Navarre, FL 32566-3020
Phone: 850-939-2717
Indian Pass Campground
Indian Pass Campground's motto is "Primitive Camping on the Bay." Doesn't that sound good to you? This campground also has some of the best nightly rates in the area, plus they also have a monthly rate if you want to head south to get out of winter and park there from September through February.
You can expect maximum relaxation while gathering shells at the beach, marveling at the sunset, and gazing up at starlit skies. Indian Pass Campground is located at Port St. Joe on the Florida Panhandle coast, where the Apalachicola Bay meets the Gulf of Mexico, snuggled under the canopy of age-old trees.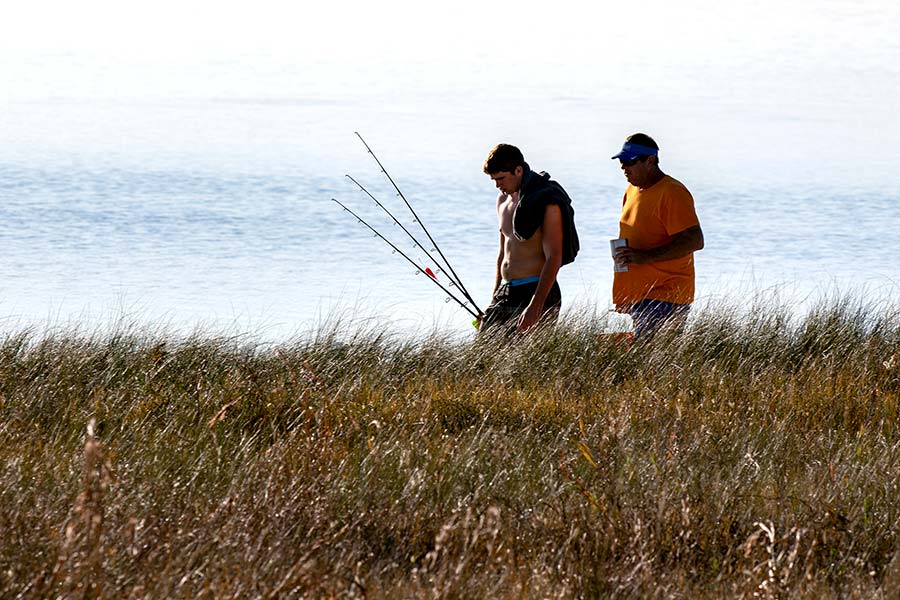 For oyster lovers out there, the oysters in this region of the Florida Panhandle are world-class. And for those van campers that enjoy fishing, the Indian Pass Campground is a nice peaceful place to cast out your line. Catch yourself a big one and put it on the fire for a bay-to-table dinner.
Here are some of the benefits you can enjoy at the Indian Pass Campground:
Peace and quiet: Compared to many areas of Florida, this campground is quieter than most, allowing you to focus on relaxing without having to do it elbow-to-elbow with a hundred other tourists. This kind of laid-back experience you can only find on Florida's more remote beaches.
Natural surroundings: Unlike other Florida areas with condos as far as the horizon goes, Indian Pass has much more natural surroundings that allow you to truly relax and become a part of the local environment for a stress-free break.
Convenient location: The campground is only about 20 minutes from the town of Port St. Joe, where you can enjoy walking to bistros, shops and enjoy the delectable seafood. You will also want to take a boat over to St. Vincent Island and pass the day taking in the island's pristine beauty and looking at wildlife. In slightly over two hours, you can be enjoying the sights and sounds of Tallahassee, or in a little bit under two hours, you can be playing at Panama City Beach.
You can make reservations for Indian Pass Campground at the campground website.
Address: 2817 Indian Pass Road, Port St. Joe, FL, 32456
Phone: 850-227-7203
Before I move on to the next camping destination, I wanted to mention a few items that we use to make our camping experience more enjoyable.
I like a comfortable chair to sit in while I'm enjoying the campfire. This oversized chair from Guide Gear delivers. The weight capacity is 500 pounds, so it isn't just for small people only, and the plush padding cradles you in comfort.
The chair has a cup holder to keep your drink handy, plus a storage pocket to hold your phone, snacks, or bug spray. It folds up easily and also comes with a storage bag making it a breeze to move around.
Next, there is nothing better than a meal cooked over the fire in a pie iron. From ooey-gooey cheese sandwiches to cherry pies for dessert, the toasted goodness of food cooked in one of these is one meal you won't want to pass up.
Rome makes cast iron pie irons that can't be beat. The wood handles make them easy to hold onto, and the length is long enough that you don't singe your eyebrows off while trying to cook over the fire.
This square pie iron works great, and they have double ones too, so that you can cook for two. Plus, they also have the Wilderness Griller, perfect for making delicious burgers right over the fire. Want something other than a burger? Get one of their dog 'n brat cookers. If you don't have one of these cast iron wonders, get one before your next adventure.
Blackwater River State Park
Located about 25 minutes northeast of Milton, this campground is ideal for spending a relaxed weekend with the family.
The park is comprised of 590 acres, so you will have plenty of areas to explore. Stretch your legs on the Juniper Lake Nature Trail, Juniper Creek Trail, or the Chain of Lakes Nature Trail and enjoy the views and be sure to take along your binoculars so you can view the wildlife up close. If you're thinking about purchasing a pair of binoculars, read about our favorite ones for camping.
Don't forget to bring along the tubes. The Blackwater River's white beaches and sandy bottom make it perfect for fun-filled afternoons of tubing, swimming, and canoeing. The playground is another thing to make it a hit with the kids.
The Blackwater River is one of the most pristine in the US and is the magnet that draws outdoor enthusiasts from far and wide. The river is approximately two and a half feet deep and flows about 2 to 3 miles per hour.
Some of Blackwater's best features are:
River and beach access
Outdoor shower
Pet friendly
The sites at the campground include accommodations for RVs and tents. Pines provide campers with shade, and each site has electric, water, sewer, a fire ring, and a picnic table. There are restrooms, hot showers, plus a dump station.
Need something else to get the adrenaline rushing? Head on over to Zipline Adventures, about a 20-minute drive from the park. Choose from 3 courses where you soar through the air over creeks, walk the sky bridge, and see Florida from a whole new perspective. These courses are sure to get your heart pumping!
Next up is a stop at the West Florida Railroad Museum in Milton. The museum is located in the L&N Milton depot. Museum displays include a variety of train cars, memorabilia, model trains, and outbuildings. Plus, there is a gift shop to buy railroad kits and supplies.
Before heading back to the campground, try out some of Milton's dining establishments for a delicious evening meal.
Camping fees are $20 per night (plus tax and fees), and the vehicle fee is $4. Don't miss out on this fabulous camping location; reserve your spot here.
Address: 7720 Deaton Bridge Road • Milton, FL 32564
Phone: 850-983-5363
Apalachicola National Forest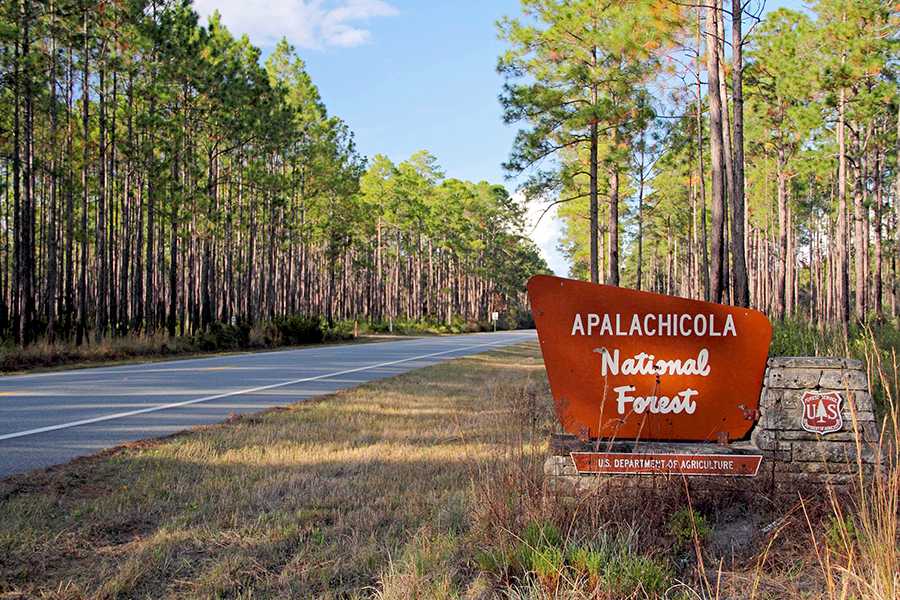 Now, it's national forest fans' turn to be pleased. One favorite national forest sites that you can visit in the Florida panhandle is the Apalachicola National Forest.
You're in luck, as well, because the Apalachicola National Forest has five different camping options for van campers to choose from:
Address: Locations are near Sumatra, Sopchoppy, or Fort Braden, FL
Phone: 850-523-8500
Van Camping Life Tip: Don't forget to show your National Park pass at the gate!
Big Lagoon State Park
If you are into a van camping spot with community and group activities, you will fit right in at the Big Lagoon State Park campground. The campground has 75 sites to choose from, and sites have water, electricity, a picnic table, fire ring, and can be reserved.
Nature lovers flock to the bird watching program offered at Big Lagoon, which is a fun and relaxing way to spend the afternoon. Groups are typically small and friendly and overseen by the rangers at the park. You can quickly learn about local birds and how to spot them within the park.
Some other things to love about Big Lagoon State Park:
Showers
Pet-friendly
Wildlife observation tower
Community feel
Group programs
Clear, beautiful stargazing is another excellent perk of Big Lagoon. You can enjoy stargazing alone, or it can be the romantic backdrop for a date night. All you need is a blanket to lay on while you gaze up at the uninterrupted night sky.
To virtually navigate through the Big Lagoon State Park, you can visit the park's website. The fees are modest at $6 per vehicle entrance, $20 (doesn't include fees, taxes, or surcharges) for camping, and $10 for boat launch.
Address: 12301 Gulf Beach Highway, Pensacola, FL 32507
Phone: 850-492-1595
Falling Waters State Park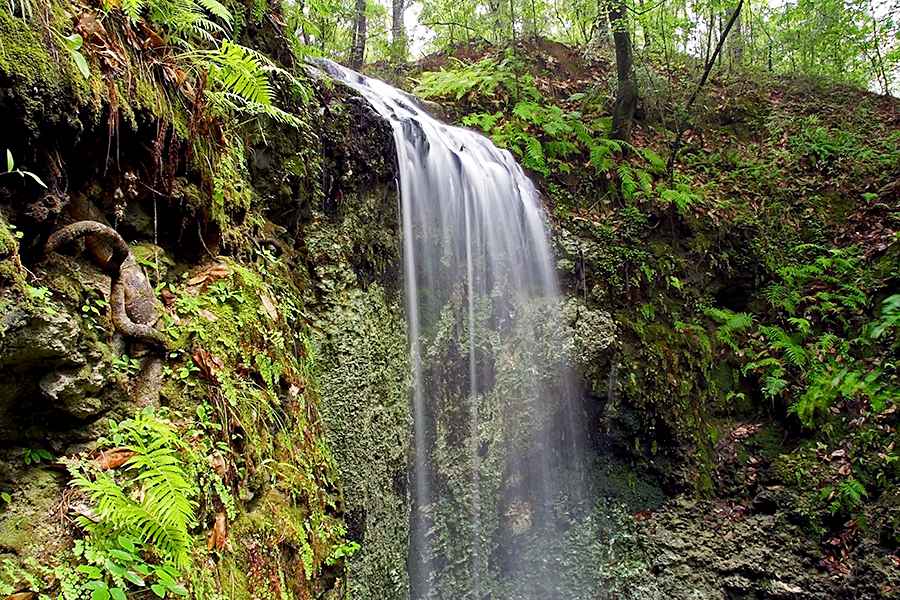 Falling Waters State Park's claim to fame is that it has Florida's tallest waterfall. This waterfall is unique because it drops 73-feet into a mysterious, deep pit.
Pine Ridge Campground is within Falling Waters State Park and offers full electricity and water hook-ups. The campground is 324 feet above sea level and has the highest elevation in the state. Situated among pine and dogwood trees, it creates a perfect backdrop for a weekend adventure.
A few of the cool things you can enjoy in Falling Waters State Park:
Waterfall: Falling Waters Sink is one of the most interesting waterfalls in Florida and the tallest. Two viewing platforms let you get up close and personal.
Hiking: Falling Waters State Park features some of the best hiking trails in the Florida Panhandle. If you're tired of being cramped up and need some room to stretch your legs from long hours in your van, this state park is the perfect spot.
Geocaching: Geocaching is a popular hobby practiced in national parks, and Falling Waters has an active geocaching community if you're looking for new areas to hunt.
Wildlife: Florida has a dazzling array of wildlife, and this biodiversity is on full display at Falling Waters. Animal lovers can spot many mammals, birds, reptiles, marine life, and other fascinating creatures in this park. You can view over 450 plant and animal species in the park.
The primary purpose of Falling Waters State Park is to protect a series of sinkholes that are within the park's boundaries, just like the one that the waterfall flows into.
You can find more details about Falling Waters State Park on its website. This park does charge $5 per vehicle to enter. Camping is $18 per night (plus tax and a small reservation fee), and the park is open all year. Make your reservation to start exploring this unique park.
Address: 1130 State Park Road, Chipley, FL 32428
Phone: 850-638-6130
Watch the video below to see the splendor of Falling Waters Park.
Henderson Beach State Park
With its prime location on the Emerald Coast in Destin, Florida, Henderson Beach State Park is a favorite among locals. The sand in this state park is described as "sugar white," and there are six thousand feet of gorgeous shoreline to enjoy.
Henderson Beach State Park is close to shops and major hotels. While this state park is close to the city, you will still feel secluded and somewhat like you are on a private beach. The tall white dunes provide an excellent sound and privacy barrier.
At Henderson, there is a nice blend of RV, trailer, and tent sites to choose from. You are sure to have a mixture of camping neighbors to socialize with if you want to. Gather a group around the campfire and enjoy the company of others. Van camping can be lonely, so sometimes it's good to break out of that shell once in a while.
Here are some of the conveniences you can find at Henderson Beach State Park:
Pet-friendly
Showers
Nature trails
Do you want to learn more about Henderson Beach State Park and van camping reservations? You can visit its website for more information and helpful links.
Fees to enter Henderson Beach State Park are $6 per vehicle, with camping at $30 per night (plus tax and fees). Campground fees include electricity and water. There are no sewage hookups at the camping sites, but there is a waste dumping station within the park.
Address: 17000 Emerald Coast Parkway, Destin, FL 32541
Phone: 850-837-7550
Grayton Beach State Park
Located on Santa Rosa Beach in the Florida Panhandle, Grayton Beach State Park will take your breath away. Grayton is arguably one of the most beautiful van camping destinations you will ever find. At only $5 per vehicle to enter the park, this can be an affordable day trip spot. But, at $30 a night plus tax for camping, this pick for van camping is in the middle of the price range.
You can have the best of both water worlds at Grayton. You have a one-mile stretch of the Gulf of Mexico coastline, and the incredible Western Lake is an excellent location for kayaking and fishing.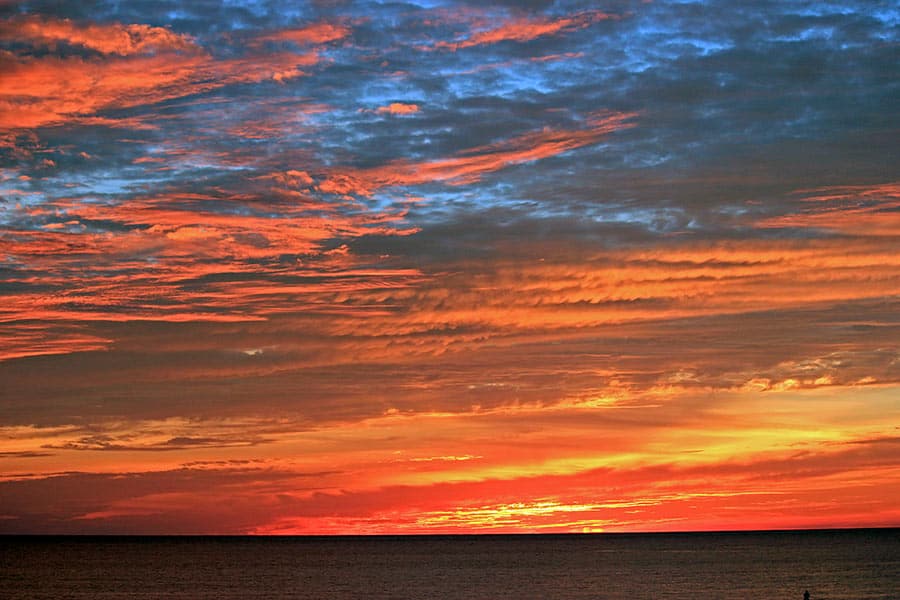 The Florida Panhandle offers some of the most breathtaking sunsets you will ever witness. You can relax with your feet in the sand as the sun goes down on the beach, or you can take a sunset trail walk.
This panhandle state park is pet-friendly, so don't hesitate to bring your furry friend along with you on your van camping excursion. You can have an adventure together at Grayton Beach. Run through the trails or spend an afternoon splashing around in the lake. In the evening, you both can enjoy a dinner prepared with your campfire.
Some of the features of Grayton Beach State Park are:
Pet-friendly
Boat ramp
Sunset views
Reserve your site at Grayton Beach State Park on the campground's website.
Address: 357 Main Park Road, Santa Rosa Beach, FL 32459
Phone: 850-267-8300
Pensacola Beach RV Resort
Are you looking for the ultimate outdoor adventure? Look no further than this family-friendly resort on the shores of Santa Rosa Sound. With standard, deluxe, and premium sites to choose from, you and your family can take advantage of the many activities available, such as paddle boarding, swimming, and kayaking. Plus, the kids can have a blast at one of the two playgrounds!
Playing in the sand is literally just steps away. So imagine: only a few steps away from your campsite, you will be able to feel the warmth of the white sands of the Gulf of Mexico between your toes.
Public beach accesses enable you to enjoy the gorgeous white sand beaches. In addition, you can soak up the sun while lounging around the pool, which by the way, is heated during the chillier winter months. What a way to spend an afternoon!
The resort's prime location is ideal for those who want to avoid driving to get their evening meal, shop, or be entertained! A short stroll away, you'll find plenty of great restaurants, a boardwalk, and even some entertainment to revel in.
At the Tiki Shop, they've got everything you need to make your stay unforgettable. You can stock up on snacks and ice cream to keep your energy up, pick up some souvenirs to remember your time here, and grab your mail if you're staying for a while.
Take advantage of this fabulous location. Pensacola Beach RV Resort is a much sought-after camping destination, so make sure you book your spot early to ensure you get the dates you want and avoid any disappointment.
Pensacola Beach RV Resort's best points are:
Close to the beach

Restrooms and showers
Laundry Room

Two off-leash dog run areas
Address: 17 Via De Luna Drive, Pensacola Beach, FL 32561
Phone: 850-932-4670
Getting a State Park Pass for the Florida Panhandle
If you plan on staying at one or more of these state parks, you should consider getting a state park pass. It will save you money within the first few uses. A state park pass also gives you a nice little discount at places other than state parks.
A Florida State Parks pass is only $60 annually for individuals and $120 for families up to 8 people. The park pass will allow you into all the different Florida state parks (except for Weeki Wachee Springs State Park and Ellie Schiller Homosassa Springs Wildlife State Park). Nearly every state park charges a separate entrance fee without a state park pass, so it is a worthwhile investment.
Can You Handle the Panhandle?
Though the panhandle may not be everyone's cup of tea, most would agree that the Florida Panhandle is pretty much the perfect van camping destination. Are you ready for all this relaxation and natural beauty? The state parks in the area are definitely worth adding to your list. There is something for almost everyone on the panhandle.
Florida Panhandle campgrounds seem to provide quite a bit more in the way of extras than campgrounds in other areas of the country. Full electric and water hook-ups could make a significant difference to some van campers, while others would rather have a more primitive site. Either way, you are sure to discover a van camping destination on the panhandle that suits you!