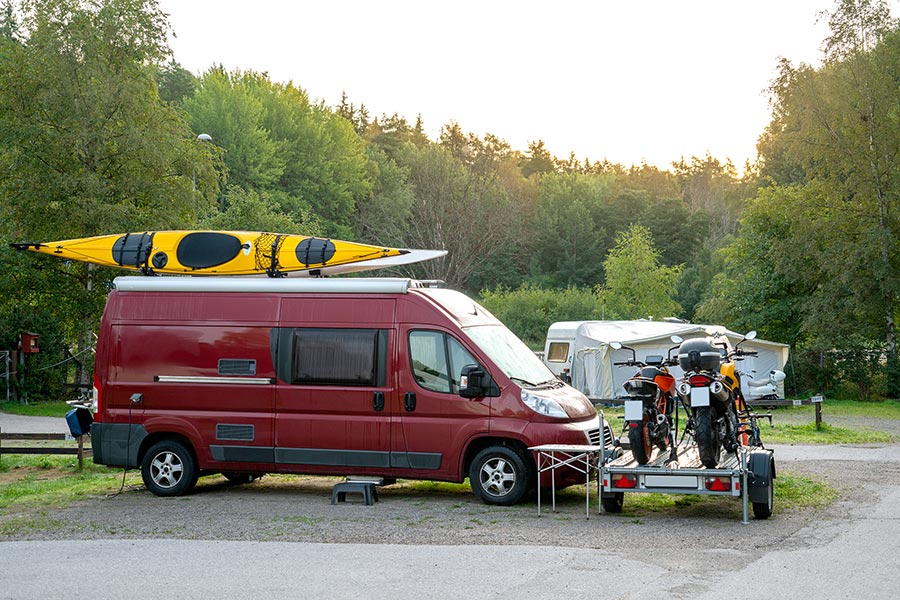 Van camping is a perfect solution for people who are craving the comforts of home with the adventurous nature of outdoor exploration. You don't need tents, sleeping bags, and backpacks to have a good time at your favorite campsite.
So, what are the best vans you can camp in? Here's a list of eight of the best options:
Ram ProMaster
Ford Transit
Mercedes-Benz Sprinter
Nissan NV Cargo
GMC Savana
Chevrolet Express
Nissan NV200 Compact
Mercedes-Benz Metris
Besides a thorough rundown of the vans, we will discuss what to look for when you're buying a van for camping. And how to make a DIY conversion van.
The Best Vans for Camping
1. Ram ProMaster
The Ram ProMaster has become one of the frontrunners in the van camping community. The massive interior, combined with the longevity of all Ram vehicles, making it an appealing purchase. It comes in three different models: 1. Cargo w/windows, Cargo w/o windows, and a ProMaster City Tradesman model that's a smaller sized van (however, we won't touch on the Tradesman in this particular post).
Here are the pros and cons of the Ram ProMaster cargo van:
Pros
The ProMaster is very large. With one of the biggest cargo spaces on the market, you'll be able to fit all sorts of camping gear inside. You'll also have plenty of space on top of the flat roof to store additional equipment or install solar panels. It's the perfect camper van for one to three people.
There's plenty of headspace in the ProMaster. The low-top van is 5'6″, but the high-top van stretches up to 6'5″. You'll also be able to choose from a wide range of lengths that go from 8 feet to 13 feet. The towing capacity can reach 6,800 pounds, depending on the model you want.
One of the subtle features that tends to convince potential buyers is the square shape. Rather than having rounded edges, the interior cubic footage is ample, with 90-degree angles on all sides.
The Ram ProMaster uses some of the same parts as other Ram vehicles, which means you won't have to wait for weeks or months when you visit a dealership. Availability also reduces the cost of repairs and maintenance.
Cons
If you're not accustomed to driving large vehicles, the Ram ProMaster will be challenging to operate. It's awkwardly big when you're turning tight corners or trying to fit between two cars in a parking lot.
The rear wheel well doesn't allow enough extra space to swap out to bigger tires, without some minor modification.
2. Ford Transit Cargo Van
The Ford Transit cargo van comes in low, mid, and high-top models. You can also purchase a passenger version to include a carpeted interior and several seats. Regardless of which model you pick out, you'll have the same high-quality reliability that all Ford vans have. The wide-body also adds a perfect touch for camping equipment.
Here are the pros and cons of the Ford Transit cargo van:
Pros
Ford has made vans for decades, which means the Transit probably won't be going anywhere any time soon. You'll be able to get parts, find local repair shops, and deal with any issues within a week.
The Transit was intentionally made with a flat roof, giving you loads of space to add roof vents, panels, storage, and more. Store a kayak up top or fill the space with bicycles and other outdoor gear.
Much like the Ram ProMaster, the Transit cargo van is very tall. At 81.5 inches, it's considered the best-in-class height compared to all other cargo vans. Whether you're tall or you simply want more room for cabinetry and appliances, Transits have plenty to offer.
In recent years, the Transit has adopted a familiar square body shape to add a few extra cubic feet. You can fill the space with smoke detectors and other small recommendations for camping or leave it blank for extra headspace.
Cons
Transit vans don't have adjustable rear windows. You won't be able to roll them up and down, nor can you prop them open as you can with most other vehicles.
It is pricier than the Ram ProMaster, so if you are on a budget, this is going to set you back a few more bucks.
3. Mercedes-Benz Sprinter Van
Mercedes-Benz is known for producing luxury vehicles. Despite the rugged nature of most cargo vans, the company has beat expectations and created the first choice for many campers, workers, and families. You can buy the Sprinter in a passenger or cargo model, but we'll cover the cargo van in this review.
Here are the pros and cons of the Mercedes-Benz Sprinter van:
Pros
Much like most other vehicles on this list, Sprinters are available with multiple heights. Low tops are ideal for solo campers, whereas mid-tops and high-tops are great for two to three passengers on board.
These vans are known to last for hundreds of thousands of miles. If you're looking for a long-term investment that you'll be able to camp with for many years to come, then the Sprinter series is definitely worth investigating.
Rather than being a hatchback, this van has two large doors that open out to a 180-degree angle. These types of doors allow you to remove and replace items without bumping your head or being restricted. The low floor is also very convenient since you can slide bulky equipment up a ramp in seconds.
Cons
Merely having the name 'Mercedes-Benz' undoubtedly increases the price of the Sprinter van. It's not uncommon to see these vehicles going for $5,000 to $10,000 more than its competitors.
Replacement parts, repairs, and scheduled maintenance almost always cost more than similar vans. Mercedes also requires specific jobs to go directly through the dealership, making it a hassle when you're dealing with an emergency.
4. Nissan NV Cargo Van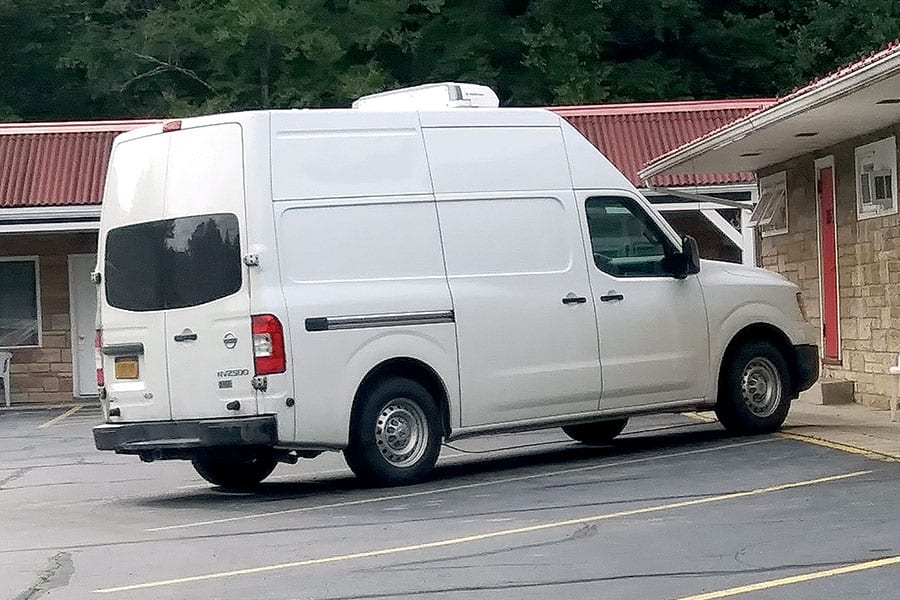 The Nissan NV cargo van separates itself from the rest of the cargo vans on the market by sitting low and having a much longer hood. Many customers express that it feels more like a car or a truck than a van, which may or may not be an advantage. Choose between low tops or high tops to pick your favorite style.
Here are the pros and cons of the Nissan NV cargo van:
Pros
Nissan touts that it has America's best commercial van warranty. It is an impressive five year, 100,000 miles standard bumper-to-bumper limited warranty.
The towing capacity eclipses almost every other van in its class. With a sky-high limit of 9,400 pounds (depending on the model you choose), you'll be able to tow trailers without a problem. The weight capacity also allows you to carry much more camping gear than other vehicles.
Alongside the impressive towing capabilities, the NV also boasts the option to choose from a 4.0-liter V6 engine or a 5.6-liter V8 engine. The power behind both engines is as good as you'll find in any van, which is perfect if you carry heavy gear on your camping trips.
Despite the features mentioned above, the Nissan NV cargo van is relatively inexpensive. Capping out at $30,000 with stock features, it's almost $20,000 cheaper than a Mercedes-Benz Sprinter van. The parts are more affordable, as well.
The fuel economy of this heavy-duty cargo van sits between 24 to 26 miles per gallon. For all of the aforementioned reliable features, it's quite impressive, because most other vans get between 14 to 22 miles per gallon.
Cons
The high-top version only has a raised ceiling over the cargo space. Not only does this design look odd, but it also means you won't have overhead storage space above the driver's seat and passenger's seat.
The windowless model doesn't even come with rear windows, nor will you have the luxury of side windows. You can only have all windows or none at all.
Other Posts of Interest:
5. GMC Savana
The GMC Savanna is a popular choice for many reasons, one being that they have various models for gasoline, diesel, and natural gas. There are also quite a few engine sizes, all of which have impressive weight capacities for your camping gear. If you want to lug a kayak or several sets or surfboards, this might be your best choice.
Here are the pros and cons of the GMC Savana van:
Pros
Some of the old Savanas have a rounded top, whereas the newer models all come with a flat ceiling. Being able to choose either or is a great convenience, but it'll also help to determine what type of camping equipment you'll be able to bring with you.
If you buy the passenger version, it has maximum seating for 15. Remove a seat or two to allow friends to join you or take them all out for maximum space. Removing the brackets is as easy as taking some tools to the nuts and bolts. You can have them all out in under 15 minutes.
GMC intentionally made the bottom of this van sit very low to the ground, which makes it quick and easy to load large, bulky items. You can slide ice chests, camping stoves, and even a mattress up the sloped edges.
The Savana has multiple window options to choose from. Even if you decide to buy the windowless version, you can bring it to a dealership to have new windows placed along the sides or on the rear doors.
Cons
The flat top of newer models still has a slight angle, which makes it a bit challenging to fit solar panels flush with the roof. However, you can use brackets to anchor them down.
6. Chevrolet Express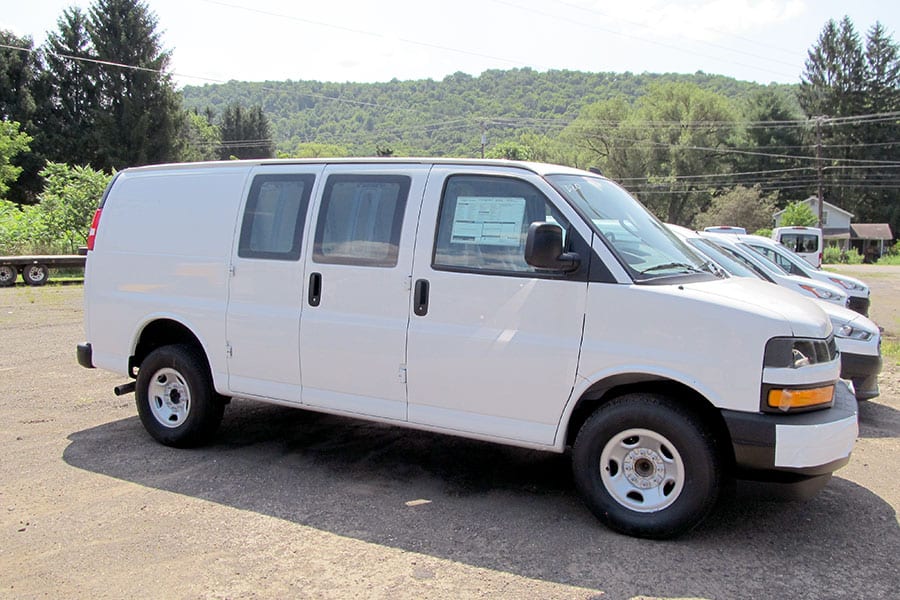 The biggest problem facing the Chevrolet Express was the lack of modern upgrades to its appearance. However, it was redesigned entirely within the past few years, shattering expectations and making a return. People have purchased Chevy vans for decades, giving them a similar reputation to the Ford vans.
Here are the pros and cons of the Chevrolet Express van:
Pros
It comes in 4-cylinder, V6, and V8 models, some of which have options to use diesel fuel, gasoline, or natural gas and propane. There are also three body style choices, including a passenger vehicle, a cargo van, and an extended cargo van model.
Unlike most other cargo vans that have a sliding side door, the Chevy Express has two separate doors that open up to 180 degrees. This option allows you to load up large pieces of camping equipment without slipping on the door or bumping into it. You can also have two separate windows for each door.
The flat top of the Express is perfect for solar panels and other gear, and it also has slots to prevent rust and promote airflow. The trenches also prevent water from pooling on top of the roof. Step onto the extended bumper to secure everything without slipping around.
Cons
Chevy vans are almost always used for work vans, which means a used model is likely to have all sorts of bruises and repair problems. However, this wouldn't be an issue with a brand-new Express.
The 4-cylinder models have a difficult time scaling steep hills when loaded with lots of camping equipment and other gear. If you plan to haul a mattress, bed frame, and other items, you might want to consider spending more money to get the V6 or V8 models.
Check out these five items to help you have a better camping experience:
7. Nissan NV200 Compact Cargo Van
If you want something that's much more compact than the NV mentioned above, then the Nissan NV200 compact cargo van is worth a shot. It has an interior height of 53 inches, making it perfect for a mattress and other camping equipment. It's also one of the most customizable compact vans on the market.
Here are the pros and cons of the Nissan NV200 compact cargo van:
Pros
If you don't want to be limited by a high roof, then the compact design of this van is the best choice for you. The antenna doesn't take up much space, which means you'll have more than enough room for gear and panels if you choose them.
The cargo space comes with six D-rings to strap gear wherever you need to. Although intended for work purposes, they're perfect for lanterns, fishing items, food, water bottles, and more.
There are more than five different custom designs to choose from if you happen to buy a brand-new model of the Nissan NV200. You can request shelving, split front-to-back barrier doors, and more.
Most of the models have a door on both sides, making it easy for you to get in and out of the van wherever you go. It's also ideal for airflow, installations, and more. You can choose to go with or without windows on the sliding doors.
Cons
There aren't any models of the NV200 that have a high ceiling, which means you probably won't ever be able to stand up inside of it. Unfortunately, it's somewhat limiting when you're camping in the rain.
The stock tires are not designed to go off-road, which means you'll have to spend more money if you intend to go on gravel, sand, snow, mud, or dirt on your camping trips.
8. Mercedes-Benz Metris Van
The Mercedes-Benz Metris is very similar to the NV200 in the sense that they have relatable body styles. The compact size of the Metris looks almost as if it's a minivan, but it has far more cargo space and a customizable interior for work, camping, and more. With 183 cubic feet in the back, you'll be able to fit everything you need for an exciting weekend out in nature.
Here are the pros and cons of the Mercedes-Benz Metris van:
Pros
If you don't want to drive a large van, the Metris offers an ideal combination of spaciousness and easy operation. Whether you prefer the cargo model or the passenger model, you'll be able to fit the van almost anywhere.
The price is surprisingly affordable for a Mercedes-Benz vehicle. With a stock MSRP that's below $30,000, it'd be challenging to find a comparable compact camping van for anything nearly as luxurious.
Compared to other compact vans, such as the Ford Transit Connect, the Metris has a payload capacity that's almost 1,000 pounds higher. When you're trying to fit everything you can for one extra day on the lake, the additional weight is more than welcome.
The Metris also has a rather impressive towing capacity of 5,000 pounds, which exceeds expectations for such a small van. It also has a much smaller turning radius, as well as a cargo volume that overshadows the Ford Transit Connect.
Cons
The Metris is a little more expensive than some of the other available van options.
Even though it is spacious for a smaller van, it still doesn't have the height to stand up in.
What to Look For When Buying a Van to Camp In
Before you choose a van to purchase for camping, you need to make sure that you're not just buying whatever becomes available first. Waiting a few extra weeks, spending a bit more money, and getting the exact model that you have in mind are all worth the wait. Therefore, you should write down a list of preferences beforehand.
The five most important things to consider when you're buying a van to camp in are:
Interior cargo space
Height, width, and length
Windows or no windows
Additional storage room
Door styles
Let's dive into each of these concerns below.
Interior Cargo Space
The cargo space refers to how much room you'll have to work with behind the front seats. If you're solo camping, then you might not need more than 120 cubic feet. However, 2+ people would need over 150+ cubic feet. Think about the mattress, bed frame, cabinetry, cooler (or fridge), and other gear that you'll undoubtedly bring with you when you're camping.
Height, Width, and Length
These dimensions determine the cargo space, but each of them is worth thinking about by themselves. For example, if you want to be able to stand, you'll need a van that's at least 6′ high. Many cargo vans, such as the Ford Transit, come with a 6'5 ceiling, which is more than enough.
To learn more about which vans you can stand up in read our post.
Width doesn't vary too much when it comes to vans, but adding an extra six inches on either side might be worth the additional money. The length is also essential because it might make it a bit more challenging for you to drive, park, and so on.
Windows or No Windows
Most cargo vans only have windows in the back and maybe one on the side. However, there are plenty of models that don't have any at all. However, passenger vans are covered in windows, making them ideal for people who want a lot of viewing space. However, you can buy a windowless cargo van and have professionals insert windows wherever you'd like.
Additional Storage Room
Now that you've understood the importance of cubic footage and other dimensions, it's time to consider storage space. Some vans have hidden shelves under the rear door, while others have side drawers that sit flush with the wheel well. Don't forget about the roof rack, either. All of these areas are crucial to decluttering the interior of your van.
Door Styles
Vans come with hatchback rear doors, sliding side doors, double doors on the back, or a single swing door, as well as many other combinations. There are advantages and disadvantages to each style, all of which are worth considering. For some campers, the door style can make or break a van. Think about what style you prefer before buying a van to use for camping.
How to Make a DIY Conversion Van
Once you've chosen your van, it's time to convert it. If you're good at building and DIY projects, then you'll cruise right through this process. It's not too complicated, and it can save you tons of money rather than buying a camper van off of the lot. You'll also have the advantage of choosing what you want to go inside the van.
Start by designing the complete van layout on paper, including wiring, plumbing, cabinets, beds, and any other amenities.
Install the wiring, ceiling vent, and any other items that would be covered by the insulation.
Then add insulation in the floors, walls, and ceiling of the van. You can use sheep wool insulation; it will provide a multitude of benefits for your build. To learn more about the advantages of sheep wool insulation, read this very informative post.
Next, build out the walls and add a bed frame. Adding a bed frame might seem like a lot of work, but it brings so much extra storage space underneath. You'll also feel much warmer since you'll be off of the floor. Buy a memory foam or gel mattress to throw on top of it.
Add counters with a sink using two food grade buckets or jugs for greywater and clean water. You could use a water basin or a metal bowl to create a DIY sink by setting it into a small piece of wood. Connect hoses to the buckets/jugs and connect the other end of each hose to the sink. That's all there is to it!
Add an ice chest or a portable 12V refrigerator and hook it up to solar panels on the roof. All in all, this will be the most expensive and difficult part of the project (if you choose to install the solar panels by yourself). However, the convenience and freedom that you'll get are priceless. We have a post "Are Camping Fridges Worth It? These Ones Are!" that goes more into depth on mini-fridges.
Consider what else you might enjoy from home. Some people prefer to buy curtains, window coverings, tint, roof vent fans for airflow, cabinets for spices, clothes, or utilities, and more. The larger size of a van makes the possibilities as endless as you'd like them to be.
Still not sure if any of these vans are right? Then maybe a smaller van may be the right option for you, read our post "The 10 Best Minivans for Camping" to find out more.
Conclusion
There are plenty of vans to camp out of, including many of which aren't on the list. If you prefer a throwback vintage van, Chevrolet and Volkswagen both make excellent choices. For a modern heavy-duty van, consider the Ram ProMaster or the Ford Transit.
Don't worry too much about other peoples' conversions since we all have different preferences. Pick the van that fits your needs and start making blueprints once you have it in your driveway. Converting a van to camp in is one of the best adventures around. Remember to enjoy the building process just as much as the camping!