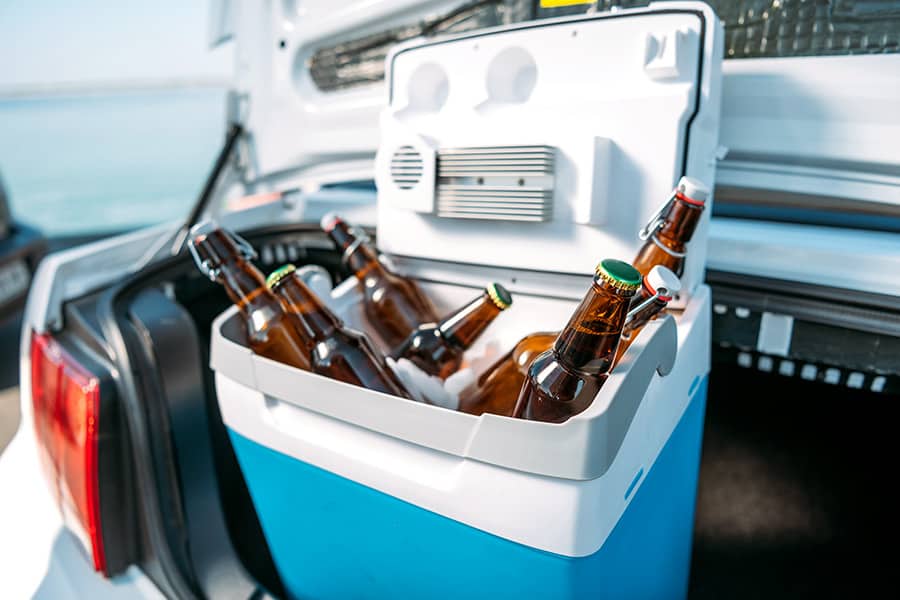 Whether you are traveling a few days for a camping trip or you're a full-fledged van camper, you're going to want to keep your food refrigerated. Coolers can only go for so long before all the ice melts. Fortunately, camping fridges can keep your food cold for days, but are they worth it? We've gone through and found some of the best ones on the market.
Are camping fridges worth it? If you are someone who is on the road for days at a time, then a camping fridge would be worth investing in. They are convenient and capable of cooling food for extended periods and are unmatched compared to the alternatives.
There are many camping fridges and other cooler-type options you can buy for your next road trip, so how do you know which is the best one for your money? When it comes to coolers, you want to consider the quality of materials, the range of temperature, and how well the fridge is insulated. Check out our top choices below. 
The 6 Best Camping Fridges You Can Buy
Camping fridges can come in all shapes and sizes. The first thing you have to think about is how often you are going to use a camping fridge. Also, think about how long you are going to be using the camping fridge at a time. Some people may only use it for a weekend while they go camping; others may use it for weeks while going on a cross country road trip.
After lots of research, we've gone through all the different types and have narrowed it down to the top six best camping fridges that are worth your money. Below are a few things to look for when selecting a camping fridge:
Portability
Durability
Capacity
Weight
Power Required
Power Options
Size
For this list, we've taken all of these factors into consideration. There are plenty of camping fridges beyond this list that we could recommend, but these are a few of our favorites. In order from the cheapest to most expensive, here are six camping fridges that will change the way you camp. 
Alpicool C20 Portable Refrigerator 21 Quart – The first camping fridge on our list is the Alpicool C20, which is the smallest and least expensive option on this list. Despite its small size, this cooler can cool a 20-pack down to -4 degrees. If you are considering a small camping fridge that won't cost an arm and a leg, then this fridge is for you.
Costway 54 Quart Portable Refrigerator/Freezer – Costway makes a great portable refrigerator because of its durability and shockproof design. This cooling system can reach temperatures of 32 degrees in about 30 minutes, making it perfect for any situation. Costway makes a variety of sizes for this cooler, reaching up to 70 quarts. Finally, these devices include a digital temperature adjustment on an LCD.
Whynter FM-45G 45-Quart Portable Refrigerator – If you are looking for something a little smaller and lighter, check out the Whynter series. These compact fridges are great for quick trips to any destination. The FM-45G has a sleek and stylish design that doesn't cramp anyone's style. If that isn't enough, it is an ETL approved product, making it one of the tops of its class.
ICECO JP50 Portable Fridge – Is the first choice for many campers. The display lets you adjust temperatures, use two different cooling modes, and review the current settings. There's also an on/off button when you're not using the fridge. A unique feature of this portable fridge is the AC/DC outlet that gives you multiple power source options.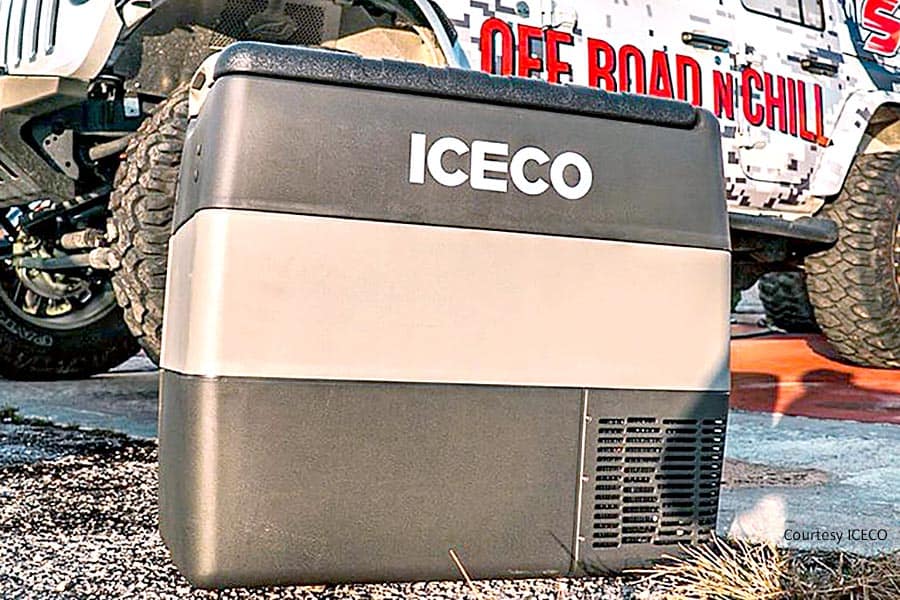 Dometic CFX 40W 12V Electric Powered Portable Fridge – One of the most expensive camping fridges on this list comes with some amazing features to justify the price. For one, this cooler doesn't ever ice, meaning defrosting is never a problem. Additionally, it doesn't require much energy to work. This makes it possible to charge it up in different ways, including solar.
ARB 50 Quart Portable Fridge Freezer – Last but not least is the ARB. It has a plethora of features that will make any camping situation a breeze. This cooler has smaller compartments but can hold up to 72 12-oz cans. Every piece of this cooler is made with heavy-duty components. The best part is how portable and durable this device is.
Although these are our top picks for portable fridges, that doesn't mean these are the only options. It's possible these choices just aren't for you. In that case, let's examine all the different types of camping fridges there are. 
Other Posts of Interest
Types Of Camping Fridges
Now that we've given some of our favorite choices for camping fridges, it's time to dive a little deeper into how these camping fridges work. There are three main types of camping fridges: absorption, thermoelectric, and compressor.
Absorption Fridges
Absorption fridges typically run best on gas but can run off of AC or DC as well. This type of camping fridge should be kept level for proper operation. Also, it's subject to the ambient temperature and can take anywhere from 4 to 24 hours to reach temperature. Absorption fridges are the most common type you'll find in RVs.
These fridges use refrigerant fluid to absorb heat from the interior of the fridge and evaporate it away from the fridge. The low-pressure chamber doesn't require much heat for it to activate. These fridges work best if there is a steady airflow over the heating coils.
Thermoelectric Fridges
Thermoelectric fridges are the lowest cost of the three, but they sacrifice low temperatures in return. Because of this, they may not be the best to take on extended trips. These coolers are typically smaller in size but require more energy to run.
The way thermoelectric fridges work is by something known as the Peltier Effect. As electrical currents travel between conductors, one side heats up while the other cools down. The cold side of the Peltier sits inside the fridge, while the other side sits outside.
Compression Fridges
The last type of camping fridge is the compression fridge, which is very similar to the one you have at home. They have temperature control technologies and do not need to be completely level. These fridges require an average amount of energy but will be the coldest of the three.
A pump brings refrigerant fluid into the high-pressure condenser chamber, found outside of the fridge. The condenser will heat up when the fluid comes in contact with it and releases the heat away from the cooler. The temperature inside becomes lower as the fluid flows into the lower pressure evaporator; this keeps cold air in and any hot air out.
Power Options
Although there are only three types of camping fridges available to purchase, there are multiple ways to power these machines. However, it's not always as simple as plugging it in like the fridge at your home. The power option will depend on the type of cooler you purchase. It's important to factor the type of power source you will have before you purchase any coolers.
12 Volt
12V DC receptacles, otherwise known as your car cigarette lighter port, is the most common power source. Simply plug any appropriate power cord into the lighter port, and you will begin to generate power for your cooler. Here are the types of coolers that can use this as a power option:
Portable 12V coolers
2-way compressor fridges
3-way absorption fridges
The problem with using 12V DC receptacles is that it uses the power from your car, which could drain your battery. The best practice is to have the cooler plugged in while you are driving. And unplugged while the vehicle is parked. In other words, this cooler isn't the best option if you plan on van camping overnight.
AC Power
The next popular option for power supply is from AC power, where you can plug it into a standard outlet. You can use an AC adapter that plugs into your vehicles 12V DC receptacle. However, the same problem occurs. You could drain your battery.
On the other hand, being able to use AC as your power source means you can use it away from your vehicle. It also means you can plug it into a solar panel and use it wherever you'd like. This power supply is available in 2-way compressor fridges and 3-way absorption fridges.  
Propane Gas
Believe it or not, you can use propane gas tanks to power certain 3-way absorption fridges. With no electricity required, simply hook up the fridge to a propane gas tank, and you will have a cold fridge before you know it. This fridge is the best option for someone who doesn't have access to electricity. Or is planning on being on the road for a while.
Camping Fridge Alternatives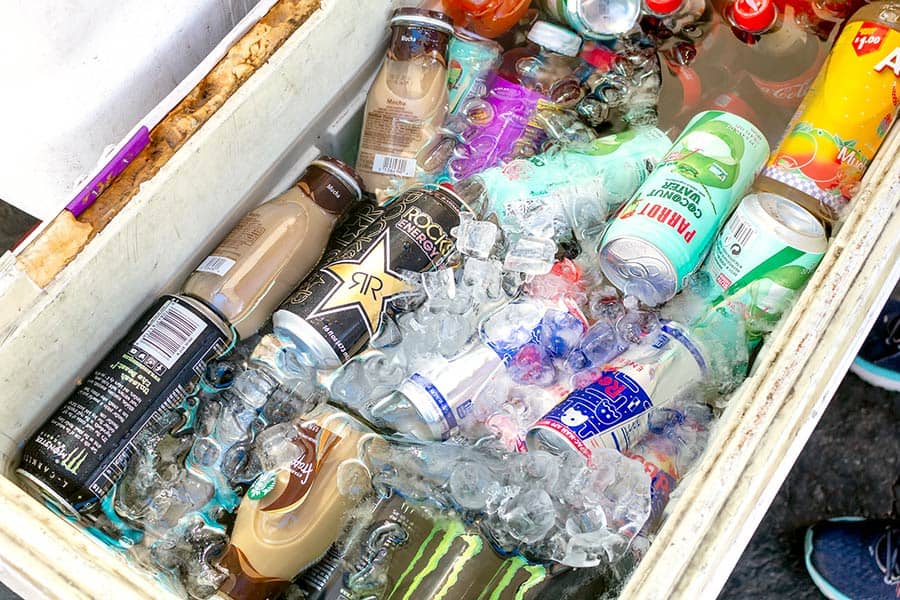 After all of this information, you might be realizing you don't need a camping fridge, after all. Nonetheless, there are plenty of other options that will work in place of a camping fridge. These options are much cheaper but won't keep food cold as long.
Electric Cooler/Warmer
Granted, these are very similar to the ones mentioned above but feature something none of them do. These electric coolers, which still require connecting to a power source, can warm and cool your food. Using similar technology as the thermoelectric fridges, this type of cooler can chill your drinks or warm up a snack, depending on which setting it's on. 
One key feature of these electric coolers is the ability to roll on wheels; this allows for easy transportation for any type of food. These are perfect for campers who enjoy cold drinks and warm food but don't want to choose between the two. These coolers typically start at $50.
Portable Coolers/Ice Box
The first alternative is probably the most common, as well as the cheapest. Portable coolers are perfect for one-day activities, such as going to the beach. These coolers rely entirely on ice to stay cool and don't have any electrical options. In other words, your food won't stay cold for very long in these coolers.
Good
Portable coolers overall can range in price from $10 up to $300. The lower cost coolers can be found at any local convenience store and will last for only a couple of days. They are typically made out of Styrofoam but can come in many different materials.
Better
Spend a little more money on your portable cooler, and you will have a few more features available than the lower cost options. One of the more popular features for the higher-end portable coolers is the ability to tow with built-in wheels, making the transporting of the cooler much easier.
These are an excellent choice for anyone who uses coolers often for one-day adventures. This type of cooler will usually cost less than $100.
Best
The most expensive coolers have advanced insulation properties within the cooler that make the ice last much longer. These coolers are for people who use coolers often and need their food/beverages chilled for slightly longer than a day at the beach.
If you would like to learn about the cooler we use, read "Why We Bought A Yeti Cooler."
Backpack Cooler
Another low-cost option that will keep any perishables cold temporarily is backpack coolers. These are very similar to portable coolers and iceboxes, yet they are much smaller—the interior design prevents leakage, while the exterior is designed for style. There are two different styles of backpack coolers: the backpack style or the purse style.
Either way, they make traveling on foot with food and drinks much easier. These coolers are perfect for anyone who plans to travel a lot but doesn't expect to have their vehicle nearby at all times. On average, these backpacks cost around $30 to $50.
DIY
Finally, if all of these options still seem too expensive or luxurious, you can always make your DIY cooler at home. It will still cost money to build these, but you will at least have the satisfaction of building it yourself. 
One popular way people have done this is by taking an old mini fridge from your house and using it as an icebox. If you decide to build your cooler, remember all of the factors for a cooler, most importantly, insulation. 
Tips For Using A Camping Fridge
There are many options to keep your food cold while you travel. Once you've found the perfect camping fridge for yourself, it's time to get familiar with it. No matter the type of fridge or cooler you have, it's essential to know some basics. Here are some useful tips for using your fridge to its full advantage.
Move food from the freezer into the fridge area the night before to thaw out any food.
Never block air vents within the cooler; it may disable the cooling system.
Be mindful of the amount of power required for your cooler. The thicker the cable, the better the power will be delivered.
Don't use your car battery to power your camping fridge; the high-power drainage will drain your car battery before you know it.
Pack any food in reverse order of when you are going to eat it. In other words, pack whichever food you believe you will eat last as the first item in the cooler.
Use a cover to protect the cooler from natural wear and tear.
When traveling, be sure to strap the cooler in place to avoid any damage.
Adjust the temperature to maximize power usage. Have the cooler set at the coldest degree while you are driving and lower the temperature as you near the destination.
Avoid having the cooler in the sun at all times.
Pack an extra fuse just in case
Keep the fridge running to guarantee consistency.
Allow hot food to cool down before putting it in any cooler.
No matter what kind of cooler you end up buying, be sure to read the instruction manual to know how to use it. There you will find information regarding the power source, how to use the cooler, and any specific warnings that come with the cooler.
Remember, the last thing you want to happen when traveling is to have your portable fridge break, leaving you with inedible food. 
Keeping Food Cool While Camping
There are many different models of camping fridges, and they all have their pros and cons. Hopefully, after reading this post, you have figured out exactly which one would fit your situation best. Remember all of the factors to consider before buying your cooler, such as how long you need your food chilled. Also, consider your power supply, capacity, and durability. 
If you've decided camping fridges aren't what you need, then consider the various alternatives. Whether you are only going to the beach for the day or going on a five-day hike, there are options for you. 
Finally, before you go buy a brand-new camping fridge, make sure you have all the necessary equipment to connect it to a power source. Once you have everything set up, you will be able to enjoy cold food for days at a time without having to go home.