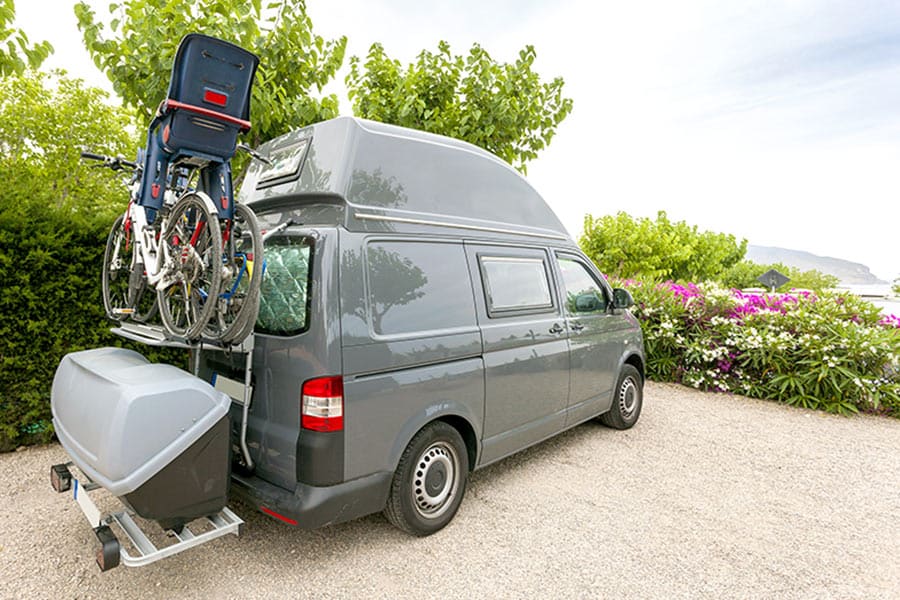 Camper vans offer all sorts of fun experiences, but they're not quite as spacious as most full-sized RVs. In fact, they're often less than 150 square feet, which is 10 to 15 times smaller than a traditional house. However, if you're efficient with the space that you're able to use, you can fit more than enough supplies in your vehicle.
So, do you want to learn how to go about maximizing space in a camper van? Here are the tips you need to know:
Change the way you store your clothes
Find items that serve multiple purposes
Store your food better
Keep your gear limited
Use cargo boxes, carrying bags, and more
Keep your bedding neat
Store your hygiene products on the back of the seats
Make a grab-and-go bag
Throughout this post, you'll learn details about each suggestion, as well as what you need to get the most out of such a small space. With these tips, you'll forget about feeling confined and get back to enjoying the outdoors.
Store Your Clothes Efficiently
Clothing is usually one of the most significant areas that people have to reduce when they're traveling in a camper van. We all use so many clothes throughout the week, but you have to bring less than half of what you usually wear.
Another way to bring more clothes with you is to store them better. Let's check out a handful of different ways that will allow you to reduce the space used by clothes in your camper van below.
Get a collapsible clothing container. Some of these containers are made out of canvas material, which is what you should be looking for. You can load them with tons of clothing without taking up too much space because they only get as big as the clothes inside.
Make use of the clothes hangers around the vehicle. Some vehicles have a few hooks and spots to hang your clothing, which you can use instead of leaving them on the floor. These hooks are ideal if you're going to an important event that requires ironed, straightened outfits.
Get a collapsible laundry bin. You could use a hamper made out of a soft material or even a camping bag. The most important thing to do is to make sure that you keep your clean clothes separate from dirty clothes. Seal them off and wash them as you go to keep them from piling up.
If you have room for a nightstand, use the top shelf as a place to store clothes that you can grab quickly. These might include socks, underwear, shirts, and belts. You probably won't be able to keep jackets and pants in small drawers; you can store those in a bag with everything else.
Always have a designated area for clothing. Whether you're choosing a special bin, bag, shelf, or anything else, you should never let your laundry pile up around the van. Unfortunately, it'll end up causing clutter quicker than you can keep up with it. Before you go to bed, set the next day's clothing right next to you, so you don't have to rummage around.
Multipurpose Solutions
Whether it's clothing, food, or miscellaneous items, using various storage solutions for multiple purposes is an excellent way to save space in a camper van. Making the most out of the limited room in a camper includes being efficient with areas that you didn't know were possible. Let's check out five of them below.
If you install solar panels on your camper van, place the charge controller on the bed frame legs rather than make a separate board for it. Charge controllers are designed to give you a place to control and analyze your vehicle's solar power, but they can take up too much space if you don't mount them on the bed frame.
Speaking of bed frames, make a bed frame that can fold into a table (or vice versa). Many manufactured camper vans already have this option. You'll be able to use the table for working, eating, and other activities. Fold it down at night to go to bed without having both pieces of furniture side by side.
If you have cabinets, then you should definitely line them with additional shelves on the inside of each door. You can store spices, keys, books, and other small items on the added shelves. It's an efficient way to have your entire pantry located in a tiny area without having to move everything around.
Create a velcro area for any remotes, phones, and other handheld devices. You could put patches on the side of a nightstand or cabinet and place the other side of the velcro patch on the device. Attach them whenever you're not using them, saving space and protecting your gear at the same time.
Lastly, if your camper van has a shower, don't forget to add a hanging shower bag or rack inside. This added space will allow you to keep all of your hygiene items out of the way without having them slide around the inside of your vehicle while you're driving. Remember that everything needs to be stuck in place when you're operating the vehicle.
Other Posts of Interest
Space-Saving Food Storage
Next to clothing, food is likely going to be the second most space-consuming component of traveling in a camper van. Whether you're going for a night or a month, you should have food storage planned before anything else.
Some types of food can be stored pretty much anywhere, such as peanut butter, dried meat, nuts, and crackers. You should try to keep them in a drawer or cabinet, if possible.
On the other hand, you might want to diversify your meals with refrigerated food. You'll obviously need a fridge for this, which may or may not come with your camper van. If it doesn't purchase a camping fridge, you can learn more about them here.
Either way, camping in a van requires that you cut down on the amount of space that's taken up by simple snacks and full meals. Try to stack your kitchenware by buying the same brand of items. They usually use the same footprints, meaning you can lay them inside of each other without cluttering a bin or cabinet.
Another suggestion is to shop as you go. As long as you're always within an hour's drive of a grocery store, there's not much of a need to have more than two to three days worth of food in your camper van.
Plan for road trip snacks as well as healthy meals. Store leftovers in stackable Rubbermaid containers, or if they need refrigerated, keep them in the fridge for a couple of days. As much as people don't like to admit it, leftovers will save you time, money, and space.
Other options include stackable measuring cups and spoons, collapsible bowls, and sporks (rather than having forks and spoons.) Use a collapsible washing and drying bowl for dirty dishes, as well as using mugs for everything (water, tea, coffee, soda, you name it) rather than just for hot liquids.
Quick and Easy Gear Tips
Keeping your gear safe while you travel in a camper van is undeniably essential. The first and foremost way to prevent damage to your gear is to bring less of it. You might not need several sleeping bags and camping pillows if you can rely on the blankets inside of the camper van.
Leave the tents at home, don't worry about having multiple camping stoves, and only bring as many chairs as you need. However, there's no doubt that you might want to bring a few backpacks to hike around with.
When you're storing your gear for hiking or other outdoor activities, leave it packed inside of a backpack. You might not need to use all of it daily, so keep a 'Go Bag' where you park. You'll be able to grab it and take off without spending too much time trying to get everything together.
Another benefit of having a bag ready to go is that you'll reduce the amount of time it takes to pick items from around the camper van. You'd be surprised to learn how easy it is to lose something in a 100 square foot vehicle!
For larger items, such as surfboards, bicycles, and scooters, use roof racks or bike racks on the rear doors. Even if you might have enough space inside of the camper van, you'll be much happier with having tons of extra room.
The whole point of choosing a camper van over a full-sized motorhome is to save money, gas, and space. By keeping as many items outside of the vehicle as possible, you'll be expanding on the third point. When you're ready to use it, unlock it, and you'll be all set to use your gear quickly.
Van Camping Life Tip: If you have solar panels, roof vents, and other items on top of the van, you might not be able to use roof racks. However, it doesn't limit the possibility of attaching a bike rack or trailer to the back of the vehicle.
Cargo Boxes and Carrying Bags
Plastic storage boxes and canvas carrying bags both make excellent storage options. You can use these in whichever way you want, but remember to use them wisely. There's no point in having loads of containers and bags all over the places if you can't walk inside without running into something.
Here's a list of items that you could store inside storage boxes:
Cooking gear, including stoves, utensils, plates, bowls, cups, mugs, stove fluid, and other kitchenware.
Clothing – you could fold and stack all of your clothing in a single plastic storage box and throw the dirty laundry in a hanging canvas carrying bag until you're ready to wash it.
Cleaning supplies are another excellent idea. You can put bleach, paper towels, Clorox wipes, and almost anything else in either of the containers.
Keep your morning supplies in a single bag hanging by the bed frame. You can put hygiene products, coffee supplies, breakfast items, and other things you need first in the morning. Think of it as a Go Bag for morning necessities.
Pet supplies are also a necessity if you're bringing an animal along for the ride. Make sure you're carrying enough water, food, treats, and toys for your pets in these bags or bins.
Regardless of why you're getting the containers, there's no doubt that you'll find a handful of times when they come in handy. They're low-cost and just about as space-efficient as it gets.
Where to Keep Your Bedding
Making your bed every morning can be the difference between a messy van and a neat, tidy van. Tuck in the sheets, put your pillows at the top of the bed, this small act can make you feel less stressed the rest of the day. And try not to eat when you're lying on the mattress.
Sadly, you won't have this option if you're following the suggestion of having a multipurpose bed that turns into a table. However, the conversion is more than worth having to find a different place to keep your bedding.
If you're using the double-purpose bed-table, then there's usually enough room underneath the table seats to throw your bedding. Many manufactured camper vans have cushions that can be lifted or doors under the seats that have tons of room. Place your pillows, sheets, and other bed supplies there.
However, if you're still strapped for a place to store your bedding, you might want to consider using a plastic storage container from the previous section. Most of them are big enough to lay two pillows, blankets, and sheets on top of each other.
Finally, if you don't have any other options, fold your bedding and place it underneath the seats or bed frame. There's always enough space for bedding, but make sure that it's jammed or balanced to the point where it won't slide around all over the place.
How to Store Your Hygiene Products
When you're traveling in a van, every little possession starts to feel like it takes up a lot more space than it did back home. For example, a stick of deodorant now replaces what could've been multiple forks or a pair of socks.
That being said, you could cut back on the number of hygiene products you bring along, allowing a little extra space for other items that you want to take.
Check out these three different ways that you can keep your hygiene products stored better:
Use a backseat organizer on the front two seats. They're big enough for toothbrushes, toothpaste, deodorant, hair spray, makeup, contact solution, mouthwash, and other hygiene supplies.
Keep everything in a single small drawer in your nightstand. If you want to be able to get your hygiene products whenever you need them, there might be no better place than by the side of your bed.
Finally, you could keep it all in the glove compartment of the camper van. It's not always an ideal placement, but you'll still know where everything is without worrying about it cluttering the camper van.
Grab-and-Go Items
Grab-and-go items are some of the best supplies to have in your camper van. When you're trying to maximize the space inside without limiting the possibilities, you should create Go Bags and other things that make it easier for you to focus on the adventure rather than tidying up the vehicle.
If your camper van has space between the two front seats, you can slide a small cooler between them. You'll be able to store food, drinks, and other supplies within arms reach.
Aside from snacks and beverages, you can also use grab-and-go storage areas to hold phone chargers, headphones, handheld radios, and anything in between right in the glove box. Look for small places where you can store small items conveniently if you use them often.
As a bonus tip, you could mount clothes hangers and paper towel holders on the inside of your van. Since you use them more often than other items, you should have them within reach as much as possible.
Van Camping Life Tip: All grab-and-go items need an extra level of security. Not only should they be out of plain sight from nearby windows (if they're valuable), but you should also consider using straps to hold them against the wall or ceiling. Suddenly hitting the brakes or quickly accelerating can lead to things falling around all over the place.
Conclusion
Camper vans are notorious for being significantly smaller than motorhomes and other means of camping transportation. However, the mobility of them is second to none. Combine the luxury of space-saving toilets, showers, beds, tables, and other amenities, and you'll be able to make more out of the experience.
Here's a quick recap of the post:
Use plastic storage containers and canvas bags.
Consider backseat storage bags.
Throw your bedding underneath the bed or in a cupboard when you're not using it.
Try to be more space-efficient by using multipurpose items.
Create a Go Bag that is always ready when you want to hike or walk around the town.