For outdoor people, camping season happens throughout the year. Rain, snow, or sunshine, being able to drive out to your favorite spot in a minivan to camp is as good as it gets.
So, what are the best minivans for camping? Here's a list of ten of the best options:
Toyota Sienna

Honda Odyssey

Chrysler Pacifica

Kia Carnival

Ford Transit Connect

Ram ProMaster City

Mercedes-Benz Metris

Kia Sedona

Dodge Grand Caravan

Nissan Quest
In addition to a quick overview of these minivans, we'll also discuss what you should look for when buying a minivan for camping and how to convert a minivan into a vehicle that you can camp in.
We also have a post that tells which vans you can stand up in if you would like to be able to do that.
Which Minivan is the Best for Camping?
The following list of vans are some of the best minivans for camping; however, we haven't listed them in any particular order.
1. Toyota Sienna
Toyota is known for producing high-quality vehicles that are solid and well-built. As a result, the Sienna is worth a second look if you're seeking a minivan.
It's versatile and spacious, an ideal choice for your everyday commute, with room to pack all your gear for that back-to-nature weekend getaway.
The Sienna is an excellent example of the dedication to detail and superb craftsmanship that Toyota continues to display. It's a perfect commuter vehicle, but it also has quite a few traits that make it a top choice for campers.
A few pros and cons of the Toyota Sienna:
Pros
Removing the seats is very easy if you choose to do so in model years 2020 and prior;

no

 special tools are required to get the job done, which means you can clear space for a bed and other camping essentials. Even the seat brackets are removable, unlike many other vehicles on the list.

The side sliding door makes the Sienna easy to access in seconds, and you can fit right through easily

. The wide side door is also convenient if you're hauling large camping equipment. In addition, you also have the hatch door making it convenient to slide your bedding right in. 

The roof of the Toyota Sienna is primarily flat, 

which is perfect for adding roof racks,

 setting up solar panels, carrying surfboards and other outdoor gear. It comes stock with two brackets on the top for you to attach an array of items rather than taking up space inside of the minivan.

The Woodland Edition has a standard 1500W-capable power outlet 

perfect for running a portable fridge.

USB ports in different strategic locations throughout the van, perfect for powering your USB fan, LED string lights, charging up your windproof rechargeable lighter, 

and keeping all of your other gadgets up and running.
Cons
The overall 68-inch height of the Sienna 

makes it impossible for an adult to stand inside the vehicle.

 It's less than 45 inches high inside, so you'll have to crawl or crouch to move around.

The cargo area floor is uneven.

 Depending on the vehicle's year, some have a more even cargo area than others.

Starting with the 2021 model year, the second-row seats are no longer removable.
2. Honda Odyssey
The Honda Odyssey is another minivan that will be around for many years to come. It's one of the top-sellers on the market across the USA, and repair parts are available at almost every auto parts store. The Odyssey is a vehicle to consider for camping, reliability, and spaciousness.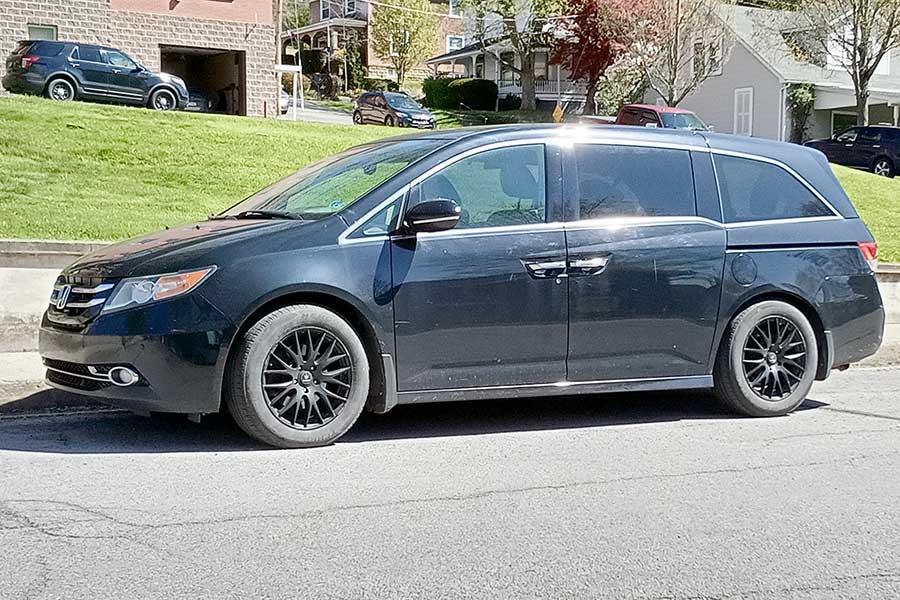 The Odyssey is an excellent minivan; its interior is spacious and offers plenty of seating flexibility. With removable 2nd-row seats and 3rd-row seats that stow in the floor, there's plenty of area to pack your camping gear. In addition, a quick kick under the rear bumper gives hands-free access to the cargo area.
Some pros and cons of the Honda Odyssey:
Pros
Much like the Kia Sedona, the Honda Odyssey 

offers plenty of window space.

 You can look out from all sides without being limited or blocked by a lot of metal structures or anything else. There's not much more someone could want in a minivan for camping adventures.

The interior space is ideal for campers who want to stretch out.

 You can remove the seats in a matter of minutes, giving you more room to sleep.

Like almost any other Honda vehicle, 

the Odyssey should last for over a decade with proper maintenance.

 The three-year – 36,000-mile warranty gives you the security of not having to worry about repairs initially, making this a great option for families and adventurers alike.

Most models of this minivan come with a sunroof, 

which adds to the outdoor feeling that we all crave when we're camping.

 Open the top window to let in the fresh air, or keep it closed while still letting the sunshine through.
Cons
Not all of the Odysseys come with roof racks,

 making it challenging to fit your gear on top. To make the roof problems worse, it's slightly curved, creating a challenge for those who want solar power or flattened surfaces for camping equipment.

The city MPG is 19, which is near the low-end of the spectrum.

 However, it's matched with an above-average highway MPG of 28.
3. Chrysler Pacifica
The Town and Country was one of their most popular models. However, Chrysler replaced it with the Pacifica, with many of the improvements that customers wanted. The simple body style is a welcomed surprise if you don't prefer all the fancy cosmetic changes to modern minivans.
The Pacifica is spacious, with plenty of built-in storage areas. The Stow' n Go seats simply fold and stow in the floor, leaving plenty of space for all your gear. The Pacifica is a pleasure to drive and is available with optional all-wheel drive. Additionally, with its 3,600-pound towing capacity, you can bring along the toys.
Some pros and cons of the Chrysler Pacifica:
Pros
The rear seats disconnect and fold down, so you're free to adjust and change the interior however you'd like to. 

You don't have to remove the seats and take them entirely out of the van to have a flat floor.

There's even a side storage area that fits into the rear of the vehicle 

to store small tools and camping equipment.

In addition to the side storage, you can remove the false bottom near the backside of the minivan to store camping stoves, kitchen utensils, and more. 

It sits flush with the carpet to make it easy for you to sleep on with a mattress.

Both sides of this minivan have sliding doors.

 You can open them both to promote optimal airflow on hot days. If you have a fan running throughout the afternoon, you'll be able to relax without feeling overheated from the sun.

The new model years are available in AWD. 

Now you can go camping in the late and early seasons without worrying about not being able to travel in a late or early snowstorm.
Cons
The fuel tank only holds 19 gallons,

 which isn't a lot when you only get 19 MPG fuel efficiency. Fortunately, the MPG increases to 28 when you're driving on the highway.

The cost of the Pacifica Pinnacle starts at right around $55,000. 

For camping purposes, this minivan might be decked out with a little more refined features than you might want to get destroyed with the rugged use a camping vehicle will get.
Other Posts of Interest
4. Kia Carnival
The Kia Carnival made its debut for the 2022 model year, combining to blend the versatility of a minivan with the convenience of an SUV. Marketed as an MPV (Multi-Purpose Vehicle), it has a towing capacity of 3,500 lbs. and a seating capacity of up to 8 people. It replaces the ever-popular Kia Sedona.
The Carnival has interior features everyone will love while providing plenty of space and a relaxed ride, perfect for long road trips and daily commutes. Removable 2nd-row seats and 3rd-row seats that drop into the floor, there's ample cargo room. In addition, a powerful V6 engine provides robust performance and 3,500-pounds of towing capacity.
Let's take a look at a few of the pros and cons of the Carnival:
Pros
Sliding doors on both sides of the vehicle

 for easy access to either sleep or stow your camping gear.

When the Kia Carnival SX is set up in the 2-seat cargo mode,

you can fit a 4′ x 8′ sheet of plywood in it! 

So there is plenty of room to stretch out to get some much-needed shuteye.

USB charging ports are located strategically throughout the vehicle, 

so you can stay powered up no matter where you are in the vehicle.

It has a higher ground clearance

 than most minivans clearing an amazing 6.8 inches, allowing you to get a little farther off the road than usual. 
Cons
Smaller third-row window than usual. This feature, in some ways, limits vision while driving.

The Carnival SX Prestige has captain chairs in the second row,

and they can't be removed, 

which severely limits the amount of space available for sleeping in this model.

The Carnival doesn't come with an AWD option, 

limiting the places that you can go and the times of year you can go there.
5. Ford Transit Connect
Although known as a cargo van by most people, the Ford Transit Connect is, in reality, a minivan. The Transit Connect is available in cargo and passenger versions, with the latter providing several packages that include seating options for up to 7 people. 
Convenient dual sliding side doors and fold-flat 2nd and 3rd-row seats provide easy access and plenty of cargo room for those camping essentials. Despite the 4-cylinder engine, it accelerates rather quickly thanks to the lightweight materials used throughout the vehicle's frame.
Some of the pros and cons of the Ford Transit Connect to consider:
Pros
The cargo space in the Transit Connect is incredibly large.

 With up to 123 cubic feet at your disposal, you'll have no problem bringing all of the camping gear that you want. There's even enough space to throw a solar panel on the roof and run the electrical wires to the interior.

The fuel economy ranges from 

24 city to 29 highway miles per gallon.

 When it comes to larger minivans, you won't find anything that comes close to the level of efficiency produced by this vehicle.

You can pick out a cargo version or a passenger version. Cargo van heights go up to 49.8 inches on the LWB model and 43.3 inches in the passenger wagon LWB. If you buy the cargo vehicle, you'll have an empty canvas to create the ultimate minivan for camping. 
Cons
As mentioned previously in this section, the Transit Connect only comes in 4-cylinder models. While it's not too much of a restriction, 

you'll definitely feel a limitation if you have loaded up the cargo space and try to accelerate.

It's somewhat shorter than almost any other minivan on the market.

 If you're looking for a floor space that allows you to stretch out at night, you'll need to remove all the seats behind the front row in the passenger van.
6. Ram ProMaster City
The ProMaster City is available in a cargo and passenger wagon version. The passenger model offers seating for up to five. The convenient fold and tumble rear seats are arrangeable into nine different configurations making hauling either people or cargo simple. Dual sliding doors allow you to easily get in from either side, and the split rear doors open 180 degrees to accommodate all your camping gear.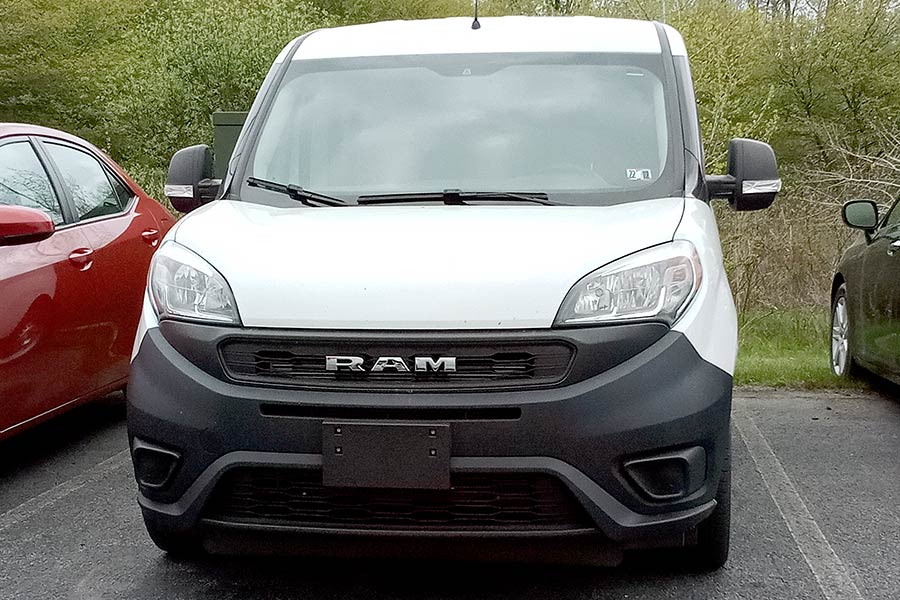 Some pros and cons of the Ram ProMaster City:
Pros
Base models start as low as around $26,700

, so it won't bust your budget. The various models offer a couple of different available window options. All models are front-wheel drive and powered by a four-cylinder engine.

Side panels are nearly vertical, allowing for better customization.

 In addition, it's relatively easy to get in and out of with its low step-in height. For a small van, it has a spacious 131.7 cubic feet of cargo space.
Cons
You can't stand upright and move around in it,

 so when you are van camping, this might be an inconvenience, especially on days when it is raining.

There is no extended wheelbase option,

 so this van might not be the best choice if you were looking for more room.
7. Mercedes-Benz Metris
Mercedes-Benz's legendary build quality makes the Metris an excellent choice. Available in passenger and cargo versions, the passenger version can accommodate up to eight people. In addition, the 2nd and 3rd-row seats can be reconfigured or removed, allowing ample space for passengers and cargo.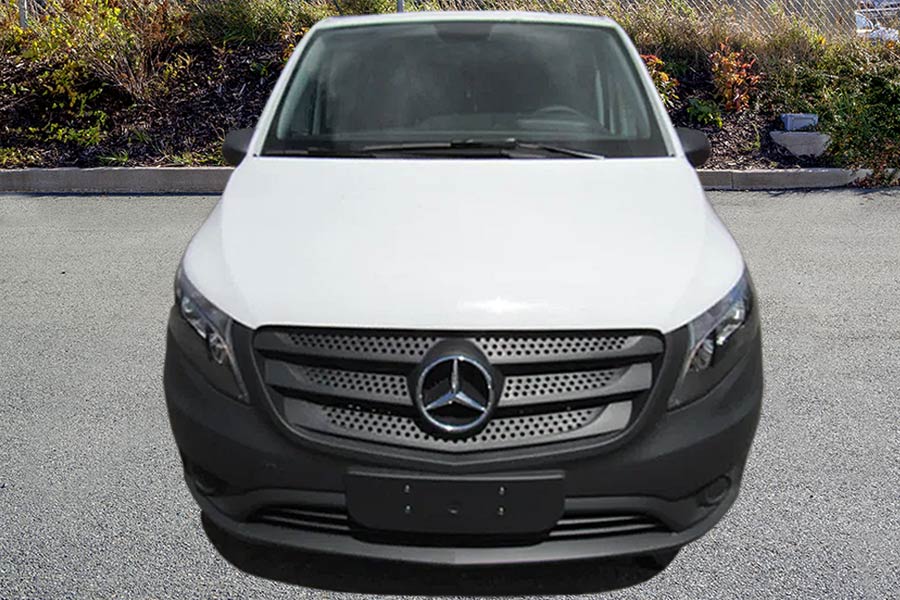 The Metris is what is considered a mid-sized van. The small size and look of the Metris make you think it's a minivan. However, it has way more cargo space, and the inside is easily customizable for work, camping, and more. With 183 cubic feet in the back, you'll be able to pack in everything you need for one incredible van camping adventure.
Consider some of these pros and cons of the Mercedes-Benz Metris:
Pros
If you aren't comfortable driving a larger cargo van like the 

Sprinter

, the Metris offers a perfect combination of spaciousness and easy operation. Whether you purchase the cargo or the passenger model, 

you'll be able to maneuver the van almost anywhere.

The price is less than what you would think for a Mercedes-Benz vehicle. With a manufacturer's suggested retail price below $35,000, 

finding a similar small camping van or anything nearly as comfortable would be hard.

Compared to other compact vans, such as the Transit Connect, the Metris has a 

payload capacity that's almost 1,000 pounds more.

 The additional capacity is beneficial when you're trying to fit everything you can for a day in the mountains.

The Metris also has a somewhat 

impressive towing capacity of 5,000 pounds,

 exceeding what you would expect for such a small van. It also has a much smaller turning radius and a cargo space that beats the Ford Transit Connect.
Cons
The Metris 

is a little more costly

 than some of the other van options that are out there.

Even though it is roomy for a van, 

it still doesn't have enough height to be able to stand.
8. Kia Sedona
If you're looking for a larger minivan for camping, look no further. The Kia Sedona is arguably one of the best choices that you'll find. Not only is it spacious with plenty of interior room to spare, but it's also quite affordable.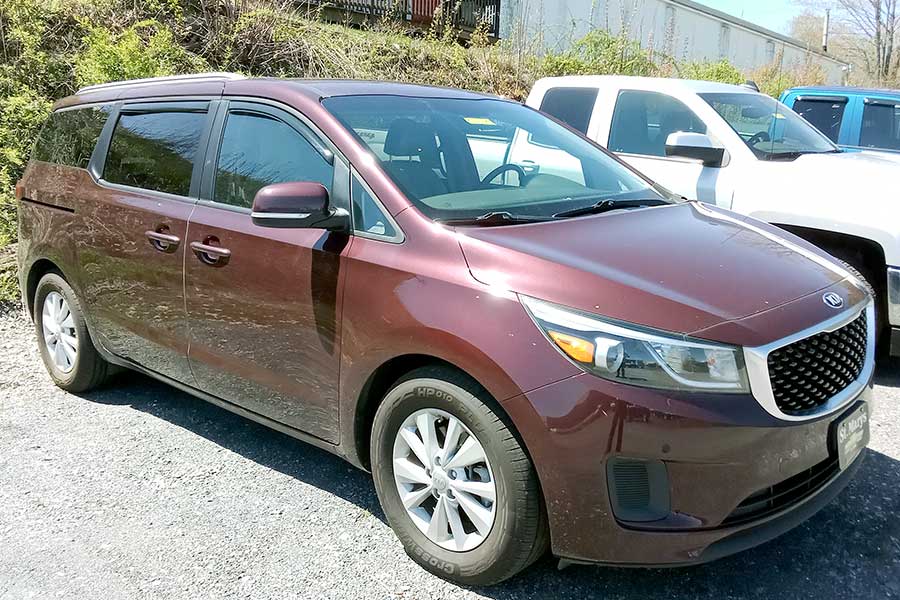 Kia discontinued production of the Sedona in 2021, and it was replaced with the above-mentioned Kia Carnival. However, they're still readily available. The Sedona remains a good choice for those looking for a reliable minivan. You'll appreciate Sedona's comfortable interior on those long weekend road trips.
Here's a look at some of the pros and cons of the Kia Sedona:
Pros
The ample cargo space 

is more significant than almost any other minivan out there.

 You and a couple of friends can set up the interior to create a dream of a camping vehicle. Remove the seats in under a few minutes, lay down a mattress, and have a blast wherever you go.

The flat roof on the Sedona is perfect for camping gear.

 Instead of using the interior space, add a roof rack and pod to pack some of your equipment.

The seats in the Sedona fold down,

 so you can either remove them or lay them out to sleep. If you're often camping, removal is the way to go. On the other hand, short camping trips would call for simply laying the seats forward.

The Kia Sedona has more window space than any other minivan.

 If you love the thought of waking up to beautiful views of nature, then this vehicle will be the choice for you. They come with a light tint on the rear windows as well.
Cons
Since the Kia Sedona is no longer in production, 

they may be more challenging to find.

The fuel economy isn't something to brag about either.

 With a city rating of 18 MPG and a highway rating of 24 MPG, it's below most of the others.
9. Dodge Grand Caravan
Alongside the Odyssey and the Sienna, the Dodge Grand Caravan remained a leading seller on the minivan market. Unfortunately, the last year of production was the 2020 model year.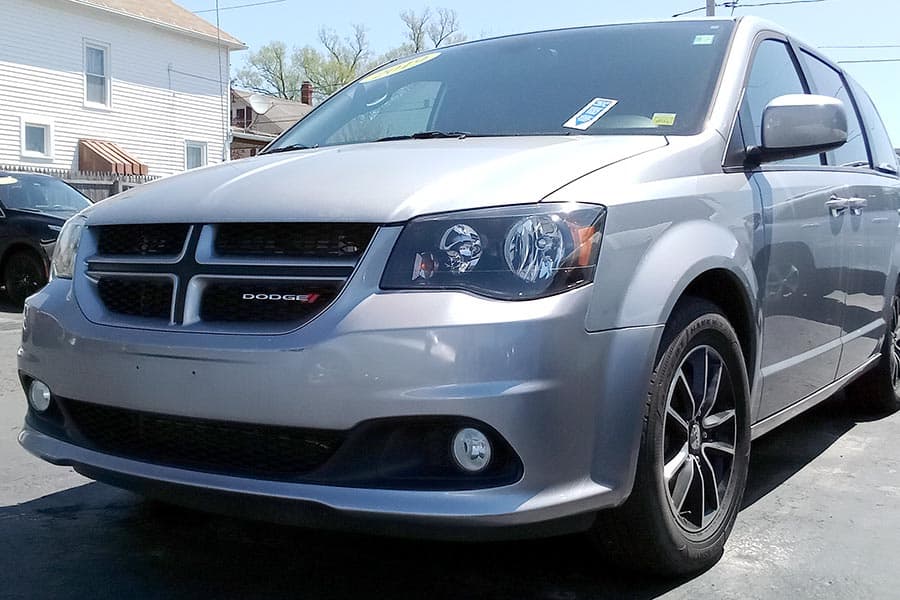 Its reliability and rugged nature, combined with spaciousness and comfort, make this family vehicle the perfect camping companion. Another feature that keeps this vehicle at the top is the fact that it's affordable.
Let's take a look at a few of the pros and cons of the Dodge Grand Caravan:
Pros
This vehicle comes 

with a 4-cylinder engine or a 6-cylinder engine,

 depending on which model you choose. Four cylinders offer an excellent fuel economy rating, whereas six cylinders provide quick acceleration and easier speed maintenance.

The gas tank is 20 gallons,

 which is more than enough to drive for over 400 miles before filling it up again. You'll get even more fuel efficiency from this vehicle if you drive on highways mostly.

The interior seats up to seven passengers

; therefore, it's quite spacious. Instead of being cramped in a small car, this minivan has plenty of room to stretch out and store your camping equipment.

The large hatchback allows you to access everything from the back of the vehicle,

 and it also has storage behind the third-row seat.
Cons
Since it is no longer manufactured, 

the Grand Caravan has limited availability.

 And since it is no longer in production, it narrows the prospect of finding a low mileage one.
10. Nissan Quest
Production of the Nissan Quest stopped in 2017; however, they are still available used. If you're looking to cut costs on mileage while still getting a long-lasting vehicle, then you're in luck. The Quest has fuel-efficient features, and even with the reduced weight, it still provides plenty of towing capacity. You can pull small trailers or load up the interior with your camping gear.
Some pros and cons of the Nissan Quest:
Pros
This vehicle is rather large when it comes to the cargo area, 

which opens up a few options for larger beds and other items.

 It's also a great choice if you're camping with a couple of people rather than by yourself.

Although discontinued in 2017, 

there are thousands of them still on the road.

 

The 27 MPG highway rating is quite impressive for a minivan.

 It shatters the expectations of most other cargo and passenger vans, making it an economical choice for campers on a budget.

With three rows of seats, this vehicle 

allows you to choose which ones stay and which ones will go.

 
Cons
It's not a problem right now, but eventually, it may 

be difficult to find repair parts.

 However, as long as plenty of them are on the road, this shouldn't be an issue.

The seat brackets are a pain to remove.

 You'll need a few tools, but elbow grease is the only way to pull them out without damaging the interior.
Bonus Choice
Mazda 5
The Mazda 5 is another excellent choice, though, like the Quest production was discontinued in 2016. However, it's perfect for solo campers who don't want to deal with driving a large vehicle. It's also worth noting that it has the option of coming with a sunroof.
Some pros and cons of the Mazda 5:
Pros
If you don't want to operate a larger vehicle, then the compact size of this minivan is ideal for you. 

It's short in height and length, making it feel much more like a sedan than a passenger van.

The aerodynamic roof is one of the many features that help to improve the fuel economy of the Mazda 5. 

The 4-cylinder engine starts up quickly and uses very little gasoline.

Towing

 a small teardrop trailer behind your minivan may be possible, depending on the model and options.

 The combination would make an ideal camping setup, whether you're sleeping in the minivan or a towed trailer.
Cons
Unfortunately, the small interior 

prevents more than one adult from sleeping inside.

 However, you'll be able to fit your child or a pet along with you.

The Mazda 5 has been discontinued,

 and you won't be able to find a new model, but you can still have a small camping setup if you find a used one.
The models in our list that are now discontinued might be found on sites like Autotrader, Carvana, or Cars.
What to Look for When Buying a Minivan for Camping
When you're ready to commit to a vehicle to camp out of, you should look for the correct features. As significant as fuel economy and advanced features are, many more basic amenities are required to enjoy camping.
Below, you'll find a few different things you should look for when shopping for a minivan that you want to use while camping.
Interior space is the first and foremost vital feature to review. If there's not enough room for you and your camping gear, then there's no point in buying the vehicle. Take an inventory of everything you plan to pack, then figure out how much space you'll need.
Roof options are crucial, as well. Whether you want to add a couple of solar panels or strap your snowboard to the roof of your minivan, you should always check out what the roof looks like before buying the vehicle. Don't forget to look to see if it's sloped or flattened for your equipment.
The type of tires that come stock with the minivan is significant. If you want to go off-road, you need to ensure that you have the right tires for such activities. That shouldn't be problematic, you can always install the proper tires on any minivan, but it'd be convenient if you could find one that already had them.
Windows and doors both have a considerable impact on your camping experiences. Being able to look around in all directions is terrific, but so is privacy. Figure out the perfect balance and find the minivan that matches your requirements. Also, remember that you can always use window tint and covers to block people from looking inside.
Finally, seat functionality is worth considering. Some seats fold, some may be removable, and many can do both. If you're just looking for a minivan with seats that can lay down, you can choose almost any minivan on the list.
Don't worry, though; if you keep these suggestions in mind when you're shopping around, you'll be able to find the perfect minivan in no time. The only other thing to think about is whether you want to buy a new or used vehicle.
How to Convert a Minivan for Camping
When you're ready to go camping, it's important to take note of all of the essentials. Most people throw a mattress, sleeping bag, and a Coleman cooler in the back and call it a day. But, to truly enjoy yourself out in the woods, you'll most likely need more than that.
The bed setup needs to be comfortable and subject to the available room, for starters. You can choose between an air mattress like this one or a traditional mattress. Whichever route you go, consider whether or not you'll be removing the seats or folding them down. If you're folding them, you'll need a solid platform to lay across the top so you don't sink into the gaps.
Next, think about what kind of hookups you'll need. Some people love to rough it out in the wilderness without anything, which is also known as 'dry camping.' On the other hand, you can use electricity and sewage hookups to get the creature comforts that we're all used to having back home.
For electricity, you can use portable or installed solar panels. A good option for a portable solar panel charger is the Rockpals 100-watt foldable, designed for solar generators. Renogy makes a 200-watt panel RV kit that works excellent for vans.
Some people prefer to hook cables straight into the battery of their minivan, but this process can drain it rather quickly. You could also use a battery bank that you charge at home before going on the adventure.
Finally, always figure out what you'll be doing for trash and bathroom trips. There are hundreds of buckets, cans, collapsible containers, and other options that you can use to collect trash. Many campgrounds come with dumpsters. Even if there aren't any nearby, you can tie off the bag and place it in the dumpster when you leave.
As far as bathroom trips are concerned, there aren't many choices when you're camping in a minivan. Some people prefer the classic bucket-and-bag setup, but others aren't as comfortable trying it out. So before you book a campsite, locate all of the nearby bathrooms. Building a sewage system in a minivan isn't viable because it's too small of a space.
If you aren't sure if a minivan is suitable for you, read our post "The 8 Best Vans You Can Camp In" to learn about some other options.
Conclusion
You can go camping out of almost any vehicle if you want to. There are quite a few minivans to try out, but the ten choices on the list above are the best around. You can choose based on body style, interior space, reliability, comfort, advanced features, and more. Try to write down a list of your requirements before you buy anything.
Minivans might be the best camping vehicle because they're big enough for camping gear and a high-quality mattress but small enough to fit into tight spaces. So you'll get the best of both worlds without experiencing very many limitations at all. Choose between Ford, Kia, Honda, Dodge, and a multitude of other brands.
Here's a handful of takeaways from this post:
Even if discontinued, every minivan on the list is ideal for camping.

Remember that minivans are only suitable for camping with one to two people.

Keep an eye out for hidden storage options, such as above the wheel well and below the rear entrance.

Don't forget to take advantage of roof racks and flat areas for extra equipment.

Tires should be one of the first components that you analyze for off-road trips.