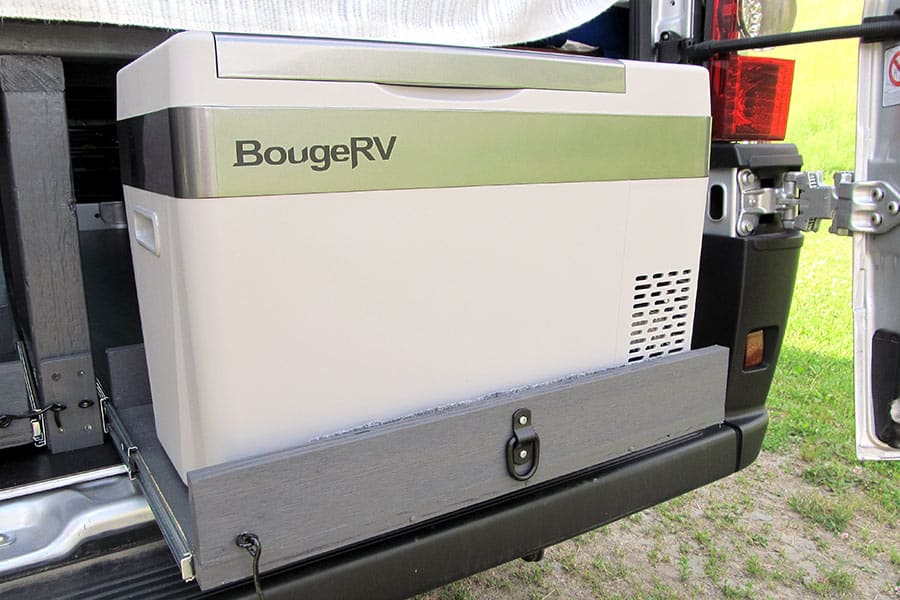 Camping is an extremely popular activity during the summer months. However, making your trips enjoyable takes a little bit of research and trial and error to get things right. Portable refrigerators are one item that piques a lot of camper's interest. So is the BougeRV 30-quart portable refrigerator really worth it?
The BougeRV 30-quart portable refrigerator is worth the money you will spend. It retails for about $300, which is a very reasonable price for a portable refrigerator. The big benefit is it eliminates the need for ice and keeps your food from getting waterlogged and wet.
BougeRV contacted us and wanted us to try out their 30-quart portable refrigerator. If you haven't heard of BougeRV, they started up in 2007 with an Amazon presence, so they have been around a while. Besides portable fridges, they also have solar panels and accessories, a portable power station, and other camping-related equipment.
BougeRV Fridge – Out of the Box
The fridge arrived in excellent condition. It was double boxed, so there were no dings or damage. When it came, it was left by the delivery company on the front step standing on end.
I wondered whether, like when buying a refrigerator for the house if I should let it "settle" for a specific period of time (usually anywhere between 4 to 24 hours) before using it.
I didn't need to wonder for long because attached right to the top of the fridge, it had a label that specifically told me the answer! Yes, it did need to sit upright for 12 hours before use to ensure proper operation of the compressor.
The one thing I immediately liked after getting the fridge out of the box was that the handles were recessed into the sides of the fridge. On our other fridge, the handles stick out approximately 1 ½ inches on each side. I know this doesn't sound like much, but inches matter when trying to get everything you can into your van.
In order to fit our old fridge into the space that we have, we have to take the screws out of both the handles to get the refrigerator into the space, and then keep the handles someplace safe so we can find them again to move the fridge. So recessed handles on the BougeRV fridge were a big plus for me.
A Look at the Details
The dimensions of the fridge are approximately 22 ½ inches wide, 12 ¼ inches deep, and 15 ½ inches high, a very reasonable size for a portable refrigerator. It sure beats the size of some of the regular old coolers that you add ice to.
Even when we have it loaded up with food, I can move it by myself, unlike our old cooler that takes ice, which took two people to move it when we had it loaded.
The fridge comes with an AC power cord, a DC power cord, and a user's manual, which you can read as a last resort when you can't figure out something on your own! They even included two extra feet for the bottom, in case you lose one of the ones that are already attached to the fridge.
Other Posts of Interest
Getting it Running
It was effortless to figure out how to get the fridge started. BougeRV included a stick-on set of easy-to-follow directions right by the buttons that told me how to turn the power on, set the temperature, adjust the mode, switch from Celsius to Fahrenheit, etc. The ease of getting it up and running was great. In under a minute, I had it plugged in and adjusted. The fridge/freezer ran amazingly quiet.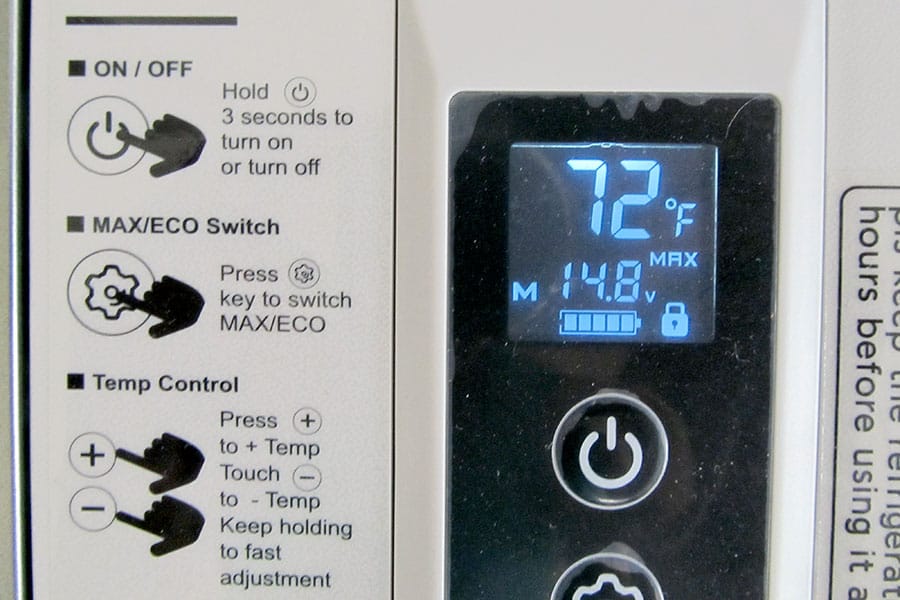 In addition, on the label, they include their contact information in case you have any questions and need to get in touch with them.
When we use the fridge, we like to cool it down using the power cord connected to the house power. After it is cooled down to the right temperature, we pack it full and then move it to the van or car.
When I plugged it in, the temperature said 70° on the unit. I set the fridge to 38° on Max setting to see how long it would take to cool down to the right temperature. Twenty-five minutes later, the unit shut down as it had already reached the 38° desired temperature. Not bad for cool-down time!
I noticed that the display's temperature continued to decrease to about 33° after the compressor shut off. The unit kicked back on about 26 minutes later when the temperature on the display reached 42° with an inside temperature reading of 40°.
For all of you ice cream lovers out there like me, it even allows you to set it low enough to keep your ice cream and frozen fruit for smoothies frozen. But it doesn't work as both, so you will have to either set it at the right temperature for a fridge or freezer application. Therefore we have our van set up to run two units – one as a fridge and another as a freezer.
The lid has a chain that keeps it from going all the way over the back. And another aspect that I like about the fridge is that it has a magnetic lid to help hold the top shut, great idea.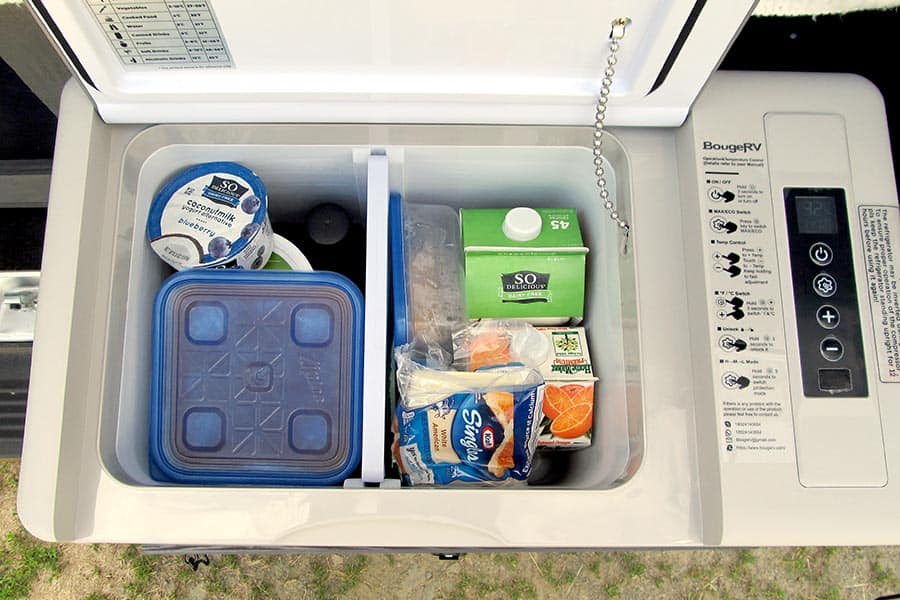 If you want to carry along delicate items like eggs or fresh strawberries and keep them from getting smashed by your quart of milk, there is even a removable divider that will give you two separate compartments.
The BougeRV fridge is a perfect accessory for camper vans, RVs, boats, and trucks. In order to help protect your vehicle's battery, there is an H-M-L setting and an ECO mode for energy saving.
Additionally, it has a USB charging port located conveniently on the bottom of the display panel for charging all your USB gadgets.
You can put your mind to ease as it also comes with a 2-year warranty which includes the compressor.
The inside and outside are made from materials that are easily wiped down for clean-up. If you aren't quite sure what temperature to set your unit at, they have included a stick-on label on the underneath of the lid with suggested temperatures for different items.
I did have a couple of questions about using the product. I emailed my questions and got a reply within 16 hours, which was pretty good, in my opinion. However, I did have a harder time getting in touch with them by phone.
One Cool Product
Overall, the BougeRV 30-quart portable refrigerator has worked great so far. It is a whole lot better than an ice chest with ice! The only thing I would like to see is for them to work on keeping the temperature from dropping approximately 6° degrees lower than the temperature that I had it set at.
All in all, though, for the price, it is a pretty sweet setup for hauling along your food and drinks while on the road.