California has an abundance of perfect places to van camp. Another thing I like about the camping locations in California is that they are diverse. There are sites along the ocean, by lakes, in the desert, to even ones situated in the towering redwoods. If you are California dreamin' hopefully one of these sites will be just perfect for you.
So where are the 14 perfect places to van camp in California?
1. Cleveland National Forest
Cleveland National Forest is in the southern part of the state. It is about an hour and a half northeast of San Diego. The forest encompasses 460,000 acres. It is a popular destination for hiking, biking, camping, sightseeing and picnicking.
My choice for a campground here is the Observatory Campground. It is a mere two miles away from the Palomar Observatory. The GPS coordinates for the campground are 33° 20′ 30.0001″ N latitude and 116° 52′ 43.0000″ W longitude.
The campground has 42 sites nestled in pine and oak trees. Some of the sites you can reserve and a few are on a first-come basis. To make reservations click here.
Trailers or RVs up to 32 feet long can park here. There are fire rings, picnic tables and grills to make it easy to whip up a quick meal. Hot showers, flush and vault toilets and drinking water are available. A few of the sites even have cement pads to set up your telescope. Part of the campground is "astronomy-friendly." That means after 9 pm you can't have any bright lights.
This campground is the perfect location if you are an astronomy buff. You can enjoy the night skies from your campsite or visit the Palomar Observatory. The observatory owned and operated by Caltech is home to the 200-inch Hale Telescope.
You can gain access to the 2.2 mile Observatory Trail from the campground. You can also enjoy the Star Parties that they hold here during the summer to gaze at the night skies. On Saturday nights you can also enjoy interpretive programs held in the amphitheater.
There are many other campgrounds in the forest to choose from that offer many recreational opportunities. I am sure that you will find one perfect for your needs.
2. Van Damme State Park
One of the good things about this park is that you can enjoy camping year round. Van Damme State Park is a 3 to 3 1/2 hour drive northwest of San Francisco. It is about 3 miles south of Mendocino. There are more than 65 sites at the campground. The maximum RV or trailer length is 35 feet. To see a map of the campground go here.
There is a dump station, showers, restrooms, drinking water and outdoor showers available at the campground.
Campers can enjoy biking, kayaking, bird watching, diving, boating and many other recreational activities. The Little River runs through the campground and provides some excellent fishing. You might even get lucky enough to land a Coho salmon or steelhead trout for a fresh pan-fried meal.
For all you hikers out there this is the perfect location for hiking. There are many hiking trails with varying degrees of difficulty. You will be able to explore diverse landscapes and the trails range in length from ¼ mile to over 9 miles for a round trip. So be sure to pack your hiking boots so you can hit the trails.
The campground is popular so you will want to make a reservation ahead of time to ensure that you get a site for the days you want to be there. To make reservations for a camping site go here.
There is a beach that you can kick back and relax at or enjoy diving for abalone. This is a perfect place to camp if you want to be close to the beach.
3. San Bernardino National Forest
The San Bernardino National Forest is in San Bernardino and Riverside counties. The forest encompasses over 675,000 acres. It is southeast of Los Angeles and a little more than an hour and a half drive from there.
San Bernardino National Forest has developed campgrounds for your camping convenience. However, you can also find dispersed camping sites there. You will need a permit for any type of campfire including stoves. In addition, there will be certain times during the year that you are not allowed to have campfires.
This is a great location for anglers because there are miles of streams to fish on and even some lakes. The California Department of Fish and Wildlife stocks some of the streams and lakes with rainbow trout during the fishing season.
The OHV system is great here. They have trails and routes for ATV, UTV, motorcycle and 4-wheel driving use. Whether you are a novice or expert, you are sure to find something suitable for you.
The San Bernardino National Forest has many outdoor recreational opportunities to keep you occupied. You can hike the wide variety of trails, mountain bike down the quiet forest trails or even pan for gold. There is something here for everyone.
4. Sugar Pine Point State Park
This is an absolutely beautiful park. The fragrance of the fir, pine and cedar trees combine to make the most wonderful woodsy smell. Sugar Pine Point State Park is a little over a two hour drive northeast of Sacramento.
The park is on the shore of beautiful Lake Tahoe and consists of 2,000 acres. There is about 2 miles of shoreline for fishing, swimming, scuba diving or boating.
The campground has a dump station, hot showers, restrooms, drinking water and firewood for sale. Bears frequently come into the campground so be sure to store your food items in a bear-proof locker. I like to see bears, but not right on my doorstep!
While camping here you can also enjoy hiking the many trails, biking on the West Shore Bike Trail, cross country skiing, snowshoeing or even wildlife watching. There is no lack of things to do.
During the summer season, you can reserve campsites here. The campground has limited sites available during the winter season. During the winter season, the sites are on a first-come basis. Also during the winter the dump station and showers are closed. To see a map of the campground go here.
This park is exquisite no matter what time of year that you visit. You can see wildflowers dotting the landscape in the spring and summer months. View the magnificent golden color of the quaking aspens along General Creek in the fall. Trek through the pristine beauty of freshly fallen snow in the park during winter. Plan to make Sugar Pine Point one of your van camping stops on your next trip.
Other Posts of Interest
5. Big Basin Redwoods State Park
About 75 miles south of San Francisco in the Santa Cruz Mountains, you will find Big Basin Redwoods State Park. The park contains over 18,000 acres. This park is the oldest state park in California.
If you want to see big trees this is the place to go. Coast redwoods, which are some of the oldest and tallest trees on earth, will tower above as you travel through the park. Some of the trees in the park are 50 feet around and over 300 feet tall – now that is some big trees.
Not only can you see big redwoods but also you can see waterfalls, wildlife and stunning views of the Pacific Ocean all at this park.
80 miles of trails traverse through the park providing hours of hiking enjoyment. The trails cover a diverse range of habitats and you will be able to see a variety of wildlife along the way.
The park has multiple campgrounds catering to a variety of camping choices. Huckleberry Campground is open for use all year round. To make a site reservation go here.
Restrooms, showers, drinking water and a dump station are available. There is a store and gift shop across from the park headquarters. To see a map of the campground go here.
The park has free interpretive programs and a nature museum with exhibits. You can also enjoy swimming, surfing, horseback riding, biking and more at this park.
6. Joshua Tree National Park
Joshua Tree National Park is east of Palm Springs. It has nine campgrounds varying in size and for different forms of camping. Amenities also vary between the campgrounds but I am sure that you will find one that meets your needs.
Some of the campgrounds are on a first-come basis and reservations for the other campgrounds can be made here. Besides, if the park campgrounds are filled you can find dispersed camping to both the north and south of the park on BLM lands.
The park covers 792,510 acres. The summit of Quail Mountain is the highest point in the park topping out at 5,814 feet. The lowest point in the park is 536 feet.
Popular recreational activities cover a broad range including highlining, slacklining, backpacking, biking, hiking, horseback riding and various other activities sure to make it worth your while to visit.
Joshua Tree National Park is an International Dark Sky Park. You can have the opportunity to view the night skies and find planets, see stars, view the splendor of the Milky Way and maybe even see a meteor. Park rangers provide programs about the night sky throughout the year.
When getting ready to go stargazing remember to take extra clothes to stay warm, use a red light and take a chair to relax in. Also, remember to check on the moon's phase so you are not going when the moon is too bright to allow you to see the stars.
In September there is a Night Sky Festival held at the Sky's the Limit Nature Center and Observatory, which is outside the north entrance to the park. They have a star party with over 20 telescopes, lectures, educational events and other activities to fill up the day.
So when packing the van to head to Joshua Tree National Park be sure to pack your telescope, binoculars and a field guide to help you identify what you will see in the night skies.
7. Sequoia National Forest
Are you looking for a dream location to spend a few days van camping? Then head out to Sequoia National Forest. The park has campgrounds, campgrounds and more campgrounds. Some campgrounds are big, some are small, some of them are open all year long and others close in the winter months.
Amenities vary from campground to campground. It is truly a campground smorgasbord. In addition, they have dispersed camping locations too. If you would like some tips to picking the perfect campground read our post here.
The Sequoia National Forest covers almost 1.2 million acres and has so much diversity that it is hard to take it all in. The park gets its name from the giant sequoia tree, which can grow, to over 600 tons.
If you like the water then you will be happy to know that Lake Isabella, which is in the southern part of the forest, is there to provide you with beaches to relax on. In addition, this is a great place for windsurfing, fishing, boating, sail boarding and many other water sports. Hume Lake, located in the northern section, allows non-motorized boating, swimming and fishing.
There are also pristine streams and rivers popular with fly-fishermen and whitewater enthusiasts. If you don't have your own kayak or raft there are local businesses that offer guided tours.
If you love to climb then this is the place to be. The forest has more granite domes than Yosemite. Popular climbing areas include the Needles and the Dome Land Wilderness. There you will find many domelike rock formations including Church Dome.
In addition, you can go horseback riding, OHV riding, biking, picnicking and did I mention hiking? There are some many places to hike that you won't know where to start!
Just want to take it all in from your own vehicle? Then try one of these scenic drives Generals Highway, Kings Canyon Scenic Byway, Western Divide Highway or the Sherman Pass Road. Plan to spend a few days here because there is so much to do.
8. Klamath National Forest
There are over 30 campgrounds located in Klamath National Forest. Campgrounds vary in size, type of camping allowed and amenities. Some of the campgrounds are on a first-come basis and some you can reserve sites. For camping reservations, go here.
There are places available for boondocking too. If you would like to learn more about boondocking read our post here.
The Forest is in the northern part of the state and even crosses into Oregon. It encompasses 1,700,000 acres of beautiful country.
The Klamath, Scott and Salmon Rivers traverse the forest and provide a spectacular location to enjoy rafting and fishing. Local outfitters also provide guided raft trips if you want to enjoy a rafting adventure.
Hiking trails are abundant and there are trails for the skilled and the novice. Trails are of varying lengths and difficulties. When setting out on a hike make sure to take a map and compass. There are over 1,000 miles of trails in the five wilderness areas that are great for backpacking.
While van camping here you can also enjoy swimming, boating, tubing, hunting, horseback riding, panning for gold or biking. On the other hand, how about hang gliding or paragliding off The Whaleback? Want to stay closer to earth? Then how about exploring Pluto's Cave, which is a lava tube that you can hike into for about 1,200 feet.
If you would like to do a scenic drive, there are three that run through the forest. The Volcanic Legacy National Scenic Byway, The Bigfoot Scenic Byway and The State of Jefferson Scenic Byway will all provide impressive views to enjoy on a leisurely afternoon drive.
9. Lassen National Forest
Lassen National Forest is a little over an hour drive east of Redding. The forest covers 1.2 million acres. There is something to do all four seasons, so no matter when you are van camping there will be recreational activities for you to enjoy.
There are many campgrounds located in the forest. Each provides its own unique diversity of features from large to small, some with more amenities and recreational activities than others have. You can reserve a campsite by clicking this link. Camping is not limited to campgrounds you can also find dry camping sites too.
This forest has some of the most diverse areas in the state. The Sierra Nevada Mountains on the south side of the forest includes granite rock features. You will find part of volcanic table of the Modoc Plateau with its unique geography also. The Cascade Mountains showcase unique volcanic formations, caves and glacial formations. Lastly, the Great Basin adds desert features on the east. Therefore, the area ends up being kind of a mishmash of natural features.
The forest offers plenty of outdoor recreation activities. A favorite way to spend the day is at Lake Almanor fishing, boating, sunbathing on the beach, sailing, waterskiing or kayaking to your heart's content.
Another spot to visit while you are there is Subway Cave. And no this is not where you go to order a hoagie and sit down in the dark to eat it! Subway Cave allows you to explore about a 1/3 mile long section of a lava tube. Make sure to bring along a jacket because it only will be around 46 degrees in the cave. The trip is self-guided and you will need a flashlight.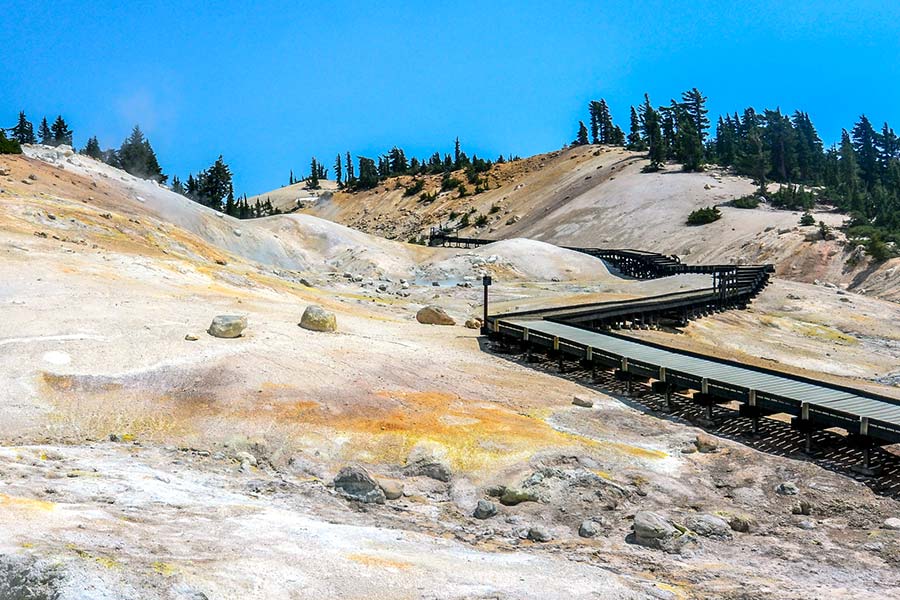 The gem of the Lassen National Forest is Lassen Volcanic National Park. Here you will find Lassen Peak, which is one of the largest plug dome volcanoes in the world. Lassen Peak tops out at 10,457 feet. The Lassen Peak Trail takes you the 2 ½ miles to get to the summit and the views make the trip well worth it. There is a 2,000-foot elevation gain from the parking lot to the peak.
Other amazing things to see while you are at Lassen Volcanic National Park include mud pots, fumaroles and other hydrothermal features. Be sure to stay on the boardwalks and established trails while observing these areas.
10. Salt Point State Park
About a 2 ½-hour drive north of San Francisco on scenic Highway 1 is Salt Point State Park. The park has over six miles of coastline offering spectacular views of the ocean. There is also a protected underwater area called Gerstle Cove Marine Reserve. At the reserve, you can dive and take a closer look at the marine life that lives there.
The park has two campgrounds. Woodside Campground is on the east side of Highway 1. Gerstle Cove Campground is on the west side of the highway. For a map of the Salt Point State Park campgrounds, click this link. There is no dump station at either campground. However, there are restrooms, drinking water and each campsite has a picnic table, fire ring and a food locker. To reserve a campsite click this link.
There is also overflow camping at the day-use parking lot near Gerstle Cove Campground. There are no restrooms or drinking water at this location. When camping here you must be using a self-contained camping vehicle.
There are 20 miles of hiking trails for you to explore. Besides you can fish, scuba dive, go horseback riding, surf and enjoy many other activities at the park. Salt Point is a popular destination for abalone divers.
This is a gorgeous state park where you can listen to the waves pounding onto shore, explore the pygmy forests or even do some whale watching so here is one more location that you won't want to miss.
11. Samuel P. Taylor State Park
This exquisite park is at 8889 Sir Francis Drake Blvd near Lagunitas. There is 2,882 acres for you to explore and enjoy.
Camp Taylor offers campsites that are nestled among the redwoods. In addition, some of the sites are near Lagunitas (Papermill) Creek. The campground has showers, drinking water and restrooms. There are no hookups. To reserve a campsite go here.
One thing that I would like to point out is that even though Lagunitas Creek runs through the campground you can't fish there or anywhere else in the park.
The weather here is pretty mild. During the fall and winter, it can get to freezing overnight so if visiting during those times of the year bring appropriate clothing.
There is access to hiking and biking trails right from the campground. The Cross Marin Trail is partly paved and follows along Lagunitas Creek. You can bike on this trail and it is only trail that dogs are permitted on in the park.
While at the park, you might want to hike up to the top of Barnabe Peak. Once at the top of the 1,466-foot peak you can enjoy views of Mount Tamalpais, Tomales Bay and other land features. To get a map of the park go here.
Another great thing about the park is that it is about a 15-minute drive to Point Reyes National Seashore. There is a beautiful lighthouse located there that has been completely restored so be sure to make the quick trip over to see it.
12. Sonoma Coast State Park
California has some really beautiful parks and this is certainly one of them. Sonoma Coast State Park has 16 miles of stunning coastline. Fertile tidal pools, beautiful sandy beaches, arches, rugged headlands and isolated coves make this park one spectacular place to visit. A camera is a definite must-have for this park.
Bodega Dunes Campground is the biggest campground with around 100 sites. It offers a dump station, potable water fill station, hot showers and restrooms. The campground is at 2485 Highway 1 north of Bodega Bay. To make camping reservations at either of the campgrounds go here.
Wright's Beach Campground has 20+ sites located near the beach. It is at 7095 Highway 1 north of Bodega Bay. The campground has flush toilets, but you will have to go to Bodega Dunes for showers, water filling and to use the dump station. Self-contained vehicles may use the overflow area beside the kiosk when the campground is full. It is on a first-come basis. For maps of both campgrounds click here.
While staying at the campground you can enjoy watching the gray whales migrate from December to April. In addition, you can watch the harbor seals and even see pups from March to June. You can enjoy fishing, beachcombing, sunbathing, picnicking, hiking and more here.
When you are staying at Sonoma Coast State Park don't forget that you are in some of the best wine country in the US. Sonoma County has more than 425 wineries. Spend the day touring a vineyard, tasting wine, sampling craft brews or even pair your favorite beverage with a fabulous meal to finish the day.
13. Clear Lake State Park
The park is at 5300 Soda Bay Road about a 10-minute drive northeast of Kelseyville. The park is popular for those who enjoy water activities. Clear Lake covers 68 miles of surface area and is the state's largest natural freshwater lake.
There are four campgrounds – Lower Bayview, Upper Bayview, Cole Creek and Kelsey Creek. Kelsey Creek is open all year round. For a map of the campgrounds, click this link. There is hot showers and flush toilets. There are no water or electric hookups. Maximum length for trailers and RVs is 35 feet. To reserve a campsite go here.
Clear Lake has been designated the number 1 bass fishing lake in the US by numerous professional bass fishing organizations. So maybe you ought to bring a pole and try it. There is also a boat launch to make it convenient to get started.
You will also want to check out the aquarium in the visitor center that showcases some of the fish species that live in the lake. Other activities you can enjoy at the park include swimming, hiking, biking, wild life viewing or just relaxing on the beach.
The park staff holds interpretive and educational programs at the Educational Pavilion. There are campfire programs in the evening and morning nature walks.
14. San Luis Reservoir State Recreation Area
This recreation area is about a 1 ½-hour drive southeast of San Jose in the San Joaquin Valley. The recreational area is popular for fishing because there are 3 lakes located here. The San Luis Reservoir, Los Banos Creek Reservoir and O'Neill Forebay provide fishermen with great choices for catching the big one.
The area has four campgrounds but the best two for RVs and trailers are the San Luis Creek Campground and the Basalt Campground. To get a map of the campgrounds click here. All of the campgrounds are open all year round.
The San Luis Creek Campground offers water and electric hookups. There is a dump station available. Each site has a picnic table and a fire ring. The campground sometimes can be very windy and there is little shade.
The Basalt Campground offers a dump station, hot showers and flush toilets. Sites have picnic tables and fire rings and are mostly shaded. To reserve a campsite click this link.
The area is a popular destination for hiking, swimming, picnicking, boating, hunting or just kicking back and relaxing on the beach.
California is a great state for camping. It has a diversity of landscapes, climate, wildlife and recreational activities so there is sure to be an area that meets your camping requirements. I hope that you will be able to try some or all of the campgrounds that I highlighted in this post.