While out RVing or camping, you may have encountered a truck tent. These tents look almost like a traditional canvas or polyester tent, except that they appear to be mounted onto the truck bed somehow — perhaps they are strapped on, or maybe there's a mounting attachment. Regardless, these unusual tents are quite a sight to see, and they make us wonder: how do truck tents work?
Truck tents are tents that are specifically designed to be pitched in the bed of a pickup truck. This feature lets you camp off the ground and provides a secure and stable sleeping platform. Anywhere you can park your truck, you can pitch your tent — perfect for wilderness camping.
So what kind of truck tents are on the market? Are they comfortable? Couldn't you just put a regular tent into your truck bed and call it a day? In this post, you will get the answers to these truck tent questions and more.
Truck Tents: Elevating Your Truck Game
There's no doubt about it: trucks are cool. Comfortable and capable, the modern truck is a great way to access the outdoors, whether you decide to go mudding or take your truck out into the wilderness to camp. But, of course, one of the best ways to elevate your truck game to the next level is with a truck tent.
Truck tents are camping tents designed to integrate into the bed of your pickup truck. Incorporating the truck bed into your camping is a great idea:
It lets you get up off the ground and away from things that crawl or slither.

The bed of a pickup truck is a solid, secure platform for sleeping.

The side walls provide good insulation from the elements and from the noises of nature.
While they are designed to go in a truck bed, they are also very similar to conventional tents. For example, many truck tents have a similar setup process to ground tents: poles are threaded through the canopy and then mounted together to pop the tent up.
Truck tents generally also feature some sort of strap to attach the tent to the truck. In addition, many of these tents have thoughtful features like zip windows that let you access the cab of your truck through the back window, perfect for powering devices.
So what kind of truck tents are available on the market? Truck camping is relatively new, so there is not a vast selection of products available. However, the options that are on the market offer truck tenters a variety of options.
Napier Sportz Truck Tent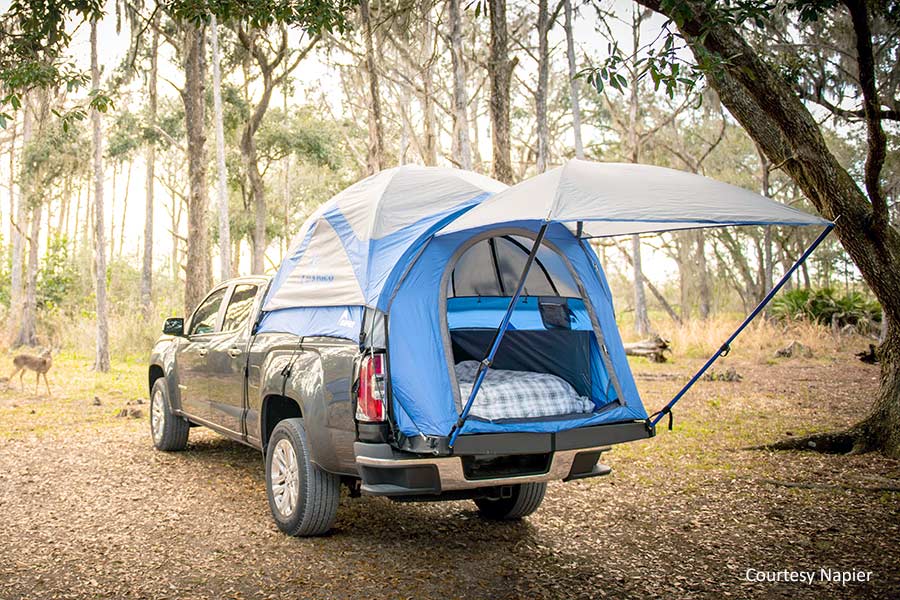 Founded in 1990 by the man who invented truck tents, Napier is the original truck tent manufacturer. The Napier Sportz Truck Tent is a classic version of this product designed to fit into compact or short truck beds measuring between 62 and 64 inches.
The Sportz Truck Tent can sleep two adults and boasts an interior height of 70 inches. Campers will also enjoy gear pouches and a lantern clip, standard features in the truck-tent world. In addition, this tent comes with a sun awning, a rainfly, and storm flaps to keep you nice and dry even on drizzly days. Best of all, this beauty is less than $300 — not bad for a secure, comfortable tent.
Here are five items to help you have a better camping experience:
Napier Backroadz Truck Tent
In many ways, the Backroadz is similar to the Sportz truck tent. However, this tent is designed to fit into full-size pickup truck beds. Napier makes five models of the Backroadz, each specifically tailored to fit into the most popular trucks on the market. So whether you drive a Ford F-series or a Toyota Tundra, or anything in between, you can find a tent designed to nest perfectly in your truck bed. Prices vary by model and range from $150 to $325.
The Backroadz tent sleeps two adults in a spacious truck-mounted oasis. The tent is between 58 and 62 inches high, so it has some headroom. Despite that, it is easy to assemble: Napier designed the tent to come together in less than ten minutes. It also features a full rainfly and storm flaps!
North East Harbor Pickup Truck Bed Camping Tent
A more economical entry into the truck tent market is the North East Harbor Pickup Truck Bed Camping Tent. Perfect for two people, this tent is designed to fit standard 66-70″ truck beds. The North East Harbor tent comes with a tent floor, a thoughtful feature for people whose truck beds have seen better days. You can hang your lantern from the provided clip and stash your gear in the handy pockets.
If you're camping on a limited budget, this is an excellent tent. Priced at less than $150, you may ask: is this some kind of cheap product? However, reviews are generally positive: campers said the weatherproofing was good and overall rated it as a decent product for the price.
Other Posts of Interest
Van Camping Life Tip: Be sure you park on a level surface if you're camping in your truck bed. Parking on an incline will be uncomfortable at best.
Kodiak Canvas Truck Bed Tent
While our previous tents have all been lightweight polyester, the Kodiak Canvas truck bed tent is, as the name suggests, made from canvas. This material isn't your grandfather's Army canvas, though: this canvas has been specially treated to keep it completely watertight yet breathable. This rugged canvas is attached to your truck with ¾ inch steel tubing that clamps onto rails. This tent is durable.
The Kodiak Canvas truck bed tent has the same essential lantern hooks and gear pockets as other truck tents. It also has five windows, including a cab connector that lets you access the cab of the truck through the rear window. Despite this plethora of windows, campers report that the Kodiak Canvas tent is highly durable and great in cold weather, making this tent a perfect fit for rugged, backwoods campers. It is slightly more pricey than the competition at about $850, but for the hardcore among us, it is worth the money.
Rightline Gear 110730 Truck Bed Tent
If you like to stargaze, the Rightline Gear 110730 is the truck tent for you. Not only does it feature the usual pockets and clips, but this tent also has a sky vent for watching the stars and glow-in-the-dark zipper pulls for those late-night trips.
This tent is a floorless model designed to be assembled quickly and with minimal fuss. Despite this, it has good reviews from people who have endured rainstorms or even snow in these tents. Best of all? This tent will only set you back a little less than $200.
Are Truck Bed Tents Comfortable?
Truck bed tents are as comfortable or better than regular ground tents. While they are only as wide as the truck bed and can only sleep two, most have a nice amount of headroom and offer good protection from the elements. The addition of cab pass-through windows allows you to power an air pump, so you can put an air mattress in the tent and sleep on a nice, comfortable surface.
Can You Use a Truck Tent with a Tonneau Cover?
Truck bed tents can be used with retractable and roll-up tonneau covers, but not with hinged or folding tonneau covers. Generally, if the roll on your tonneau cover exceeds six inches in height, you will need to either remove it entirely or pitch the tent against the tonneau. 
However, this could allow moisture or water into the tent, so your best bet is to remove your tonneau altogether if you can.
Can You Use a Truck Tent with a Toolbox?
You can use a truck tent with a toolbox, but the toolbox will need to be inside the tent, which means you will lose valuable space inside the tent because of the area the toolbox takes. You should also take the preventative action of padding any sharp corners on the toolbox so that your nice new truck tent doesn't get slashed open on a sharp edge.
Can You Use a Truck Tent on the Ground?
Most truck tents could be pitched on the ground. However, they are designed to be pitched on a truck and will work best in a truck bed. Some truck tents are floorless or rely on the truck bed for stability. Plus, camping above ground is the whole point of the truck tent!
However, you can expand your truck tent with a ground tent or an awning. Napier even sells an outdoor camping tent attachment that expands your truck tent into a truck palace.
Can You Put a Regular Tent in a Truck Bed?
With all this talk of truck tents, you might be wondering: couldn't I just pitch my regular tent in the truck bed? Of course, you absolutely could, but is it the best option? First, you will need to engineer some kind of strap or hook to keep the tent secured to the truck bed, and at that point, it would be less effort and less money just to buy a truck tent.
Truck Tents: A Great Way to Camp
Truck tents are a wonderful invention. The ability to camp and enjoy nature while sleeping in a secure, elevated tent is a significant improvement over ground-based camping. So whether you're looking for a heavy-duty tent perfect for a month on the prairie or just attempting to find a cost-effective way to get more out of your truck, there's a truck tent that's perfect for you. So put it in 4-wheel drive and head for the woods — we'll see you out there!