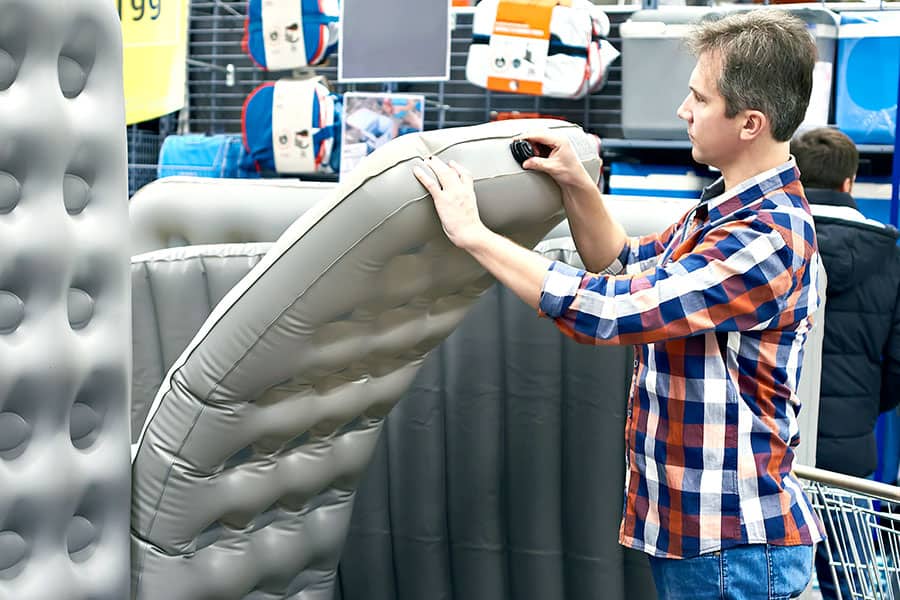 Vans offer a comfortable space for you and your friends to travel and camp. You don't need traditional camping gear, such as tents or sleeping bags, because your whole setup is in the van. That being said, you might be thinking, "how many friends can I bring along for the trip?"
So, how many people can sleep in a van? Most vans can fit about two to three people, but it all depends on the interior dimensions and the size of the bed that you build. You'd have a challenging time trying to figure out a way to fit four people into a van at night, but it's definitely possible.
Let's check out the dimensions and other factors that determine how many people can sleep in your van below.
Can More Than Two People Sleep In A Van?
Fitting friends and family in your van is frustrating if you don't have a good setup inside. You'll also need to be sure that the vehicle is big enough (we'll get into specific dimensions later in the post).
The main thing that you should consider is how much space you'll need around the sleeping area. If you're planning a trip with a cooler, storage containers, and other items setting around, you might not have as much room as you'd think.
It's safe to say that every person needs an area that's about 2.5 feet wide by 5.5 to 6 feet long. Obviously, these requirements vary based on the size of everyone on your trip. Keep in mind that you'll need room to move around and nobody should be forced to sleep on the floor.
When you're sleeping in a van, you should have a pad or an air mattress at the very least. A solid bed frame construction is much better and more comfortable, although it's not always a budget option for campers.
If you have a van that has a cargo area that measures 126″ x 65″ x 55″, you can fit about three people comfortably. If you want to stretch it out a bit, you might even be able to fit a fourth person inside. On the other hand, it all depends on the size of each camper. Shorter people have a much easier time sleeping with a handful of friends in a small cargo space.
Ultimately, the number of people that can sleep in a van depends on the following factors:
The interior dimensions of the van (the cargo space is the most important part).
Everyone's height matters as well.
The number of items that you want to fit into the van.
Whether or not there are seats in the back of the van is something to consider.
We have another post related to this topic called "Can You Sleep Sideways In A Sprinter Van?" that will provide you with further information.
Choosing A Comfortable Bed For A Van
When it comes to making a bed for your van, you have three options:
An air mattress/sleeping pad
A bed frame
Camping cots
All of the choices above are comfortable, but they serve different purposes. You'll be able to fit more people in a van that has an air mattress rather than a single cot. Here is an easy-to-use air mattress and pump to help you get a comfortable night's sleep while camping.
However, you can fit two to three cots in a cargo van, depending on the interior dimensions. Camping cots are an excellent choice, for when sleeping on the road, you can either use them in your van or set them up outside to stay cooler on hot nights.
The pros and cons of each bed are as follows:
Air Mattresses
Pros
Air mattresses are affordable, and you can find one in almost any major store.
You can set an air mattress up in under five minutes with the proper equipment.
Moving an air mattress is super easy because they're so lightweight.
Cons
If you pop the air mattress with a needle or thorn from the plants outside at most campgrounds, you won't have a bed anymore.
Air mattresses are bulky and take up most of the space inside of your van.
They're also very noisy when people move around in the middle of the night.
Bed Frames
Pros
Building a bed frame is a long-lasting solution that won't break or pop. A good mattress makes a huge difference.
You can store items underneath the bed if you raise it off the floor.
You'll be able to make the bed frame based on the number of people who are sleeping in the van.
Cons
You can't remove a bed frame easily once you've installed it.
Once you build the frame, you can't make it bigger to accommodate more people.
Camping Cots
Pros
Camping cots can be folded and stored in under a minute.
You can bring the number of cots you need to accommodate the people in your group.
They're a perfect choice for solo campers.
Cons
Cots are too small to fit more than one person, so you'll have to spend extra money per camper.
Most camping cots are incredibly uncomfortable to sleep on, so you might have to purchase mattress pads to put on top of them.
Other Posts of Interest
Which Van Should You Choose For Camping?
Every make and model has its benefits. To know which van is right for you, you'll have to figure out how many people you'll be fitting inside. Here are the most popular vans, along with their cargo space for sleeping and camping:
Ford E-150
Dimensions: 216.7" L x 79.4" W x 82.4" H
Cargo Space: 237.8 cubic feet
Suggested Number of People: 2
Ford Transit
Dimensions: 220″ L x 81″ W x 84″ H
Cargo Space w/ Roof Sizing: 246.7 cubic feet (Low) / 315.2 cubic feet (Medium) / 404.3 cubic feet (High)
Suggested Number of People: 3 to 4
Chevy Express
Dimensions: 224.05" L x 79.25" W x 84.75" H
Cargo Space: 239.4 cubic feet
Suggested Number of People: 2
Mercedes-Benz Sprinter
Dimensions: 234″-290″ L x 80″ W x 96″-114″ H
Cargo Space: 319 cubic feet
Suggested Number of People: 3 to 4
Ram ProMaster
Dimensions: 195″-251″ L x 81″ W x 89″-99″ H
Cargo Space: 460 cubic feet
Suggested Number of People: 3 to 4
Keep in mind that the vans with a suggested number between three and four will be packed. You won't have as much room to move around, but sometimes you don't need it when you're camping with friends.
There are plenty of other vans to choose from. The vehicles listed above are all cargo vans, but you can remove the seats of a passenger van and have a good time camping as well. It should be noted that most passenger vans don't have the same cubic footage as a cargo van.
The maximum number of people that you can fit in any van listed above while comfortably being able to move around is two. Unfortunately, vans can get a bit crowded. If you're okay with packing into the van as if it were a large tent, then you shouldn't have an issue fitting three or more campers.
Conclusion
Cargo vans are the best choice for campers, although passenger vans have their own pros as well. For example, a passenger van usually comes with carpet, whereas a cargo van typically has a metal or rubber floor. Either way, a comfortable bed is a key to enjoying van camping.
Here are the key takeaways from this post:
Depending on the van you choose, you'll be able to fit anywhere between 2 to 4 people for sleeping.
You can use camping cots, sleeping pads, air mattresses, bed frames, and other beds to camp in a van.
Decide whether you'll be sleeping sideways or longways on the van's floor before you make a bed.