The Otzi Flat Pack Grill is an innovative product designed for camp cooking. This lightweight and collapsible grill is easy to transport and is ideal for camping, as well as tailgating, or picnics. In addition, it can be set up quickly, making it easy to grill your favorite foods, whether camping or at home. Let's take a closer look at the Otzi Flat Pack Grill to see how it performs and if it is worth buying one.
The Otzi Flat Pack Grill is well worth the investment. This amazing portable grill cooks mouth-watering burgers, hot dogs, eggs, sausage, and other foods. And best of all, the grill breaks down to store completely flat, which is a great advantage when you don't have a lot of space on a camping trip.
Cooking while camping can sometimes be challenging. If you're like us, you're always looking for new products to make life on the road easier. Please continue reading to find out what features make the portable Otzi Flat Pack Grill an option to consider for cooking on the road.
The Price of Convenience: Otzi Flat Pack Grills
Otzi Adventure Gear has invented a handy, portable grill. Their grill is an excellent choice for outdoor grilling because of its ingenious design. In addition, it can be quickly and easily assembled and disassembled, making it ideal for transporting.
Otzi offers three grill sizes, so whether you are a single person, a couple backpacking, or a family of four or more, they have just the right size grill for you.
| Model | Cooking Area | # of people | Available in | Weight |
| --- | --- | --- | --- | --- |
| Spark | 54 sq. inches | 1 | Carbon Steel, Stainless Steel and Titanium | 4 lbs. |
| Ember | 96 sq. inches | 2 | Carbon Steel and Stainless Steel | 8 lbs. |
| Flame | 160 sq. inches | 4-6 | Hybrid Alloy | 17 lbs. |
To Get 10% OFF: Go to Otzi Adventure Gear and use the discount code: VANCAMPING10 and get 10% OFF Otzi flat pack grills & accessories or Otzi ModRack spare tire system. Discount code does not apply to Otzi MVS Lifestyle System.
When our Flame grill arrived, the first thing that struck me was that it was much heavier than I had expected. The Flame weighs 17 pounds but feels lighter when carried in its tough 16-by-18-inch nylon carrying bag.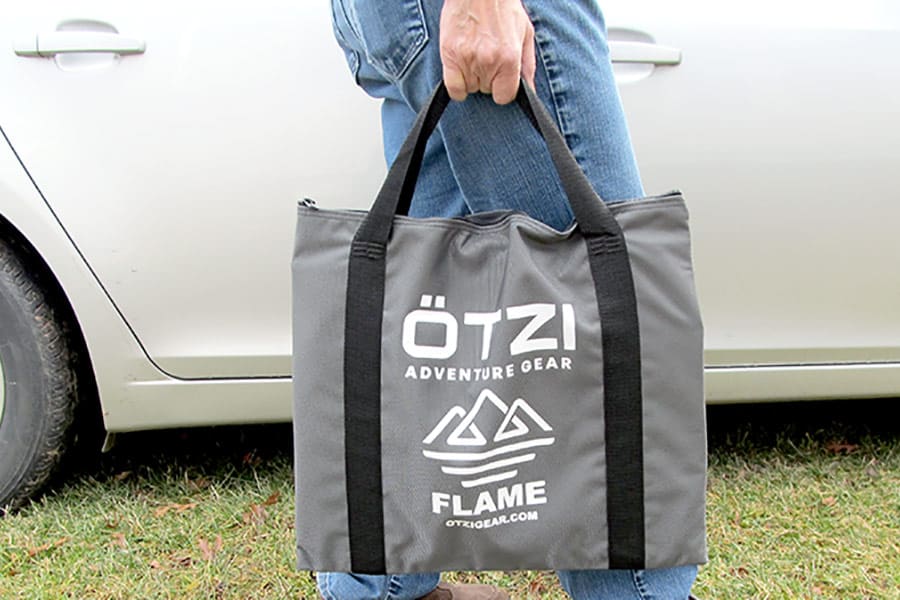 Each section is thin, but when you put it together, it ends up being a really sturdy product. The first assembly was easy as Otzi provided a brochure with directions on assembly and seasoning.
We didn't have to season the grill as the Flame is manufactured out of a specially engineered hybrid alloy material. However, according to Otzi, if you purchase carbon steel grills, you will need to season them. 
Furthermore, you can purchase a variety of optional accessories, like griddle plates, tinder, collapsible bellows, and more. Otzi also sells a fire mat to help protect whatever surface you're using the grill on.
Other Posts of Interest
So How Did the Otzi Flame Work?
We've had several grills – from the big propane ones to the little hibachis – I was impressed with this grill. First of all, the grill pieces go together quickly. You can have the grill assembled and ready to cook on in under a minute.
Otzi suggests initially building a small fire to temper the grill and minimize warping. We started with a small charcoal fire and then moved on to a bigger fire. The Flame grill easily held a charcoal chimney full of briquettes.
Additionally, you can use wood in the grill, which gives food a different taste than charcoal, but it is delicious both ways! When we used wood, we piled it on and let it burn down to a hot bed of coals before starting to cook.
Another great feature is that you can adjust the grill or griddle plates to four different heights to cook at the right temperature for whatever food items you are cooking.
We have cooked multiple foods on the grill and haven't had a bit of trouble. Here are some tips to help your food turn out perfect every time. First, make sure your grill is properly preheated before you start cooking. Preheating will help prevent sticking and ensure your food is cooked evenly. Remember to lightly oil the grill plate before placing food on it. We haven't had anything stick to the grill so far.
Cooking eggs, sausage, or bacon on the griddle plate is an excellent way to make a delicious breakfast quickly. The griddle plate evenly distributes the heat and is large enough to cook several items at once.
To get started, heat the griddle plate to a medium-high temperature and lightly oil it with cooking oil. Place the bacon or sausage onto the griddle and then add the eggs. I like to add a little butter to the griddle before adding the eggs; I think it makes them taste better! Grill until the meat is cooked and the eggs are done to your liking; they always turn out perfectly.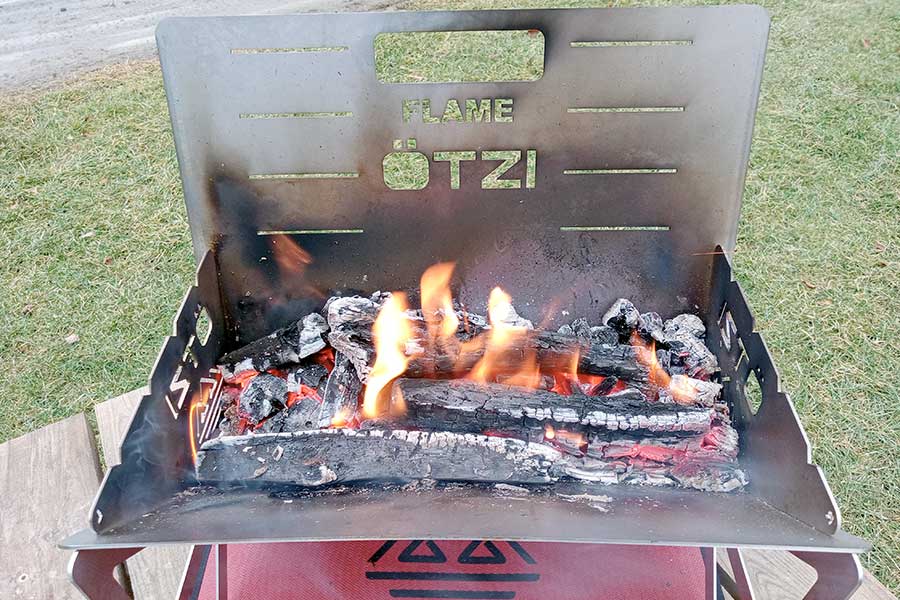 If you like shish kebabs, the grill also comes with skewers. The secret to making camp kebabs is to cut your meat and vegetables, usually beef or chicken, and vegetables like bell peppers, onions, and mushrooms into the appropriate sizes and put them into containers before leaving on your camping trip.
So, what about clean up? The grill plate and griddle clean up easily. I use a green scrubby, and the food remnants come right off. After the charcoal or wood dies down, empty out the ashes, wait for it to cool, which takes very little time, and then rinse or brush off the residue, and it's ready to pack back up in the bag.
Note: You will want a pair of heavy leather gloves to help you move the hot cooking plates around, turn the skewers, and empty any fire remains from the grill if it hasn't died out.
We really like the Flame grill! It's more compact than anything we've ever used. Even better, we no longer have to worry about cleaning those public BBQ grills when camping!
Are Otzi Grills Expensive, and Are They Worth the Money?
The Spark grill is designed for one person, and the carbon steel model costs under $50. The Ember starts at about $100 again in carbon steel and is made for two people, and the Flame, made of hybrid alloy material, costs $350, and you can cook for four to six people with it.
I haven't used the smaller models, only the Flame, but I am happy with it. I like the size, the portability, the way it can be stored flat, the ease of use and clean up, for all those conveniences it's well worth the cost.
If you're searching for a lightweight, flat-pack portable grill for your next camping trip, overlanding adventure, or van life, then Otzi Adventure Gear has you covered. With their great selection of compact grills, you'll be able to enjoy all of your favorite meals no matter where you go!