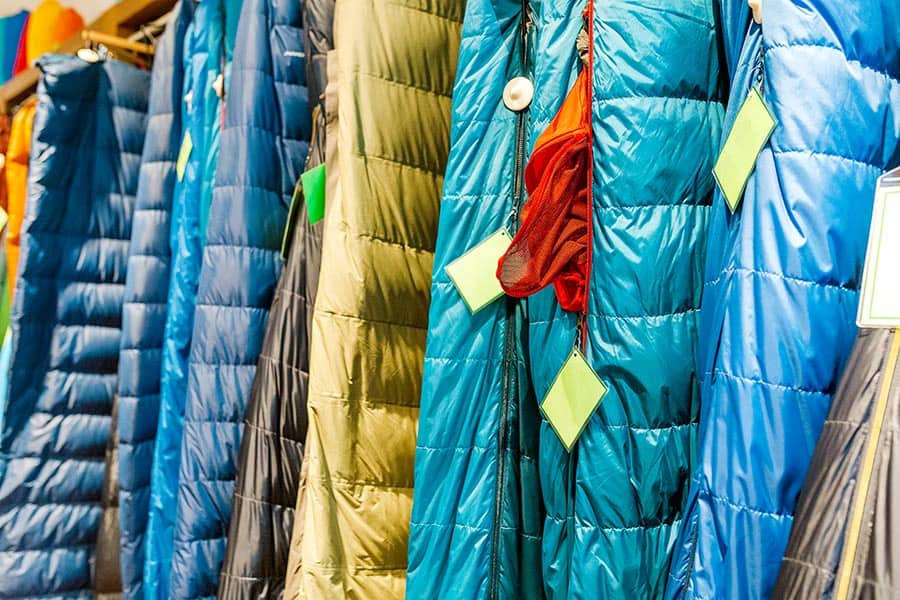 There are a lot of pros to van life – built-in travel, time to focus on what truly matters to you, and more. But the reality is that you have to make extra considerations since your vehicle is also your camping space, especially when it comes to where you sleep. Sleeping bags are a great option, as they don't take up much space.
How many sleeping bags do you actually need? It depends on where you're staying, your body temperature at night, and how insulated your van is. Many people have three sleeping bags: one for warmer weather, one for colder weather, and one for in between so they're comfortable wherever they park.
Since space is at a premium in your van, buying exactly the right sleeping bag you need for your van will save you space and money, as well as uncomfortable nights.
Read on to find out what factors you should consider when purchasing sleeping bags and what some of the best options are.
What Should I Consider When Buying Sleeping Bags?
Living and traveling in your van means being organized. Unlike living in an apartment or a tiny house, you have to be deliberate about each and everything thing in your van. When it comes to where you sleep, you can't run into a store with a few measurements jotted down and buy what fits nicely in your budget. You need to understand how your life differs in your van.
So, what should you consider?
The Climate and Your Body
One of the best things about camping from your van is the fact that if you aren't enjoying the weather, you can just drive somewhere else. But that doesn't mean you won't get caught in a heatwave or a cold snap.
Think about where you're likely to stay or what climates you prefer. If you're planning on staying in warmer climates, buying a heavy down sleeping bag might be a waste of money. If you're up in high altitudes in the mountains, having two lightweight sleeping bags won't cut it either.
You also have to think about how you like to feel when you sleep. Some people are just naturally warmer, so their definition of a "warm" sleeping bag might be different than someone who finds seventy-degree weather a little nippy.
Lastly, your van's insulation and ventilation will matter too. Sometimes vans, especially older ones, aren't insulated to keep the cold out, and other ones hold in heat so well that it's hard even to breathe when the weather gets warm enough.
Luckily, this is something you can fix within your van if it swings one way or another. We have a couple of posts that will help either way one is about staying warm in your van and the other is about how to stay cool in your van.
The Size of Your Van
Even though sleeping bags are a great option because you can roll them up, you still need to consider how big your van is. If you end up needing three sleeping bags for a range of climates, choosing three large ones might take up more space than necessary.
If your van is larger, you could have several bulky sleeping bags. But even then, if you happen to have a lot of things, even that kind of space might not be enough for all the sleeping bags you need.
And there's also the length. If you're particularly tall, you'll need a sleeping bag that covers your body well. Measure how big your sleeping bags are rolled up and open to get a good idea of what fits your space.
Other Posts of Interest
Your Budget
Another pro of van camping is that it is less expensive to do compared to traditional camping. There are sleeping bags for every budget and lifestyle, so even if you don't have much money to work with, you can find something that suits you.
Budget-conscious buyers should gravitate toward synthetic sleeping bags – they're often much cheaper, and they're also easier to maintain, meaning you likely won't have to replace it any time soon.
If you're willing to pay a little more, gravitate toward down-filled sleeping bags. They pack away tightly and are lightweight, though, as a warning, they don't do well with water and need to be dried in a dryer.
We'll get into the options at different price points shortly.
Best Options for Sleeping Bags
Now that we've determined what to consider when choosing how many sleeping bags you need, let's break down some options based on the temperatures that they perform their best for the average person wearing base layers.
As we've mentioned, "warmth" or "coolness" is relative, so these are just general guidelines.
Best Options for 30 Degrees Fahrenheit and Below
Best Options for 30 Degrees Fahrenheit and Above
If you are going to have kids along, don't forget that you can buy kid-sized sleeping bags too.
Also, sleeping bags are great when you need more room for sleeping; you can either use them on the ground or set up a tent for additional campers. This way, friends and family can tag along to enjoy the trip with you.
Are There Alternatives?
If you feel like buying multiple sleeping bags for a variety of temperatures isn't for you, some alternatives are just as comfortable. Most of these options require some handiwork, but there are options if that's not your thing.
Beds
If your van is big enough, you can include a whole bed.
Convertible beds are an excellent choice for van camping because you can fold them up or slide them away and create a couch space. These beds require you to break out your tools, but if you're good with your hands, they can be great additions to your area.
You can also include a fixed bed, which is precisely what it sounds like – they're beds that can't be folded up. Though they take up much more space, these beds can be made up quickly with regular sheets and blankets from any store.
We have a post that you might like that tells how to sleep in a Transit van where we go into more detail.
Hammocks
Hammocks can be connected from the inside of your van to a tree or other stable tying points. If the weather's great and you want to sleep under the stars, you can pull out a hammock and relax.
A Mattress
If you want to stay minimalist, you can just put a small mattress down in your van, along with some sheets and quilts, and you're done! There's no rule saying that you have to build anything.
You can also cut certain mattresses down, like memory foam ones.
If you are interested in using a mattress, we have a great post that tells about how to find the perfect mattress for camping. It will make the night go a whole lot better.
Final Thoughts
Choosing the right kind and the correct number of sleeping bags for your needs is worth spending time on. Just because you're planning a camping trip into the great outdoors doesn't mean you need to sacrifice comfort and warmth wherever you happen to travel.