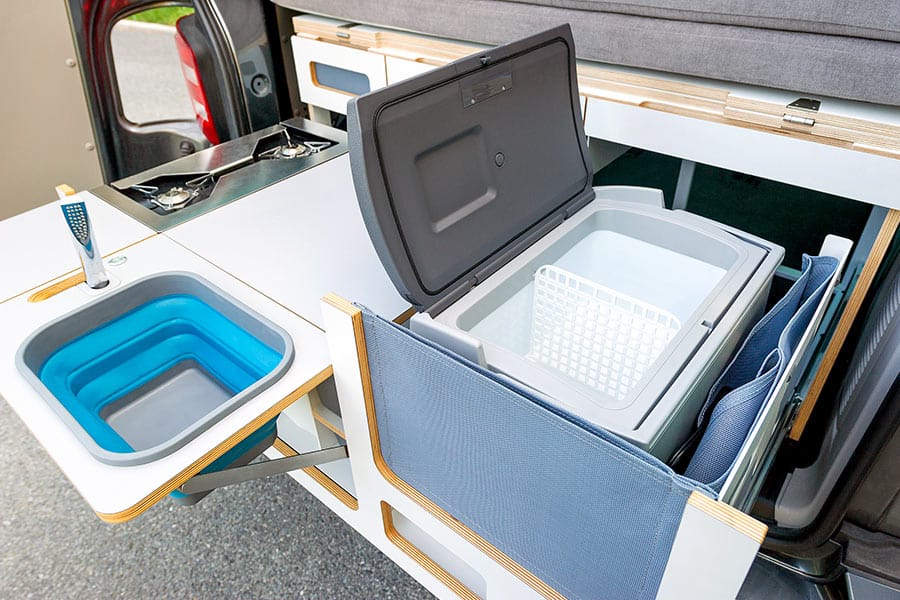 Whether you're going on long road trips or short camping vacations, having a fridge in the back of your van is a huge convenience. Imagine being able to have all of your favorite snacks and meals from home, wherever you go.
So, can you put a mini fridge in a van? Absolutely! There are several brands to choose from, and two different methods to power them. You will need to secure the fridge in place, and you also need to make sure that it's not always hit by direct sunlight.
Now that you know you can bring along a fridge in your van, let's check out the ways that you can power them.
How Do You Power A Mini Fridge In A Van?
Mini fridges offer all sorts of storage, and some of them even come with freezers inside as well. Unfortunately, you can't power them with AA batteries. They require much more electricity, which is why you need to have a constant source from either the car battery or a solar power setup.
Let's compare the two types of sources below.
Using A Car Battery To Charge A Mini Fridge
Every vehicle has a power source right under the hood. A car battery has tons of electricity (which is why they can keep a vehicle moving). The main concern that you need to be aware of if you decide to go this route is that you have to monitor your car's battery.
We all know that running too many lights or other electronics from a car battery can deplete it quickly. Fortunately, most mini fridges that you'll use for your van have a shutoff that prevents it from draining the battery too low. However, it's still not good to constantly go through a full cycle.
To prevent these issues, you need to turn on the vehicle and run it for 15 to 20 minutes a few times throughout the day. When you start the car, it uses the alternator to charge the battery. This process keeps your battery charged, giving you all the power that you need to keep your fridge powered.
All you have to do to hook it up is grab a 12 volt DC plug adapter and run it from your car battery to the fridge. The good news is that most modern vehicles have 12 volt plugs right at the front panel, otherwise known as cigarette lighter outlets. You can plug the fridge into the socket for an immediate power source.
Using Solar Power To Charge A Mini Fridge
Solar power gives you the ability to charge all of your favorite devices, including a mini fridge. Here's how you can set up the panels and use them to power your mini fridge:
Mount the panels to the roof.
Run the cables through the ceiling and down to a charge controller.
Hook the charge controller to a 12 volt deep cycle battery.
Once you have the battery charging from the solar power, you can hook up a 12 volt DC plug adapter to the battery terminals. The other end has a socket that you can plug in the mini fridge.
That's all there is to it.
Solar power seems a bit complicated, especially when you're trying to condense it into two paragraphs. You'll be able to tackle the project in an hour or so, maybe even less if you have a few extra pairs of helping hands.
To avoid the time-consuming process of assembling all the individual components, check out this user-friendly solar kit. The kit includes solar panels, charge controller, cables, brackets, and connectors.
Van Camping Life Tip: There are great gas-powered mini fridges that you can choose from as well. However, there are some added expenses to consider, an enclosure for the propane tank, pressure regulator, tubing, fittings, propane detector, and so on.
Other Posts of Interest
The Best Mini Fridges For Van Camping
There are dozens of mini fridges that you can install in your van. However, before you choose one, you need to make sure you're not getting the typical stand-up 'college dorm' style mini fridge. These can't be used in moving vehicles, as they have too many small parts that quickly get dislodged, ruining the refrigerating.
Anyway, here are seven of the best mini fridges for vans.
Dometic CRX-65 Refrigerator
If you are looking for a fridge, freezer, or a combination, then the Dometic CRX-65 12/24 volt DC compressor refrigerator and freezer is just what you have been looking for.
The temperature can be adjusted to get precisely the right setting for optimal food storage with the soft-touch control panel. If you don't need the freezer compartment, you can simply remove it.
This fridge is perfect for vans and small motorhomes. A standard or flush-mount frame is available for purchase.
Pros
Energy efficient
Quiet running
3-in-1 food storage solution
Separate storage compartment
Dometic
CFX3 45-liter
portable refrigerator/freezer
Dometic CFX3 45-liter portable refrigerator and freezer has the option of powering with AC, DC, and solar, so no matter where you are, there is an option that you can use. It has a built-in battery protection system that prevents dead batteries.. Additionally, Its rugged construction will stand up to any conditions.
Pros
Compact size
41 pounds
3 ways to power
Dometic CFX 50W 12V Powered Portable Fridge/Freezer
Dometic is a leading brand in the mini fridge industry, especially when it comes to 12V DC fridges. The Dometic CFX 50W 12V Powered Fridge is an excellent choice for anyone who wants plenty of storage space in their refrigerator. It has a 40-liter capacity for drinks and food.
Another great feature of this mini fridge is that you can adjust the temperature down to -7 degrees Fahrenheit. If you want to freeze meat, ice cream, or anything else, it'll cool down in under an hour. It's also very well insulated to maintain the same temperature for as long as possible.
You'll also love the low power consumption that you'll get with this mini fridge. It only uses power whenever the interior temperature rises a few degrees, unlike most other fridges that run 24/7. This process saves you energy, money, and time. It's also very quiet.
Pros
Comes with a 40-liter interior capacity
Use it as a freezer or a refrigerator
Uses very little power throughout the day
Digital screen to monitor and adjust the fridge
Alpicool CF45 Portable Refrigerator
Much like the Dometic mini fridge above, the Alpicool CF45 Portable Refrigerator has a digital display. You can raise and lower the temperature, turn the fridge on or off, and troubleshoot the settings menu. This fridge is a 48-quart model, but they also have a wide variety of choices that range from 37 quarts up to 58 quarts.
This mini fridge also is designed to be compatible with solar systems, which is perfect if you have panels on top of your van. It also has four rubber corners to protect the fridge on all sides. The insulation foam in the walls allows the fridge to hold its temperature for over an hour without having to use its power source.
Finally, the small features throughout this fridge are worth checking out. For example, it has four cup holders on top, a handle to move it around, and a removable basket on the inside. There are also side vents to remove heat very quickly.
Pros
Several sizes to choose from
Comes with a touchscreen display
Includes four cup holders on top of the lid
Goes down to -4 degrees Fahrenheit
Van Camping Life Tip: Plan your camping menu ahead of time. The goal is to have great tasting camp food with the least amount of hassle possible.
Ausranvik 26-Quart Portable Fridge
Although Ausranvik isn't as well-known as the other brands on this list, this 26-quart portable fridge is a great choice. This budget-friendly mini fridge is as simple as it gets. It has handles on the side to move it around, a small drain on the bottom to remove excess moisture and a locking latch on the front.
The LED display on the right side of this fridge shows the temperature. It also allows you to adjust the modes (fast cooling, eco-mode), lock the settings menu, and change a few other options. There's even a battery protection level to let you know if it's draining too quickly.
If 26 quarts isn't enough, they also have a 37-quart model. You can store your items between the split sections inside. There's a deep, wide portion next to a shallow, short portion. Perhaps the most impressive feature is the memory sensor that keeps your settings, even when you change power sources.
Pros
Comes in two different sizes
Uses a separated fridge/freezer section
Simple exterior design with a handle and a locking latch
Contains memory functions
ICECO JP50 Portable Fridge
Finding a mini fridge that has it all can be a challenge. However, the ICECO JP50 Portable Fridge is a top choice for many campers. It's easy to use; all you have to do is plug the 12-foot DC cable into the socket mentioned earlier in the article, and you'll be good to go.
The display lets you adjust temperatures, use two different cooling modes, and review the current settings. There's also an on/off button when you're not using the fridge. A unique feature of this product is the AC/DC outlet that gives you multiple power source options.
The two handles lock in place when you're not holding them. They can fold outwards to make it easier for you when you're lugging it around. There's a light inside the fridge, which is generally not found in almost any other 12V mini fridge on the market.
Pros
Includes two power source options
Adjustable LED display
Temperature range: -7 degrees F to 50 degrees F
Low voltage protection
Dometic CF18 12V Electric Powered Fridge
Last but certainly not least is the Dometic CF18 12V Electric Powered Fridge. This mini fridge can go all the way down to 0 degrees Fahrenheit, which is far below what you'll likely need while you're camping. It also comes in seven different sizes for you to choose from.
The battery protection on this product is as good as you'll find anywhere. It has three stages that prevent electrical surges and other problems. Before your car battery shuts off, this fridge will trip and shut down. You'll be able to rely on the double-insulated layer to protect your food and drinks for hours on end while it's off.
If you need a compact fridge that doesn't take up too much space, then this is going to be your best bet. Dometic has mastered the mini fridge, letting you save room and still have enough to store your favorite snacks. They even put a handle on top to carry it around.
Pros
Seven different sizes to choose from
Three-stage electrical surge protection
Extra insulation to keep your items cold for longer
Compact design to take up less space
Are Mini Fridges Better Than Coolers?
There are pros and cons to mini fridges and coolers. For example, mini fridges allow you to keep your items colder for a longer period. However, coolers don't need to rely on any power sources to keep going.
Let's break down the details below.
Pros of Mini Fridges
Mini fridges don't need ice; therefore, you hardly ever have to deal with draining the unit. They also cool down the interior much faster than coolers.
The temperature of a mini fridge can get all the way down into the negatives. Freeze your food for a long time before you need to change the power source.
Speaking of a power source, you can charge your fridge from your solar panels as long as the sun is around.
You can adjust everything on a mini fridge without opening the lid. Change the temperature, modes, and various other settings from the exterior screen.
Some mini fridges have two adjustable compartments to have a fridge and a freezer in one unit.
Cons of Mini Fridges
Mini fridges are much more expensive than coolers, in most cases. All of the electrical components increase the price by quite a bit.
Another con is that, due to the previously mentioned components, mini fridges are usually much heavier than coolers.
Needing a power source could be a limitation to some people, especially those who don't want to invest in solar power.
Pros of Coolers
Coolers are lightweight, cheap, and you can put them anywhere. A power source does not tether them, so you can bring them outside of the van whenever you want to.
Ice is budget-friendly, but buying solar power can quickly exceed $1,000. If you're on a low budget, it might be hard to justify spending so much money to power a fridge.
You can bring your cooler into a different vehicle, on a camping trip, or to a sport's game with only a little bit of ice.
Many new coolers have tough lids that allow you to use them as a seat. You should never sit on top of a mini fridge.
Coolers are also much more durable if you drop them. Wipe it off, and you don't have to worry about damage to anything electrical.
Cons of Coolers
The most obvious disadvantage of coolers is that they rely on ice. Without ice, everything overheats, dries out, or spoils.
Cleaning out and draining the water from a cooler is tedious, and it makes food soggy and unappealing.
Coolers can only get as cold as the ice that they hold. In fact, they heat up quickly because the ice melts over time. You'll never see a cooler that gets as cold as a portable mini fridge/freezer.
If you are interested in purchasing a new cooler, here is a post about the cooler we use.
All in all, mini fridges are much more useful if you're able to spend the extra money. There's no denying the usefulness, functionality, and convenience that they have to offer. However, you need to be sure that you brace the fridge to prevent it from moving around.
Let's check out a few tips below.
How to Secure A Mini Fridge In A Van
Most mini fridges come with rubber feet to prevent them from sliding on the floor of your van. However, sudden stops and sharp turns can cause problems if you don't brace the fridge in place.
The best way to secure your mini fridge is to extend 1×3's off the side of your bed frame (if you have one). Measure the dimensions of the fridge and cut pieces of wood a few inches longer in every direction. You need the extra room to allow the heat to dissipate.
Mini fridges work by removing heat from the side vents. This process retains cold air while constantly removing anything above the set temperature. If the vents are blocked by wood, they won't do their job correctly.
If you're still worried about it sliding around inside of its retaining space, you can do one (or both) of the following things:
Place Velcro strips underneath the fridge and on the floor of the van to stick them together.
Stuff small strips of fabric between the mini fridge and the wood brace to reduce the wiggle room.
Whatever you do, don't leave your fridge out in the open. You need to have some sort of brace to stop the movement. It doesn't have to be completely tight; a little bit of wiggling is fine. The main concerns are that it shouldn't tip over or unplug.
Conclusion
Getting a mini fridge for your van will change the way you go camping. Instead of eating bland, dry food all day, you can have home-cooked meals right from the back of your van. Pick out your top choice from the list earlier in the article, secure it in place, and have cold food without any hassle on your next vacation.
If you're still worried about the budget, keep in mind that you can make payment plans through Amazon. Save money while still getting the fridge that'll make your camping trip more enjoyable.