Almost everybody loves dogs. Our canine companions are furry, funny, personable, and beloved members of many RVing families. But can we bring our pals with us when we go camping? Do most campgrounds allow dogs?
In general, most campgrounds allow campers to bring their dogs with them. However, rules will vary depending on where you are camping, as most campgrounds are independently managed. Therefore, you should check ahead with the specific campsites you plan to stop at to verify their dog policies before you go.
What else is there to know about camping with your dog? Can I bring my dog with me to a national park? How about taking my dog along on a hike? Do I need to take their vaccination records? In this post, you will learn the answers to these questions and more.
Are Dogs Welcome at Campgrounds?
Campgrounds have different sets of rules depending on who the owner and operator of the campground is. Therefore, rules that apply regarding your dog at one campground may be different at another. State and national parks have their own set of rules, as do privately owned campgrounds like KOA locations. Let's talk about different types of campgrounds and review the rules and regulations about dogs.
General Guidelines
No matter where you plan to camp with your dog, you should take some common sense measures before you go. Make sure to have an up-to-date copy of your dog's vaccination record and that your dog has a current rabies vaccine. Bring any veterinary records that you might need on the road. If you plan to take your dog hiking, make sure you have treated them for ticks and fleas, and bring along some basic first aid supplies.
Be sure that your dog has tags with your contact information on their collar or harness. Most dogs are microchipped, but if your dog is not, you should talk to your veterinarian about chipping your dog to help reunite you if you become separated.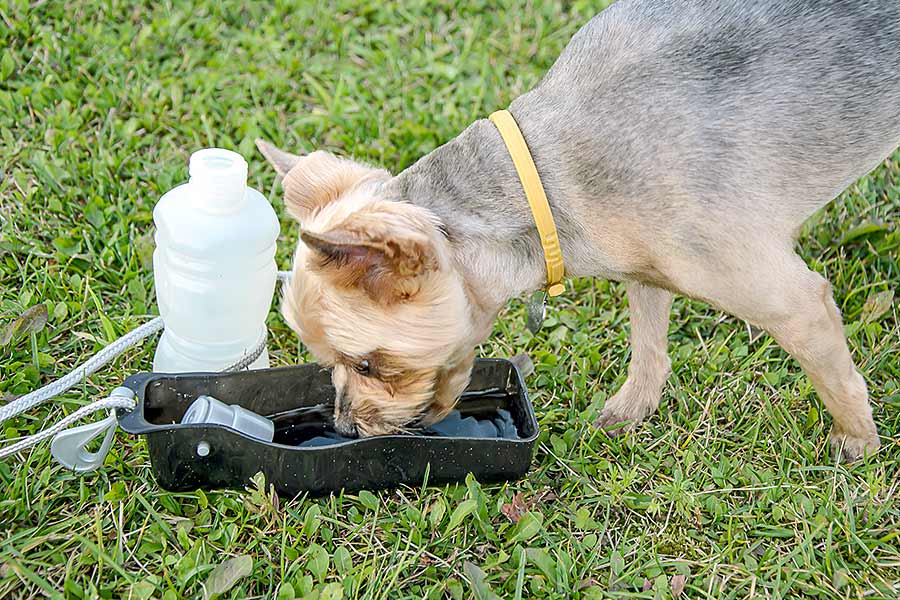 Make sure that you bring a portable water bowl if you plan to take your dog hiking. Whenever you take a water break, you should offer some to your dog. Hiking can be great exercise for people and pooches, but nobody wants the dog to get dehydrated along the way.
KOA
KOA campgrounds are privately owned camping facilities operated by franchisees across the nation. KOA locations are known to be very pet friendly. They recognize that our furry friends are part of the family and that we love to include them. However, KOA does have certain restrictions on dogs.
For example, dog breeds that have a reputation for being aggressive – whether or not that reputation is fairly earned – are not welcome at KOA campgrounds. This policy is due mainly to insurance regulations: many insurers feel that breeds such as Rottweilers, pit bulls, and Doberman Pinschers pose an insurance risk. No matter the breed, if your dog displays aggressive behavior, KOA will ask you to find another place to camp.
Even if you have an extremely friendly Labrador retriever or Goldendoodle, KOA prefers that you keep your animal on a leash of 6 feet or less and within your visual range at all times. KOA campgrounds do not allow dog owners to tie their pets and leave them at the campsite. In addition, dogs who like to bark a lot may cause friction with other campers; KOA asks that owners of very vocal dogs not camp with their pets.
Because KOA locations are privately owned and have different insurers and different local conditions, we would recommend that you call ahead to the KOA location you plan on camping at and ask them about their specific policies.
Here are five items to help both you and your dog have a great camping experience.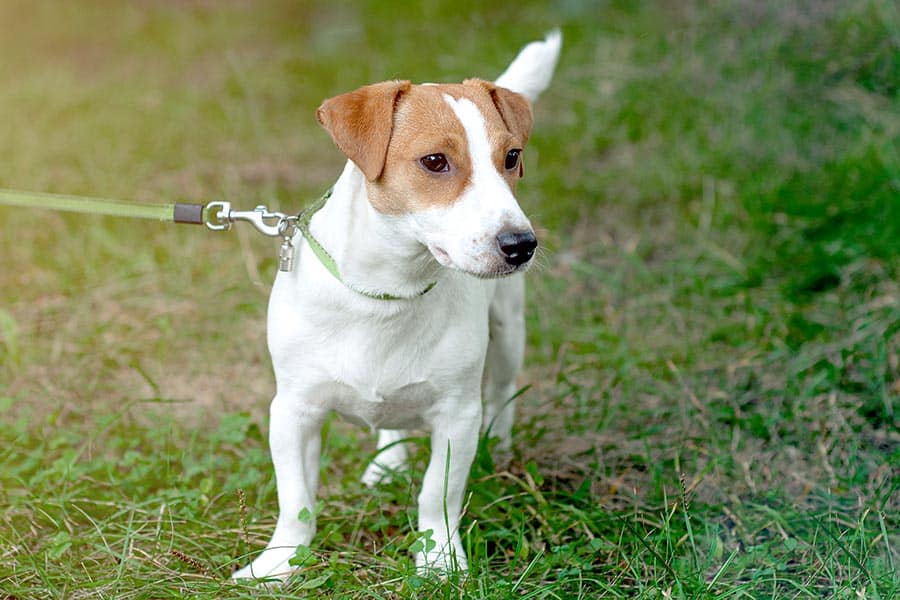 Yogi's Jellystone Park
Yogi's Jellystone Park is another popular chain of camping locations. Much like KOA, Yogi's is happy to accommodate your pet dog. Also, like KOA, Yogi's asks pet owners to keep their pets on a leash of 6 feet or less at all times. Even though your kids are probably great with your dogs and love to watch them, Yogi's prefers that pet dogs be supervised by adults.
While you are camping at one of the fun and fabulous Jellystone parks across the country, you will be kindly asked to keep your dog out of certain common areas and all buildings on the premises. You may also be asked to bring a copy of your dog's vaccination record. But on a friendlier note, many locations have bark parks and complementary cookies just for dogs.
Campgrounds are operated by franchisees, so specific rules may vary depending on where you camp. For example, some campgrounds charge a nominal fee to bring your dog along, while others do not. Therefore, we recommend calling ahead to double check the specific policies where you plan to camp.
Other Private Campgrounds
Of course, there are many privately owned campgrounds and RV parks across the nation. What about bringing your dog to these places? Americans love our dogs, so most campsites are friendly to dogs and dog owners.
You can expect that most campgrounds will want you to keep your pet leashed, under control, and quiet. You should also bring a pooper scooper or some baggies with you to clean up after your pet.
Some campgrounds realize that dogs are important enough to warrant their own specific services. As a result, many places now offer off-leash dog runs, dog parks, playgrounds for canines, washing stations, and other dog-focused amenities.
Other Posts of Interest
National Parks
America's national parks are something of a treasure. Beautiful, rugged, and easily accessible to the public, the national parks are hugely popular places to go hiking, camping, fishing, or just to enjoy nature. But, can you bring your dog with you to the national parks?
Most of our national parks are friendly to dogs. And dogs love the national parks: so many exciting new smells, sounds, and sights. But, of course, the same dog courtesy rules exist here as in private parks: you will need to keep your dog supervised and on a leash, and aggressive or loud dogs are probably better off at the kennel.
America's national parks exist in many different climates, trains, habitats, and ecosystems. As such, different areas of national parks might have different dog policies.
For example, while dogs might be allowed to camp or join you on the hiking trails in some parks, other parks may forbid canines in certain places or on specific trails. Your best bet to be sure is to call ahead to the park you want to camp at and see what they have to say about dogs.
National Forests
National forests are very friendly to dogs. Dogs are allowed in all national forest lands, but they must be kept on a leash of 6 feet or less when you are in developed areas of the park or on any interpretive trails. Dogs are also not allowed at swimming areas. And as usual, aggressive dogs are not welcome in national forests. Otherwise, your pet is welcome at the national forest.
State Parks
Each of the 50 states has a unique approach to dealing with dogs in their state parks. The only state with an outright prohibition on dogs in state parks is Hawaii, due to the sensitive nature of many local ecosystems.
Maryland and New Hampshire have somewhat more stringent regulations on dogs in their parks, but the other 47 states are pretty accommodating. Whichever state park you're planning to go to, you should do your due diligence and check ahead with the specific park to verify their dog policies.
Leash laws vary state to state, with some states requiring leashes to be no longer than 6 feet and others tolerating leashes of up to 10 feet. Dogs are generally not welcome in swimming areas and indoor buildings.
Are There Extra Fees for Bringing Your Dog Camping?
We really hate to say this, but: it depends. Many campgrounds do not charge fees for your dog, but some will ask you to pay a small fee for the privilege of camping with your pet. Also, some locations ask for pet deposits when renting accommodations like a cabin or a lodge.
Can You Leave Your Dog Unattended at a Campsite at a Campground?
No. You should never leave your dog unattended while you're camping with them. Every single privately owned, national, or state park that we researched for this post requested that owners stay with their dogs at all times. Even if your dog is leashed or chained outside of your campsite or RV, they must have an owner nearby to supervise them. If the mechanics of your trip will not allow you to have someone accompanying your dog the entire time, your best bet is to leave your friend at the doggie hotel or arrange a dog sitter.
Do I Need to Bring My Dog's Shot Record With Me?
Yes. It is a good idea to bring your dog's shot record with you. On the off chance that your dog gets into some kind of mischief, you want to make sure that you can provide them with appropriate veterinary treatment and avoid any questions of immunization currency by having your records with you. Records also include your pet's rabies tag or a copy of the rabies tag.
Happy Hounds Make Happy Campers!
Camping out is one of the most relaxing and best ways to spend your time. It's also a great way to spend time with your canine companion. Most campgrounds recognize that dogs are part of the family and strive to include them in the camping experience.
Be sure to do your due diligence before you go, bring any and all appropriate records, medications, and accessories that your dog may need, and be respectful of your camping neighbors. Following these rules helps ensure that future generations of campers can bring their furry friends along too.