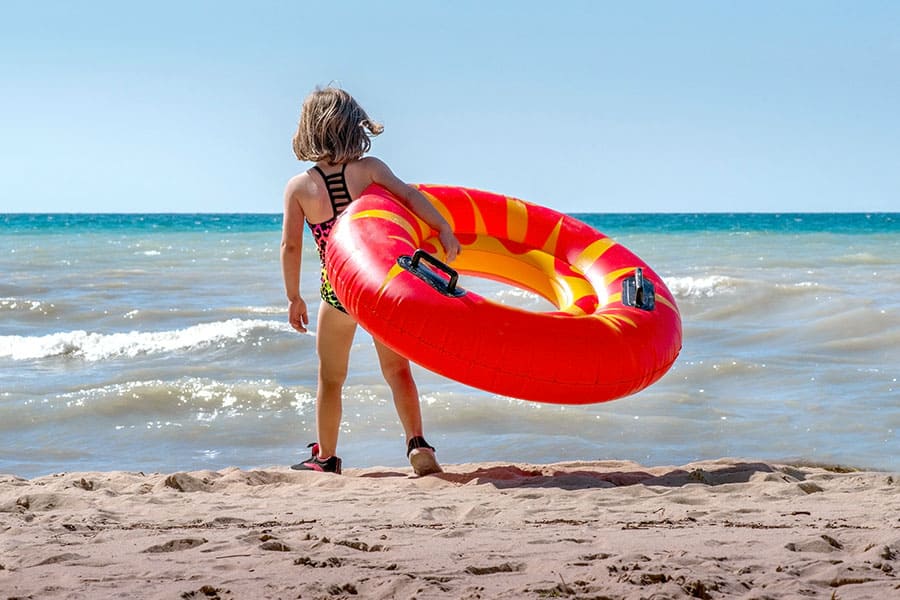 When it comes to unbridled nature in beautiful off-road settings, the parks and campsites that border the shorelines of Lake Michigan just can't be beat. When camping around the lake, you will be treated to the spectacular beauty the region is famous for. While visiting here, you will enjoy stunning sunsets, rolling dunes, dense forests, spectacular fall colors, and, of course, endless miles of pristine Lake Michigan beaches.
Four states lie on the shores of Lake Michigan, and that's a lot of ground to cover. The following sites offer van campers a wide variety of year-round outdoor experiences, and most of the sites are just as active in the winter as they are in summer. But the lake is BIG and van-friendly campsites that populate the lake's 22,404 square miles are many, so I've narrowed things down a bit. Let's take a look at 14 spectacular van camping destinations near Lake Michigan.
In Michigan:
1. Warren Dunes State Park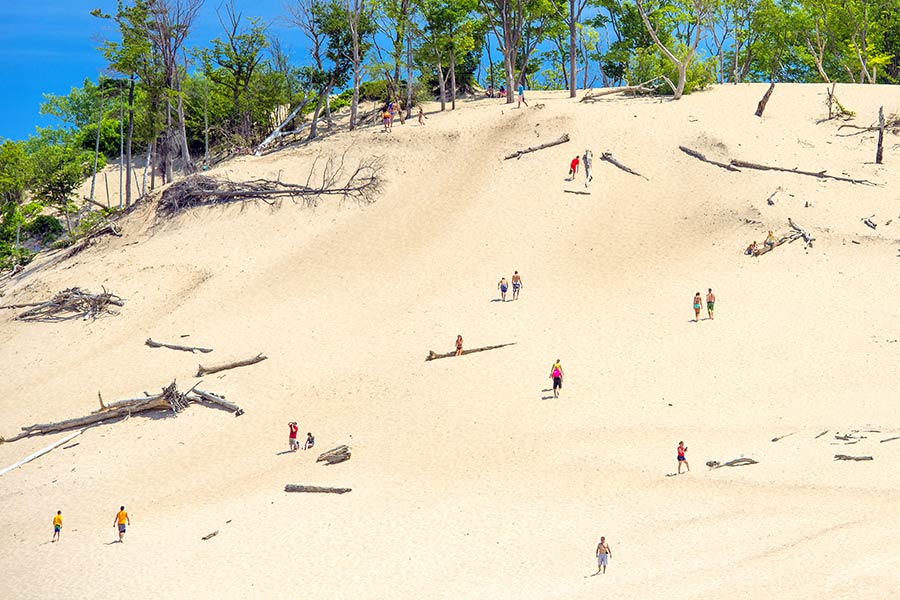 If long sandy beaches and dunes with a view are your idea of paradise, then Warren Dunes State Park could be your new nirvana. Nestled in the southwestern corner of Michigan on Lake Michigan's shores in Berrien County, Warren Dunes State Park's 1,952 acres of outstanding recreational opportunities make it one of Michigan's most popular parks.
Its biggest attractions are the 3 miles of beautiful lakeside shoreline and the spectacular views offered from the rolling dune formations, especially from the 260 feet of the park's tallest dune, Tower Hill. Even better: sandboarding and hang gliding from the dunes are permitted. At night, stargazers can lay back and contemplate the universe under a canopy of stars.
The park is open year-round and boasts 6 miles of rustic hiking trails that are popular with cross-country skiers in the winter. A variety of seasonal nature programs that highlight the trail's natural features and wildlife are offered by park guides. Click here for availability.
The park's two campgrounds offer a total of 220 tent and RV sites that vary in size and seclusion. The more extensive modern area has restrooms with showers, drinking water, playgrounds, and limited hookup sites. The semi-modern area offers just water and vault toilets. Depending on accommodations, campsite rates can range from $25–$45 a night; cabins are $52 a night.
There's a 50-foot length maximum on RVs, trailers, and vans, and sewer, water, and 50-amp hookups are available for mobile campers. The campsites come loaded with amenities (toilets, picnic tables, a nearby market, firewood, and electrical hookups, and more), although WiFi is not one of them.
Address: 12032 Red Arrow Highway, Sawyer MI, 49125
Phone: 269-426-4013
GPS Coordinates: 41.91006541005835, -86.58692034718842
Map: Click here.
2. Wilderness State Park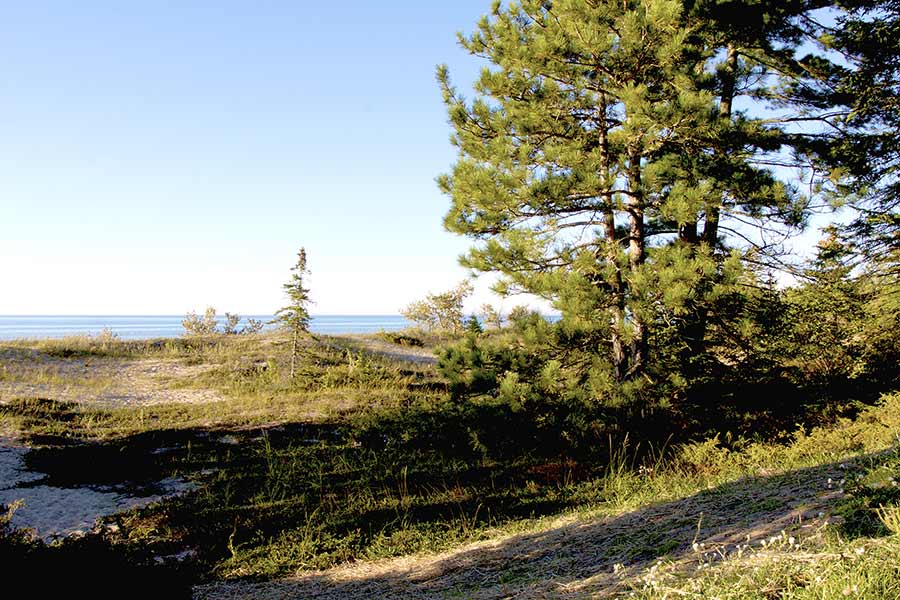 With 10,000-plus acres that include 26 miles of Lake Michigan shoreline and 16 miles of trail through some of the most beautiful parts of Michigan, Wilderness State Park literally offers something for everyone. It's impossible to match the area's natural diversity, featuring everything from beaches and sand dunes to deep forests, wetlands, and ponds. As you can imagine, the opportunities for amazing year-round outdoor activities are endless. In fact, there's so much to do here, you might just forget to relax.
The campground offers campers many options. Urban dwellers from nearby Ann Arbor and Sault St. Marie can camp in amenity-laden style while more experienced campers can pitch their tents and rough it. The park includes 250 well-equipped campsites, 18 full hookup sites, and nine tent sites. You also can choose the option of a rustic cabin or rustic bunkhouse.
RVs and trailers can have up to 50-foot lengths, and RV amenities include sewer and water hookups and sanitary dumps. However, only 30-amp hookups are available. The campground is roomy and spacious, so finding a spot is rarely a problem. Still, reservations are always a good idea.
Wilderness State Park also offers excellent opportunities to visit nearby sites in the Northern Michigan/Saginaw area, including the four nearby lighthouses or the unbelievable views seen from Waugoshance Point, a narrow peninsula that juts deep into Lake Michigan. The park itself is designated a "dark-sky preserve" where artificial light pollution is restricted, so astronomy buffs, bust out those telescopes.
Address: 903 Wilderness Park Drive, Carp Lake MI, 49718
Phone: 231-436-5381
GPS Coordinates: 45.73906532733256, -84.92194815582572
Map: Click here.
When you visit a dark-sky preserve, you will want to take along a red flashlight like this one from Darkbeam. It is shock-resistant and has a telescopic adjustment feature. Powered with a lithium battery, it will give you 3 hours of use without recharging. Plus, it has a 90-day money-back guarantee.
Or you can choose a headlamp with a red mode that will leave your hands free. EverBrite has one that will work perfectly for this purpose. It has seven options for lighting modes, is lightweight, has an IPX4 water rating, plus it allows you to see over 190 feet. The light operates on a 1500 mAh Li-ion rechargeable battery. Not only will it work as a red light, but you also have white and green options.
 If you want to learn more about using red lights while camping, read "Why Are Camping Lights Red?"
3. Leelanau State Park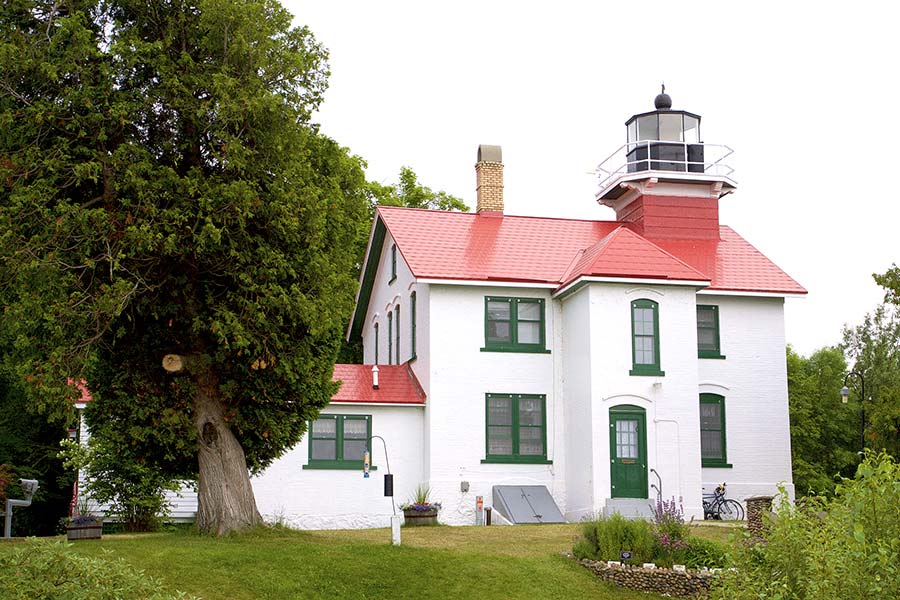 Given its unique location at the very tip of the Leelanau Peninsula that extends deep into northeastern Lake Michigan, Leelanau State Park offers visitors more than 1,500 acres of stunning natural beauty that just can't be matched. If you want to view Lake Michigan at its most rugged and beautiful, Leelanau State Park should top your destination list.
The park features 8 miles of well-maintained hiking and skiing trails and 1.5 miles of beautiful sandy beaches that rim Cathead Bay. One of the park's biggest attractions is the magnificent Grand Traverse Lighthouse Museum that's become a mecca for lighthouse enthusiasts and photographers.
Beyond the park itself, the Leelanau Peninsula area offers plenty of fun activities. The charming villages of Northport and Sutton's Bay are a short drive away and you can spend a full day exploring both towns.
Bigger Glen Arbor is an hour away and features pubs, restaurants, and shops with a less-villagey feel. As well, the popular Sleeping Bear Dunes National Lakeshore is also a short distance away. Wine lovers will love the area's many wineries. In fact, Leelanau County has so much to offer, you might want to stick around for a bit.
Its rustic campground features 51 campsites and the most basic of amenities, don't even think about WiFi. Rates run between $14 – $18 per night. RVs and trailers are welcome, but the park's 28 ft. maximum length could pose a problem for visitors in bigger RVs or trailers.
Address: 15310 N. Lighthouse Point Road, Northpoint, MI 49670-9717
Phone: 231-386-5422
GPS: 45.23279992261811, -85.49789370019798
Map: Click here.
4. Muskegon State Park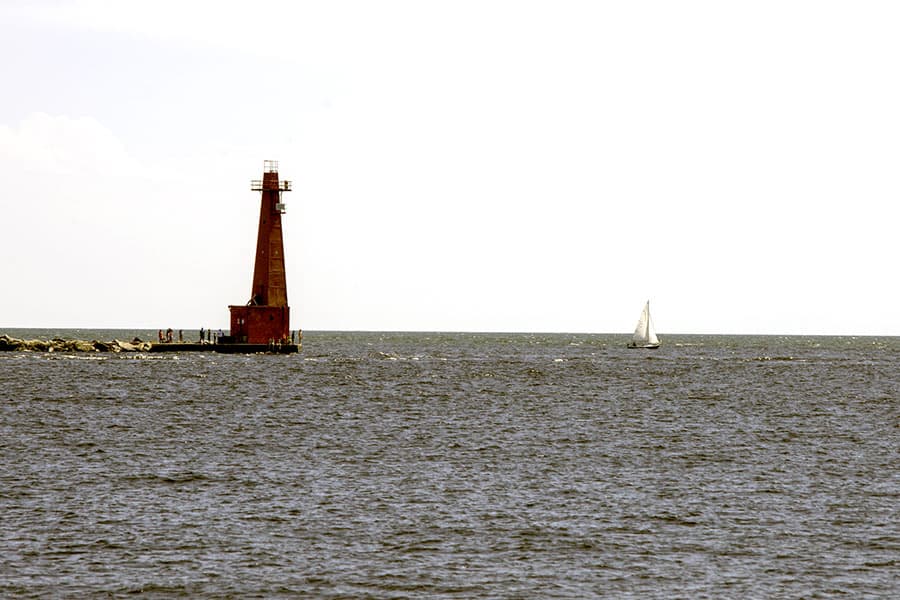 Located smack dab between Lake Michigan on the west and Muskegon Lake on the east in Michigan's Muskegon County, a fun place at any time of year, Muskegon State Park really comes alive in the winter.
Winter sports enthusiasts will flip over the Muskegon Winter Sports Complex and its Olympic-designed luge track, ice skating trails through the woods, cross-country ski trails (5 miles are illuminated at night), and sledding hill. With so much winter fun going on, who needs summer? As might be guessed, the proximity to two lakes makes it a popular destination for ice fisherman and skaters.
Of course, the 1,233-acre park offers plenty of summer fun, including 12 miles of hiking trails, long, sandy beaches, sand dunes, interdunal ponds, forests, fields, lakes, and coastal plain marshes. Imagine the wildlife that lives in such a diversified eco-environment!
Even better, the park's innovative electronic track chair system offers excellent accessibility, helping wheelchair-bound visitors reach areas of the park not easily accessed by standard wheelchairs.
The park's two campgrounds offer modern and semi-modern campsites, mini cabins, sites for tents, and a yurt. Expect basic amenities and you won't be disappointed. The park is RV and trailer accessible, but expect the bare minimum of offerings, though its 50-amp hookup is a pleasant surprise. Depending on accommodations, nightly rates can run between $25-$37.
Address: 3560 Memorial Drive, North Muskegon MI, 49445
Phone: 231-744-3480
GPS: 43.24754402380787, -86.34142540006192
Map: Click here.
Other Posts of Interest
5. Fisherman's Island State Park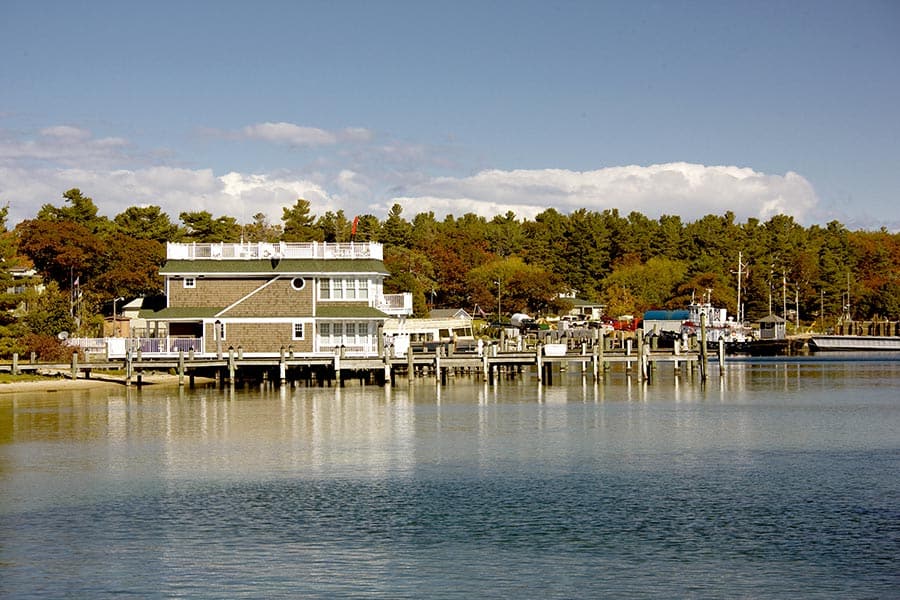 Located a few miles south of Charlevoix on the northeast side of Lake Michigan is the 2,678 acres of natural beauty that comprises Fisherman's Island State Park. While not technically an island, this secluded park's astonishing beauty will make it feel like you're on one.
Lake enthusiasts will revel in its 6 miles of pristine Lake Michigan shoreline and the views from atop the area's many wooded dunes. Boat slips are available for those who prefer being on the water rather than next to it. Hikers and nature lovers can spend their days exploring lush wetlands and maple, aspen, and birch woodlands. As an added attraction, the sunsets here are simply astonishing.
The nearby city of Charlevoix offers plenty of fun activities for those who like to mix it up. Golf courses, museums, wineries, shops, and restaurants are just some of the options the city has to offer. You can visit great sites like the Mushroom houses, and historical Castle Farms. Visitors can fly or take a ferry to beautiful 13-mile long Beaver Island and its famous lighthouses and stunning natural scenery.
Fisherman's Island State Park has 80 rustic campsites, with 15 secluded sites nestled in the dune area just along the shoreline. The well-maintained campsites are spacious and roomy enough to offer privacy and seclusion, and amenities are plentiful.
RVs, trailers, and vans up to 40 feet in length are welcome, and full hookups are available. The campsites also are tent and yurt friendly. Nightly rates are $16 and there is a 15-day consecutive limit. Non-resident daily passes cost $9, while non-resident annual passes are $34.
Address: Bell's Bay Road, Charlevoix MI, 49720
Phone: 231-547-6641
GPS: 45.30800597910237, -85.31011197117711
Map: Click here.
6. Straits State Park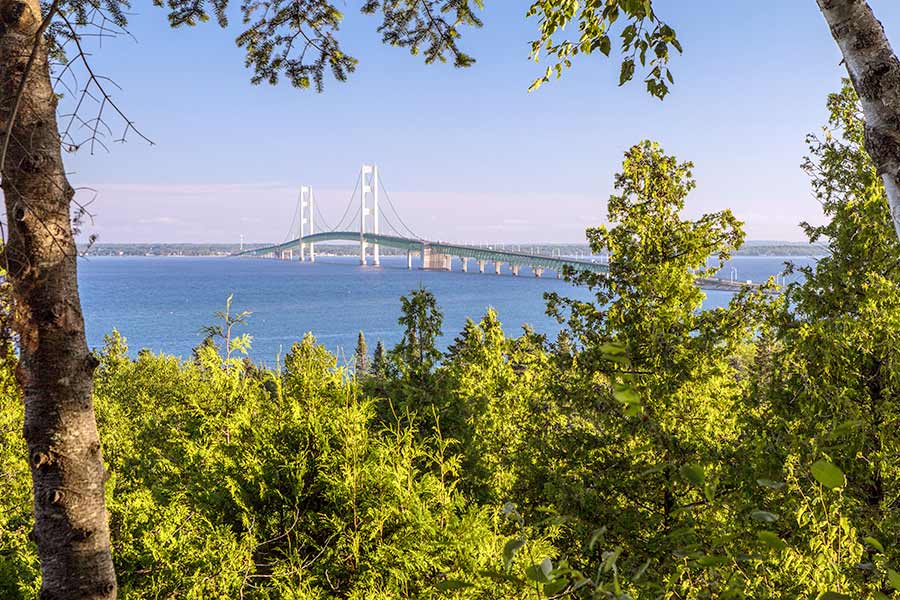 While not exactly roughing it, Straits State Park is perfect for those who want to get away from it all, but not that far away. Uniquely situated at the southern tip of a peninsula in Mackinac Straits that separates Lakes Michigan and Lake Huron, Straits State Park offers double the Great Lakes fun, as well as a close distance to popular destinations like the breathtaking beauty of Mackinac Island and the charming city of St. Ignace, Michigan.
You'll find this beautiful 181-acre park just over the Mackinac Bridge on Michigan's Upper Peninsula. It is popular with boaters, fishermen, and water skiers anxious to take advantage of the vast expanses of water. The park also has hiking trails, an observation platform overlooking the Mackinac Bridge and the Straits of Mackinac, native wildlife, and miles of pretty shoreline just waiting to be explored.
But the park is known for its stunning views; few things can beat the sight of the majestic Mackinac Bridge at night as it sparkles across Lake Michigan. Away from the park, the Northern Michigan/Mackinac area offers no shortage of activities.
There are so many interesting things to do and see in the nearby city of St. Ignace that it's no wonder the locals like to say, "It's better above the bridge." The popular Soo Locks and Tahquamenon Falls State Park are just an hour away, and the Father Marquette Memorial is located in Straits State Park.
The park offers 275 campsites with both drive-in and walk-in access and plenty of amenities like WiFi, electrical hookups, fire rings, drinking water, picnic tables, and more. Four modern toilet buildings with showers and two sanitation stations are also available.
Rates can run between $22-$42 per night, depending on accommodations. RVs, trailers, and vans have a whopping 80 feet maximum length, and amenities include water and sewer hookups, a sanitary dump, and 50-amp hookups.
Address: 720 Church Street, St. Ignace MI, 49781-1729
Phone: 906-643-8620
GPS: 45.85486822471917, -84.71943556879523
Map: Click here.
7. Ludington State Park
Nestled between Lake Michigan and Hamlin Lake in east-central Michigan, Ludington State Park features nearly 5,300 acres of stunning natural beauty. Its miles of sandy, unspoiled shoreline is a mecca for boaters, fishermen, water skiers, and kayakers during the summer. The winter months could not be more breathtaking, especially after a snowfall, and winter sports enthusiasts will have no shortage of fun in the snow.
The park's biggest draw is its winding network of trails. Eight separately marked foot trails wind for 18 miles over dunes and throughout woods. A section of the trail system is a hard surface and ADA accessible. Native wildlife is abundant, and the park offers year-round programs that go deep into the area's diverse eco-system. Like many Michigan state parks, Ludington is popular with metal detectorists looking for hidden gems in the dunes and along the beaches.
Outside of the park, in the nearby Ludington area, highlights include the Hamlin Lake Dam and the famous Beach House built in 1935. Or you can explore historical sites, bike or stroll around Historic White Pine Village, or take in some boating and fishing on the Pere Marquette River. Lighthouse lovers take note, the iconic North Breakwater Light sits right in downtown Ludington while the Big Sable Point Lighthouse is a part of the park.
There are three modern campgrounds at Ludington State Park with a combined total of 355 campsites, including three mini-cabins. Some sites come fully loaded with amenities, while others are entirely rustic.
Backpackers will appreciate the ten remote tent sites, but don't expect electricity or modern toilet facilities in those sites. The park has a 50-foot maximum length for RVs, trailers, and vans, and amenities include a sanitary dump, water, and sewage hookups, and a 50-amp-only hookup. Make your reservation early to be sure of a site upon arrival.
Address: 8800 W. M-116 Ludington MI, 49431
Phone: 231-843-2423
GPS: 44.03275134174284, -86.50767066013019
Map: Click here.
8. Holland State Park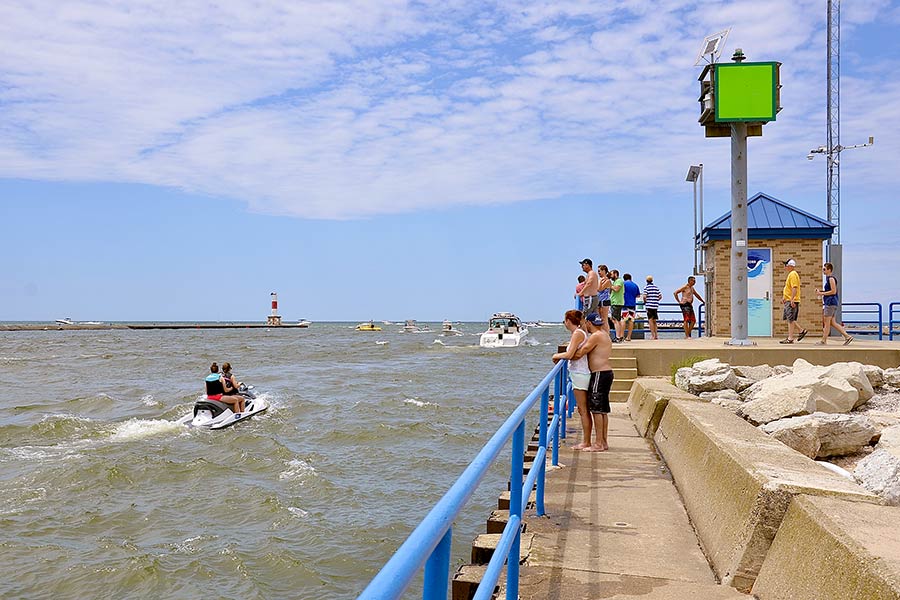 Conveniently located on the banks of Lake Michigan to the west and Lake Macatawa to the east in southwestern Michigan, Holland State Park's beautiful beaches are perfect for sunbathing, swimming, and watersports. Needless to say, the opportunities for excellent fishing, boating, camping, and swimming are through the roof.
Visitors to the park will find dunes, beach volleyball courts, paddle rentals, playgrounds, and access to Holland State Park's innovative network of non-motorized trails. The Lake Macatawa side features a campground, beach, and a public boat launch with a fish cleaning station. The Lake Michigan unit features a paved campground, pavilion, and broad sandy beaches.
The park's main attraction is the nearby Big Red Lighthouse that sits on Lake Michigan on the south side of Holland Channel. Built in 1872, "Big Red" has the distinction of being Michigan's most photographed lighthouse. A pier that's popular with fishermen and those who appreciate magnificent sunsets is also a popular destination.
Nearby Holland offers its share of fun activities, including the charming Dutch Village and the Holland Aquatic Center, an indoor water park that's perfect for rainy days.
Holland State Park has two large campgrounds; the Lake Michigan Beach Campsite sits amongst sand dunes and features 98 paved campsites and 31 full hookup sites. The Lake Macatawa Campground offers 211 campsites with 11 paved lots and is a ½ mile from Lake Michigan.
Both locations offer the usual amenities. There's a 40-foot maximum length for all RVs, trailers, and vans. Water and sewage hookups are available, and there's a nearby sanitary dump. Only 50-amp hookups are available.
Nightly rates vary for each campsite, but it will give you the price when making a reservation. The park also offers a $9 daily pass and $31 annual pass.
Address: 2215 Ottawa Beach Road, Holland, MI, 49424
Phone: 616-399-9390
GPS: 42.779379299631046, -86.19906179027105
Map: Click here.
In Wisconsin
9. Point Beach State Forest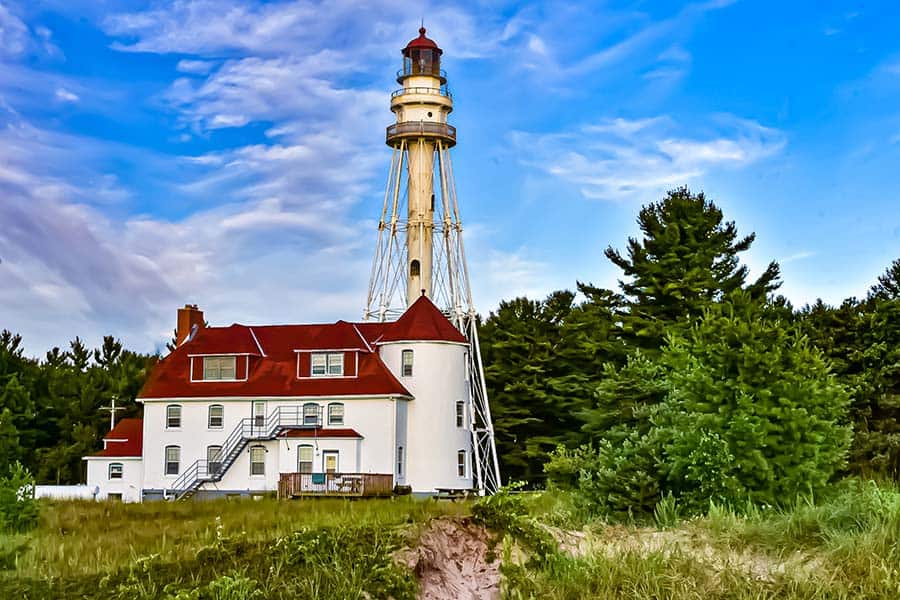 Located in Manitowoc County, on Lake Michigan's western shores, Point Beach State Forest offers campers 3,000 acres of pristine land, 2,900 acres of rolling dunes and mixed woodlands, and 6 miles of sandy beaches along Lake Michigan. Established in 1937, Point Beach State Forest is a designated National Natural Landmark site and is home to Point Beach Ridges State Natural Area.
The forest is not near any well-traveled destinations or cities, making it perfect for those looking for privacy and seclusion. Still, there's plenty to do here, from exploring broad expanses of dunes, woods, and lakeshore beaches to taking in the 11 miles of hiking, biking, and equestrian trails, many of which are open for winter snowshoeing and cross-country skiing.
Kayaks and stand-up paddleboard (SUPs) are welcome, but you must launch them from the lakeshore. Not surprisingly, the area is a magnet for fishermen.
One of the park's more popular attractions is the Rawley Point Lighthouse, which at 113 feet is the second tallest lighthouse in Wisconsin. The lighthouse, established in 1853, is still active, so visitors are not permitted inside. Nonetheless, it makes for a captivating focal point from the nearby beaches and dunes, especially at sunrise and sunset.
The park's campground features more than 120 rustic sites for both tent and RV campers; about 70 sites offer electrical hookups, and all are within walking distance of Lake Michigan. Each campsite has a fire ring and picnic table. You will find toilet facilities, showers, water faucets, a dump station, and a recycling center at the campground. Sites have a 45-foot maximum length.
Seasonal rates for campsites in Point Beach State Forest are $15–$37 per night and it is best to make reservations well in advance during the peak season.
Address: 9400 County Road O, Two Rivers, WI 54241
Phone: 920-794-7480Toll Free: 888-947-2757
GPS: 44.19255402194346, -87.51962744872122
Map: Click here.
10. Harrington Beach State Park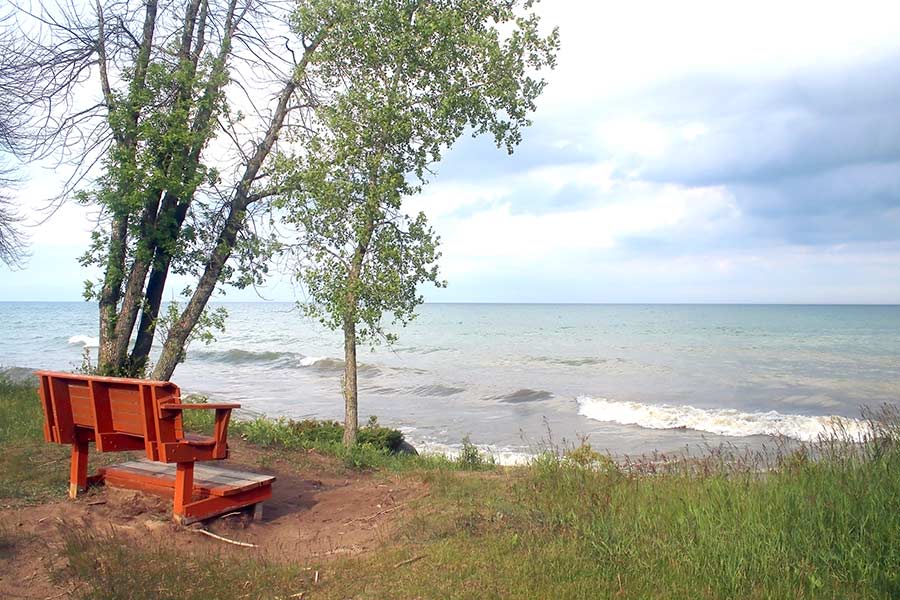 At 715 acres, Harrington Beach State Park may not be Wisconsin's biggest state park, but it packs a lot into its compact size. Located in southeastern Wisconsin near the village of Belgium, Harrington Beach State Park features a mile of long, sandy Lake Michigan beaches, lovely hiking and snowmobiling trails, a quarry lake, an observatory, and an abundance of natural beauty and wildlife. With so much to do and see here, it's no wonder Harrington Beach is one of Wisconsin's most popular camping destinations.
As might be guessed, the park is popular for camping, sunbathing, picnicking, fun on the lake, bird watching, horseback riding, fishing, wildflower spotting, and boating. Nature lovers can spend hours exploring the nearby white cedar and hardwood swamp and old field grasslands, and restored wetland ponds. The nearby Jim and Gwen Plunkett Observatory and its monthly public viewings are a popular draw for amateur astronomers.
The park sponsors numerous activities for all age groups throughout the year, including candlelight hiking and skiing. The park is also amazingly ADA-accessible and has adaptive equipment available for people with mobility impairments, including beach wheelchairs and sit skis for cross-country skiing.
Located 30 minutes (37 miles) north of Milwaukee, Harrington Beach offers campers several options. Its main camping area has 70+ sites, half of which offer electric hookups. The campsite also features several walk-in primitive tent sites, an ADA-friendly cabin, and a campsite specifically reserved for kayakers. A non-electric group campsite is reservable for up to 30 visitors. The campground is RV- and trailer-friendly, offering a 50-foot maximum length as well as sewer and water hookups and a 30-amp hookup.
Nightly rates can vary depending on the season and accommodations, and you will want to make a reservation for peak season.
Address: 531 County Road D, Belgium, WI 53004
Phone: 920-847-2622
GPS: 43.49301237910993, -87.8036388153969
Map: Click here.
11. Kohler-Andrae State Park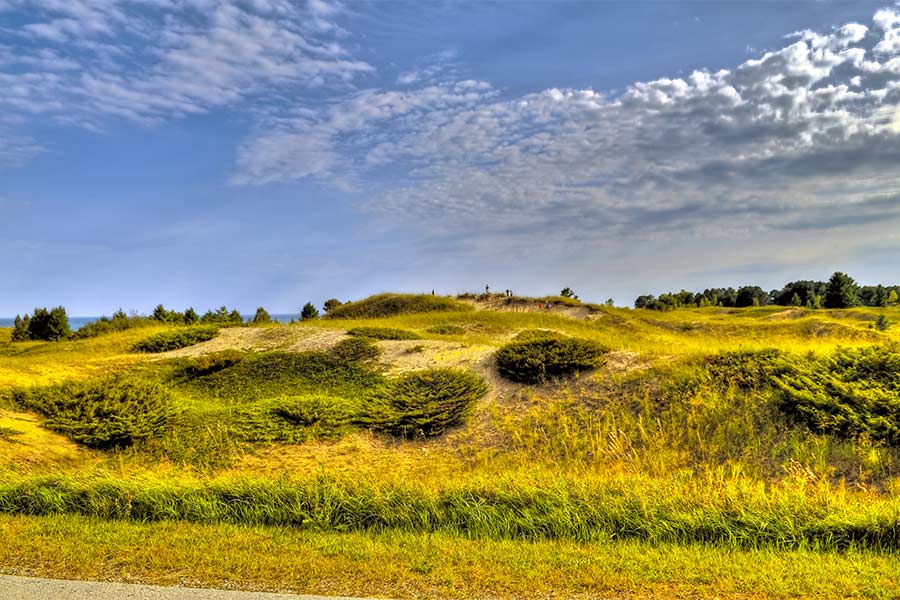 Wisconsin's 1,000-acre Kohler-Andrae State Park is a must-visit for those looking for peace and seclusion in a setting of stunning natural beauty and rich local history. It is one of the last natural preserves along the Wisconsin/Lake Michigan shoreline, and there's so much outdoor fun to be had here, you might not know where to start. The park is located in east/central Wisconsin in the town of Wilson, a few miles south of the city of Sheboygan.
Technically two parks (the Terry Andrea and John Michael Kohler State Parks), Kohler-Andrae State Park offers gorgeous sand dunes and beaches that run 2.5 miles along the shoreline of Lake Michigan, as well as pines forests, woods, and wetlands. Michigan's Black River also flows through the park. When it comes to fun on the lake, kayaks, and paddleboards can be launched right from the beach.
The park boasts more than 8 miles of hiking trails and nature paths, and many of those are barrier-free. During the winter, the park offers trails for cross-country skiing and snowshoeing.
Fishermen will love the big selection of game fish found in the lake and Black River, including trout and salmon, and a small fishpond is popular with both the kiddies and their parents. The kids will also love the interactive Sanderling Nature Center at the north end of the park.
The park's wooded campsites feature 137 family campsites, 52 with electrical hookups, two group sites, one tepee, and a cabin for campers with disabilities. The campsites have a fire ring along with a picnic table and can accommodate up to six people.
The campground provides flush restrooms with showers, picnic areas and shelters, a playground, an amphitheater, laundry facilities, and a nearby dump station. You won't find water or sewer hookups, but a trailer dump station and a freshwater fill-up station are available in the park.
There's a 45-foot maximum length for vans, trailers, RVs, and amenities, including 50-amp hookups, sewer, and water hookups. The park also has adaptive equipment available for people with mobility impairments, including beach wheelchairs and a special beach trail.
Address: 1020 Beach Park Lane, Sheboygan, WI, 53081
Phone: 920-451-4080 Toll Free: 888-947-2757
GPS: 43.66513617912397, -87.71913254422793
Map: Click here.
12. Newport State Park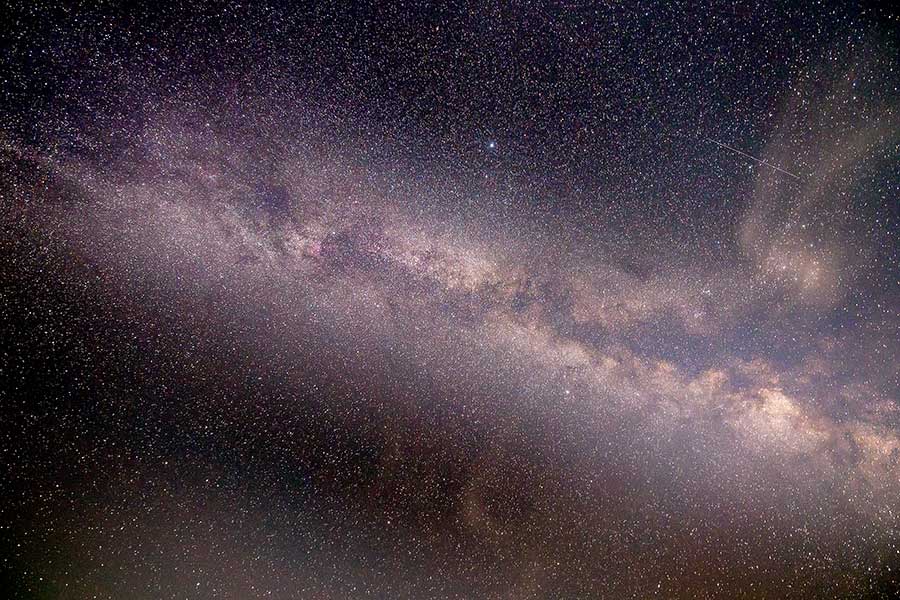 If you're looking for a real "roughing it" adventure in a remote area of dramatic, almost primitive beauty, then Newport State Park should top your camping destination list. It's located in northeastern Wisconsin near the tip of the Door Peninsula within the town of Liberty Grove, northeast of Ellison Bay. Here, privacy is golden, and depending on the time of year, it's entirely possible to be completely alone here.
Newport is Wisconsin's only formally designated wilderness park, so nature reigns here. Still, the park offers adventurous campers plenty of outdoor fun in a rugged environment where little has changed over thousands of years.
The park offers 2,300 acres of primitive forest along 11 miles of Lake Michigan shoreline and has become known for its outstanding hiking, swimming, fishing, backpack camping, ski touring, canoeing, and kayaking. Its designated Dark Sky Park status makes it popular for stargazing and astronomy, and you might be able to see the Northern Lights in the pitch-black skies as early as August.
Hikers will love its 38.3 miles of hiking trails, 16 miles of which are open to off-road bicycles. The semi-rugged Fern Ridge Trail is a particular favorite. More than 26 miles of trails are available for cross-country skiing in the winter, with 12.5 miles for classical skiing and 2 miles groomed for skate skiing, with another 4.5 miles open for snowshoeing.
Newport has 17 backpack campsites, 13 of which can be reserved, and one group site. Campers must hike or bike in all gear and supplies. Don't expect many amenities at the campsite, only a pit toilet, fire ring with flip-up grill, a food lockbox, and a few benches. Water is available, but there are no shower facilities. You must carry all garbage out of all campsites. Rates range between $20-$25 per night.
There's limited capacity for RVs, vans, and trailers, and amenities are few. There are several RV-specific sites near the park, with Dovetail Acres Campground, Hy-Land Court RV Park, and Aqualand Campground being the closest to the park and the most highly rated.
Address: 45 County Road NP, Ellison Bay, WI 54210
Phone: 920-854-2500 Toll Free:888-947-2757
GPS: 45.234837263304435, -86.99252793438825
Map: Click here.
In Indiana
13. Indiana Dunes National Park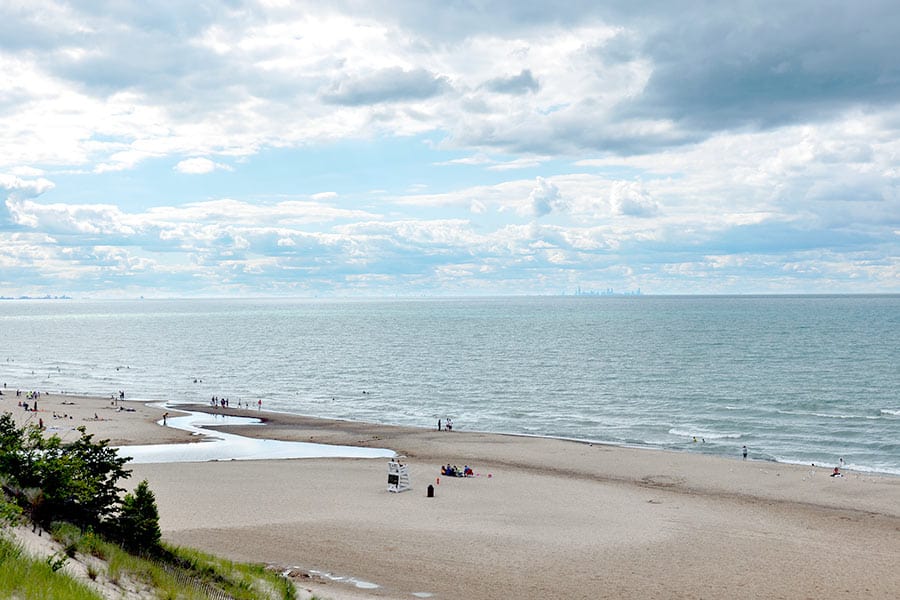 Tucked away in Indiana's northwest corner 40 miles southeast of Chicago is America's newest national park, Indiana Dunes National Park, which consists of 2,182 acres of pristine and historic Indiana wilderness.
A place of astonishing beauty, the park runs for nearly 25 miles along the southern shore of Lake Michigan, encompassing approximately 15,000 acres of bogs, marshes, swamps, fens, prairies, creeks, rivers, oak savannas, and woodland forests. It is open year-round. The park offers every kind of seasonal camping fun and excitement. The park also offers guided tours, its annual Outdoor Adventure Festival, and geocaching.
As the name indicates, the park's main attractions are its magnificent sand dunes. 126-foot tall Mount Baldy at the east end of the park is a "living" sand dune that moves four feet every year. The Chicago skyline is visible from the top, if the day is clear. Forty-five miles of scenic rustic trails wind through the dunes; listen carefully, and you might just hear the park's famous singing sands. Hearty visitors will want to take on the park's 3 Dune Challenge.
A wide range of eco-systems makes the park home to an astonishing amount of wildlife, and it has 1,418 species of plants and 350 species of birds. A continually changing lineup of game fish makes the park popular with sports fishermen or those who just want to cast a hook in the water and relax. The park also offers 16.5 miles of trails with 11 trails throughout the park of varying lengths and difficulty levels.
The Dunewood Campground in the Indiana Dunes National Park has 66 campsites. You won't have electric or water hookups, but the campground offers all other amenities, including WiFi. RVs and vans should not expect any amenities, although a sanitary dump is nearby. Rates at Dunewood Campground are $25 per night. You can make reservations at Recreation.gov.
Address: 1100 N. Mineral Springs Road, Porter, IN 46304
Phone: 219-926-1952
GPS: 41.65885074803617, -87.0542093568225
Map: Click here.
In Illinois
14. Illinois Beach State Park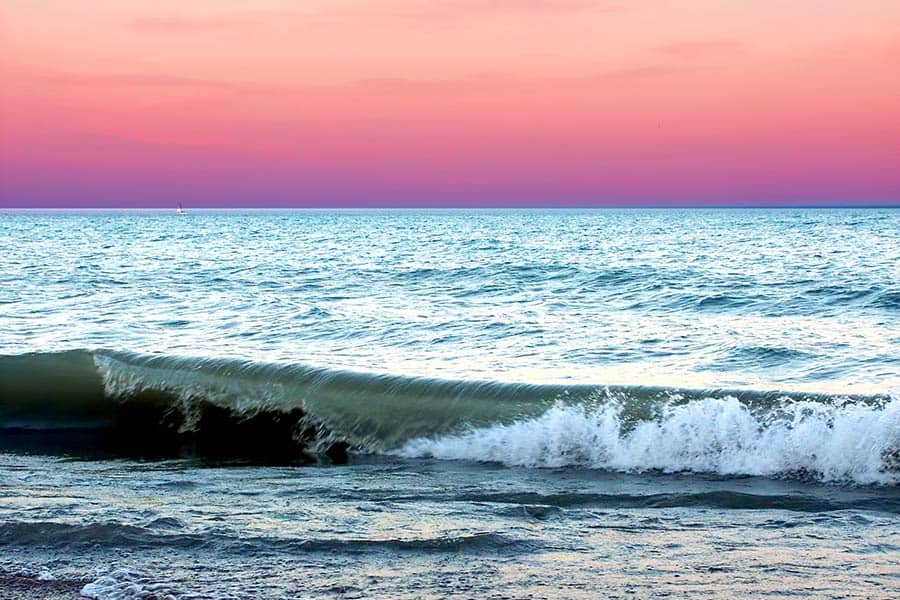 Illinois Beach State Park is also known as the Adeline Jay Geo-Karis Illinois Beach State Park, but don't let the wordy name confuse you. No matter what it's called, this part of Illinois is simply stunning.
Stretching leisurely along the sandy shore of Lake Michigan in Winthrop Harbor, Zion, Beach Park, and unincorporated Benton Township in northeast Illinois, Illinois Beach State Park encompasses the only remaining beach ridge shoreline left in the state.
Centrally located in Illinois' famous Lake County between Milwaukee to the north and Chicago to the south, Illinois Beach State Park features six and a half miles of pristine Lake Michigan shoreline.
This 4,160-acre, two-unit natural area offers plenty of opportunities for hiking and biking along trails active with wildlife, swimming, picnic shelters, an abundance of campsites, fishing at Sand Pond easy access to Illinois' largest full-service marina, the North Point Marina.
With expansive dunes and swales, marshes, prairie, and black oak forests, Illinois Beach State Park's diverse eco-systems contain over 650 plant species, shoreline birds, and rich aquatic wildlife. The park's northern unit is a dedicated Illinois Nature Preserve. The southern unit features a scenic overlook along the Dead River. Don't let the river's name fool you; it is actually teeming with life of all sorts.
The campground in the park's southern unit provides 241 premium sites with electricity and access to showers and sanitary facilities. The campsite is ADA accessible and comes loaded with generous amenities.
RVs, vans, and trailers up 30-foot in length are welcome, and amenities include 50-amp hookups, water and electricity hookups, and a sanitary dump is nearby. Sites are available from April 1 through December 30, and reservations are accepted up to 180 days in advance. A camping permit available from the park staff is needed before you can establish a camp.
Address: Lakefront/Park Office, Zion IL 60099
Phone: 847-662-4811
GPS: 42.42370287806124, -87.80538823260893
Map: Click here.
Wrapping it Up
Camping near the beautiful shores of Lake Michigan will provide you with an experience that you and your family will never forget. Each campground brings its own unique features to the mix, so be sure to take the time to check out more than one.