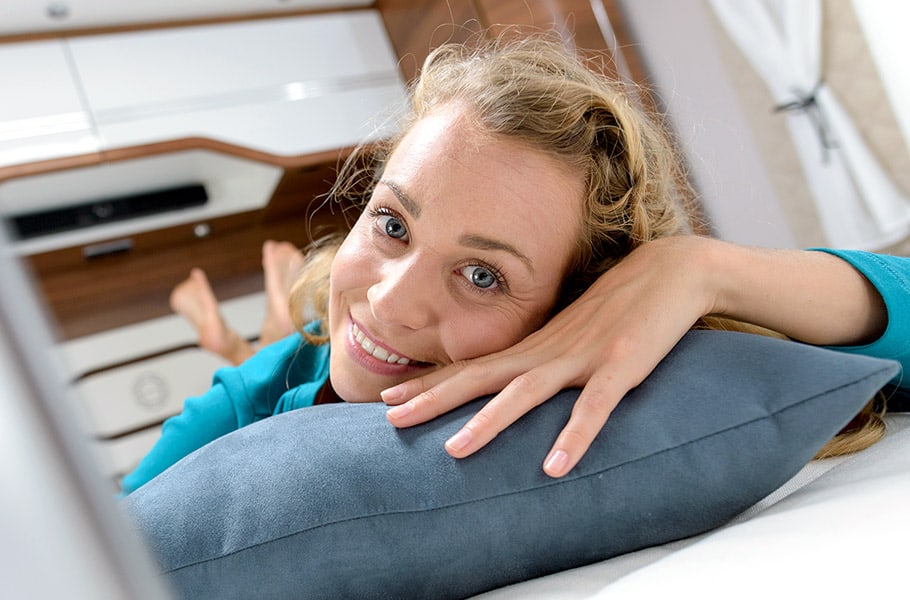 People get camper vans as an inexpensive way to travel. Having a van fitted out to serve as a camper provides both a means of transportation and sleeping accommodation for people who love to travel. So, it wouldn't be surprising if you and your companion would want to take turns driving and sleeping when traveling long distances in your camper van.
So, can a passenger sleep in a camper van while it's moving? No, unless you can sleep sitting up. The law is strict about the use of seat belts while riding in a moving vehicle. As such, passengers can't lie down to sleep while the van is in motion.
If you want to go on road trips and travel in a camper van, you need to know a few things about driving and sleeping arrangements. Knowing specific laws and getting a few tips will make your trip more enjoyable and hassle-free.
What's With Seat Belts Anyway?
In all states in the USA, except in New Hampshire, the wearing of seat belts for drivers and front-seat passengers is compulsory. These seat belt laws also apply to all children riding in a vehicle. And in some states, adult passengers sitting in the rear seats are also required to wear seat belts.
But whether you are lawfully required to wear a seat belt or not, doing so is always wise. Seat belts are designed to keep both driver and passenger safe in case of a vehicular accident.
The CDC (Centers for Disease Control and Prevention) website states, using a seat belt is an effective way to save lives and lessen injuries in the event of a crash. Moreover, the CDC noted that motor vehicle crashes are the leading cause of death in the USA among people under 55 years old.
The CDC also presented these crash-related figures:
Thousands of people in passenger vehicles die from vehicular crashes annually.
More than half of teenagers and adults aged 20 to 44 years who died in motor vehicle crashes were not wearing seat belts.
Millions of drivers and passengers are taken to the emergency room as the result of injuries from motor vehicle crashes.
Young drivers and passengers aged 18 to 24 years have the highest non-fatal injury rates related to vehicular crashes.
The Rule On Seat Belts
Seat belt rules may vary from state to state, but generally speaking, passengers are safest when they are seated in a forward or rearward facing position and secured with a three-point seat belt. Moreover, seat belts should be designed in a way that their anchorage points would allow them to withstand forceful impact.
If you are in a customized camper van, it is strongly recommended that you have your seat belts professionally installed. And if you are traveling with children under 12 years, you are required to use a suitable child restraint.
Staying Inside A Camper Van While Driving
While campers, motorhomes, trailers, and recreational vehicles provide sleeping accommodations for you as you travel, there are also strict rules against staying inside these vehicles while in transit. You cannot be in the back of campers and motorhomes while they move if they are not equipped with seating meant to be used while in motion.
In other words, the back of campers and motorhomes that have no seat belts are not considered safe, so staying in it is against the law. Technically, only the driver and the front passenger are allowed to be in the camper van while in motion. Modified camper vans with passenger seats removed are not allowed to have passengers in the back.
Moreover, many campers and motorhomes were not designed to have crumple zones. Crumple zones in modern vehicles are there to protect passengers in the vehicle during a crash.
The only types of campers and motorhomes that can safely and legally carry passengers in the back are Class A, B, and C motorhomes. They are equipped with seat belts built to withstand motor vehicle accidents. Camper vans are Class B motorhomes.
Other Posts of Interest
What Are Class A, B, And C Motorhomes?
There are different types of RVs, motorhomes, and campers. Here's a little bit of information to let you know how different they are and how many people can sleep in them.
Class B Motorhome or Camper Van. This type of motorhome is a compact and easy-to-drive vehicle built on a van platform and equipped with the comforts of a larger motorhome or a Class A. It has a raised roof and lowered floor to provide mobility for passengers.
This type of vehicle has a living area that may feature cooking facilities, a portable toilet and shower area, a potable water tank, a wastewater tank, appliances like TV and refrigerator, and one or more beds, among others.
Depending on the model, a camper van can sleep two to six people.
Class A Motorhome. Class A motorhomes are the largest type in the recreational vehicle family, with large living spaces. People commonly use this class as homes. They provide cooking facilities, heating, and air conditioning, toilet and shower, and a full array of appliances. Most Class A models can accommodate up to eight people.
Class C Motorhome. This type of motorhome is quite large and is built on a chassis with an attached cab section. The driver compartment is akin to a van with a large box in the back that serves as a living area. A Class C is typically equipped with cooking facilities, toilet and shower, heating and air conditioning, and certain appliances. Depending on its floor plan, a Class C can sleep up to 10 people.
There are also truck campers, teardrop campers, pop-up trailers, travel trailers, and fifth-wheel trailers, all of which need a motorized vehicle to utilize them.
In the USA, these specific types of vehicles fall under the generic or umbrella terms RV, motorhome, and camper.
How To Sleep Comfortably In A Camper Van
Since sleeping in a moving camper van is prohibited, the best option is to look for an excellent place to park when the need to sleep arises. If you are traveling long distances, you should find a suitable overnight parking location for your camper van before dark.
Where To Stop And Park Your Camper Van To Get Rest And Sleep
You can typically park your camper van in these locations while you get a few hours of shuteye:
RV Campgrounds. These are the most common places for motorhomes to stop and park overnight. RV campgrounds offer you security, convenience, and hookups like water and electricity, while you rest and sleep before hitting the road again.
Many of these places also have bathrooms. There are also generally no limits regarding the length of your stay provided you pay for the spot you will be occupying.
To learn if you can stay at an RV park in your van read our post.
Walmart. Walmart is well known for allowing travelers to park their RVs and motorhomes overnight. Parking in the back corner of the lot is the courteous thing to do as it is far from the store, and it does not take any prime parking space from paying customers.
You can also park toward the back of the lot for a quiet and restful sleep. What's more, parking at this location allows you to stock up on food and other essential items that you need during the rest of your trip.
Truck Stops. Truck stops are designed for larger vehicles, including camper vans, to legally stop and park overnight. In addition, the good thing about it is that they have the things you might need for your convenience, including a hot shower and food.
State and National Parks. You can stay overnight at state parks and national parks. Many of them would require that you reserve a spot ahead of time, so it is a good idea to plan ahead.
Casinos. Casinos generally allow travelers to rest and park their motorhomes. This is to encourage them to do a bit of gambling during their stop.
Undeveloped Public Land. Undeveloped public lands under the Bureau of Land Management are mostly free for parking and camping for up to 14 days. You can stop and park here unless the BLM has posted a sign saying otherwise.
BLM Developed Campgrounds. The BLM also has developed campgrounds, where you get access to facilities like restrooms, electrical hookups, fire rings, potable water, tent pads, and picnic areas.
Where Not To Stop And Park Your Camper Van
You cannot stop and park your camper van just anywhere, even if it is only for the night while you sleep. These are places where you should be careful not to park:
Private Property. You can't park your camper van or motorhome on private property. Doing so is illegal and considered trespassing unless the owner is someone you know, and you have their permission to park on their property.
City Streets. Most cities have regulations from sleeping overnight in a car or van. If you are planning to sleep in a residential area, never sleep in the same spot twice, and arrive when most people are going to sleep and leave when they are getting up.
Rest Stops. Rest stops are intended for quick bathroom breaks, for you to pick up some snacks, and for drivers to stretch their legs a bit. Although some states allow overnight parking, others do not. However, you need to check this first.
Shopping Centers. Shopping centers that are not Walmart's don't usually welcome campers. If you have no other choice, you may want to ask permission from management or from security personnel to allow you to park for the night.
How To Sleep In A Camper Van
Sleeping in a camper van can take some getting used to if it is the first time you are doing it or if you are used to sleeping on a big bed in a cozy bedroom. Want to sleep comfortably in a camper van? Here are some tips:
Make your bed. Spending several hours in a moving vehicle is tiring, even though the most strenuous thing you are doing is sitting and looking out the window. So make sure you have a comfortable bed to lay your tired body on. A 6-inch memory foam mattress will gently cradle your body to provide you with a great night's sleep. In addition to investing in a good, low-profile mattress that supports your weight, add cozy sheets and blankets to keep you comfortable at night, and fluffy pillows that would properly elevate your neck and head.
Many camper van owners use memory foam as a base for their mattresses because you can cut and size it to fit a certain space. Although six inches would be the most comfortable, keep in mind that 6 inches might be too high if you have a low ceiling. Many people opt for four or five-inch foam instead.
Moreover, when picking sheets for your camper van, choose ones made of cotton. Unlike satin, polyester and silk, this material is breathable and offers ventilation.
Crack the window a little. When getting ready to go to sleep, roll down a window a little bit or just enough for you to breathe and to have some ventilation. This allows oxygen to enter and carbon dioxide to leave the van. Make sure, however, that the window is still high enough to keep prying hands from reaching inside.
You can also close the curtains or hang a piece of clothing over the opening to keep mosquitoes and bugs outside. Another alternative is to purchase and install a manual or powered vent.
Plan your sleeping location ahead. You wouldn't want to be on the road at nightfall and not know where you could park your camper van overnight. Choose a location where it is legal for you to stop and where you could camp safely. You may also need a place that provides a shower and a toilet, or somewhere that allows you to refill your water and food supply. So look into these things ahead of time.
Sleeping During Cold Months
Here are some tips on how you could sleep in your camper van during cold months:
Bundle up. Wearing warm clothes or sleeping in layers really helps you preserve your body heat while sleeping.
Install Insulation. Install insulation in your van to keep it warm and comfortable. We installed sheep wool insulation in our van. Read our post "Is Sheep Wool Insulation Safe?" to learn more about using it as an insulation choice in your van.
Get a heater. Invest in a safe and portable heater that you could take with you while you travel on the road.
Sleeping During Hot Months
What should you do to sleep comfortably in your camper van during hot months? Here are a few tips:
Put up darkening shades. Make sure to cover your windows with darkening shades or curtains to deflect heat. This way, you can sleep in a cooler van.
Wear light clothes. Wear light and breathable clothes when you go to sleep, so you don't wake up drenched in sweat.
Keep a water bottle within reach and hydrate. Have a water bottle within reach, so you could lower your body's core temperature and keep yourself hydrated before you fall asleep and at regular intervals during the night.
Remember that your body core temperature is more important than room temperatures. You will have a better chance of sleeping and staying asleep if you can keep your body temperature at normal levels or slightly lower than normal for your circadian rhythm to modulate sleep.
If you are like me sometimes while you are camping, you wonder whether the water you get is safe to drink. Berkey Filters makes a Travel Berkey; it is compact and can filter enough water for 1-3 people each day. It is made of 304 stainless steel and comes with everything you need to start purifying water.
Get a fan or air cooler. You could also invest in a small air conditioner, an air cooler, or portable fans for when it gets hot. If you are looking for a fan, Treva makes one that is perfect for camping. It is battery powered, runs quietly, so it won't keep you awake, it is small only 5-inches.
In addition, if you are parked in a safe and secure location, you might consider sleeping outside or leaving all the windows open.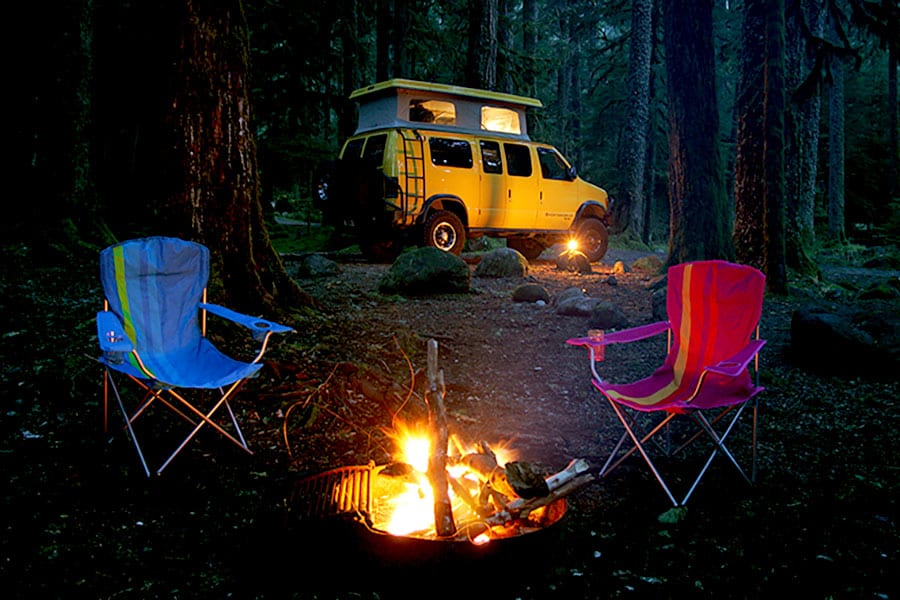 How To Spend The Night Safely In A Camper Van
Sleeping comfortably is not all there is to it when you spend the night in a camper van. There is also the matter of safety. And these two work hand in hand. After all, you can never sleep well in a place where you don't feel safe and secure.
Things you can do to feel safe while camping in a strange and new place:
Lock up. Do not forget to lock your doors when getting settled for the night inside your camper van.
Keep a Flashlight Nearby. You may be inside your camper van, with your doors locked, but you still cannot change the fact that you're still camping, and you are not home.
GearLight makes a compact flashlight that is perfect for camping. )It is tough enough to stand being accidentally dropped, and the LED casts a wide beam, it is zoomable and water-resistant.
So, keep a flashlight with you at all times, even when you're already in bed. A flashlight will come in handy during bathroom trips if you are in a campground or when you detect unwelcome wildlife or people hanging around your camper van.
Check your propane and carbon monoxide. If your appliances and other amenities run on propane or other gas, be sure you have propane and carbon monoxide detectors installed in your van. You wouldn't want to blow up or suffer from carbon monoxide poisoning while you are sleeping.
The Last Word On Sleeping Inside A Moving Camper Van
When you're raring to get to your destination, it's tempting to keep on driving while your passengers sleep in the back of a camper van or RV, don't do it. Do you want to come home minus the expense of a ticket? Besides, you will be more comfortable sleeping while in a parked vehicle, not to mention it's safer too. Take a neck pillow along, lean back as you would on a plane in the passenger's seat to nap, and be thankful for the extra legroom.