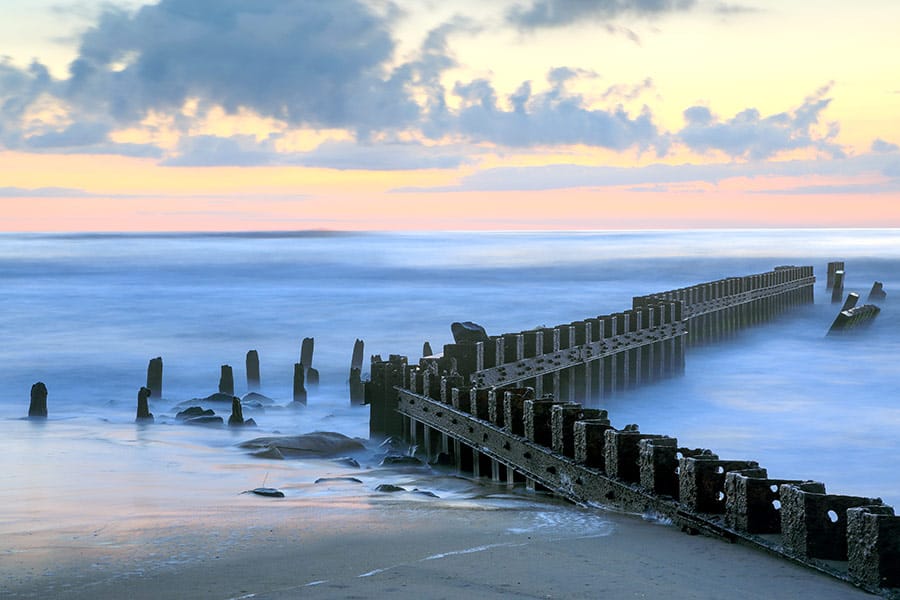 Once you have your van ready and the time to enjoy your next road trip, set your sights on North Carolina. This state is home to 41 incredible state parks, dozens of private campgrounds, and natural beauty around every corner. Van camping in North Carolina is a must!
There are many places in North Carolina where you can van camp. Carolina Beach State Park and Cape Point Campground are for beach lovers. Curtis Creek and Hanging Rock State Park are ideal if you like being off the grid. Other sites offer fishing, boating, swimming, and rock climbing.
Each campground or state park will have different activities you can enjoy and provide various amenities. Explore your options and choose ones that are suitable for the experience that you are looking for. So, let's go over nine perfect places to van camp in North Carolina.
Carolina Beach State Park
Carolina Beach State Park is a 761-acre state park that's nestled comfortably along the Cape Fear River. Scattered about the two loops in the campground portion of the park are 69 primitive campsites and ten campsites with water, electric, and sewer access.
Each campsite comes with a picnic table and a grill (or a fire ring). This feature makes family dinners an absolute necessity. Just get the grill going and cook the fish you caught down at the fishing deck along the Cape Fear River.
Each of the two loops has a bathhouse, so running water and a hot shower are just a few short steps from your campsite. There's also a dump station and a laundry facility on-site.
Perhaps the best activity for the family at Carolina Beach State Park is the incredible 9 miles of flat hiking trails. You can't end your camping trip without a family trek on the Oak Toe and Sand Live Oak Trails.
Each trail engulfs you deep into the nature of North Carolina, with the former giving you unforgettable views of marshes along the Cape Fear River and the latter taking you through the massive sand dunes on the river.
You'll find two public boat ramps and rentals for both kayaks and paddleboards. Though you can't swim at this site, you can get out on the water and spend hours with your family on the fishing deck. Stop by the nearby shop to load up on fishing and camping supplies.
Camping reservations for Carolina Beach State Park can be made here.
Here is the campground map.
Pisgah National Forest – Curtis Creek
The Curtis Creek Campground at Pisgah National Forest is an incredibly affordable way to find yourself surrounded by natural forests and wildlife on your next camping adventure. This campsite is home to three different loops, each of which boasts 25 unique campsites.
Each loop is designed for a specific style of camping. If you'd rather spend the night in your van, there's a loop specifically for RV and vehicle camping.
You can also opt for tent camping either in the grassy loop or in the dispersed forest camping region. The last option will get you some peace and quiet deep in the North Carolina forest.
Though you won't have the benefit of running water or electricity during your stay, each campsite at Curtis Creek Campground includes a picnic table and fire ring as well as access to vault toilets and drinking water pumps. This is the perfect site if you want that old-school camping style.
The eastern portion of the campground sits along Curtis Creek, which gives you immediate access to long hours trout fishing and swimming. You can hop onto one of the many hiking trails stemming from the campground and catch a glimpse of North Carolina's own waterfalls.
The longer your hike, the more likely you'll end up deep in the wilderness around Mackey Mountain. Take the right trail, and you'll find yourself at a beautiful scenic overlook over 2,000-feet above sea level.
Camping reservations for Curtis Creek Campground can be made here.
Here is the campground map.
Other Posts of Interest
Van Hook Glade Campground
Nantahala National Forest is home to several campsites, but very few offer a camping experience quite like Van Hook Glade Campground. The key highlight of Van Hook Glade Campground is the close proximity to Cliffside Lake.
Cliffside Lake is where you'll be spending the majority of your trip at this campground. You can quite easily enjoy the entire day out on the lake, fishing for trout, or even swimming with the family. Fishing is also a possibility along the nearby streams and creeks that border the grounds.
At over 4,000 feet above sea level, Van Hook Glade Campground is also a hotspot for local hikers. Just a short trek from Cliffside Lake is a range of hiking trails that'll send you deep into the North Carolina forest.
Each of the 18 campsites on the grounds offers a fire pit, picnic tables, and even parking spurs. All amenities are within walking distance, including hot showers, flush toilets, a bathhouse, and drinking water. You'll also appreciate the BBQ and tent pads if you choose to leave the van.
Camping reservations for Van Hook Glade can be made here.
Hanging Rock State Park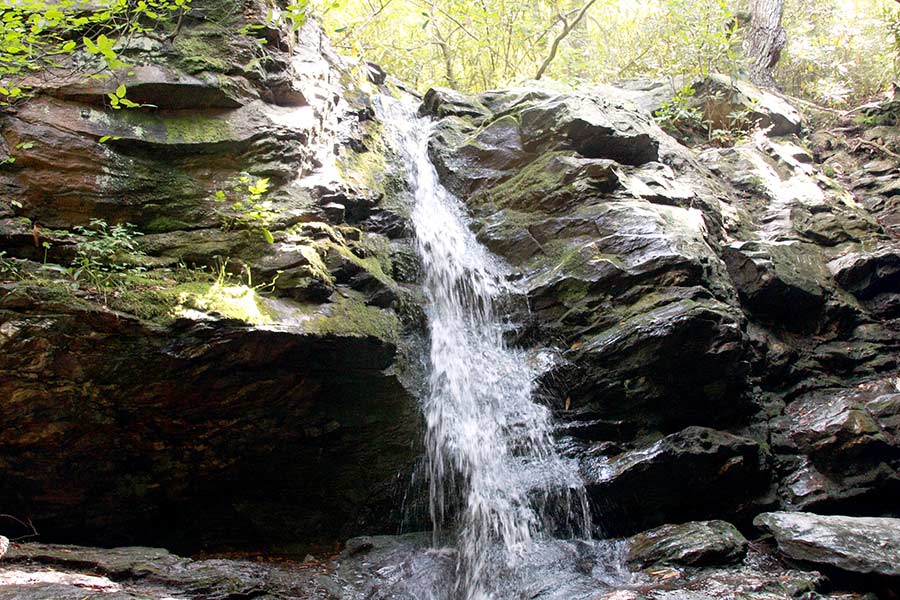 Hanging Rock State Park is the perfect destination if you and your family are more of the mountain type. This 13 square mile state park offers 73 campsites (some for RVs and vans) but gives you that primitive camping feel thanks to the lack of hookups and dump stations.
Though you'll have no access to running water or electricity, a bathhouse, drinking water, and sinks are within walking distance.
This beautiful state park is a "must" for any family that prioritizes hiking and interacting with nature. Scattered about the park are 15 different hiking trails extending over 20 miles, providing beautiful scenic overlooks (Cook's Wall Trail), unforgettable waterfalls (Indian Creek Trail), and miraculous hanging rocks (Hanging Rock Trail).
Deep in the woods of this gorgeous state park is a 12-acre lake. You can rent rowboats and canoes to explore the natural beauty of North Carolina, and you can swim to cool off from the hot summer sun. The lake is also home to a bathhouse and restrooms.
Yet, the adventure goes much, much further. Experienced rock climbers can test their physical limits by traversing the 400-foot cliffs on the park property. You can also pack up a mountain bike for each family member and tackle more of the trails quickly.
Camping reservations for Hanging Rock State Park can be made here.
Here is the campground map.
Pisgah National Park – Davidson River Campground
Pisgah National Park is also home to Davidson River Campground, which is one of the larger campgrounds that North Carolina has to offer. It has an astounding 144 shaded campsites spread out between eight different loops on-site.
Electrical hookup is optional, but you will have access to running water since each loop offers hot showers and flush toilets. Each campsite also includes a picnic table to enjoy meals at and a campfire ring for those long nights out socializing. Dump stations are available.
Davidson River Campground is a family-friendly destination, offering practically any water-related activity you can think of. There's a swimming area along the creek and the river where you can also fish for trout or try your hand at water tubing.
When you have the kids in tow, bring them over to Sliding Rock. This feature is an all-natural 60-foot "mountain slide" that'll send your kids on an exhilarating ride into 8 feet of mountain water. This slide is an unforgettable experience that also offers an observation deck when it's time to dry off.
This campground is a hotbed for anyone who loves hiking and nature. Explore the 12.3-mile Art Loeb Trail on bike or foot to send yourself further and further from civilization. If you want a little more adventure, pick up the trail toward Looking Glass Falls, a spectacular waterfall.
Camping reservations for the Davidson River Campground can be made here.
Here is the campground map.
Cliffs of the Neuse State Park
Cliffs of the Neuse State Park is an absolute must-visit if you have your sights on an adventure. Though a bit small at just 12 campsites (with electric hookup), you'll have complete access to fresh water and a dump station on-site.
This campground wouldn't be worth the trek if you didn't take some time to explore the trails. Many of these hiking trails border the cliff, with an incredible view of the flowing river below. You also get up-close and personal with several tree species like oaks and dogwoods.
The water features of this campground are truly the major drawing point. The bordering creeks and rivers are the ideal place to fish for bass and catfish. You can easily spend hours on end trying out new and adventurous fishing spots.
This state park also sports an impressive 11-acre man-made lake. You can test your athleticism on the diving platform, rent a boat to relax on the water, or just lie on the beach to even out your tan. Or, you can go for a swim and shower off in the included bathhouse after.
Camping reservations for Cliffs of the Neuse State Park can be made here.
Here is the campground map.
Jones Lake State Park
Jones Lake State Park offers a quaint little campground with 20 wooded campsites, six for RVs featuring electric, water, and sewer hookup. You'll also have access to a family picnic table and a grill. Within walking distance are drinking water and a bathhouse for daily showers.
This 2,000+ acre state park is your go-to destination if you enjoy escaping the quick pace of society. You can stretch your legs on any of the 6 miles of hiking trails that lead you around the beautiful 224-acre Jones Lake.
Adventure through the boggy area and catch a glimpse of the lake's vista. Or, even spend your time examining the trees of the North Carolina wilderness on your trek to discover some beautiful Spanish Moss.
If you're more of a water person, Jones Lake is where you'll spend most of your time. You can rent out a canoe or paddle boat or even bring your own ten horsepower boat onto the water. At the beach area, you can swim, soak up some rays, and shower at the bathhouse afterward.
Since the park offers an extensive 50-table picnic area, Jones Lake State Park is a great place to get friends and family together for a large camping group. There's no better way to spend the summer than at the lake, swimming, fishing, and hiking.
Camping reservations for Jones Lake State Park can be made here.
Here is the park map.
Stone Mountain State Park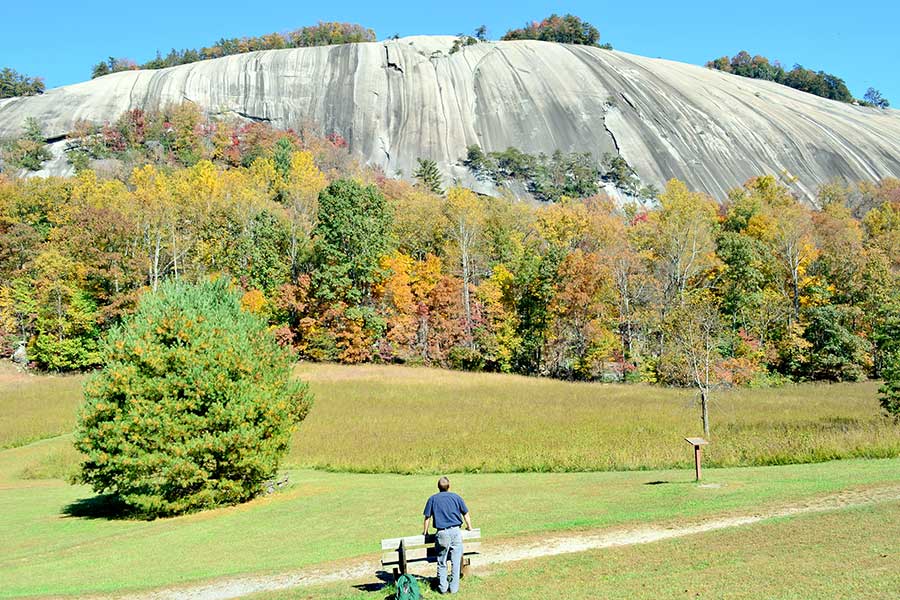 Stone Mountain State Park is one of the larger camping sites in North Carolina and offers quite the experience for the adventurer in your family. There are currently 90 campsites spread among three loops, each within walking distance to hot showers, bathhouses, and drinking water.
Your site will include a picnic table, a tent pad for a more comfortable rest if you exit the van, and a grill to cook up some fish you caught down at the pier. You may also have access to electric and water hookups as well as a dump station.
It would be silly to come all the way to Stone Mountain State Park and stay in your van the entire time. Head down to any location along the 20 miles of stream to catch different trout species, like rainbow and brown. Or, head to the fishing pier along the river and test your luck there.
Stone Mountain is the focal point of this state park. Strap on your hiking shoes and pick up one of the local trails. Even just a mile of walking will lead you to some of the most spectacular local waterfalls (Middle/Lower Falls Trail) and a view of the mountain at a distance (Cedar Rock Trail).
Experienced rock climbers are absolutely welcome to climb the cliffs on the side of Stone Mountain. You will have to bring along your own equipment.
Camping reservations for Stone Mountain State Park can be made here.
Here is the campground map.
Cape Point Campground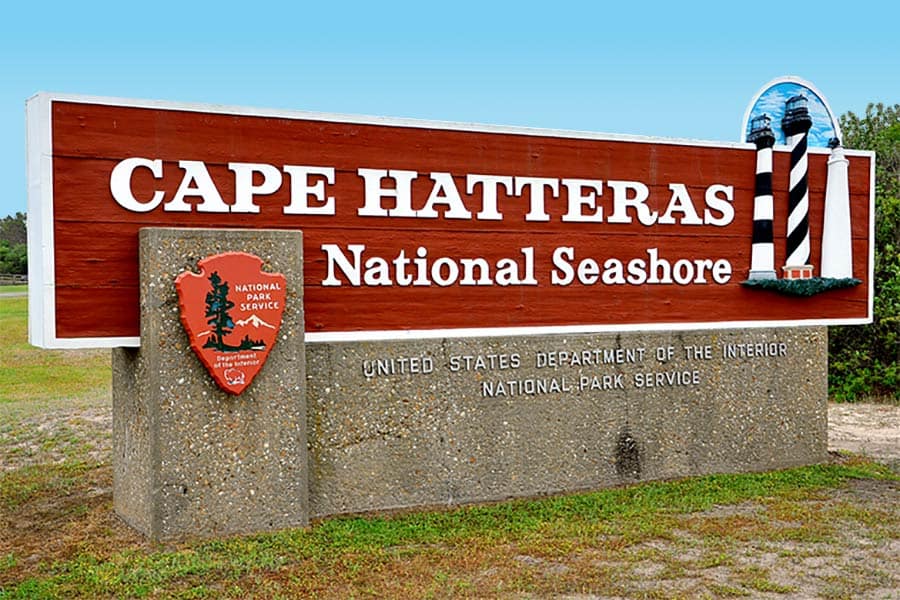 You don't have to rent a house on the Outer Banks of North Carolina to experience the beautiful North Carolina shoreline. That's because Cape Point Campground is nestled within Cape Hatteras National Seashore.
There's nothing like camping at the beach among the dunes of the Outer Banks. While at the campground (and when trekking away from your van), you can catch a glimpse of some of the migratory birds and mammals of the Southern United States.
Just a short walk away is the beach, so bring your surfboard and fishing pole and prepare for an entire day on the water. Or, maybe you'd rather go for a swim at the beach. You can also get active on a brief hike through Buxton Woods to see the forest by the beach.
But you can't go to Cape Hatteras without visiting the lighthouse. A short walk north of the campground is the 198-foot Cape Hatteras Lighthouse. If you purchase a ticket in advance, you can climb the steps to the top and achieve an incredible view of the Atlantic Ocean and OBX.
The campground is as basic as it gets when it comes to facilities and amenities. There are no electrical hookups, even if you're arriving in a van or an RV. The good news is that there are four bathrooms on-site as well as facilities for showering.
The campground does include BBQ areas and picnic tables to sit down for a family meal. Another great thing is you can even bring your four-legged friends since pets are allowed within the campground.
Camping Reservations for Cape Point Campground can be made here.
Conclusion
There's no shortage of campgrounds and forests in North Carolina that are ideal for van camping. Some offer hiking and send you deep into the woods while others are centered around water activities like fishing, swimming, and boating.
No matter what your family likes doing or which adventure you're seeking, there's at least one campground for it. Just make sure that your campground allows for RV or van parking. Hookup to water, electric, and sewer is preferable, but not required.
Be sure to make your reservation as soon as possible to guarantee yourself a campsite that fits into your calendar.