I thought picking a cooler would be a straightforward process and for some people, it probably is. They do a quick survey of what's available on the shelf, make a fast decision and buy one. I, however, wanted to do some research before purchasing a cooler to be sure it met our camping needs.
My shortlist of requirements included a rotomolded cooler that would stand up to the rough treatment of camping regularly. We needed one that had excellent ice retention to keep food items cold and was large enough to hold foodstuff for two people on a multi-day camping trip. Plus, do double-duty as a camp seat or a low table at mealtime.
I reviewed dozens of web pages and YouTube videos of people putting many different cooler brands through various grueling tests. They timed the ice retention, sawed them in half, threw them from speeding vehicles, placed them in pens with hungry grizzly bears and scrutinized them in every conceivable way. After careful consideration, I decided the cooler that would best meet all our camping requirements was the Yeti Tundra 65. Check the current price on Amazon.
Rotomolded
Rotomolding is a production process used by manufacturers to shape plastic materials into useful items. During the cooler forming process, this technique produces a consistently even layer of plastic all around, resulting in a cooler with fewer stress points, which makes them very durable, long-lasting and able to handle a great deal of camping abuse.
High-end rotomolded coolers have a thick insulation layer sandwiched between the inner and outer layers. The thick foam insulation provides the cooler with excellent ice retention, keeping the items inside cold longer. These coolers are more costly compared to the standard type cooler.
Variety of sizes
Yeti hard coolers come in a variety of sizes to meet the needs of the most demanding of campers. Yeti makes small coolers like the Roadie® 20 that's perfectly designed for day trips or tailgating. Its compact size measures a mere 13 5/8″ × 14 1/4″ × 19 1/8″ on the outside and 8 3/8″ × 9 7/8″ × 13″ on the inside. It weighs 15 pounds when empty.
On the other end of the spectrum, Yeti also makes the Tundra® 350. This enormous cooler has a capacity of 19,000 cubic inches and can hold 82.4 gallons. It measures a whopping 24 3/4″ × 23 1/4″ × 63 1/2″ on the outside and 16 3/4″ × 17 3/4″ × 54 5/8″ on the inside. It weighs 89 pounds before you even have it loaded. That is one big cooler.
Reasons We Picked the Tundra® 65
The Tundra® 350 is a massive cooler, way too big for our needs and the Roadie® 20 is a little too small. We wanted something that was in between the two sizes just mentioned. So we opted for the Tundra® 65.
The Tundra® 65 measures 17 1/4″ × 16″ × 30 5/8″ on the outside and 10 5/8″ × 11 1/8″ × 23 1/8″ on the inside. It's big enough to hold enough food to last two of us for 3 or 4 days. It weighs in at 29 pounds without anything in it.
Polyester rope carrying handles on each end are easy to grip. When you get a cooler loaded down with ice and food, it tends to get a little heavy. This feature allows the 2 of us to move the cooler together and the protective textured handle on the rope doesn't dig into your hand.
The lid and walls of the cooler are extra thick with 2 inches of Permafrost™ insulation with excellent ice retention, ensuring our food stays cold for days.
The space in our van is limited, so we wanted a cooler that would double as a place to sit if necessary, add a cushion and the Tundra® 65 works perfectly for that.
Yeti has a Coldlock™ Gasket, which is a freezer-grade gasket that goes around the whole top of the cooler that protects the cooler contents from the summertime heat.
The heavy-duty rubber T-REX™ latches keep the cooler securely closed but are still are easy enough to latch and unlatch.
We have had coolers that you had to take everything out of to drain the cooler; this cooler has a conveniently located drain on the bottom to make draining simple.
In the past, our coolers slid all around in our van or truck. The rubber feet on the bottom of the Yeti keep it in place. Additionally, the Yeti has molded-in tie-down slots to hold the cooler securely if needed.
I also liked the coated steel wire dry goods basket that comes with Tundra® 65. I can put smaller items in it to keep them in place.
We are tough on our cooler and this one is IGCB certified bear-resistant, the thick plastic walls are tough and almost unbreakable. I know we probably aren't as rough as a bear on our cooler, but I figured if it could stand up to a bear, it should be able to stand up to us.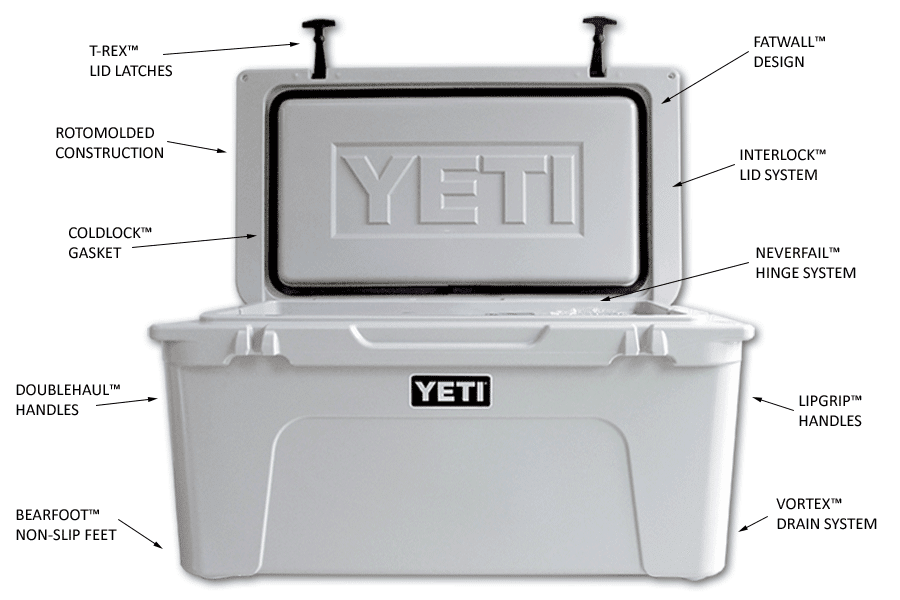 Conclusion
Yeti is arguably the best known rotomolded cooler brand in the USA and has been an industry leader since its inception in 2006. Their mission was simple, to build rugged, high-performance coolers that would hold up to everyday use.
The one-piece rotomolded construction makes it tough as nails, the uniform thick plastic walls and strong corners provide outstanding strength and durability. The walls and lid are polyurethane foam filled and together with the freezer gasket on the lid, the Yeti cooler keeps food cold for an extended amount of time.
The Tundra® 65 cooler lives up to that high standard and has proved itself over time; it is the perfect fusion of size and shape, making it portable, with a large capacity to hold plenty of food items. It was the right choice for us and has provided everything we wanted in a cooler.