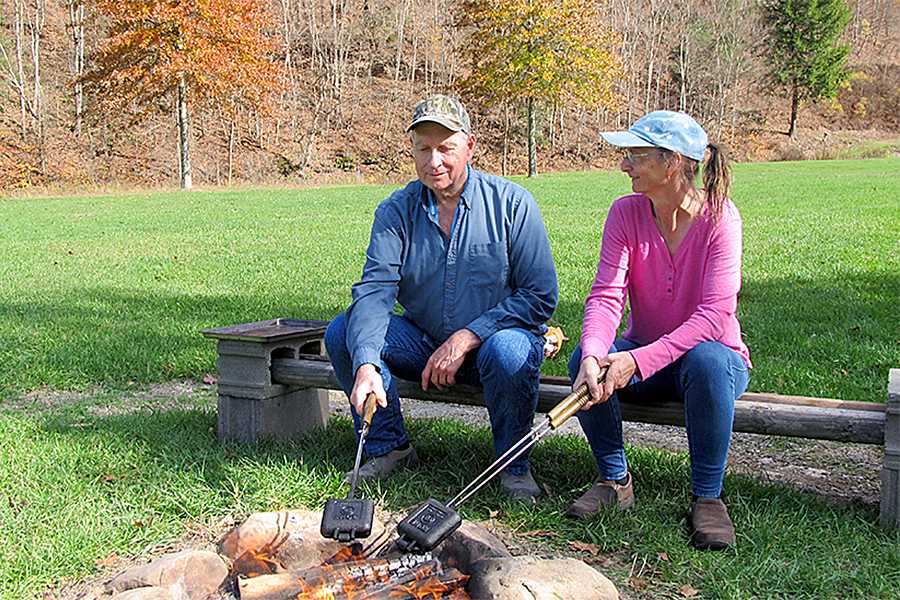 For as long as I can remember, using a pie iron has been a part of my family's campfire experience. Just like going into the woods and finding the perfect stick to roast your hot dogs and toast marshmallows on, making delicious sandwiches and pies in a pie iron was part of the fun. But which brand is the best cast iron campfire sandwich maker to get?
Rome Industries, Inc. makes one of the best cast iron campfire sandwich makers on the market. The heavy-duty cast iron withstands the heat of the campfire well. Its long steel handles have wooden grips to absorb the heat. And the length keeps your hands far enough away from the fire to prevent burns.
Pie irons are handy tools to have when campground camping, boondocking, or even just around the house when you want to get together with friends and family.
You don't have to be an avid camper to enjoy using pie irons. Just start a fire in the backyard, invite the gang over for a get-together, and spend time in each other's company, sitting around the fire and eating some good campfire food.
Continue reading to find out why we use Rome pie irons and to see how they can add to the enjoyment of your next camping adventure or cookout.
Why We Like Rome Pie Irons
I like products that can stand up to the abuse of use. Cast iron won't warp or melt, like some pie irons manufactured from aluminum, even if you put them in the campfire, which we often do.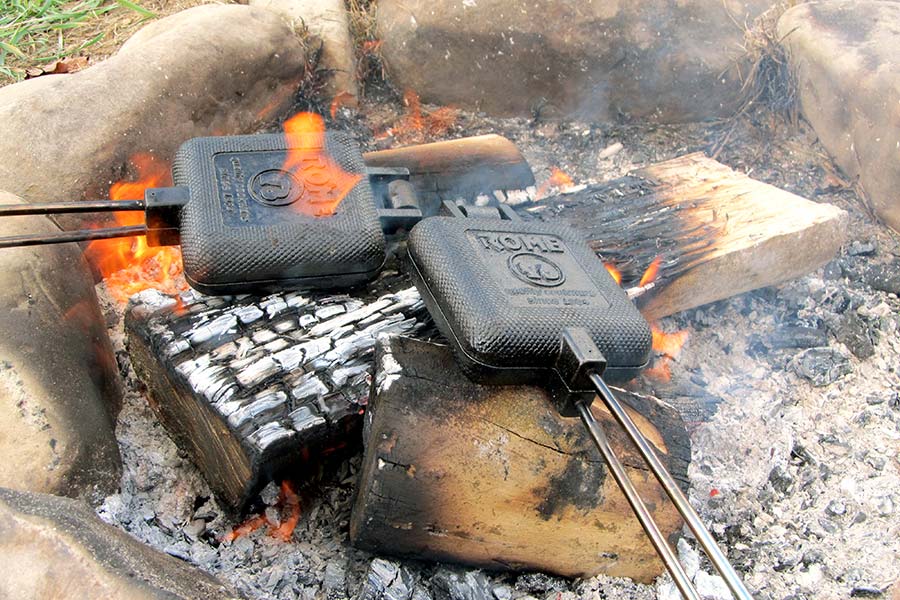 We have quite a few Rome pie irons, and we haven't had a bit of trouble with them, except that they make such scrumptious tidbits that you won't want to stop with just one.
Cooking with a pie iron is easy once you get the hang of it. Learning to use them will take some practice, but you will be turning out mouth-watering meals just like an old pro in no time. The main thing to remember is to get your fire going ahead of time and allow it to die down some, so you have lots of hot coals and a lower flame.
My favorite pie iron out of all the ones Rome makes is the original square pie iron. The cast iron sandwich compartment measures 4.25 inches x 4.5 inches, which makes it perfect for using square-shaped white bread right off the grocery store shelf.
With a little practice your sandwiches will turn out perfect using this pie iron.
For making cherry pies, I like to use the original round pie iron, we don't make desserts as much as we do sandwiches, but this iron is perfect for pies. The round shape is smaller than the slice of bread, so it compresses the bread edges together to contain all the delectable cherry filling inside.
I know, I keep saying cherry pies because that is my favorite, but it works just as well with whatever your favorite pie filling might be. Anyhow, getting back to what I was talking about, the round iron is 4.25 inches across.
Rome has a few other nifty irons worth mentioning. If you love the taste of burgers grilled over a wood fire, like who doesn't? Try out the single or double burger griller. Not a burger person, then try their dog 'n brat cooker. Or their waffle iron, that gives you delectable golden-brown waffles for breakfast each time you make them.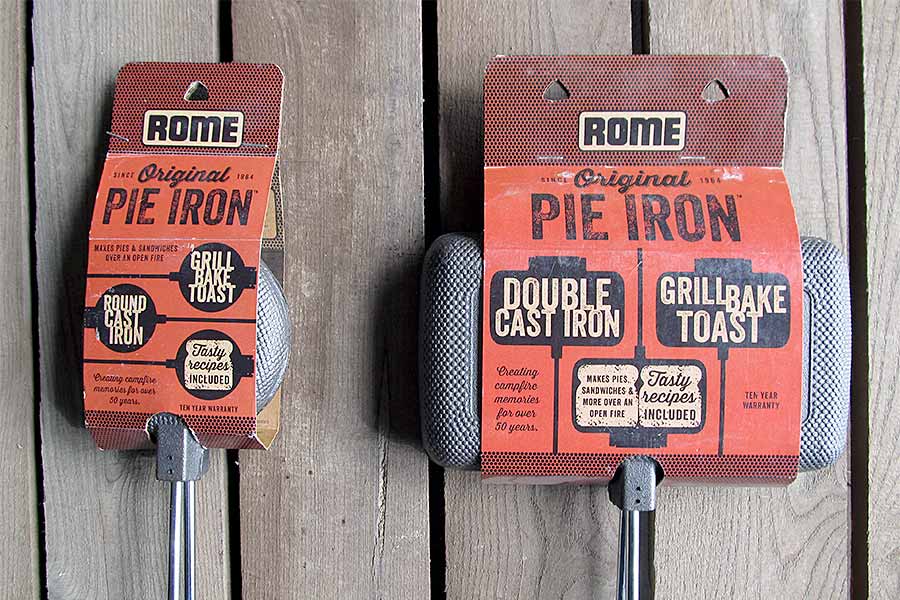 I like how after you season the pie irons initially and then use them regularly, they build up a coating so that when you use them, it is almost like they have a non-stick surface applied inside.
The cast iron allows heat to distribute evenly, which gives a nice toasty golden brown to the outside of the sandwich, not just once in a while but every time. I can almost taste them while I'm writing.
The cast iron makes them heavier than pie irons made from aluminum. I don't have much trouble with the single pie irons, but the double size is a little heavy for me. However, it is nice because you can cook two sandwiches at once.
Not only that, but if there are just two of you on a camping trip, you will only have to carry along the one iron, which is beneficial because when you are van camping, space is always hard to come by.
When we use the double, I get around the heaviness by just letting my husband cook the sandwiches! But Rome also makes a campfire stand that will support up to 4 irons over the fire if you need a little bit of help.
Cleanup after use is easy. After the iron has cooled down, use some hot water and a soft-bristle brush to clean it up. Don't use soap as it can remove the coating that has built up from the seasoning process and use.
After you have it clean, make sure to dry it completely, then apply a light coat of vegetable oil. That will help to prevent it from rusting when not in use. A cast iron pie iron will give you many years of service if you give it a little care.
To finish off, Rome Industries, Inc. has a ten-year warranty on all of their pie irons, which means that they are pretty confident of their products.
If you want to learn more about what a pie iron is, seasoning, using, and caring for a pie iron, read our post "What Is A Pie Iron?".
Last Words
Camping just isn't camping until you have enjoyed cooking finger-licking food cooked over a campfire. Pie irons offer you a fast solution for easy meals. Not only is it fast, but the cleanup is quick.