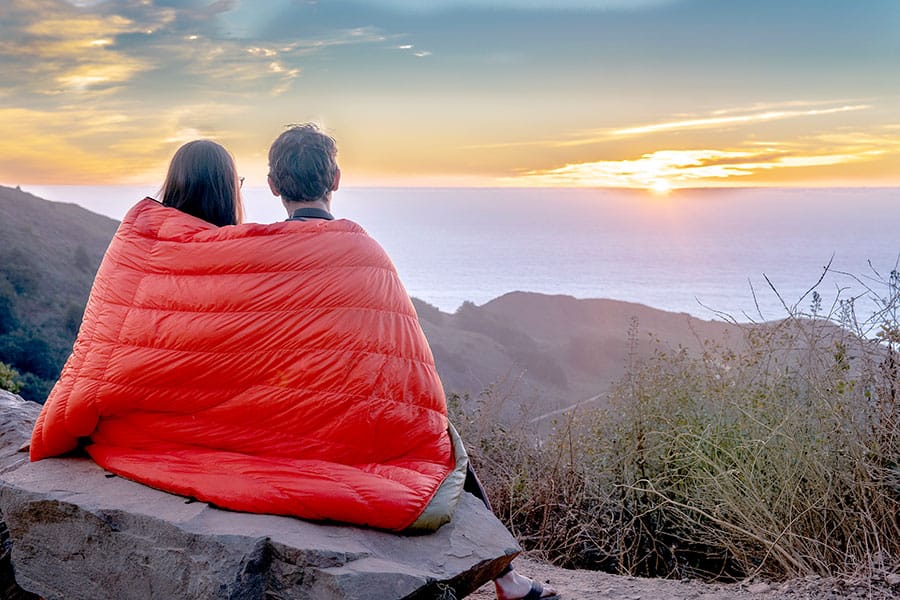 Sleeping bags are great at keeping you warm while camping in cold temperatures, but they aren't necessarily the best option for camping in more temperate areas. Many campers dislike how restrictive and limited in uses they are.
Many novices, as well as seasoned campers, prefer camping with blankets instead of sleeping bags. Here's how you do it:
Select the right blanket
Use a sleeping pad
Wear a hat
Layer blankets
If this is your first time camping with a blanket instead of a sleeping bag, we've got you covered. Continue reading to find out what to look for in a camping blanket and how to use it.
Selecting the Right Blanket: What to Look for in a Camping Blanket
Proper selection is the most important step when using a blanket instead of a sleeping bag. If you aren't using the right blanket for your circumstances, you're going to be miserable.
Below we will discuss many of the features that you should consider when using a blanket instead of a sleeping bag.
Larger blankets can also be more versatile, allowing you to wrap it around your body and tuck it in snugly or even pulling it over your face more.
Blanket Size
Choosing the right blanket size depends on how many people are using it and the size of those people.
Most camping blankets meant for use by one person are about 50 inches by 85 inches.
Double blankets are about 88 inches by 80 inches.
If you have a larger frame or are a taller person, you might want something a little larger. So, when selecting your blanket, take these numbers as well as your size into account.
Rolled or Compressed Size of the Blanket
If you're backpacking or short on storage space, you need to take into account the size of the blanket when it is rolled or compressed. Many camping blankets come with compression bags to help make them smaller and easier to transport.
The Material of the Blanket
The material of the blanket determines several qualities, including:
Weight
Waterproofness
Dirt resistance
Washability
Warmth
Fire resistance
The best camping blankets perform well in each of the preceding categories. Most manufacturers use nylon or polyester in the construction of their camping blankets. However, blankets with natural materials like wool are also commonly used, but they usually don't meet all the criteria in the list above.
And a word of warning, some camping blankets we've researched require that you dry clean them. If that isn't something you want on your to-do list, be sure to check that the blanket you choose is machine washable.
Insulation of the Blanket
For camping in colder temperatures, you'll want your blanket to have a layer of insulation. Insulation increases the blanket's ability to keep you warm, but it also adds a level for comfort and coziness that makes camping just a little more enjoyable.
Insulation is usually synthetic material, or duck's down. Both are effective and comfortable. If you prefer natural materials, then duck down is the best option. If you prefer cruelty free alternatives, then go with the synthetic material.
Other Posts of Interest
Temperature Ratings for the Blanket
If you camp in low temperatures, you're going to want to check the temperature rating on your blanket, so make sure it is suitable. Temperature ratings provide a range of temperatures under which the blanket will be effective.
If you only camp in the summer, it probably won't matter to you. But blankets can be just as effective as sleeping bags in cold temperatures.
Weight of the Blanket
The weight of the blanket is important if you plan on hiking with it in your pack. You don't want it weighing you down. Most single camp blankets weigh less than 2 pounds, which is lighter than a sleeping bag because it doesn't include a zipper and a hood.
If you're camping in your car or in a tent that isn't so far from your vehicle, this won't matter, and you'll have more flexibility in the blanket you choose.
Foot Box
Some camping blankets come with what is called a foot box. It is basically a place at the bottom of the blanket where you can tuck in your feet. This can simply be a pocket at the base of the blanket, or it can have more structure depending on the blanket design.
A foot box can help keep your feet warm in cold temperatures, but if it is warmer out, you can forgo using it. Many campers like this design because it allows them to keep their feet warm while they are sitting out under the stars.
Hang Loops and Other Hardware
Some camping blankets come equipped with specialized hardware. This hardware could include a hang loop that allows you to hang the blanket up to dry or air out or a clip that will enable you to drape the blanket over your shoulder and clip it together at the neck.
These features can really take a camping blanket to the next level.
Can You Use Normal Blankets When Camping?
If you are a casual camper or aren't looking to invest in a high-quality camping blanket, you can absolutely bring your blankets from home and set up an air mattress in your tent in most cases. When selecting blankets from your home, take into account all of the considerations listed above, but also these:
Select blankets that aren't your favorite in case they get stained or ripped while camping.
Bring extra blankets so that you can layer them should it get unexpectedly cold.
Sheets can help make your sleeping pad or air mattress more comfortable.
Consider bringing a variety of sizes. Smaller blankets can be more comfortable when sitting beside a fire.
The only time using ordinary blankets isn't advisable is if you're doing some seriously cold weather camping, but that isn't most of us and requires several other preparations so that blankets will be the least of your worries.
Use a Sleeping Pad
If you aren't going to use a sleeping bag, or honestly, even if you are, you are going to need a sleeping pad. This isn't just about comfort. The ground is cold. A sleeping bag might provide a minimal amount of protection between you and the ground, but a blanket won't even give you that much.
If you don't have a sleeping pad, you can try some of these alternatives:
Air mattress
Layers of blankets
Foam mat
We have a post about using a mattress topper for camping, you can read it here.
Wear a Hat (If You're Cold)
One of the advantages that a sleeping bag has on a blanket is that many of them come with hoods that keep heat from escaping from your head.
While many people believe that the head accounts for 75% of heat loss, it is not entirely accurate, although some heat will be lost through your head, and in low temperatures, this can be critical.
If you're using a blanket instead of a sleeping bag in cold temperatures, then sleep with a beanie on and maybe even a scarf if you're really cold.
Layer Blankets
More blankets will help keep you warmer. Sleeping bags are constructed to keep you warm through the night in freezing temperatures. Some camping blankets are also designed with this in mind, but if you're using blankets from home, or lighter camping blankets, then you can use more blankets to help keep you warm.
To boost the insulating abilities of your blanket pile, alternate thinner blankets with thicker blankets.
Are Blankets Better than Sleeping Bags?
Most of the time, experienced campers that have tried out both sleeping bags and camping blankets would agree that blankets are more versatile, comfortable, and easier to work with than sleeping bags.
In extreme cold, sleeping bags may offer slightly more warmth, but this is debatable. Still, you'll find plenty of campers out there who wouldn't dream of camping without a sleeping bag. It comes down to your personal preferences.